Luxury meets military chic at Della D.A.T.A Resort by Jimmy Mistry
22

Jun

'19

9:30 am

by

Beverly Pereira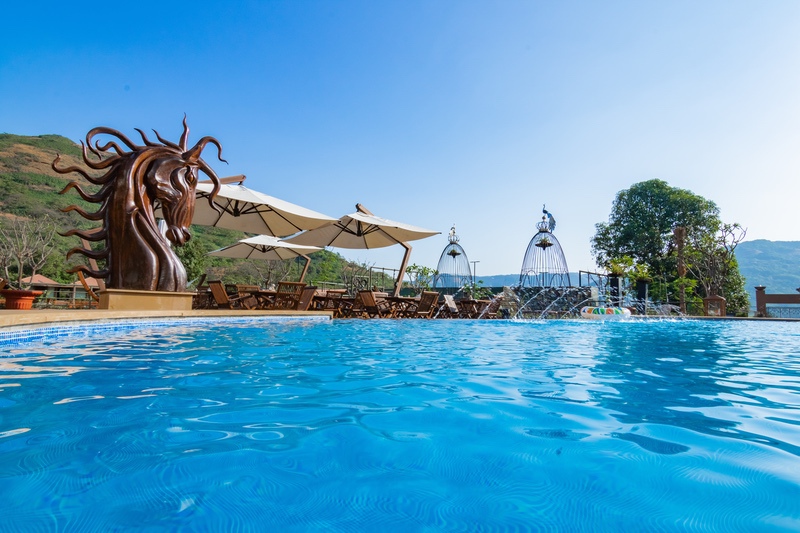 Military heritage may be an unlikely springboard for a design-driven hospitality group, considering the fact that military design places function over form.But inside the gates of D.A.T.A. Resort, India's first military-themed glamping resort, both function and form are easygoing allies that create a luxurious, sophisticated and authoritative visual presence.
Sitting smack in the middle of a jungle in Lonavala just off the Western Ghats outside Mumbai, D.A.T.A by Della is the newest addition to the Della Adventure & Resorts group by designer, hotelier and entrepreneur Jimmy Mistry. Kitted out with bespoke interior products by Della — Mistry's design vertical — the property' is also the exemplar of channeling the rigour of the military to create a space that's stylish yet restrained and bold yet sensitive.
D.A.T.A. Resort conquers the utilitarian aesthetic to a tee. The experience begins with a drive to the resort in an all-terrain vehicle. Guests are presented with a set of army fatigues, should they wish to partake in a good old military-style training and survival session that takes place in a structure engineered entirely out of shipping containers rendered in camouflage. "D.A.T.A. was created straight out of my dreams to prepare and train every man, woman & child with survival techniques for any adverse unforeseen circumstances with the help of some of the finest handpicked ex-forces from Indian Army. After the horrific 26/11 attacks that shook Mumbai to its core, I wanted to make a difference by empowering people and making them less vulnerable to future atrocities. When I first saw the jungle, it struck me that this would be the perfect place to bring this idea to life," says Jimmy Mistry.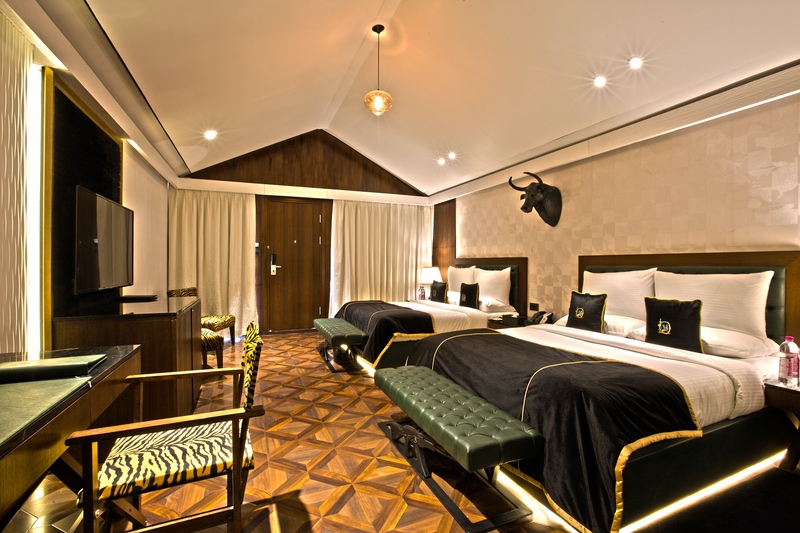 Every one of the 27 glamping tents are far from spartan, yet free from unnecessary trims. Embodying the notion of camping in the outdoors, the 500-sq-foot cabin comes with a private outdoor patio. Leveraging material and finish, the rooms layer luxury and modern touches to command a polished army-inspired appeal. "The army and navy have always held a major part of my fascination and continued to become a major inspiration behind this project. I made sure whatever about I had assimilated about them since childhood was put together in D.A.T.A. So, this is my vision of how an army camp should be", says Mistry.
The warmth of refined wood dominates, only punctuated by the richness of olive-green tufted leather head boards, and ottomans with AK47 rifle bases. Plush black foot runners and cushions with gold trimmings lend a decidedly decadent accent, as do the ivory knife-pleated lampshades; the latter effortlessly pursues the army aesthetic with a base fashioned out of a pistol. Each tent is further fortified by animal-print upholstery on desk chairs, grenade-shaped doorknobs, and faux taxidermy bull head wall mounts.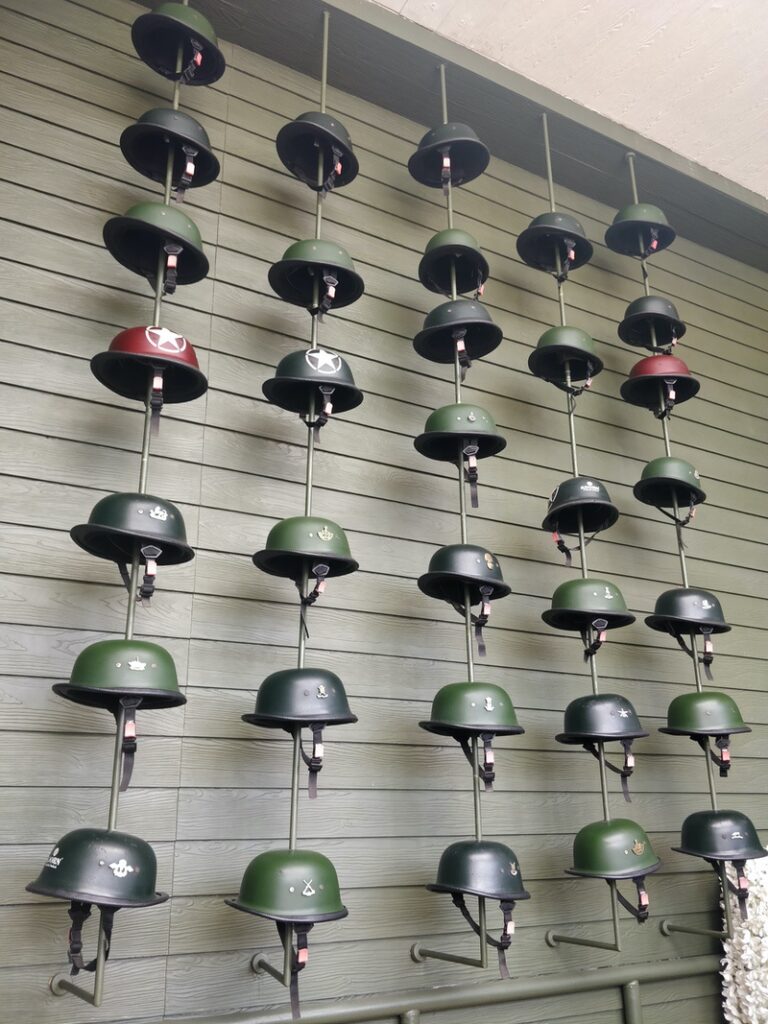 Outside, a passageway festooned with army helmets and Royal Enfield motorcycles opens out into the 80-seater Salaam Manekshaw Restaurant, meticulously designed as a tribute to the legendary Field Marshall Sam Manekshaw.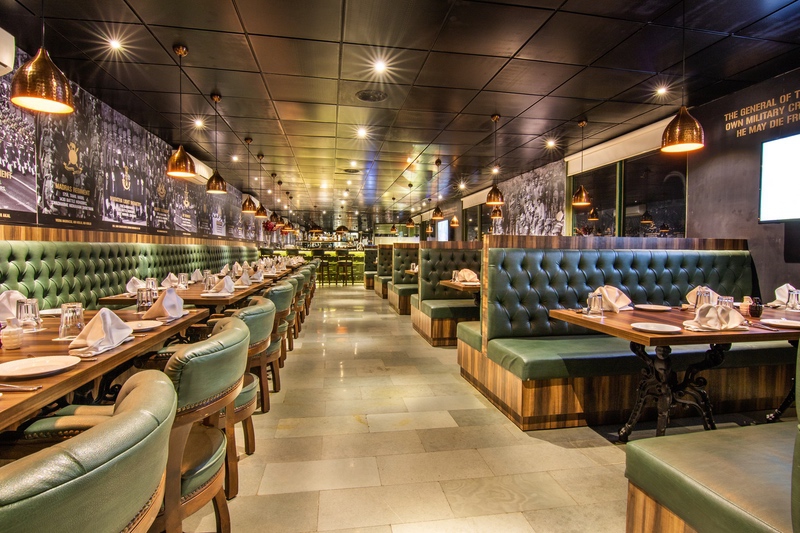 The military theme becomes apparent here, too, with army-green tufted-back seating, beaten copper lamps, and salt and pepper shakers modelled after hand grenades. The space, luxurious and industrial all at the same time, is a textural study in the layering of metallic, matte and gloss finishes.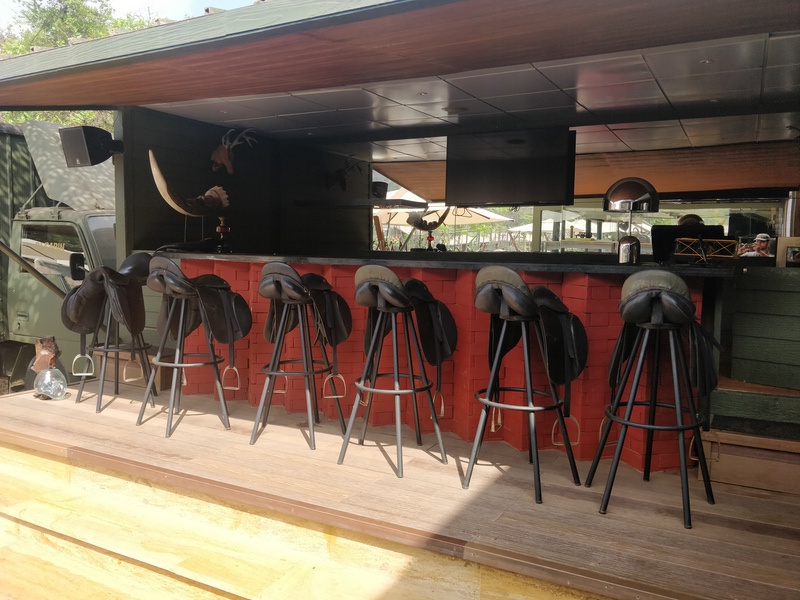 At the al-fresco Gurkha Lounge, a tribute to the Gurkha regiment led by Sam Manekshaw, equestrian charm and understated suaveness lead with a flourish. A large bust of a sculpted wooden horse holds sway, presiding over a pool deck outfitted with a glass panel-clad open kitchen, and a compact bar with nifty bar stools fashioned from horse saddles.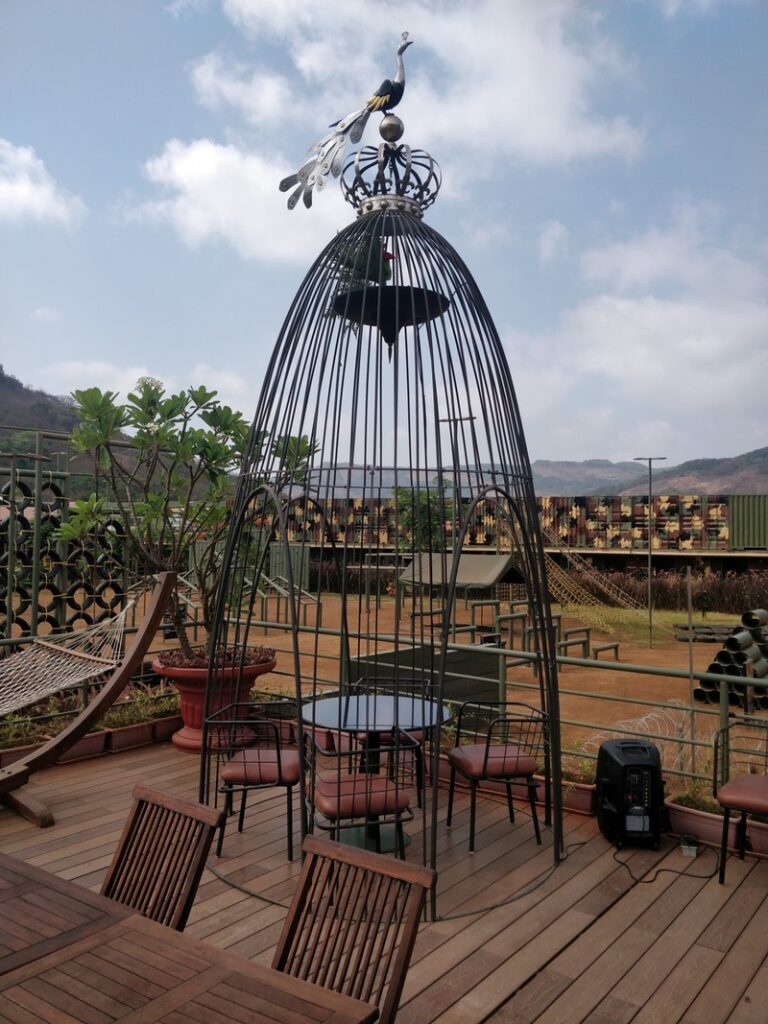 On the deck, slatted chairs and teakwood tables shaded by cantilever parasols sit alongside rattan mushroom chairs, as loungers fittingly encircle a pit fire, and towering bird cage pavilions house more seating space.
In keeping with the military motif, D.A.T.A. resort is wrapped in camouflage screens at its fringe — a design detail that brings in unobstructed views of the surrounding hilly terrain while simulating the coveted outdoors experience.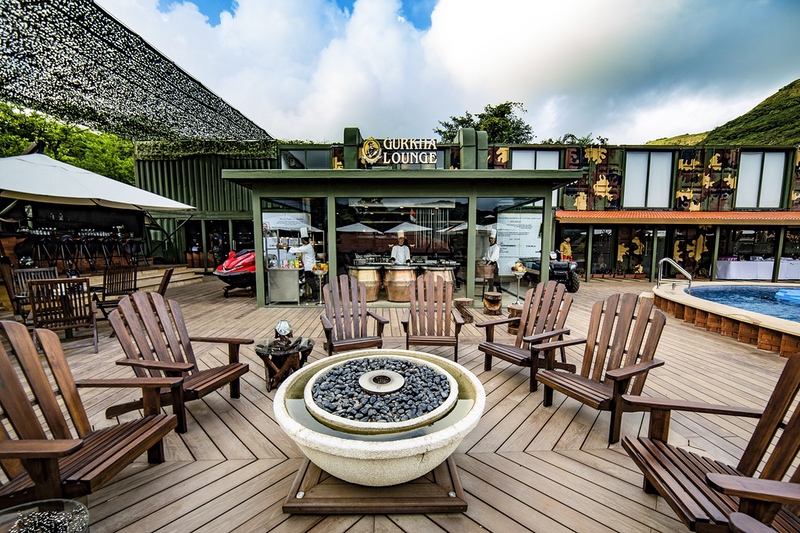 Photographs courtesy D.A.T.A Resort by Della