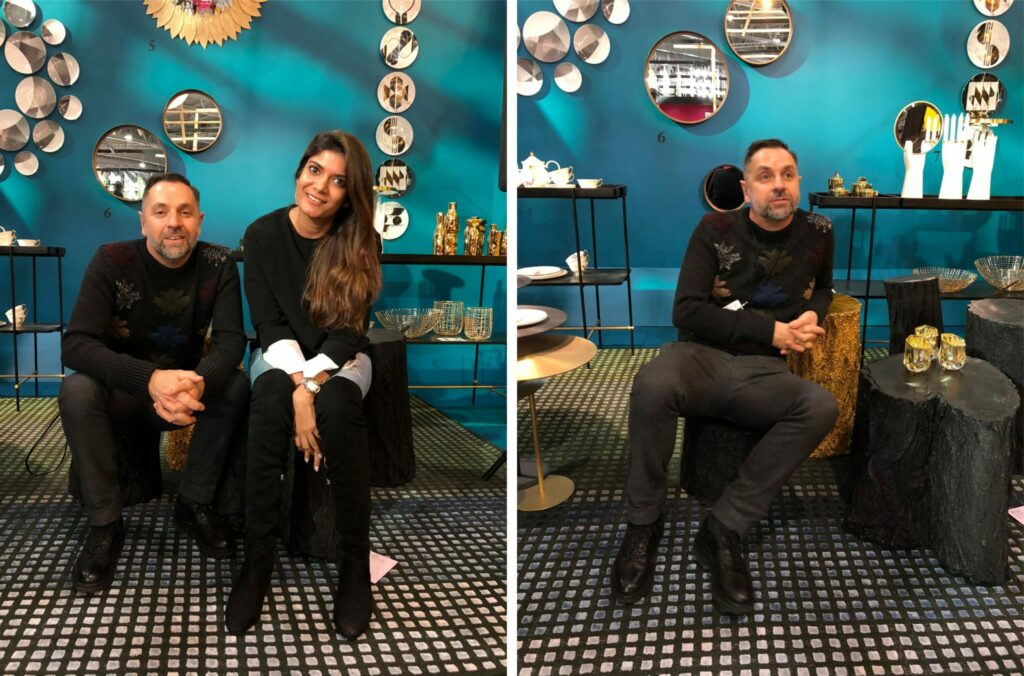 It takes many innovative minds to sustain the world of design, but only one to change the game completely and this year's edition of Maison et Objet saw all of them gathered under one roof, in Paris. Among the many brilliant innovators showcasing their work was Nelly Rodi's Creative Director, Vincent Gregoire.
For almost 3 decades, Gregoire has been the consummate trendsetter, and his travels across the world have given him a unique insight into consumer behaviour. This year his showcase at Maison et Objet was a riot of colour and quirkiness. Design Pataki was on ground covering the exclusive event and we decided to get the inside scoop from the man himself and decode his predictions for the year ahead.
Design Pataki: Can you elaborate on forecasting and how do you stay ahead of the curve?
Vincent Gregoire: I'm not always sure I'm going to be right but it's the way I want to explain what's happening in home decoration. It's a new wave of preciousness, a new wave of crazy, consumers see their homes as a theatrical space. Many of the earlier trends that were perfect and controlled became boring. The new wave is driven by simple consumers, not the rich or crème de la crème, it's for anybody who wants to re-enchant their space and share their ideas, there's a nice energy around decoration. There's no good taste or bad taste, it just has to be tasty.
DP: How do you feel Modern technology has integrated with the world of design? Would you say your designs are more influenced more by modern culture or past culture?
VG: It's bizarre, because the more technology we have the more consumers are afraid and they want to tame technology and the future. To do that they look backwards, that's why we have lots of vintage trends and influences, because they want the slow life. At the same time, especially with the new generation they want to imagine new worlds – augmented reality, digital printing – so technology becomes a tool for creativity, fun and expression. It's not the most important thing but it will help us create new worlds and new stories. It's an accessory, but just an accessory, it shouldn't be the most important thing, human beings and imagination are far more important. Technology is there to help us co-create and find inspiration but you have to feed technology, it's a tool.
DP: How do you believe your travels across the world have changed your understanding of consumer behaviour?
VG: It paradoxical, I travel a lot but it's the same everywhere. There's a globalisation but at the same time there's an obsession with localisation, something at the corner of the street, something not too far, 'close to me'. At the same time we want something global and local. We are citizens of the world but we want to be inspired or re-enchanted by things that are close to us, and we don't want local things to disappear. We try to find a mix between paradoxes, we live among paradoxes.
DP: What role do you feel Maison et Objet plays in shaping trends of the world in comparison to the other shows?
VG: I guess I could say…Maison is very French. In French we call it 'L'esprit de contradiction' there's some traditional heritage but at the same time there's an element of je ne sais quoi, this little thing you can't control, the surprising effect. It's professional but at the same time boheme, it comes from a strong background but there's something fresh and there's an intuition. I travel a lot but I've never found this somewhere else. All the visitors are trying to catch this little value and feeling, there's a very specific atmosphere here. It's not too extreme, others are very experimental or some commercial and boring. There's just something different here.
DP: What trends do you see moving into the mainstream in 2018?
VG: Preciousness. There's a wave of preciousness, something baroque, something rich. A new rich, I call it 'glumor' glamour but with a sense of humour. It's elegance with a twist, something refined but with a casual side, naturality or the Nordic influence, minimalism but with the vintage mainstream influence of the past years. The colours are a base of black and white, there's an obsession with having something to frame. Golds, we don't want to leave them, we love them, so lots of different golds, white, grey, pink…a rainbow effect. There isn't one colour more trendy than others, it depends on your personality, your identity, what you want to pick in this rainbow. I don't like the trends being dictated and what I wanted to express in this inspiration space is that the consumers are doing their own trends, they're inspiring businesses. They want to follow their intuition. Pink flamingos, skulls, cacti are still in the trends, Japanese cranes are a more advanced version. That's this new preciousness, this new sophistication. It's not a question of price, it's more a question of ideas and teeny little things that are creating something full of life. Outside there a lots of problems but inside we want something that makes us feel at home.
DP: What advice would you give an Indian consumer?
VG: Be crazy, be yourself, have fun, follow your intuition. Follow your mood, you have lots of things to say. Be passionate and everything will ok.
Photo and Video Credit Savi Bhushan