Mateus Boutique Hotel, Goa. Restored.
28

Aug

'17

11:26 pm

by

Crew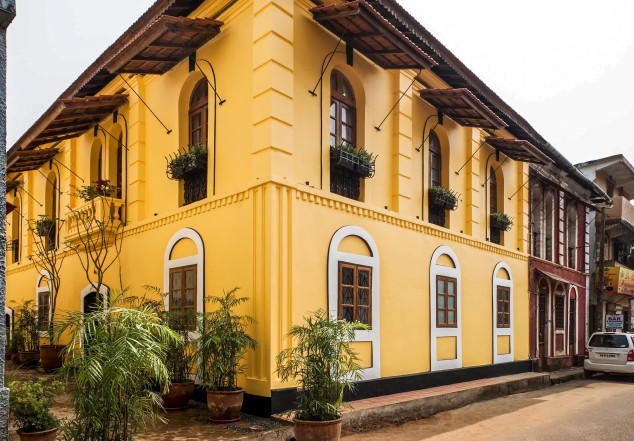 India is a treasure trove of unseen historical gems; one where skyscrapers rub shoulders with Victorian facades and the most obscure corners hold the oddest secrets. No state quite embodies this harmonious paradox better than Goa. Sure, people come from the world over for its rave culture and five star getaways but a leisurely stroll in any direction and you're sure to find yourself faced with a piece of its fast-fading Portuguese heritage. But of course, nothing stays new forever and maintaining these little slices of history can be a mammoth task, no one knows this better than the owners of the historic Mateus Boutique Hotel in Fontainhas, Panjim; Goa's Latin quarter.
Built in 1879, the mansion had fallen into a state of sorry disrepair but entrepreneur Antonio Fernandes took it upon himself to restore the crumbling estate to its erstwhile glory. He envisioned a small eight or nine roomed hotel but had a very specific directive as to its identity, "It would be my dream to renovate an old mansion, keep the elegance of the old world and mix it with the creature comforts of the new." he once said, and that's precisely the vision with which this arduous mission began.
To handle the architectural aspects of the project enlisted the expertise of his son Jonathan, a graduate of Sydney University and recipient of many awards for his innovative designs. To tackle the interiors he brought on Loulou a.k.a Isla Van Damme whose elegant and kitschy work is admired the world over. Together the three of them hatched a plot to transform this space into something magical.
In its original state the mansion was essentially uninhabitable, their first order of business was to restore the structural integrity of the building, a harder task than it sounds seeing as they were trying to preserve as much of the old world charm as possible. They refurbished the timber in the rafters and the wooden flooring but as far as possible the original mosaic tiles were kept in place. The bathrooms were fitted for modern plumbing but Loulou handpicked each tile for colour and design from Bharat Tiles in order to maintain an air of whimsy.
In keeping with the idea of being a boutique hotel, each room had its own unique theme with a variation of colours and textures but the underlying air of antiquity was a constant. Today, Mateus stands proud and imposing the cream and yellow exterior emanating a sense of welcome that is so intrinsically Goa. The stucco mouldings frame arched windows and ornate balconies that remind you of years long passed. The 9 rooms each hold their own special secrets and through the combined genius of Antonio, Jonathan and Loulou, this charming boutique hotel has combined old world elegance and modern comfort to create the ideal holiday destination.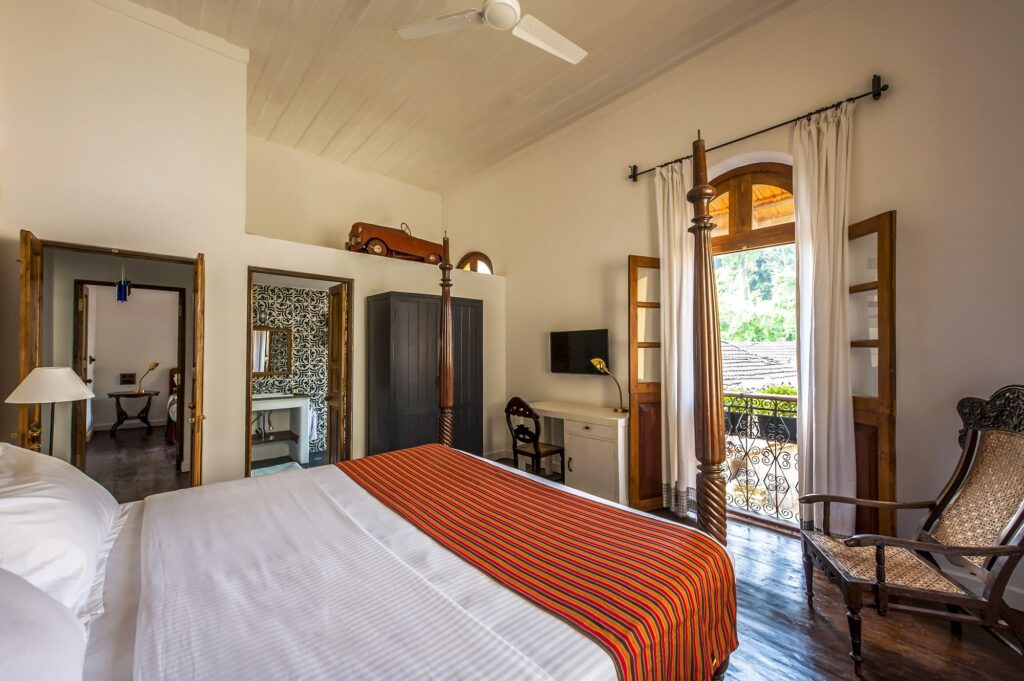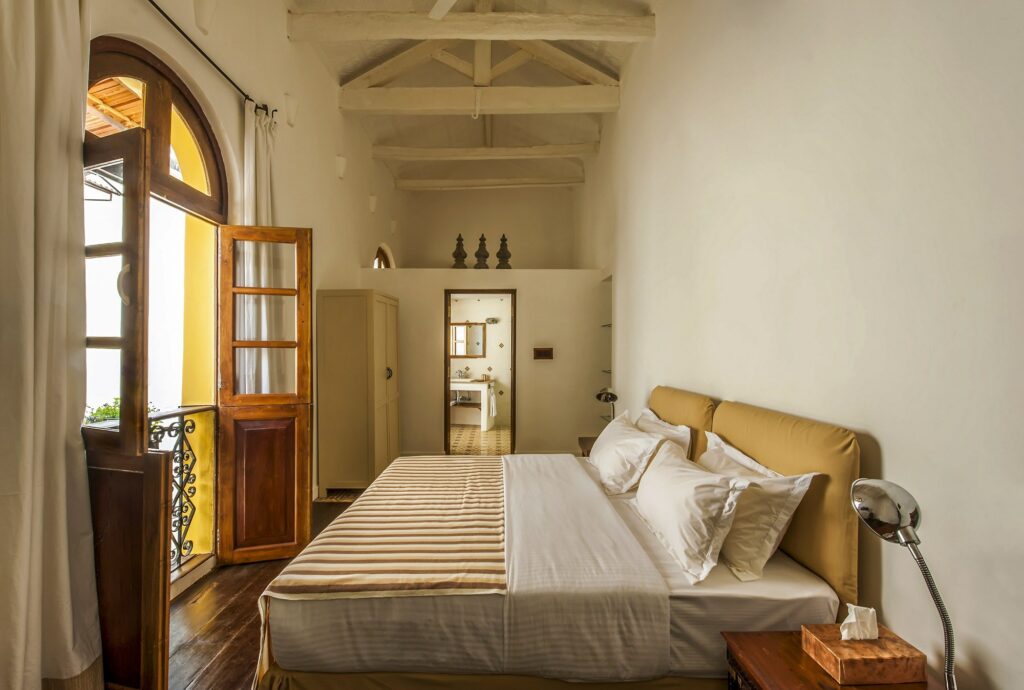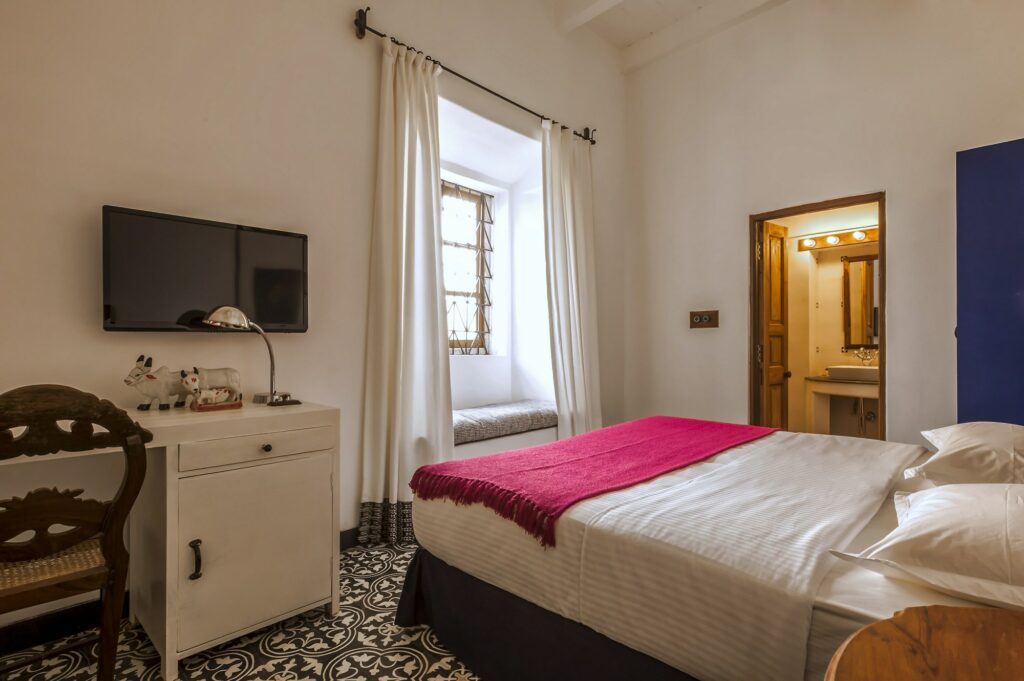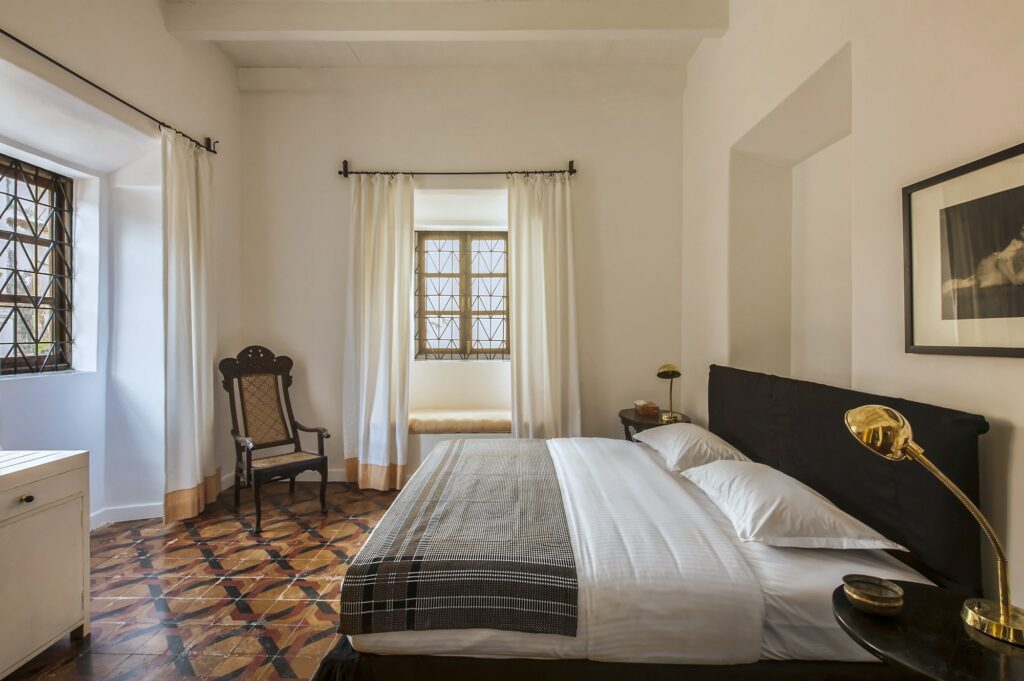 Photograph Credits Mateus Goa