Monochrome Goals: Design Pataki's Top Picks For The Month
16

Jun

'22

9:12 pm

by

Sneha Shah
A contemporary colour trend that's here to stay is monochromatic design! Equal parts classic and classy, this two-tone colour theme works brilliantly across all kinds of spaces. Whether in a living room or dining room, bedroom or bathroom, black-and-white schemes are bold in their high contrast, and effortlessly on-trend.
The subtle equilibrium of these opposing elements creates a flexible design palette that can be dialed up or down, depending on how the two shades are used across the room. Here, we've rounded up our favourite monochromatic spaces that are eternal yet of-the-moment.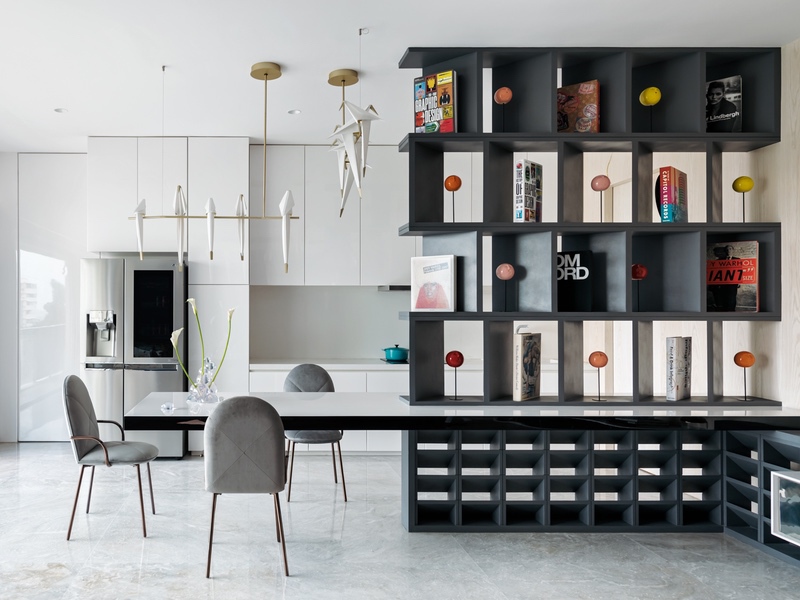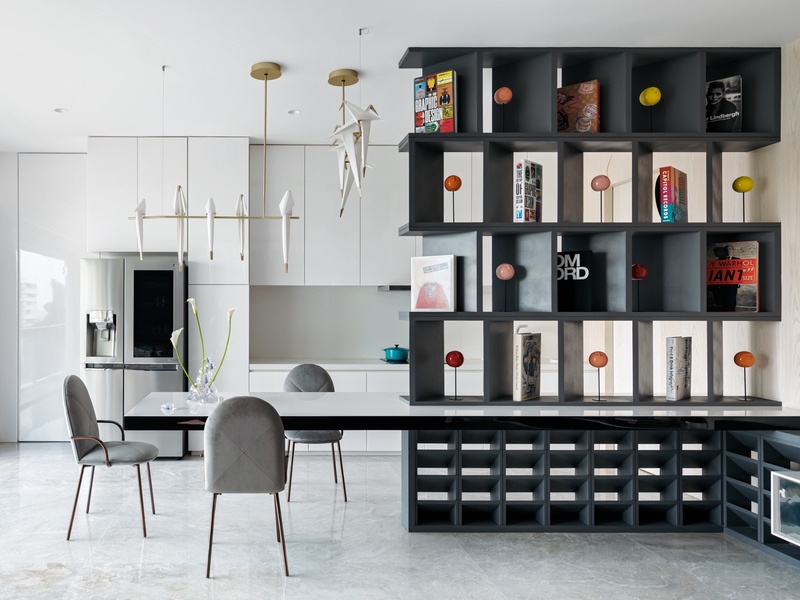 Mumbai-based interior designer Jannat Vasi has impact fully rendered a design-driven monochromatic tone for this space. Within sight is a custom bookshelf in chic black heaving with an assortment of books on display. The cantilevered dining table projecting from the bookshelf artfully divided the living room from the open kitchen, all the while maintaining a visual connection. The hanging lights in brass in the shape of birds perched lends a unique appeal to the space.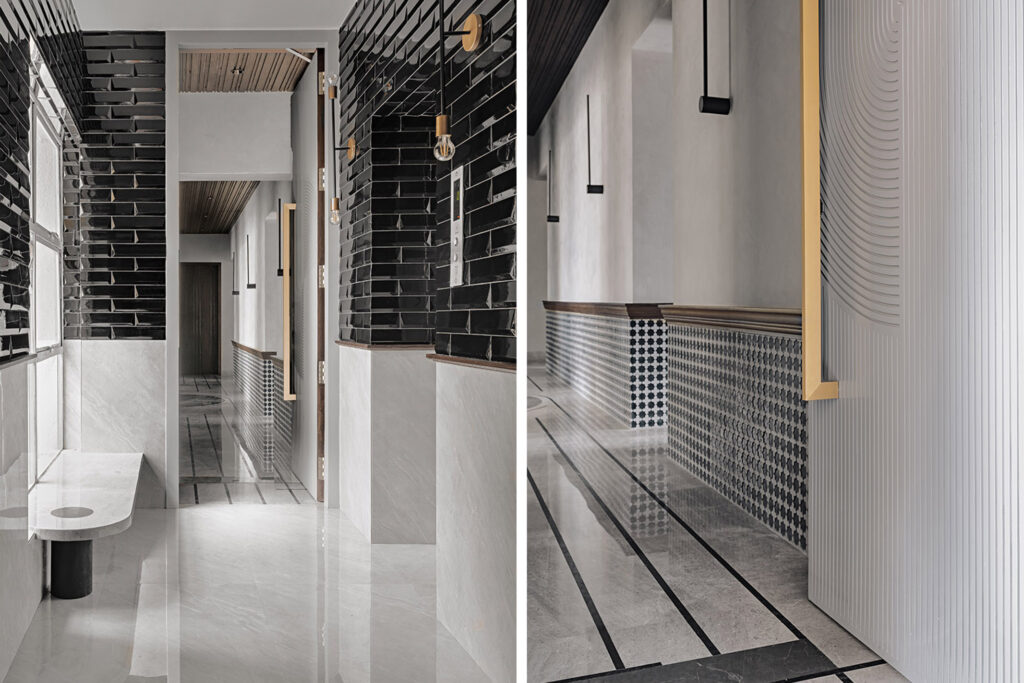 Right from the outset, this home designed by Smita Thomas of Bangalore-based Multitude of Sins, promises intrigue. Minimalist and doused in the timelessness of monochromes, the foyer's bipartite wall is clad in black subway and light grey marble tiles, segregated by a dark wooden beading detail. Appearing almost as an extension of the marble wall, a curvilinear bench sits by the light-flushed window. Brass and black metal dual-armed sconces add a hint of industrial to the otherwise contemporary space. A cool white entrance door engraved with concentric patterns leads into the passageway.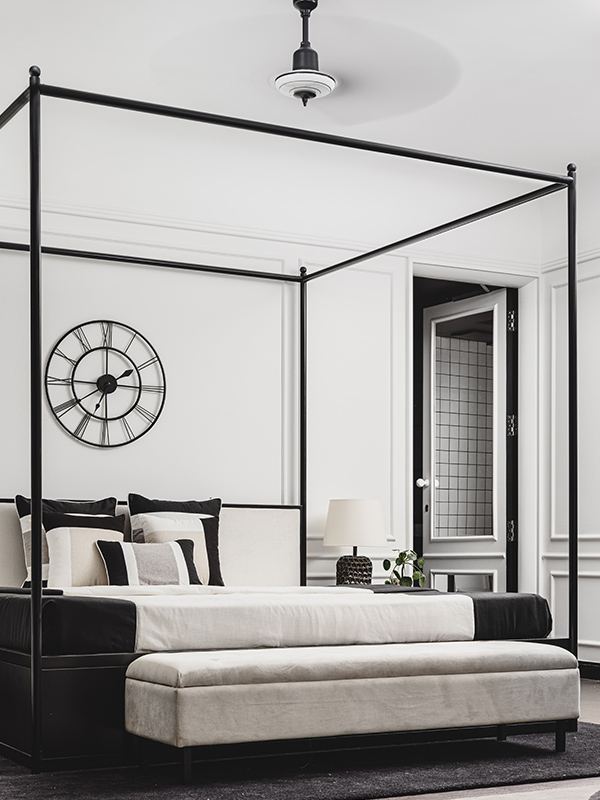 Designed by Eshita Marwah, this space seamlessly strings together an age-old charm and modern day sensibilities. A haven for any guests, The Burgundy Room plays host to a plethora of stylish silhouettes. From the sleek four-poster bed, to a classic wall clock, and an all-white ottoman, the many objects in this achromatic bedroom are in harmony with each other. The mouldings on the walls exude Victorian charm.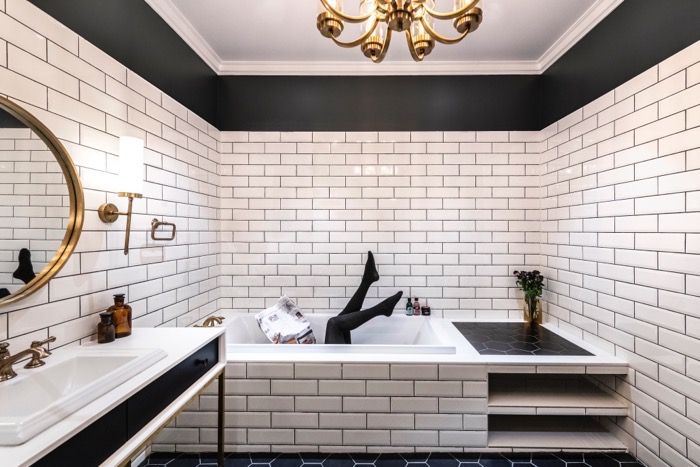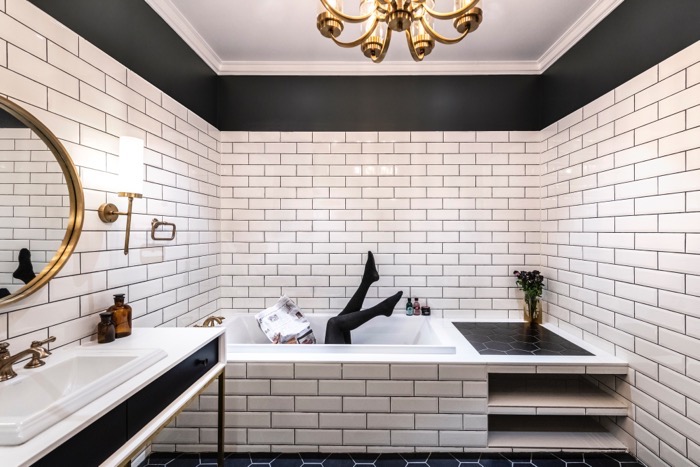 The design duo Mohammed Afnan and Arun Shekhar of Humming Tree designed this bathroom in stunning white subway tiles, detailed with elements of brass and black. A difference in colour, shape, and finish between the two types of tiles used adds a welcome variation. The wall-mounted brass lights and vintage brass chandelier complete the look.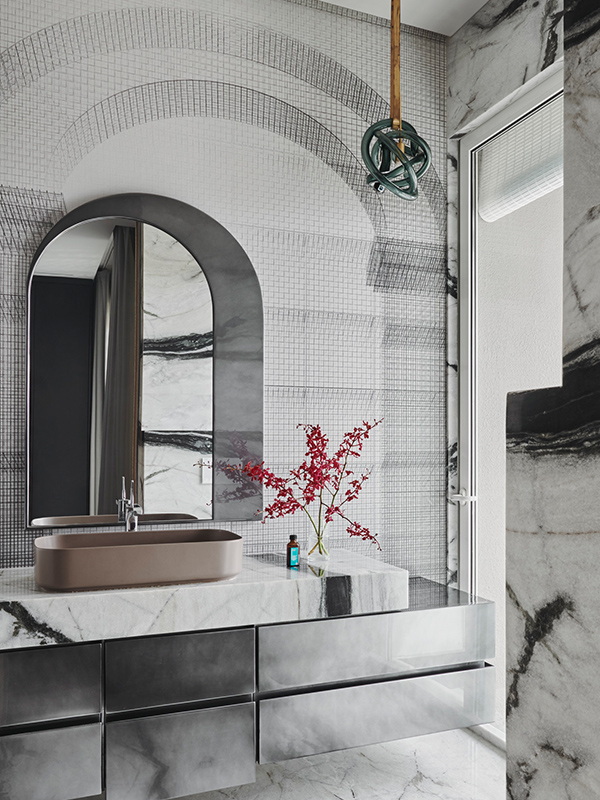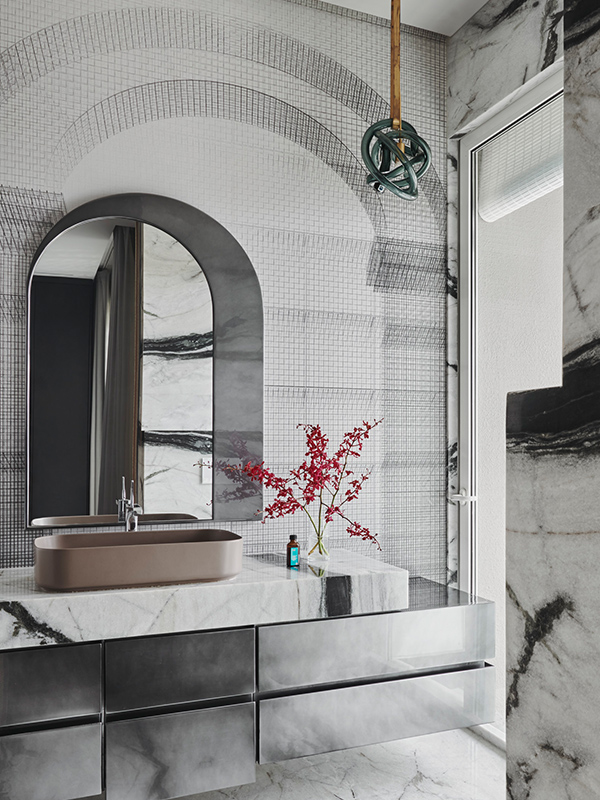 Designed by Hiral Jobalia Studio, this monochrome bathroom is a feast to the eyes. It comprises Panda White marble and a Wall&Deco wall covering. A monochrome of this kind needn't be mood or dark. Balancing the black-to-white ratios in favour of the latter creates a softer and brighter space.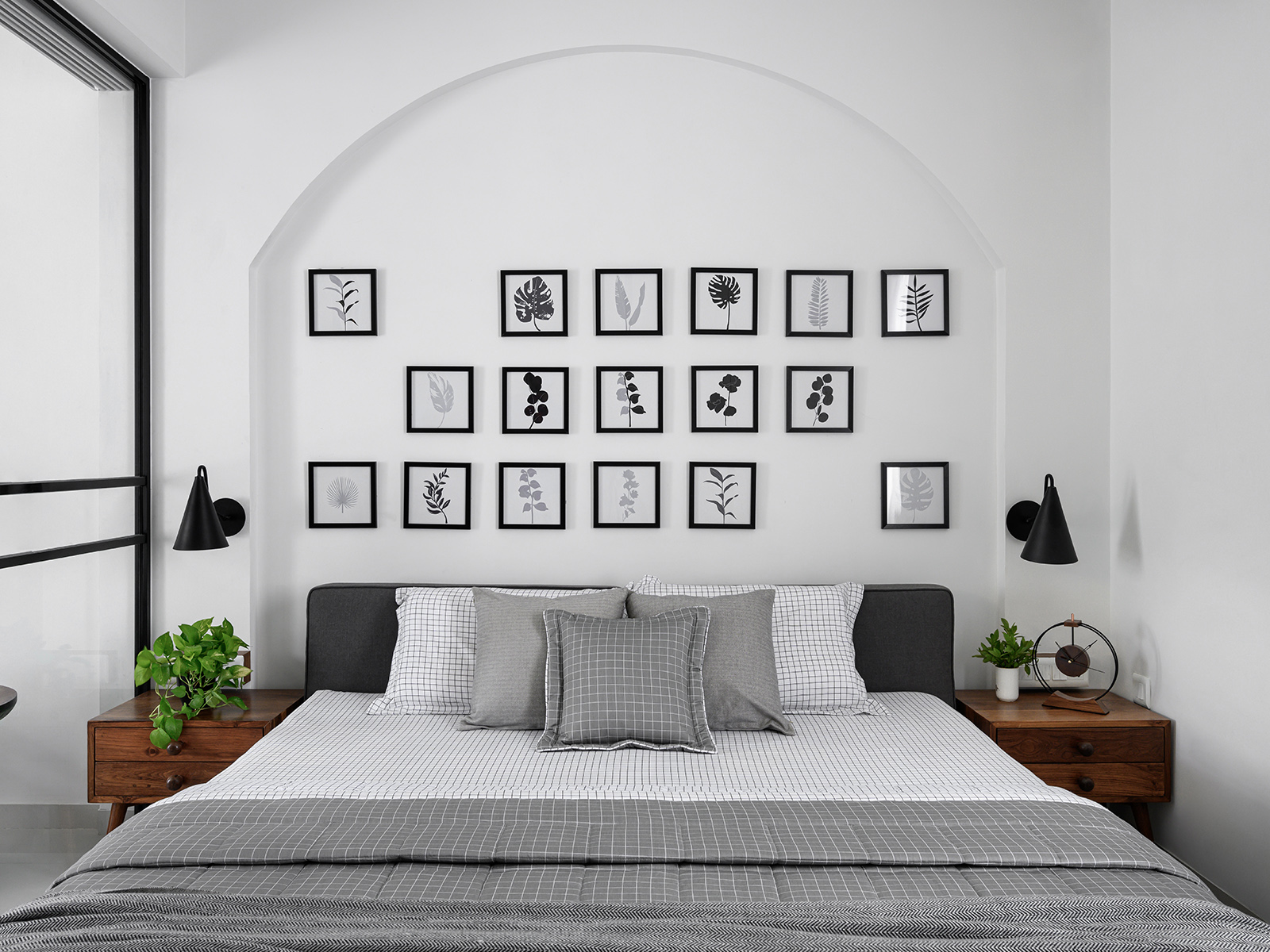 The B.A.D(Bureau of Architecture and Design) Studio, pays heed to the minimalist requirements of this space. The muted palette and subtle design elements are seen across this master suite. A segmented arch is introduced into this bedroom, on the back wall against which the bed is set. Its soaring appearance lends a sense of openness, as does the glass partition that segregates the bedroom and private lounge attached to a rooftop garden. In this naturally lit space, wooden furniture are perfectly paired with the generous addition of plants.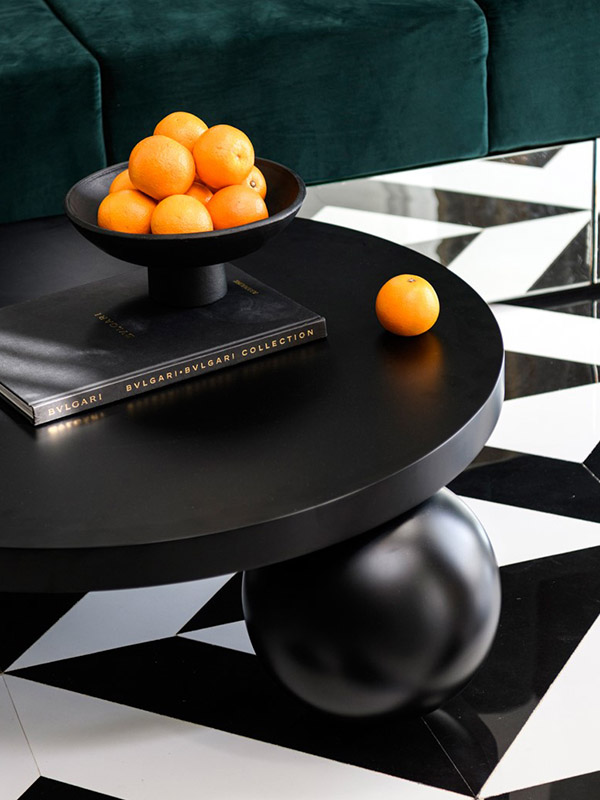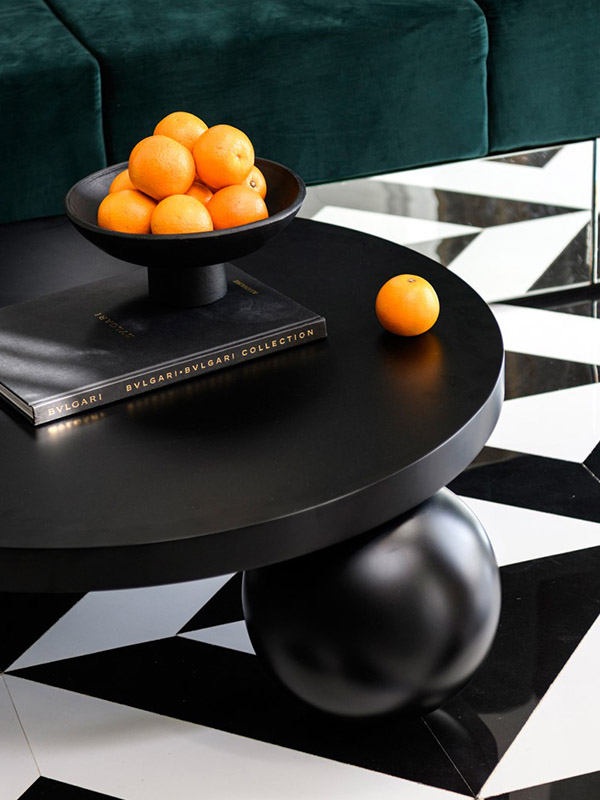 Designed yet again by the Humming Tree duo, the classic all-black coffee table resting on the circular mass over a puzzle-esque flooring brings in effortless style. This round fail-safe option paired with the monochrome tiles is surely one of the best ways to spice up your room.