Monochrome Minimalism Takes Over This Serene Mumbai Apartment
21

Feb

'22

6:33 pm

by

Nitika Choraria
A feeling of warmth and tranquility greets one upon stepping inside The Omkar 1973 Home brilliantly designed by Mangesh Lungare Studio. Nestled in Mumbai – this sun soaked 2,700-square-feet residence has a refreshing charm to it. Home to a family of four and two pets with a huge collection of likings, this space is undeniably a visual feast.

"For me, this was a quick and an extremely interesting project that managed to get completed within a span of three months" says Mangesh Lungare. Starting off with a neutral base palette, "our thought process initiated on how to transform this rental apartment into a comfortable abode for our clients" he adds. Upon stepping into this house, one is welcomed with soothing colours and fabrics complemented by minimalistic furniture. Together with a level of sophistication, this quintessential home features a vast range of eclectic elements harmoniously woven in a monochrome color scheme.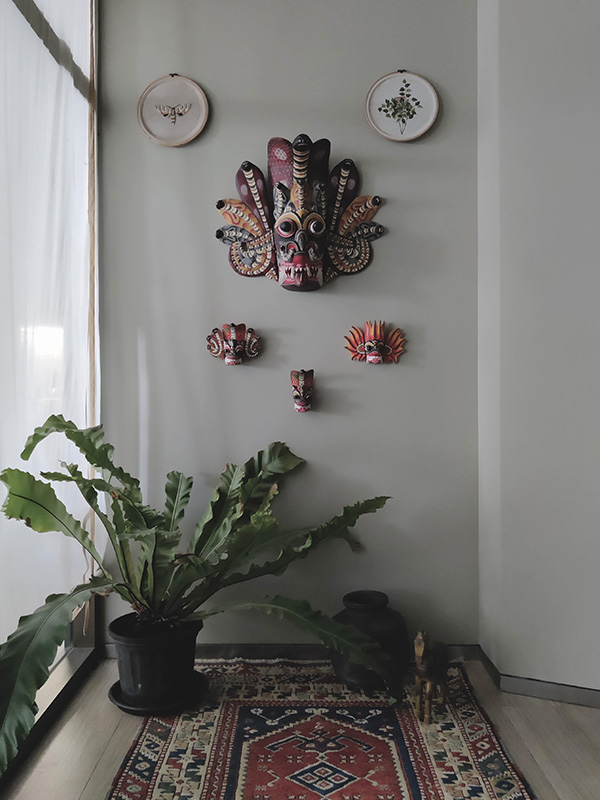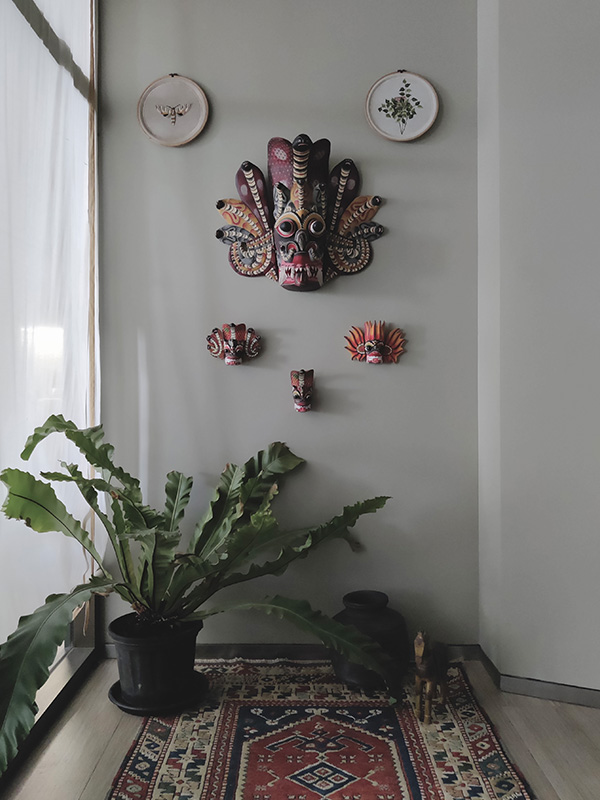 This timeless space showcases modernity and boasts of wooden flooring, soft white walls, and tall windows that beautifully lets the mellow sunlight seep through the curtains. Wooden textures through the use of teak and oak wood along with the inclusion of anodised metal, tinted glass, a range of fabrics and lush greens bring in the freshness. To style the space, this home is outfitted with furniture, lighting, soft furnishings, rugs, décor and art pieces "from our clients own collection from their travels, made in-house at our studio and additionally – Camelot, HummingHaus, Good Earth, The Pure Concept Home, Nicobar, Contemporary Arts & Crafts, Ikka Dukka, and Ikea" says Lungare.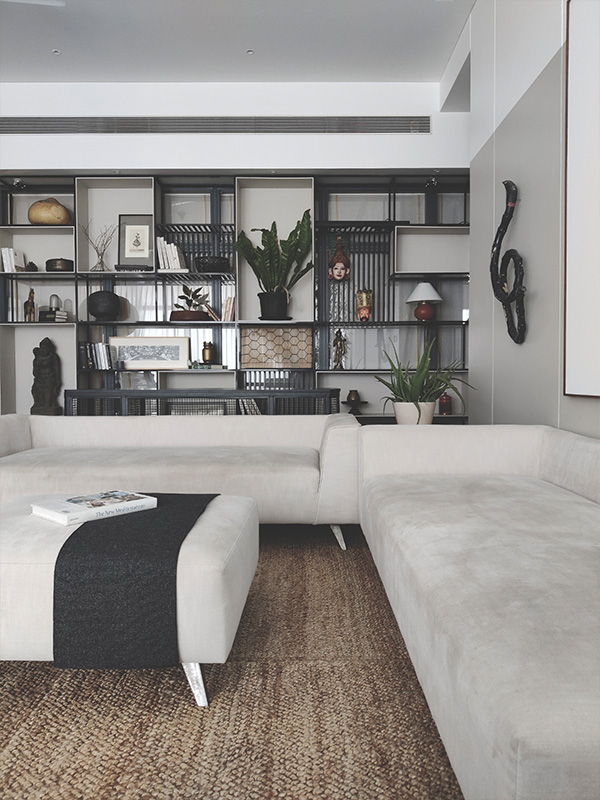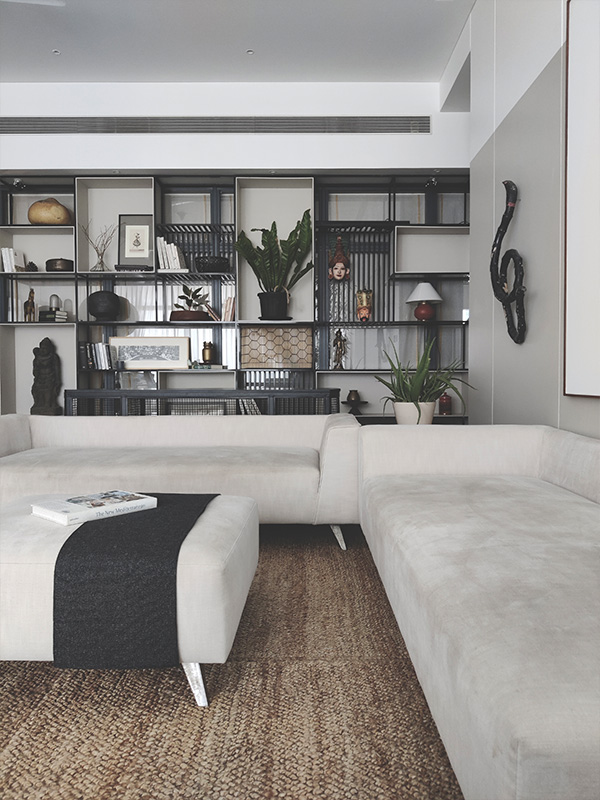 Rich with ideas blending with finer nuances of detail, this eye-catching space is a treat. A sophisticated pale mushroom color band is employed to make a monochrome envelope in the living and dining area forming the perfect base for – pristine white sofas and white canvas paintings from Mangesh Lungare Studio, a nubbly hemp carpet from HummingHaus and a tall black bookshelf. Additionally layered with foliage artistically, green hues perfectly bind all the warm wooden tones.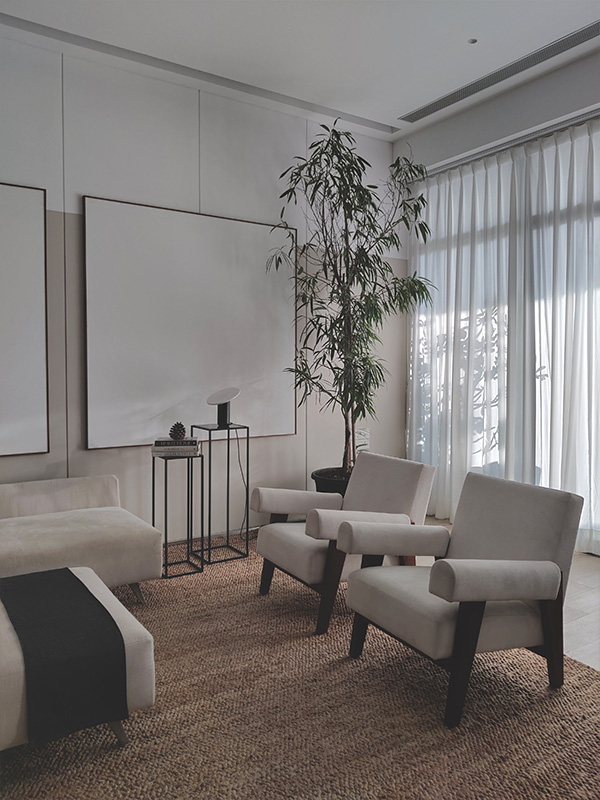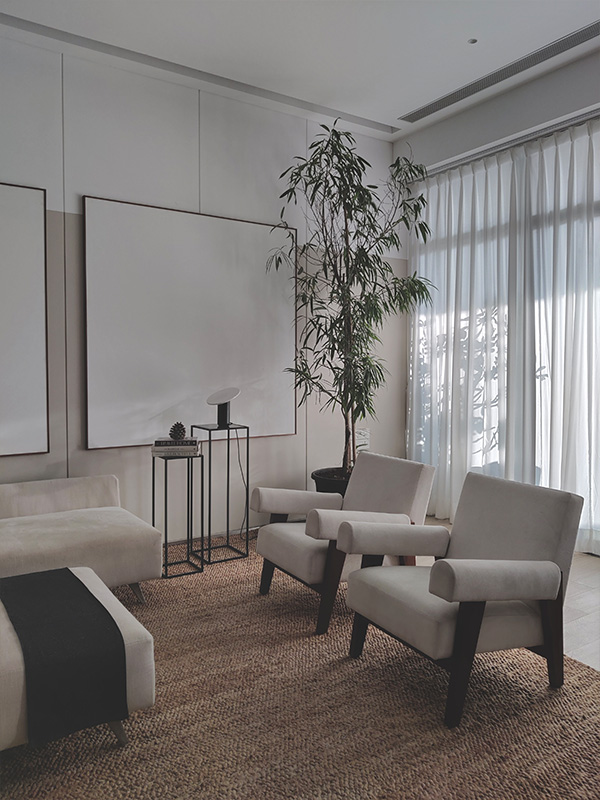 Adorned with art works collected by the homeowners over the years, the dining space is highlighted by the two stunning large fabric lamps from Mangesh Lungare Studio hanging from the ceiling. The tone of the wooden table adds to the space that features soft white walls and oak wood flooring.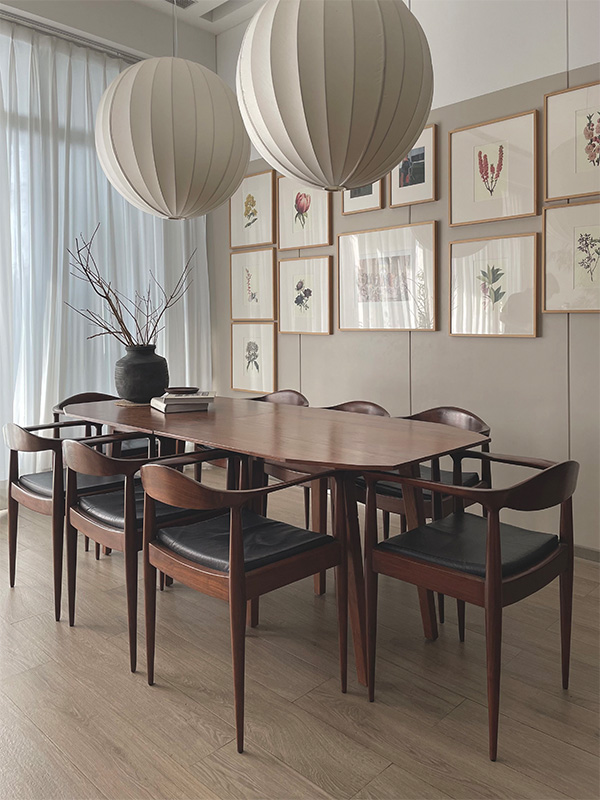 Ensuring continuity and blending with the rest of the space, the pale mushroom band runs along the passage making its way into the bedrooms. Integrating classic with the contemporary, the master bedroom is a composition of – a carefully curated minimal yet modern bed creating an inviting but quiet respite for the homeowners and a cozy study making it the perfect setup for work from home and antique furniture pieces.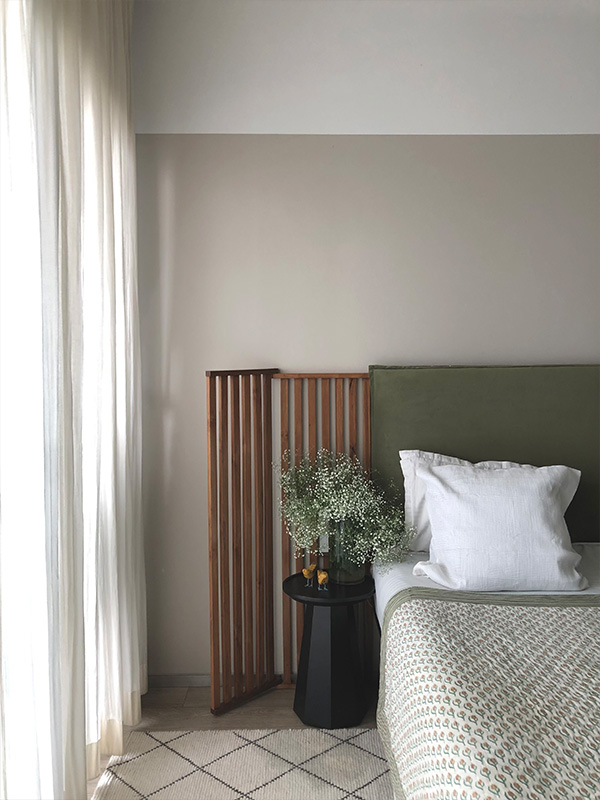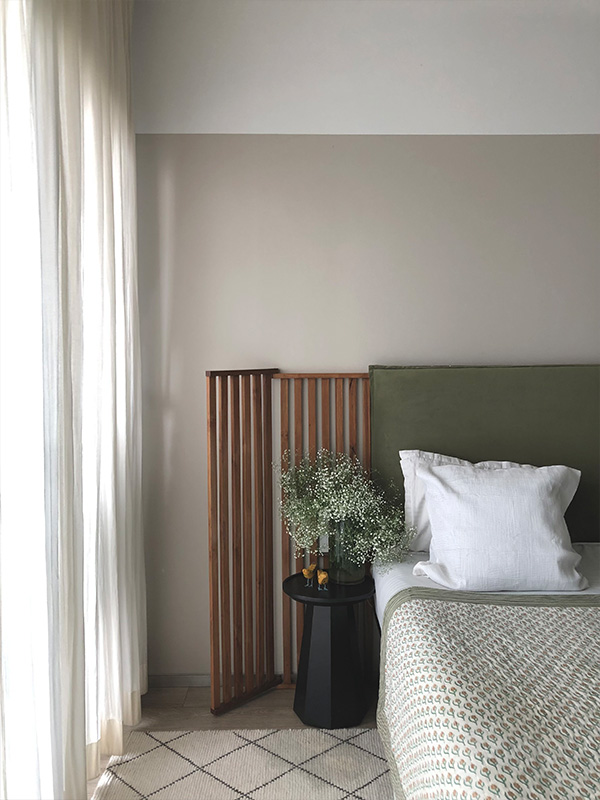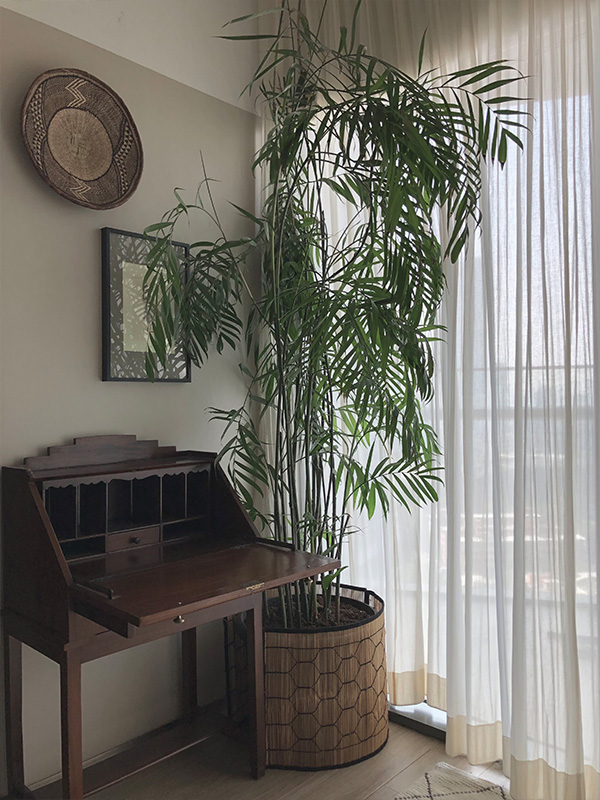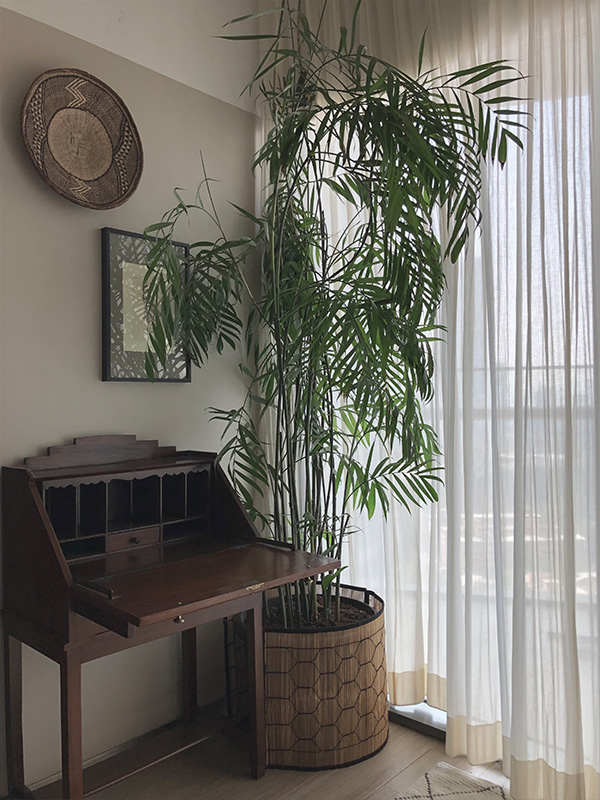 With a playful touch, the daughter's bedroom relishes a green color band at the bottom, lifting the spirit of the room with a carpet from HummingHaus and thriving greens. A tent-like structure is designed over the bed by Mangesh Lungare Studio, adding a whimsical feel to the space.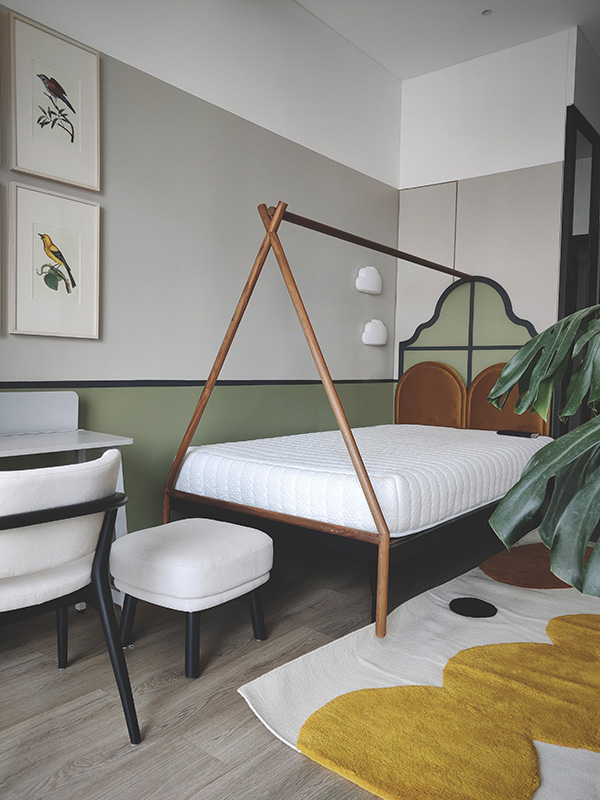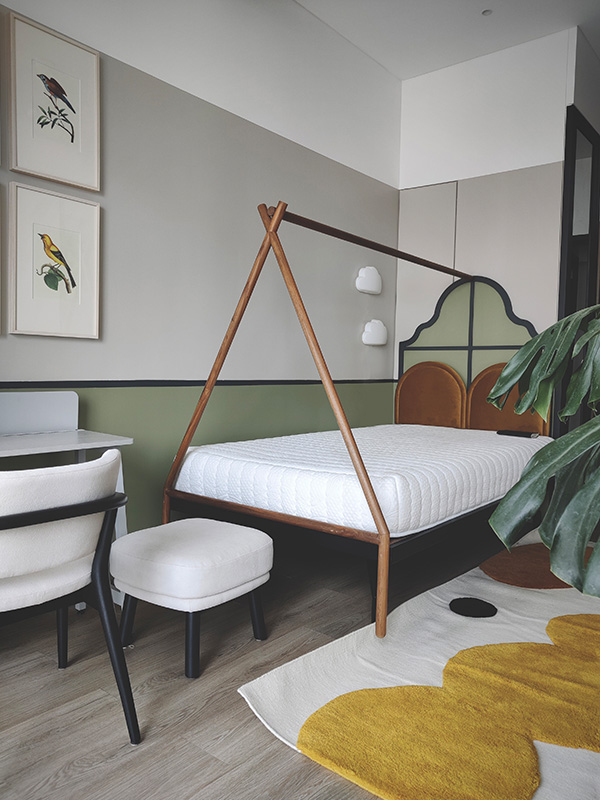 Adding character to the elegant space, the walls in the guest bedroom showcase a mélange of art and craft picks collected from the homeowners travel collection.