Morphogenesis: The Delhi Art Gallery
2

Nov

'16

3:53 pm

by

Tansha Vohra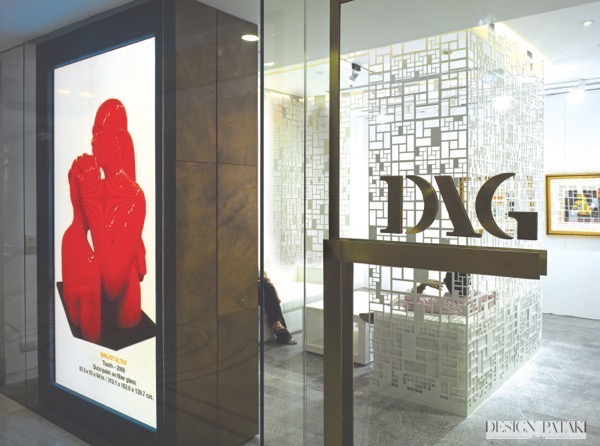 We love Delhi; what with its monuments drenched in history, markets acting as canvas for resistance art and the poignance that tends to grace its streets. As if we needed any more reasons, we have found one that is sure to keep bringing us back to the capital – The Delhi Art Gallery. Designed by one of India's leading architectural firms, Morphogenesis, this is a gallery that is a piece of art on it's own. This space rests in the heart of a growing Indian contemporary art retail paradigm, leaving art aficionados with a chance to appreciate art in a gallery esque environ that is dynamic on a whole new level.
Arguably, the most important design element in any gallery space are the walls. This is the very backbone upon which a gallery builds itself. Morphogenesis has taken this fundamental element and played with it in the most unique way. The entire gallery space of 950 sq feet consists of 14 moving panels, and 3 fixed panels. This gives the space the flexibility to transform from 6 individual rooms to one large room. This transformation is important when there are several artists in the mix, each one commanding their own space and also when there is one vast collection that requires a particular flow. It also works as event space, giving enough room to move around and adjust to the needs of the event. This dynamism in space design is absolutely crucial given the multiplicity of usages galleries lend.
Architectural kinesthetics elements is what we live for, and these sliding panels and moving walls are exemplary of the style. We're also loving the smaller design elements that add more to this space than what a normal gallery has to show. For instance, the reading nook with the library to contain discussions of works, as well as act as an office when required.  Morphogenesis has set itself apart by having completed 2 decades of sustainability led design, and having contributed greatly to the understanding of sustainable design of the region. With design projects like the Delhi Art Gallery, Morphogenesis has definitely carved it's niche in this design world we're so happy to be a part of.