Mumbai Art And Design Guide 2023 : An Updated List Of Exhibitions Currently On View
12

Jan

'23

10:52 am

by

Nuriyah Johar
Design Pataki brings you an updated guide to the city's best art and design exhibitions currently on view across Mumbai.
Mumbai Urban Art Festival
At venues across Mumbai
Ongoing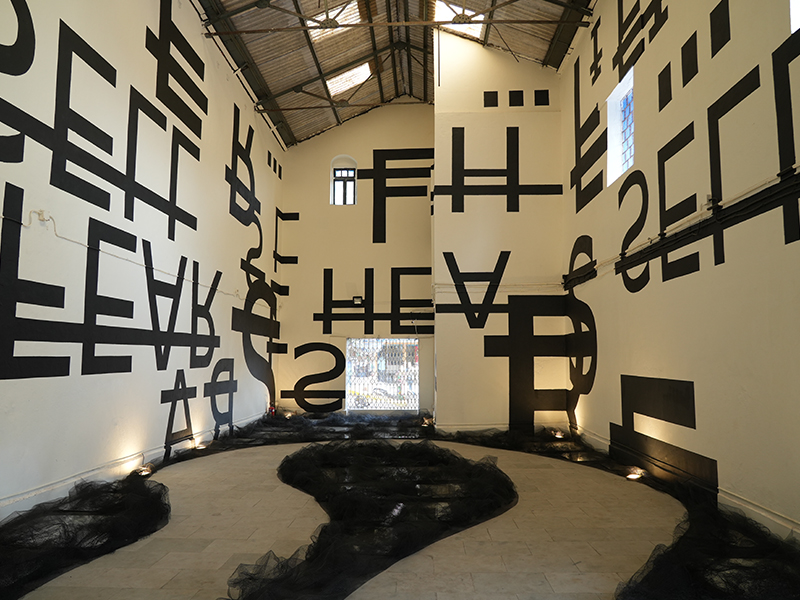 Presented by St+art India Foundation and Asian Paints, the 3-month long Mumbai Urban Art Festival (MUAF) is a city-scale endeavour which includes landmark murals, experiential exhibitions, immersive installations and public programming across key venues. In the spirit of reimagination and development, Sassoon Dock has been transformed into an art hub open to all. Large scale site-specific installations, new media, and light based works will immerse the viewer in reflections between the sea and the city. Over the weekends, a host of workshops, talks, art walks, performances, concerts, dance events, kids activities enrich the Sassoon Docks. With vibrant murals and intriguing experiential installations, the Sassoon Docks have been leaving the beholders introspecting on the socio-economic know-how of the bay.
The first edition of the festival explores the idea of "city in flux", where the city, like water, is porous, regenerating, and fluid. With an aim to democratize art and encourage the public to engage with design, culture, and art, MUAF brings together a wide range of audiences in varied spots across the city to experience the work of over 60 local and international artists.
Patterns of Consequence, Emilie Pugh
Galerie ISA, Ballard Estate
January 12 to March 15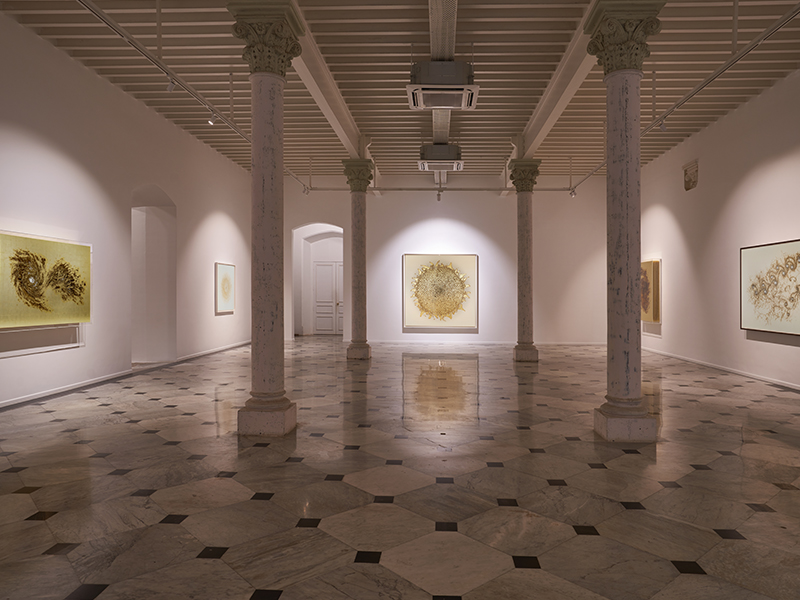 Galerie Isa presents the highly evocative works of Emilie Pugh. The artist takes inspiration from nature and belief systems, operating at the boundaries of the spiritual and scientific, the material and the immaterial. She explores different examples of the Fibonacci code at work in nature, creating her own large-scale, shining sun titled 'Helios', based on the seed head of a sunflower in brilliant gold which she reveals to the viewer by burning a series of spirals into paper in order to expose the gold leaf that lies behind. The sacred symbolism attached to gold affords it an elevated place among the precious metals. Pugh also moves from gold to the golden ratio, which compositionally provides a unifying factor among the disparate forms her works inhabit.
Handmade Tale, Boris Brucher
æquō, Colaba
January 12 to February 24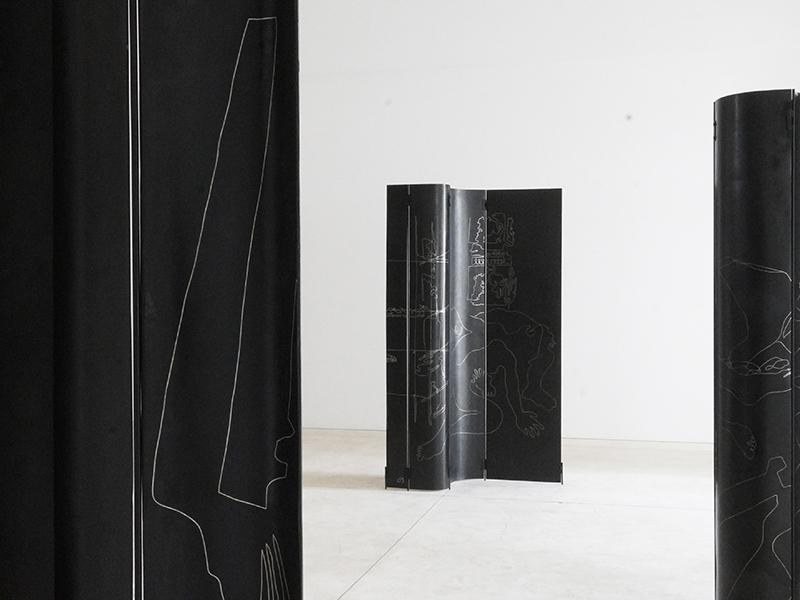 For æquō's first anniversary show titled Handmade Tale, the gallery showcases a new series of drawings by the French illustrator Boris Brucher, who experiments with two iconic Indian techniques; the rare metalwork of Bidri, alongside delicate hand embroidery. Upon entering the gallery, you are immediately taken in by four grand sculptural volumes engraved with Brucher's contemporary drawings in pure silver. Commissioned and developed by æquō, these Pila screens are the work of mastercraftsman Mohammamed Abdul Rauf, whose Bidar-based workshop executed the historical silver inlay craft. Charged with symbolism, the free hand lines gleam from within the metal alloy, revealing vignettes from Karnataka – those of the landscape and architecture of Bidar, rivers and ruins, and the bodies of Brucher's signature wrestlers. In the second gallery space, we see an ephemeral installation of white-on-white linen throws suspended mid-air. Brucher's drawings take the form of tight French knots, embroidered in Mumbai.
Dhara, Jayasri Burman
Art Musings, Colaba
January 12 to February 28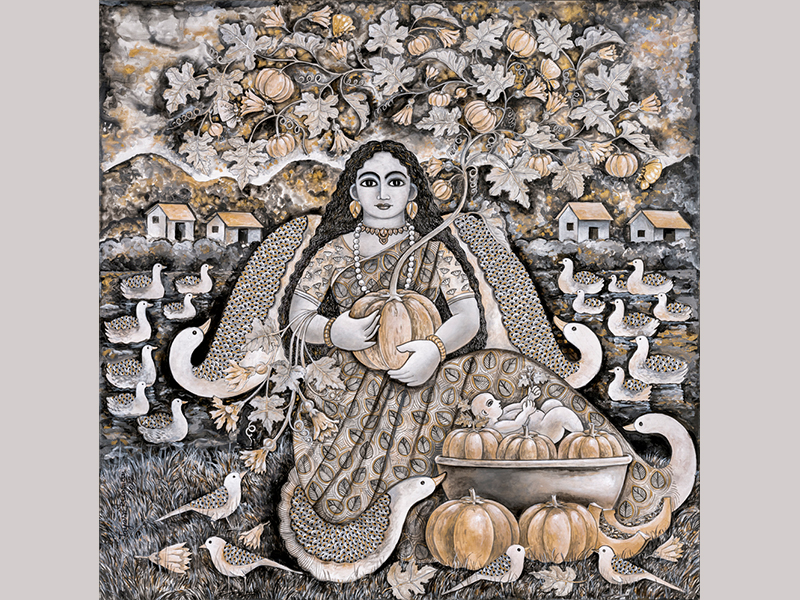 Dhara brings together the recent works of renowned Kolkata-based artist Jayasri Burman. Art Musings has collaborated with her on several exhibitions, going back over two decades. In Dhara, viewers can see how Burman was inspired by the rich cultural heritage of Bengal. Fables and folk tales from her childhood make their way into the visual narrative, which is full of mysticism, rituals, and festivals. The artist has evolved, over a period of time, an iconography that is saturated in the aura of Nature's nurturing, sustaining, maternal capacities. She invests these capacities in the archetypal figure of the Great Mother, manifested as the Devi, the guardian of waters both still and flowing, attended by animals symbolically associated with fertility and plenitude. This exhibition brings forth a set of ideas that have been Burman's muse over the last several years; Birth, Nature, The Sacred Feminine. As she dives deep into these concepts, there emerges a body of work, delicately nuanced and loaded with fine imagery.
Dr. Banerjee in Dr. Kulkarni's Nursing Home and Other Paintings 2020-2022, Atul Dodiya
Chemould Prescott Road, Fort
January 12 to February 25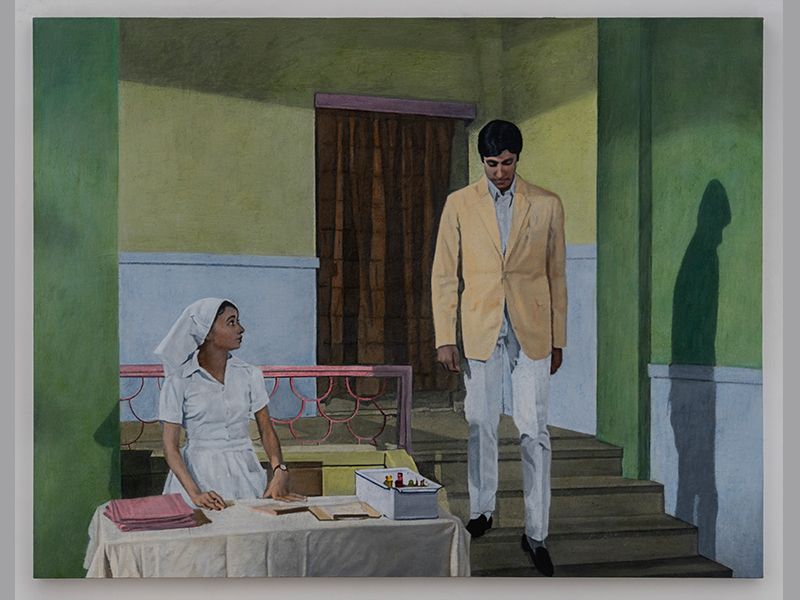 Taking inspiration from Indian cinema, Atul Dodiya creates paintings populated by iconic characters, in his latest series titled Dr. Banerjee in Dr. Kulkarni's Nursing Home and Other Paintings 2020-2022. Watching and rewatching movies during the lockdown germinated the series. Films like Padosan, Kapurush, Kagaz ke Phool, Awaara, Ittefaq, that he watched often with his parents as a young man, and ones like Anand (from which the title of the exhibition emerges), where then superstar Rajesh Khanna paved the way for Amitabh Bachchan, all find a way into Dodiya's work.
Interestingly, the artist's references to cinema go back as early as 1995 when he used imagery from the films of Andrei Tarkovsky, Ritwik Ghatak and Guru Dutt. He inspects film sets from both mainstream and indie cinema, from filmmakers like Hrishikesh Mukherjee to Satyajit Ray. The false character of sets, the fake staircase, a painted window, or a door that leads to nowhere; provide the vocabulary for this set of paintings. While watching these films from a keen introspective lens, Dodiya began to photograph his own decisive moments. Each of these "frozen moments", carefully chosen, shot on his iPhone – became pictorial possibilities with the subjects imbued with a new mystery.
Birth Of Forgiveness, Rithika Pandey
Chemould Colab, Colaba
January 12 to February 25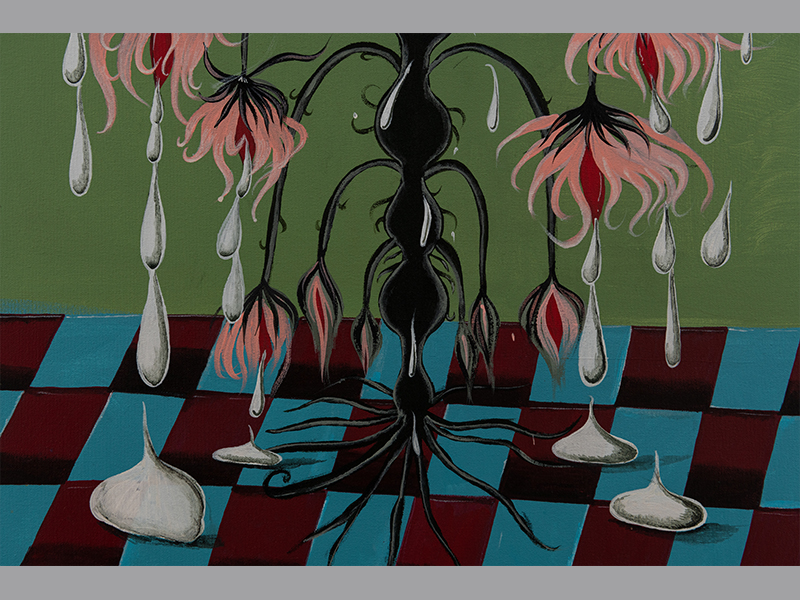 Rithika Pandey's first solo show in India features nine tableaus; paintings in pursuit of healing and transformation. Compared to her previous, more vibrant bodies of work, Birth of Forgiveness displays colour palettes that have been subdued and compositions that have been intentionally pared back. These pieces are characterized by a solemnity, reverence and focus granted to the scenes that unfold. Pandey transcends the domestic boundaries of previous work and situates her protagonists in a liminal space where viewers can bear witness to their infinite performance of complex transformative rituals. Her characters – plant-like superspecies and more than human entities – weep, bleed, and eject.They are born, they die and are subsequently reborn.
The Illusion of Home
Art & Charlie, Bandra
Ongoing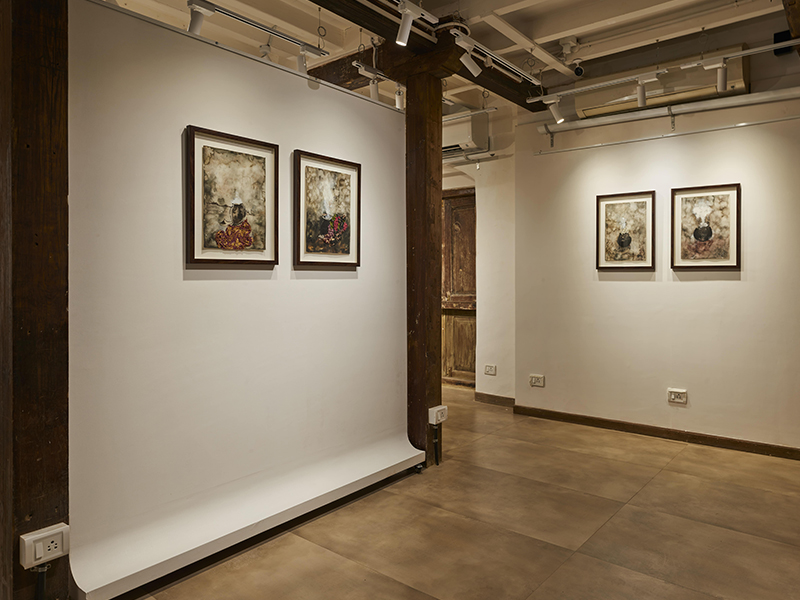 Curated by Ayesha Parekh, Art & Charlie's new show explores the eternal chase to find Home. In this group show, Jasjyot Singh Hans explores the elusive nature of home and belonging. Ranjeeta Kumari navigates along the tender lines of home, memory and identity. Osheen Siva inspects the vulnerability of the act of intimacy, solidarity, and affinity as Home. Arvind Sundar plays with visual abstractions of Home through geometry and chaos theory, while reflecting on how everywhere can be Home, all one has to do is believe that it is.
Yes, Blue! But Which Blue?, Utkarsh Makwana
Akara Art, Colaba
January 12 to February 25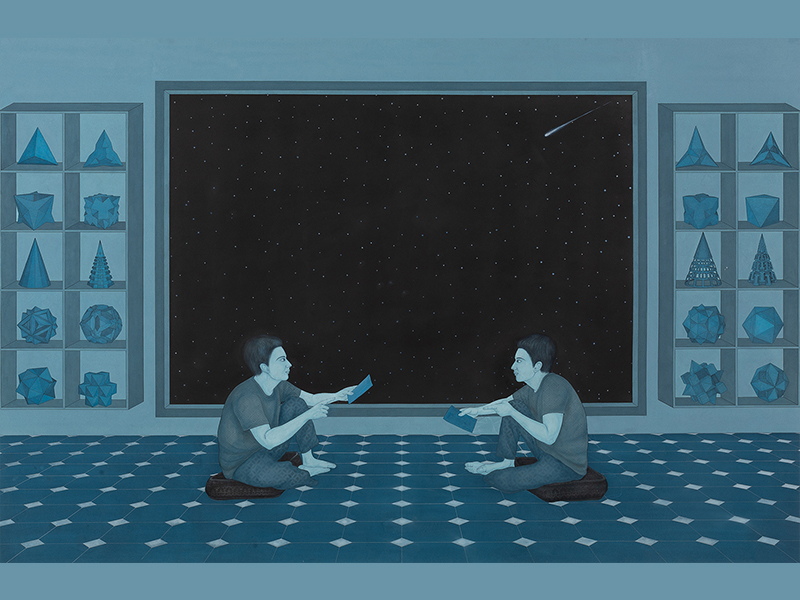 Yes, Blue! But Which Blue? is artist Utkarsh Makwana's second solo show at Akara Art. The artist gives water-based paints an elastic quality, an oil-like pliability. He mixes dry powder pigments mixed with gum arabic, casine, or gouache binder. He works with paper, but at an enormous, immersive scale. In this show, Makwana is exploring storytelling methodologies alongside structural ones, new vectors that are emboldening and moving through his practice. The narratives that emerge on the painterly plane are derived from conversation, from the anecdotes of the lives of his friendships and family members, from his own personal history as well as the histories of entangled communities. The works are both an invitation to dialogue, as much as they are the architecture within which one can animate the communication.
Past Shows – 
Unstructured Pursuit of Perspectives
Tao Art Gallery, Worli
January 12 to January 31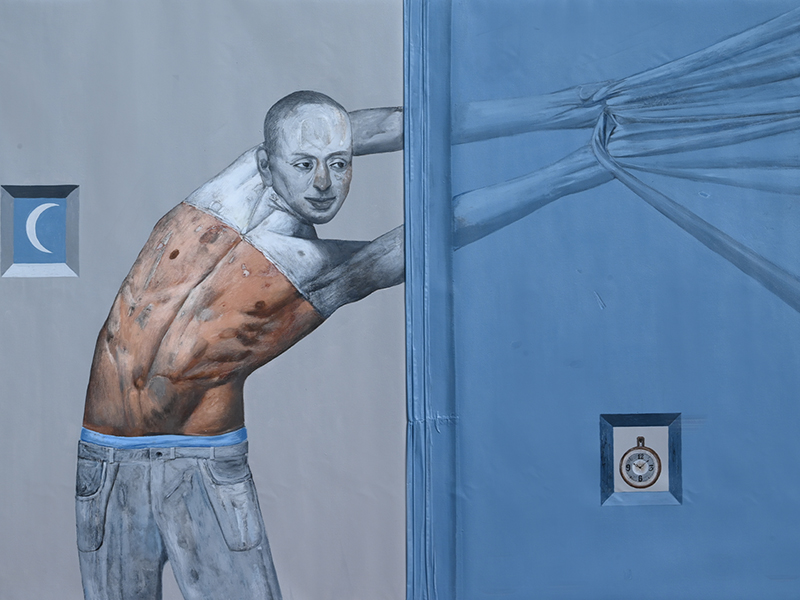 TAO Art Gallery in collaboration with HIMS Academy, Germany is exhibiting "Unstructured Pursuit of Perspectives", showcasing artworks by upcoming contemporary artists Rajesh Wankhade & Smita Kinkale. The show highlights the fundamental human pursuit of revelation; both artists make an 'un-structuring' happen through their art to create perspective parallels in the viewer's mind. Complete with the juxtaposition between the abstraction and the figurative, the show explores the thought of what is material, what is spiritual and their interchangeability. The end goal is to show the unified state of all, stripping away the existing rigid narratives around the uses of matter and the roles of humanity.
Interdimensional Hypnosees, Demsky
Method Kalaghoda
January 12 to February 12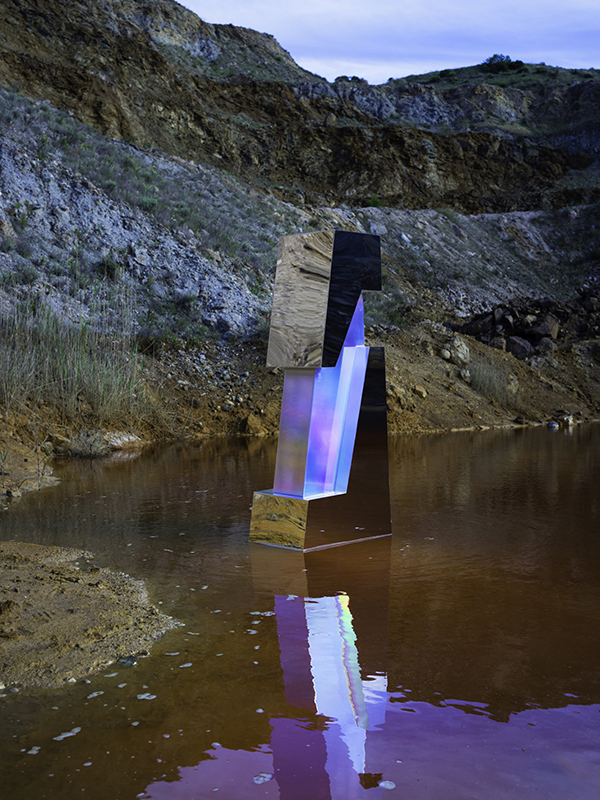 Method Kalaghoda presents Interdimensional Hypnosees, a solo exhibition by visual artist Demsky – a pioneer of the burgeoning neo-futurist movement from Spain. The artist's evolution of future aesthetics started with murals in the 1990s, paintings in the 2000s, and now sculptures in the second decade of the century, which are presented at Method Kalaghoda, marking Demsky's first ever show in India. This new phase of his journey is a refined exploration of the merging of materials like aluminum, layered with methacrylate and enamel spray paint amongst other finishes. Through his body of work, Demsky aims to awaken us to ideas of the future, parallel timelines, and interdimensionality.
Mumbai Gallery Weekend
At galleries across Mumbai
January 12 to January 15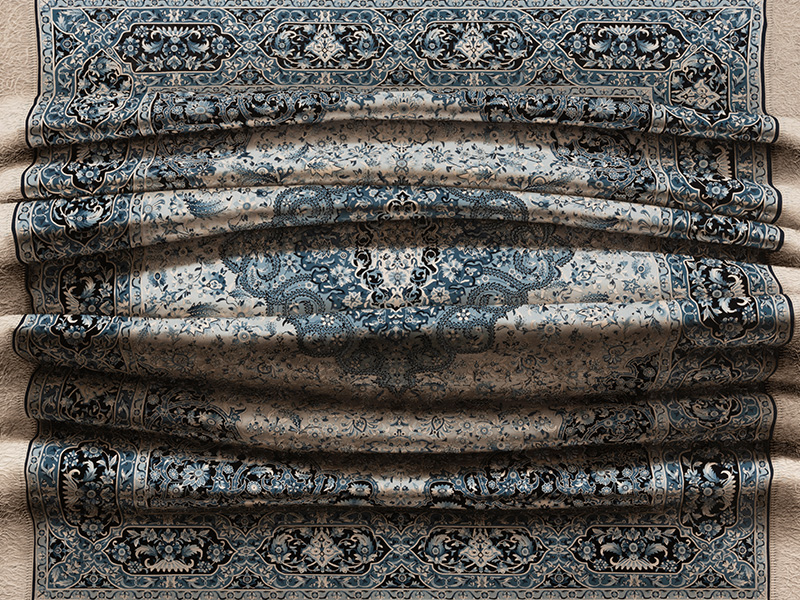 One of the most anticipated annual events on the city's art and culture calendar, Mumbai Gallery Weekend is back from the 12th to the 15th of January 2023. Over thirty emerging and established galleries across the city, from Colaba to Bandra are participating in this celebration of art. New entrants include Experimenter Colaba, Chemould CoLab, Art and Charlie, and Ice Factory Ballard Estate, all of which have been launched in Mumbai in the past year. Mumbai Gallery Weekend presents a fantastic opportunity to engage with the Visual Arts including Painting, Sculpture, Photography, Media Art, Installation, Decorative Arts, and Design in the city over four days.
Iconic Masterpieces of Indian Modern Art, Raja Ravi Varma
DAG, Taj Mahal Palace
January 12 to January 15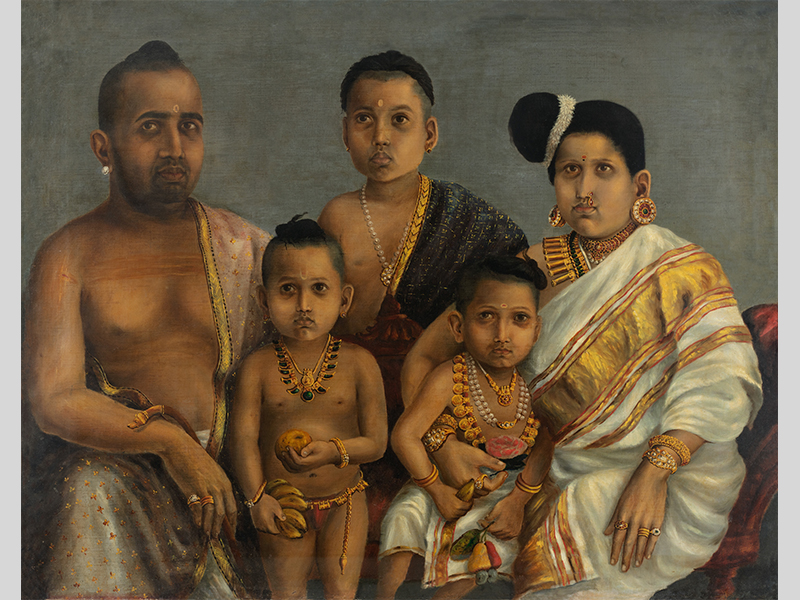 DAG kicks off their programming for the new year with a truly historical painting – the first commissioned portrait by Raja Ravi Varma made in 1870 that goes on public display for the first time ever at DAG's Mumbai gallery at the Taj Mahal Palace, Colaba. This is part of a special showcase for Mumbai Gallery Weekend 2023, offering an insight into what lies ahead as part of the 50 works in the second edition of 'Iconic Masterpieces of Indian Modern Art'. The portrait, Kizhakke Palat Krishna Menon and Family by Raja Ravi Varma can be considered the first work of 'modern art' to emerge from India, painted 152 years ago, in 1870. The painting marked a milestone in Indian art history, particularly in portraiture.
This House Once Stood in Another Country, Nancy Adajania
Kathiwada City House, Worli
January 12 to January 15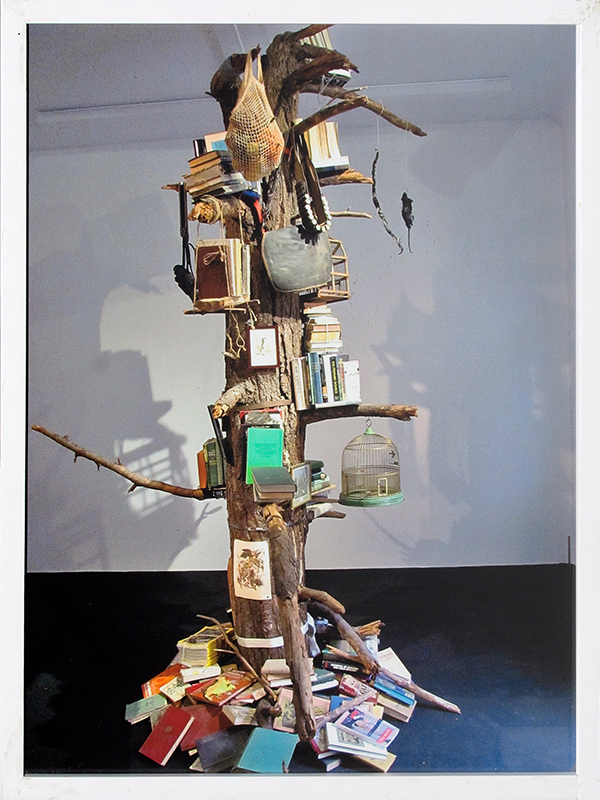 Nancy Adajania's photographic series devoted to Berlin, This House Once Stood in Another Country, is exhibited by Anupa Mehta Arts Advisory at Kathiwada City House in Worli as part of Mumbai Gallery Weekend. Nancy Adajania is a cultural theorist and curator based in Bombay. She was Joint Artistic Director of the 9th Gwangju Biennale, South Korea (2012). She has curated a number of pathbreaking exhibitions including, most recently, 'Woman Is As Woman Does' (CSMVS Museum with JNAF, 2022), a first-ever intergenerational mapping of the works of Indian women artists, filmmakers and activists against the backdrop of the women's movement in India. On Saturday, 14th January at 5:30, poet and art critic Ranjit Hoskote will engage Adajania in a conversation about her work in photography and her relationship with Berlin.
Young Collector's Weekend
IF.BE, Fort
January 12 to January 15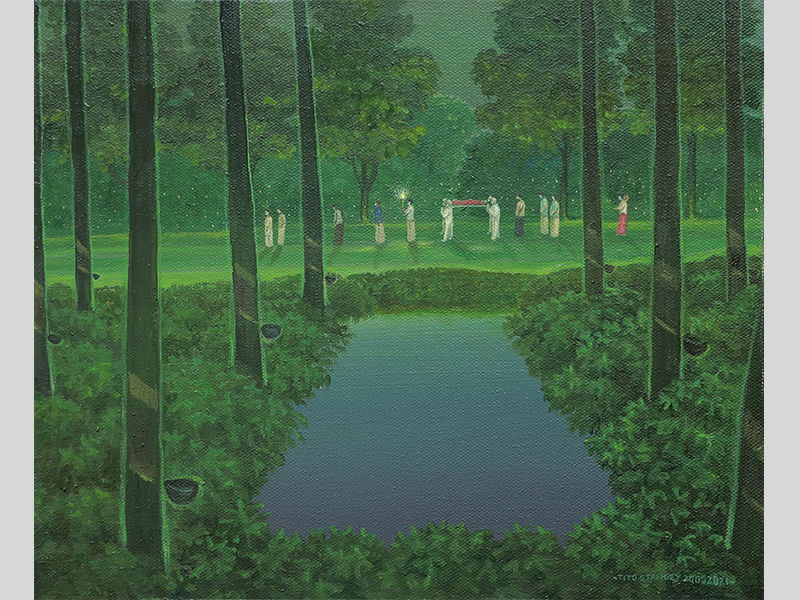 Bringing together India's most talented contemporary artists with the next generation of collectors, Young Collectors' Weekend by Farah Siddiqi and Teesta Bhandare is a platform for the various stakeholders in the South Asian art ecosystem. The aim is to broaden the audience for contemporary art, enhance opportunities for artists and establish continuous dialogues. This year, the unifying theme that underlines the shows is the word Flux – representative of how the art world is constantly evolving and changing. Participating artists are Tara Anand, Hashim Badani, Shailesh BR, Akshita Gandhi, Sukanya Garg, Meghana Gavireddygari, Teppala Kodandaro, Thamshangpha Maku, Koyal Raheja, Divya Singh, Tito Stanley, and Birender Yadav.