New In Dubai: Your Guide To The City's Latest Restaurants
24

Nov

'21

12:00 pm

by

Nuriyah Johar
On a regular day, Dubai is one of the most happening cities in the world, and at the moment, the spotlight on this ultramodern emirate shines brighter than ever. Dubai is currently hosting the World Expo 2020 in a groundbreaking fashion wherein every participating country has its own pavilion to showcase their potential. Tourists from all over the world have been flocking to the city, which as a result, has witnessed an exciting emergence of new restaurants. Here are three of our picks from Dubai's stunning smorgasbord of new culinary offerings –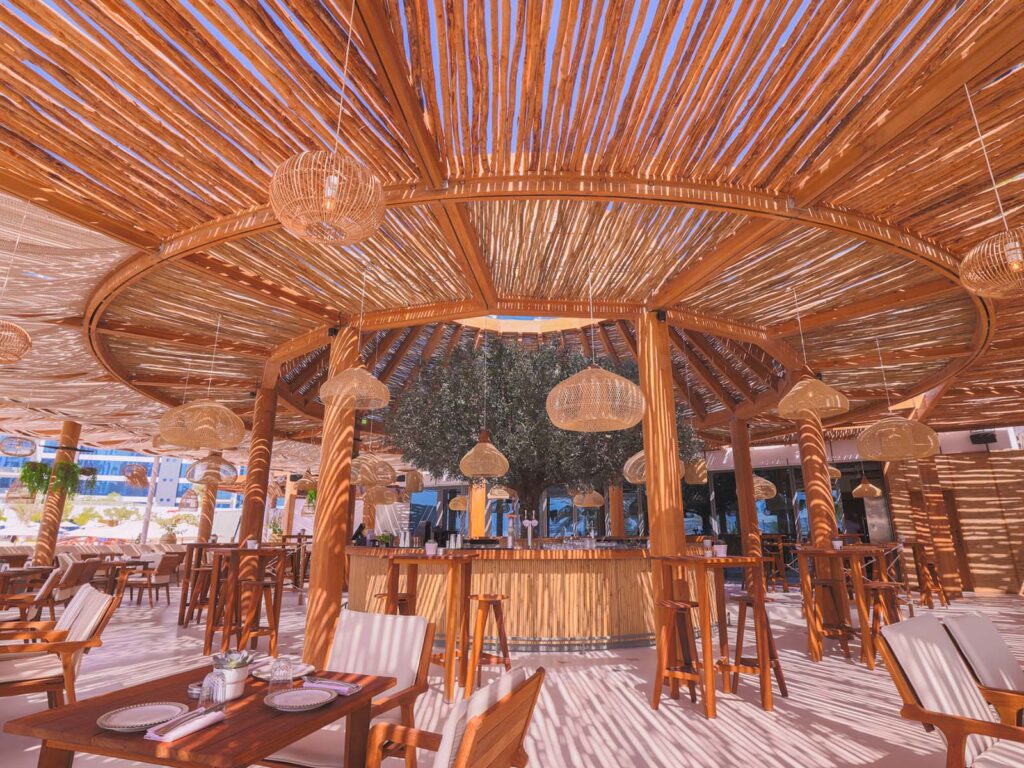 Ula Dubai
Dubai's newest beachside restaurant and bar, Ula is situated on the golden shores of Palm Jumeirah. The design and culinary offerings at Ula take inspiration from the energy of the earth, the warmth of the sun and the passion of the Arabian Gulf. The expansive restaurant features options of pool and beach seating, as well as al fresco and indoor dining areas. Designed by Broadway Interiors and the Solutions Leisure creative design team, Ula's warm and inviting design draws into an organic, all-natural sensibility that informs the overall ethos of the restaurant. Soft neutral tones and earthy materials exemplify raw luxury at Ula Dubai.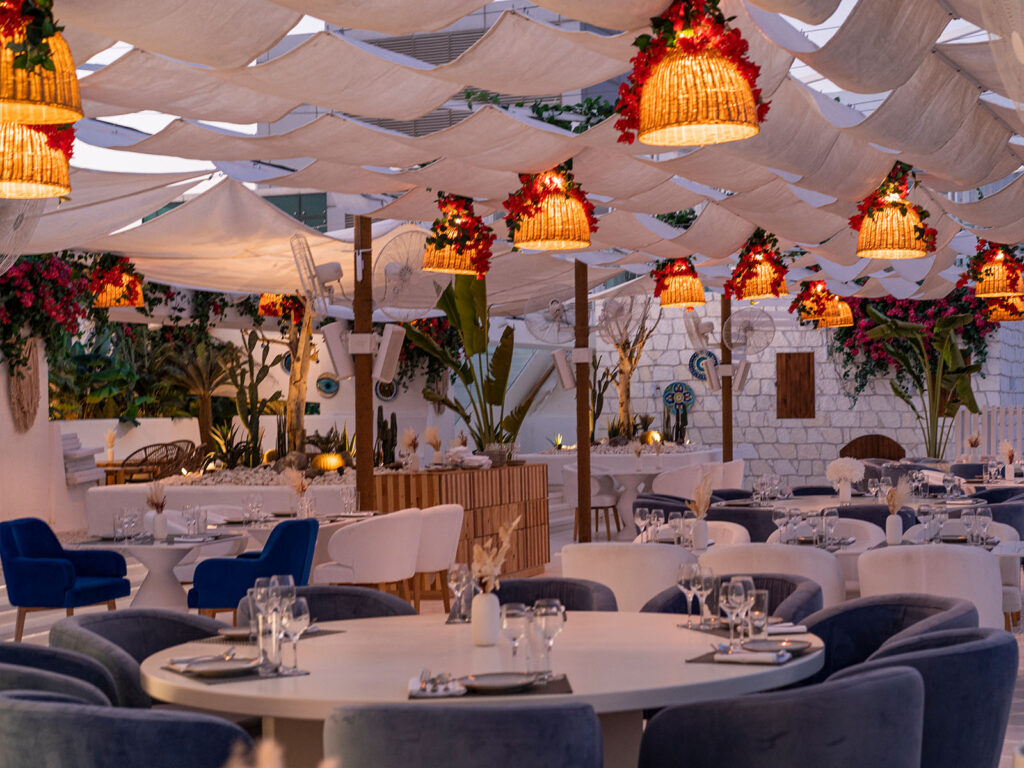 Hola Rooftop

Emanating the soul of Ibiza, Formentera, and Mallorca in one space, Hola Rooftop brings the summer-y essence of Spain to Dubai. The rooftop restaurant is located on the 8th floor of the Meydan Hotel and boasts striking views of the racecourse beneath. Pristine white interiors interspersed with vibrant hanging bougainvillea, cacti, and colourful detailing, embody the spirit of the Spanish islands. Chic wicker and cane elements find their way into the decor, alongside hand painted wall plates and lush greenery. According to Laith Ghaiba, founder of Hola Rooftop, "A visit to Hola is a true island-hopping holiday destination, but minus the hassle of visas and flights! We've brought the best of the 3 islands to Dubai in one fresh setting, complete with food, drinks and entertainment."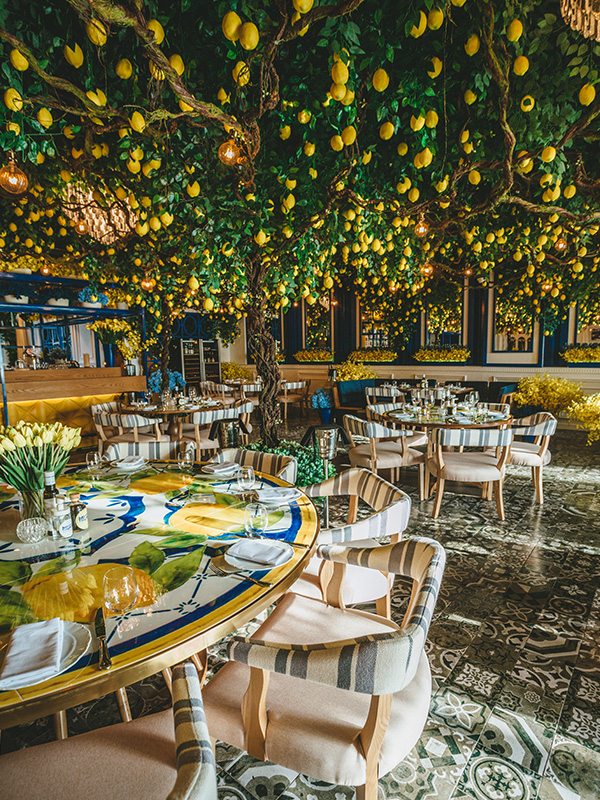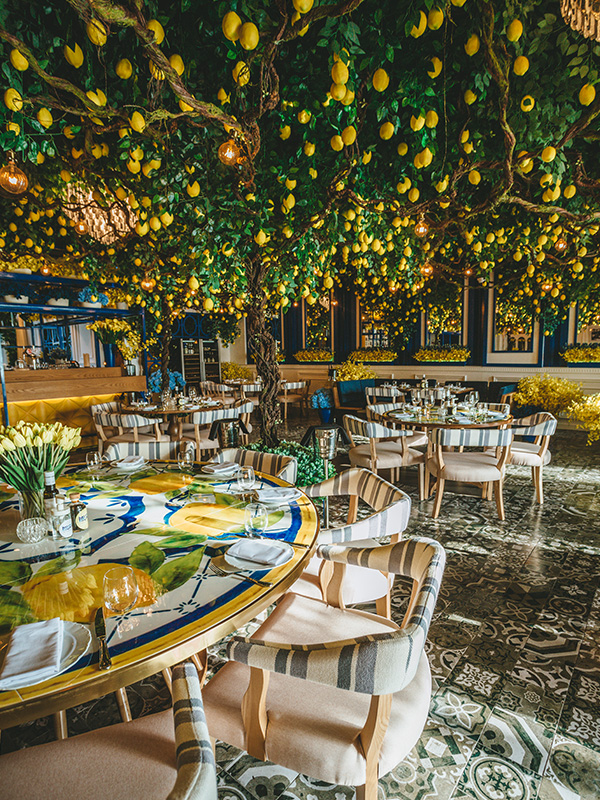 Mura
A colourful and maximalist Italian restaurant newly opened at the West Marina of The Pointe, Mura takes inspiration from the fine art of crystal blowing birthed near Venice, in Murano. Right from the outset, a visual narrative of rich lemon trees weaves itself through the design of the restaurant. As one enters from the ground floor up – the private dining room, stairway, and general restaurant area all feature this spectacular flair of lush, tropical ornamentation. Ornate chandeliers, bright tones of Klein blue, and mosaic-like tiling further transport one into an Italian riviera-like world. The restaurant offers both indoor and outdoor dining options, the latter of which takes the form of a Capri-like terrace which overlooks the mesmerising Fountain Show at The Pointe.