7 New Restaurants In Goa: A Sussanne Khan-Designed Space, An Experimental South-Indian Outpost, And More
15

Feb

'23

4:10 pm

by

Sneha Shah
In time for peak tourist season and bursting with exciting new spots, the state of Goa has long been a lodestar for Indian counterculture. A wave of new restaurants have made their way to the sunshine state; each offering something novel, from specialised cocktail programmes to Portuguese interiors. Whether you are looking for a breezy shack or a vintage bar, we bring you our roundup of new Goan hotspots; with robust F&B scenes and great vibes, beckoning you immediately –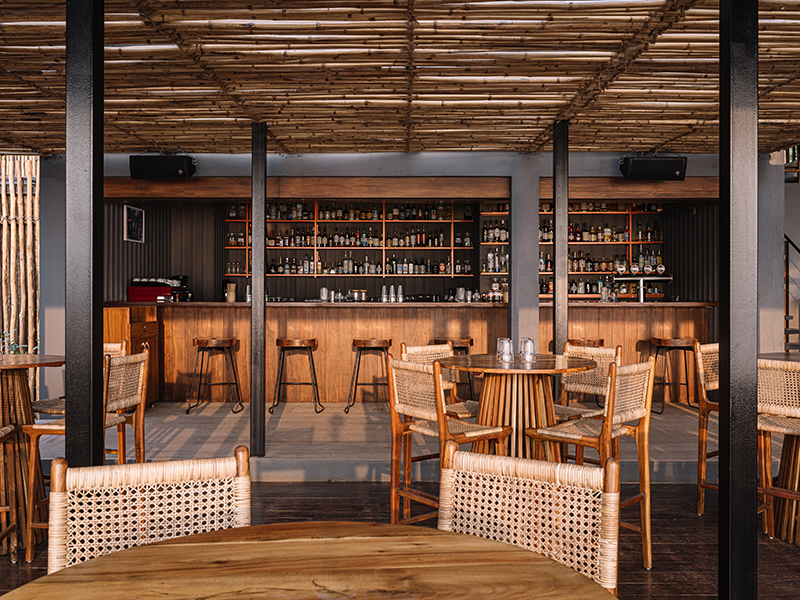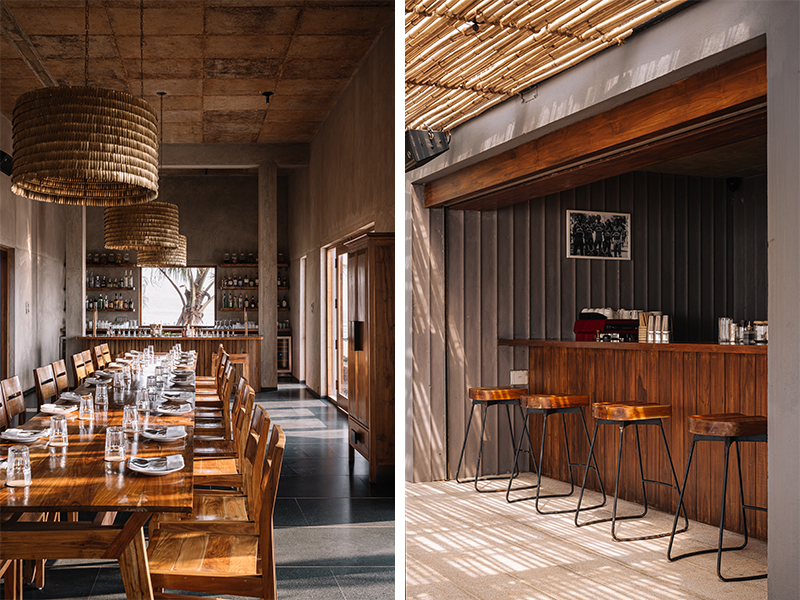 #1 Slow Tide, Anjuna
Reviving the legacy of Anjuna through its culture, food, architecture, and interiors, the new restaurant Slow Tide is conceptualised to be a series of light pavilions with a minimal footprint to capture the temporality of a shack on the beach. Award-winning Sri Lankan architect Palinda Kannangara uses his contextual sensitivity and experiments with local materials, such as a lattice of Mundas to create a shaded haven with relaxed seating in natural colours.
The redefined shack's menu is an ode to food from the coast, including Goan, East Indian, old Mangalorean, delicacies from Sri Lanka and street food from South America. The bar lays emphasis on the alcohol culture of Goa with cocktails named after prominent people associated with the state's beverage realm. Slow Tide is also designed as a platform for community endeavours, literature and a dedicated art space to feature up-and-coming local artists and book launches.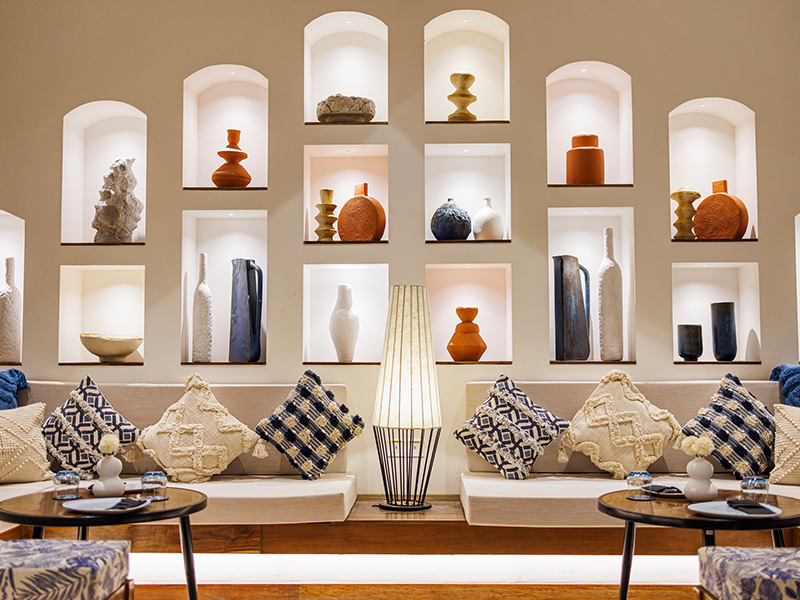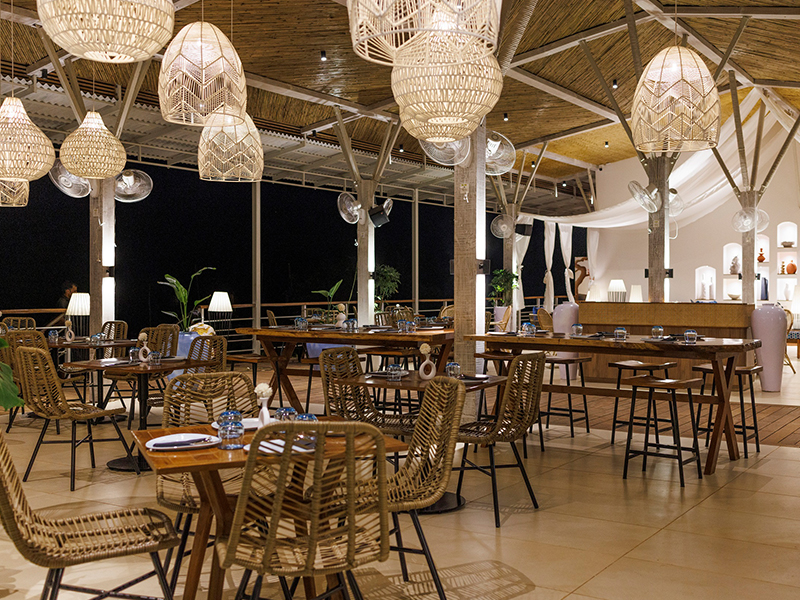 #2 Blue Turtle, Morjim
A hidden gem amidst the bustling beach restaurants in Goa – the Blue Turtle in Morjim boasts a breezy, relaxed atmosphere and an outstanding menu featuring a variety of tropical drinks. Helmed by restaurateurs Rohan D'Souza, Hitesh Keswani, Praveena and Dean Sanfrancisco, the space is an expression of its tropical surroundings, effortlessly blending into them with flair. Designed by Viraj Patki of P.G.P Architects in a way that accentuates its calming surroundings, it has an open structure, allowing a coastal vibe to flow through both the interior and exterior. The cane and macramé details provide a laid back, luxurious look while a wooden deck on the outside makes for the perfect entertainment spot.
"An entire destination by itself, Blue Turtle is designed to be whatever you want your beach bar experience to be – dig into the sand with a cocktail in hand, enjoy an elaborate lunch with your heels on or sway the night away to some great music and even better food. Whichever part of the Goa experience you need, you'll find it here," say the founders. The flavour-forward menu, meticulously curated by Chef Rohan D'Souza has Mediterranean & Asian influences along with regional Goan favourites; honing in on Goa's coastal culinary legacy, the menu highlights fresh catch and flavour-driven technique.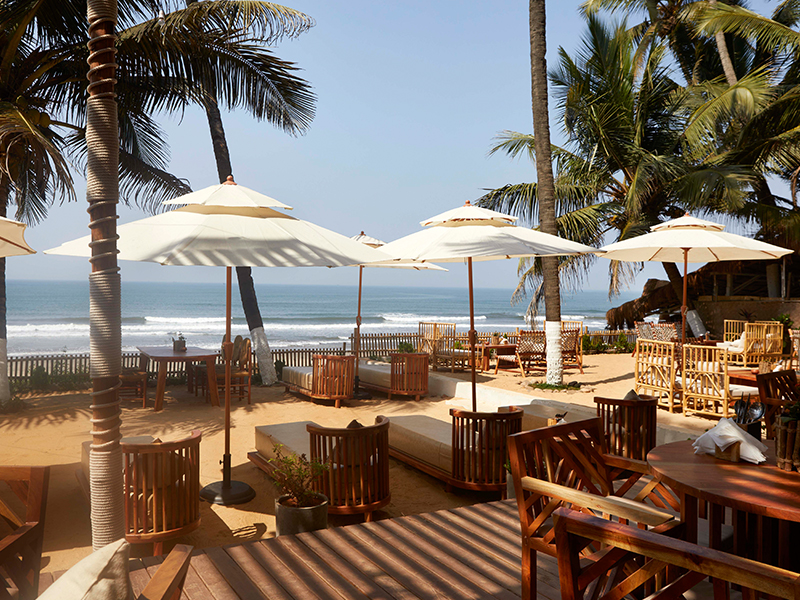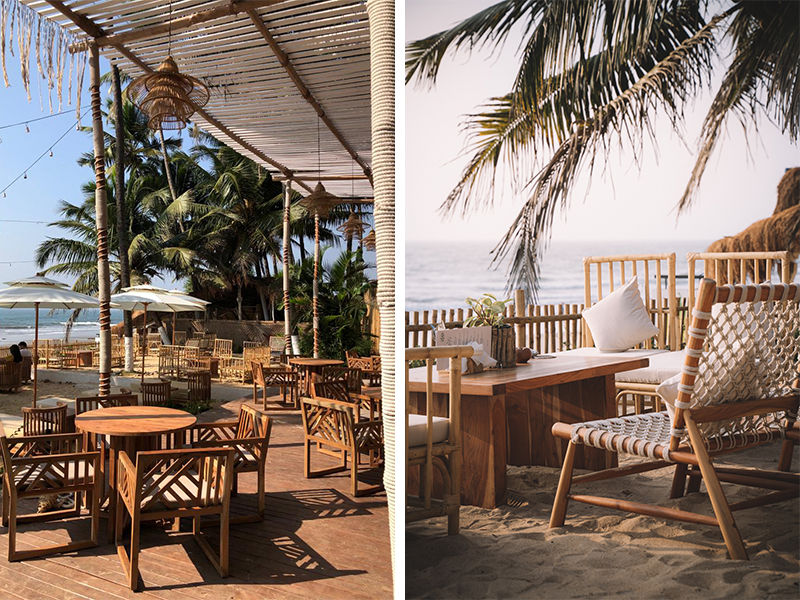 #3 São By The Shore, Ashwem
Elevating seaside dining to its upmarket best, São by the Shore evokes a leisurely and relaxing atmosphere. Chic outdoor seating and a blissful oceanside scenery set the stage at this new bar and restaurant that is turning heads by the Ashwem coast in North Goa. Interior designer Neetika Daga, Founder, of Neetika Daga Design, draws inspiration from natural elements and Goa's unique charm, experimenting with materials and patterns which create an ambience of serenity. With fawn hues on walls and spear-palm leaves cladded on the roof, the area outdoors is divided into sections of sunbeds, a backyard and a lounge.
Every corner is thought off, from refurbished pivoted windows to handcrafted macrame bar panels, bringing Goa through photo frames.
"The space sees a play of handpicked accessories curated from Goan markets which prove our love for Sao", says Neetika. Boasting Goan-European-inspired cuisine, the menu is versatile and crave-worthy. Chef Rueben has created an all-around menu with signature sauces and delightful plating.
Also Read: The New St. Regis Resort In Goa Embraces Luxury Amidst The South Goan Landscape – DP Reviews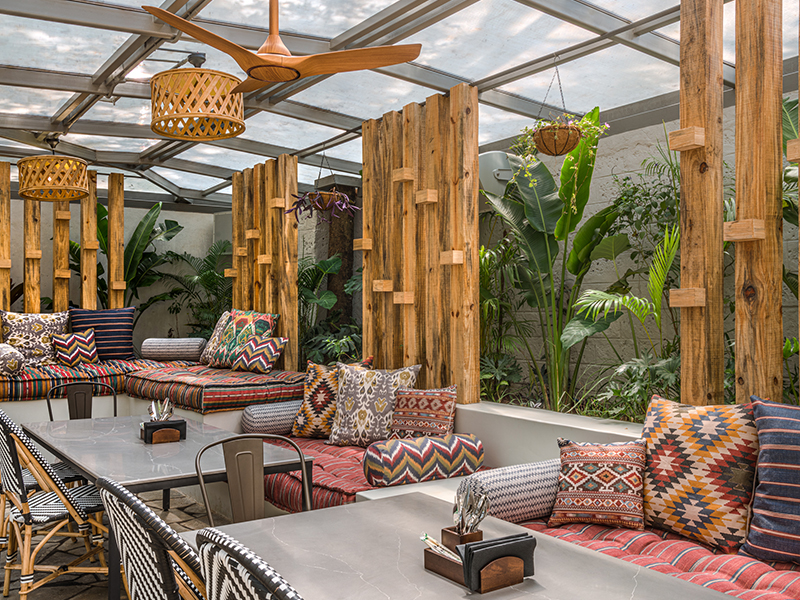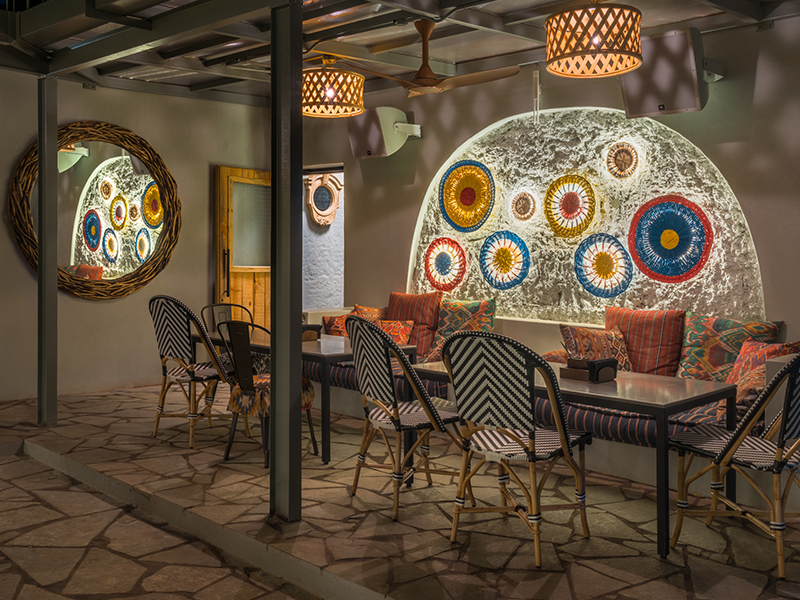 #4 Village 36, Assagao
Designed by Sussanne Khan and The Charcoal Project, Village 36 is infused with eclectic design elements and quirky vibes, drawing inspiration from the colourful street-food culture of South-East Asia. The space sits within a restored Indo-Porto structure in the heart of Assagao and proudly displays its charming characteristics. The exposed laterite walls, high ceilings and murals of flora and fauna decidedly lend warmth to the quaint yet refreshing space. The plush upholsteries that dominate the aesthetics of the space are natural colours of common SE Asian ingredients like Thai red chillies, green peppers and smoky grey mushrooms; recreating the dynamic energy of the countries mapped.
The Village 36 bar, in curation with Hideaway, a cocktail bar crafts cocktails that are inspired by the vibrant streets of the countries on the menu. The indoor space features an inviting community table that encourages casual comfort while the outdoor space is lively with weekly gigs and the energetic, eclectic bar.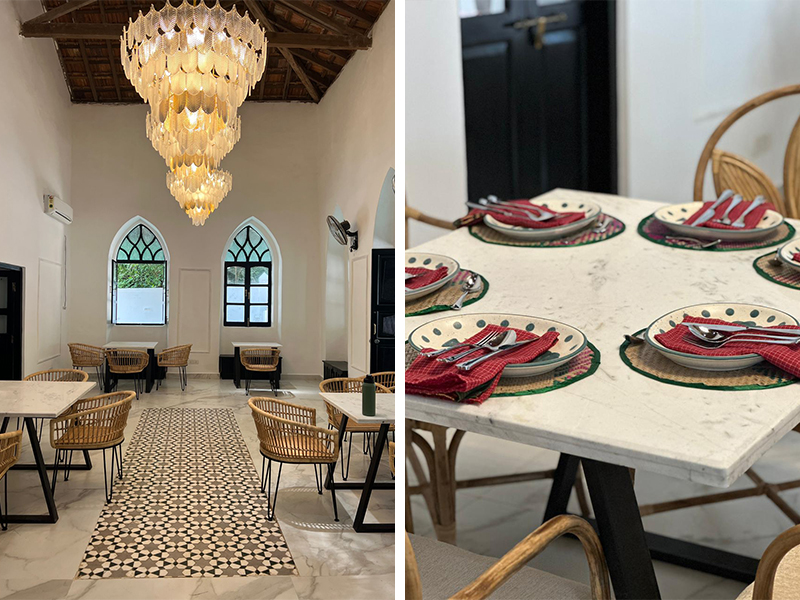 #5 Fig & Maple, Assagao
Nestled in a century-old Portuguese bungalow, Fig & Maple is conceptualised by Chef and founder Radhika Khandelwal and houses three bageechas (gardens), a library and even a secret bar! It aims to make lost Indian crafts tangible and accessible to all through intricate details – Dhokra art (sourced from Chhattisgarh) cladded windows, little wooden toys (sourced from Sawantwadi), tables adorned with Sitalpati table mats (sourced from Assam), napkins from the Kunbi tribe of Goa; supporting small craftspeople and raising awareness about these almost extinct Indian arts.
The menu is inspired by regional Indian recipes and less familiar flavours to create dishes that can be easily integrated into a modern diet. Led by Khandelwal's partner, Ravish Bhavnani and Goan mixologist, Scully Andrade, the bar proudly follows the kitchen's philosophy of only using local, seasonal, indigenous produce to create craft cocktails and infusions. "Every nook and cranny, every corner and every bite at Fig & Maple, Goa has a story to tell. Which tale will you unearth today?", adds Chef Radhika.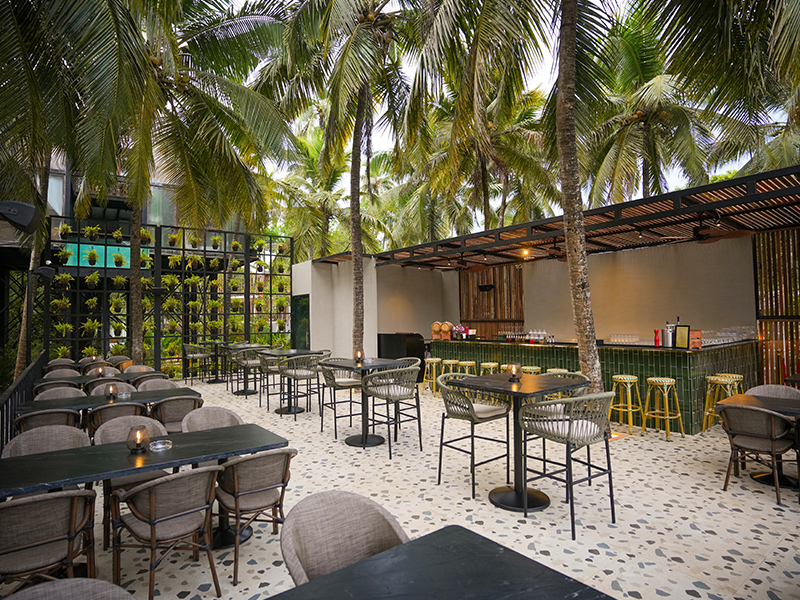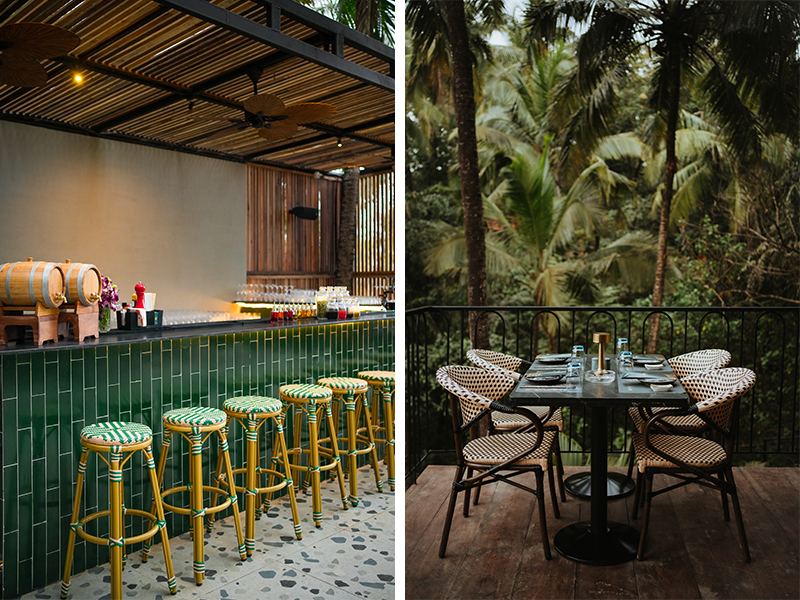 #6 Kasa N Koox, Vagator
Serving up modern, authentic Japanese fare in Vagator, Kasa N Koox is a combination of three different dining spaces envisioned in Bali-inspired decor. This elegant space with clean lines, minimalist décor and plenty of green covers is designed by Sushmitha Ramesh of The Auburn Studio. The three distinct spaces are – Koox, the main restaurant, Kasa serves small bites inspired by a small Japanese island, Ishigaki and SpeakEasy Bar, an exclusive members-only space. The bar is divided into two spaces – The Other Side and The Glasshouse.
With vintage European interiors on the inside, classical lights are used to highlight the wood and rattan furniture with marble tops resulting in a smooth east-meets-west vibe. The worn-out renaissance paintings and even stained windows add to its vintage style.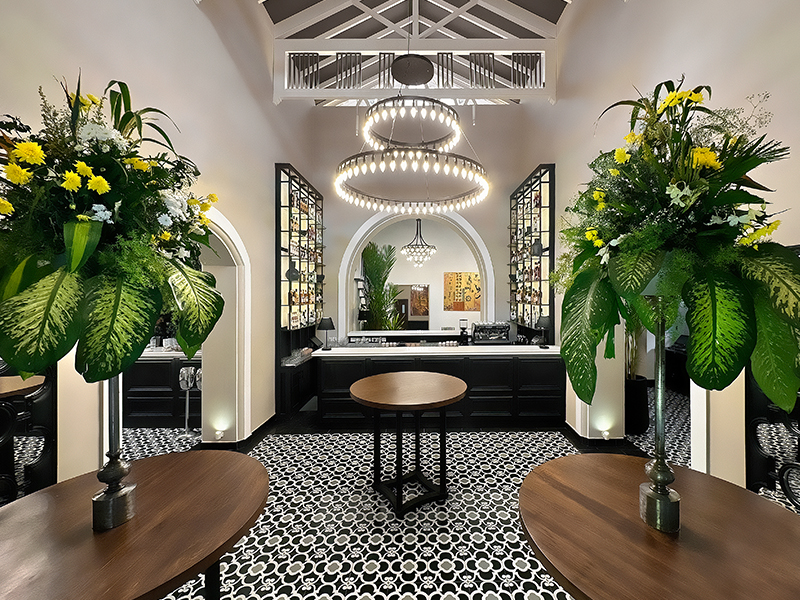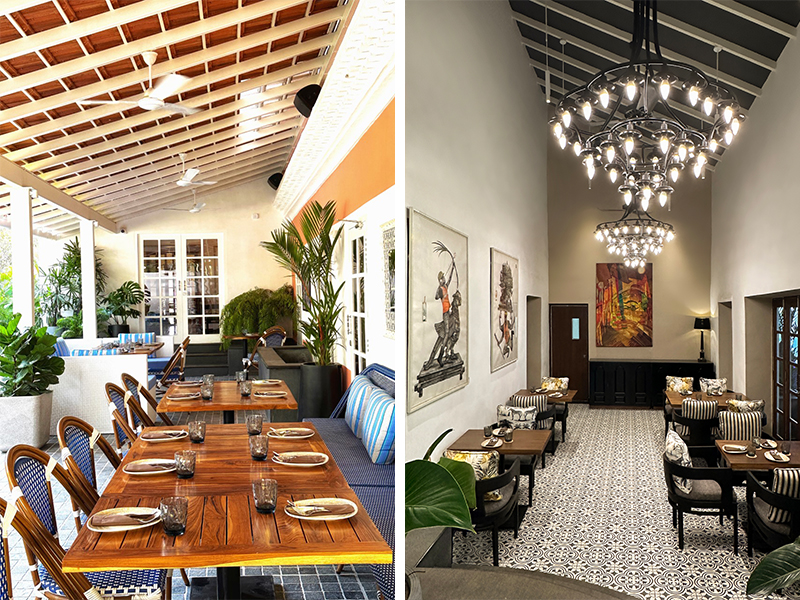 #7 HOSA, Siolim
HOSA means 'New' in Kannada and explores the culinary diversity of South India, beyond the familiar and also features a creative and energetic bar. Housed in an old Goan bungalow attributed to its Portuguese past, EHV's design director Rohini Kapur has sleekly designed this modern space that reflects style and comfort. On entering, visitors are greeted by a splendid 14ft bar, smack in the centre; with tall ceilings, handcrafted contrasting tiles on the floor, warm wooden furnishings, traditional yet avant-garde art on the walls by South-Indian artists and foliage in every corner.
The restaurant flows around the creative bar, meandering into private dining spots that seat 100 people and a little patio outside to accommodate 25 people. A beautiful art room functions as a gallery during the day and becomes a private dining area in the evening with a pre-function area replete with its own bar counter. The art-centric montage is the highlight of the décor paired with an impeccable display of artful arrangement on the plate; the proximity to water and availability of fresh fish call for an aquatic highlight in terms of meals.
Also Read: 3 Experiential Boutique Getaways For Couples This Valentine's 2023