New In Mumbai: Your Guide To The City's Latest Restaurants
18

Nov

'21

11:10 am

by

Nuriyah Johar
Our roundup of new restaurants in Mumbai includes a maximalist boho cafe that cuts through the glassy corporate facades at BKC, a restaurant bar that features a mystical garden-esque aesthetic, a quaint cafe in the cultural district of Colaba, a modern Mediterranean joint, and the city's first-ever Vietnamese restaurant. Read on to know more!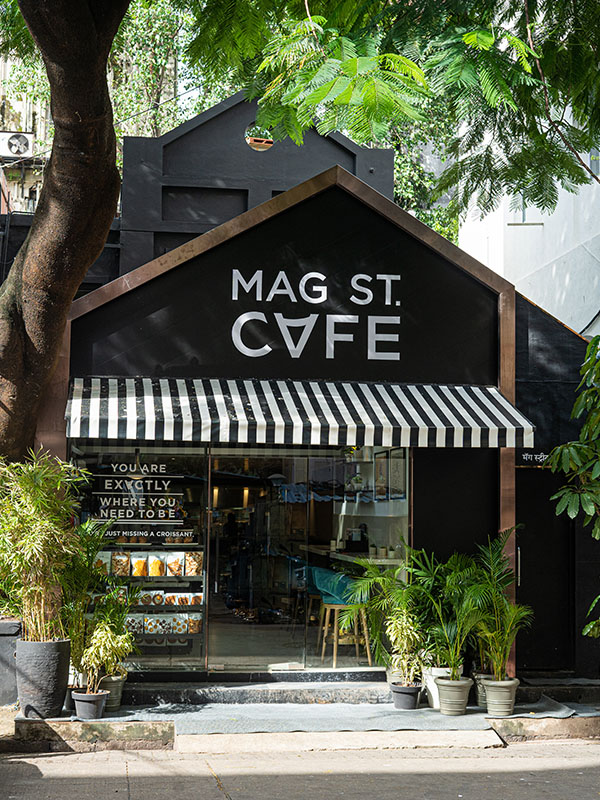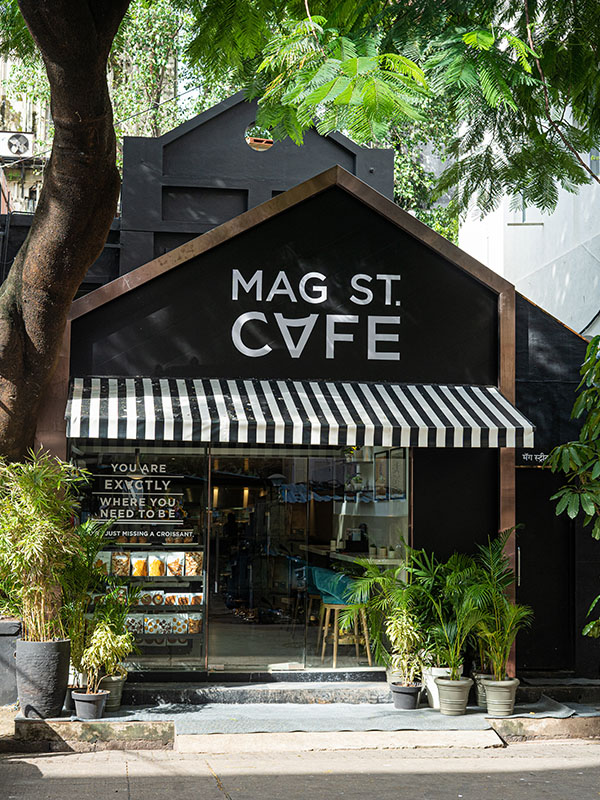 Mag St Cafe, Colaba
Tucked away in a quiet bylane in Colaba, Mag St Cafe is a charming bakery and casual dining space launched by Gauri Devidayal and Jay Yousuf. A striking black facade, gabled roof, and striped awning draw you in, and subsequently transport you into a world of freshly baked breads and artisanal produce (along with more elaborate food and beverage offerings). Designed by Studio Pomegranate, Mag St Cafe's interior is fresh and contemporary while evincing a sense of comfort. The idea of creating a community is intrinsic to Mag St's philosophy, which is brought to fruition through cultural events and collaborative initiatives. The cafe also showcases rotating works by different artists, which will be available for sale. A gorgeous circular skylight adds to the charm of this quaint cafe in Mumbai's cultural district.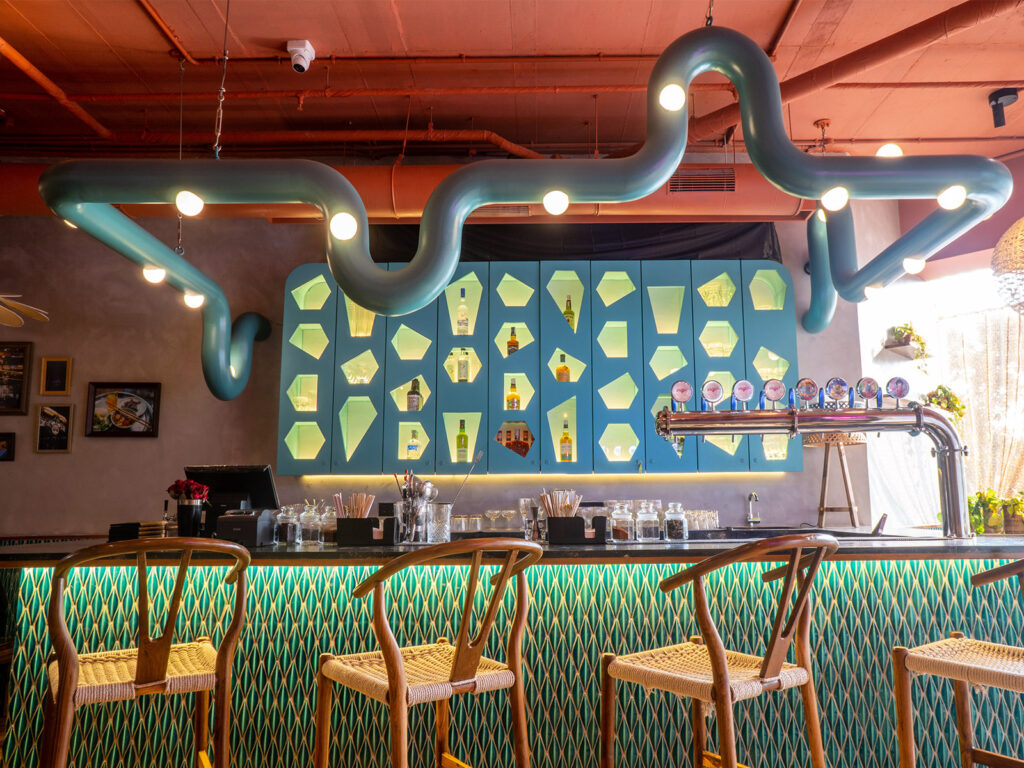 Nho Saigon, BKC 
The city's first-ever Vietnamese restaurant, Nho Saigon takes inspiration from the local bars and colonial restaurants of Ho Chi Minh City, bringing the essence of Vietnam to Mumbai. The establishment falls under the umbrella of Origin Restaurants and is helmed by Chef Nikhil Abhyankar (a Gordon Ramsey alumnus). Designed by MuseLAB in collaboration with Jetsons, it exhibits a refreshing colour palette that draws from the bustling streets of Vietnam. A storefront enveloped in custom made sculptural cane curtains beckons you into an immersive space that features wooden and screen-printed tiles, a striking art mural, and ceramic wall lamps that integrate the traditional with a contemporary aesthetic.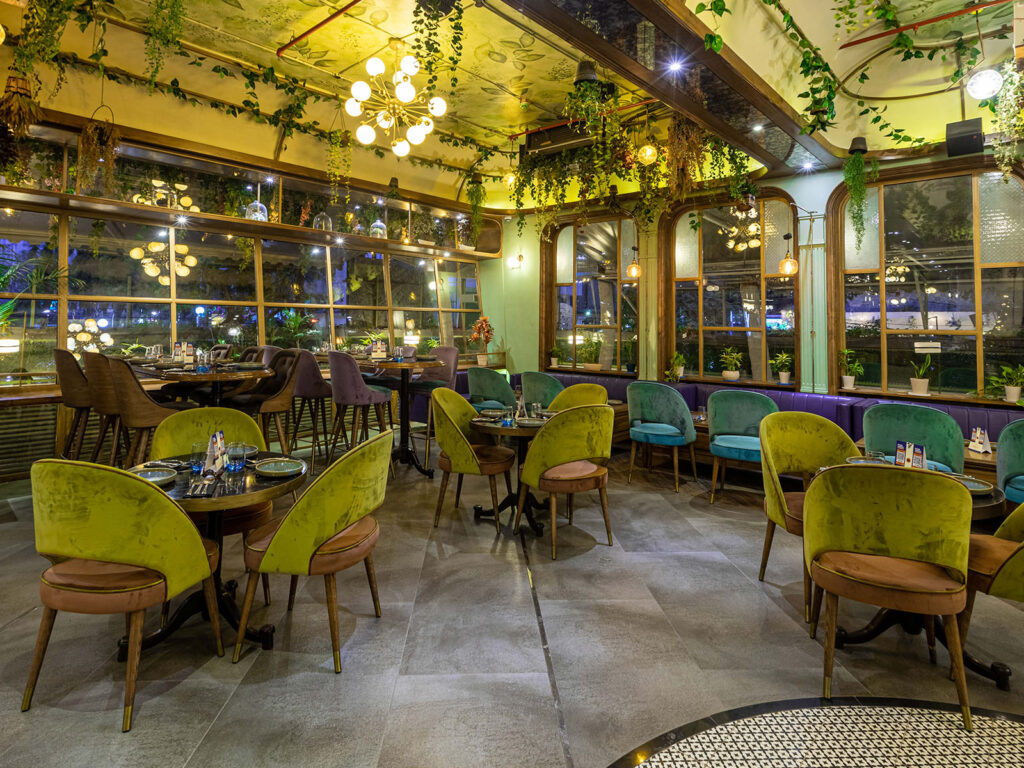 Ammata, Andheri  
Andheri's newest culinary outpost, Ammata features a magical indoor garden-esque aesthetic that serves as a refreshing oasis of green in the heart of the bustling metropolis. This highly Instagrammable restaurant was launched by MTRN Hospitality LLP in association with Suved Lohia Hospitality; the names behind Pink Wasabi and Game Palacio that opened earlier this year. Designed by architect Tuttu Thomas, Ammata is divided into distinct indoor and outdoor zones. Elements like jewel-toned chairs, wallpapered ceilings, and bright neon backdrops come alive in this maximalist space.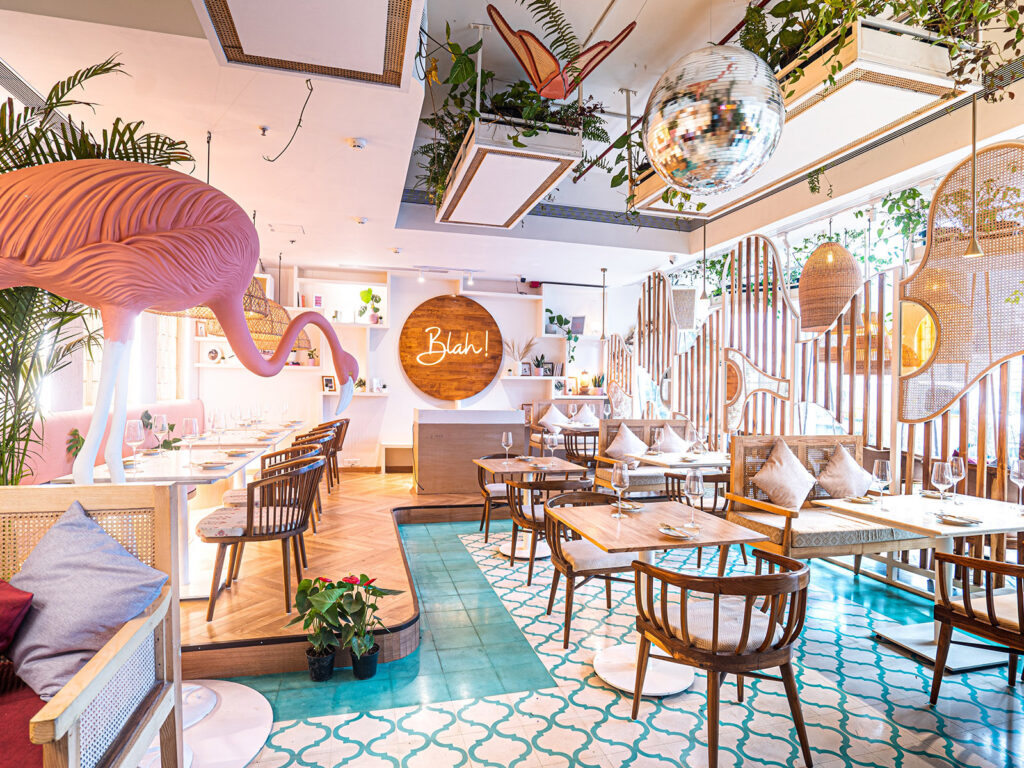 Blah!, BKC
Disco balls, giant flamingos, and a maximalist boho aesthetic – BKC's newest brunch spot Blah! serves as a compelling contrast to the corporate atmosphere that surrounds it. Designed by Keith Menon of Spiro Spero, the interiors of Blah! feature wicker furniture, lush greens, and rustic detailing that translate effortlessly from day to night. The restaurant is divided into multiple pockets for group and private dining, and includes an artisanal cocktail bar driving home the philosophy of "Garden To Glass". A unique mini-farm powered by grow lights finds itself peppered across the ceiling, sprouting herbs like rosemary, basil, thyme and rocket leaves, that eventually make their way into the food and beverage offerings at Blah!.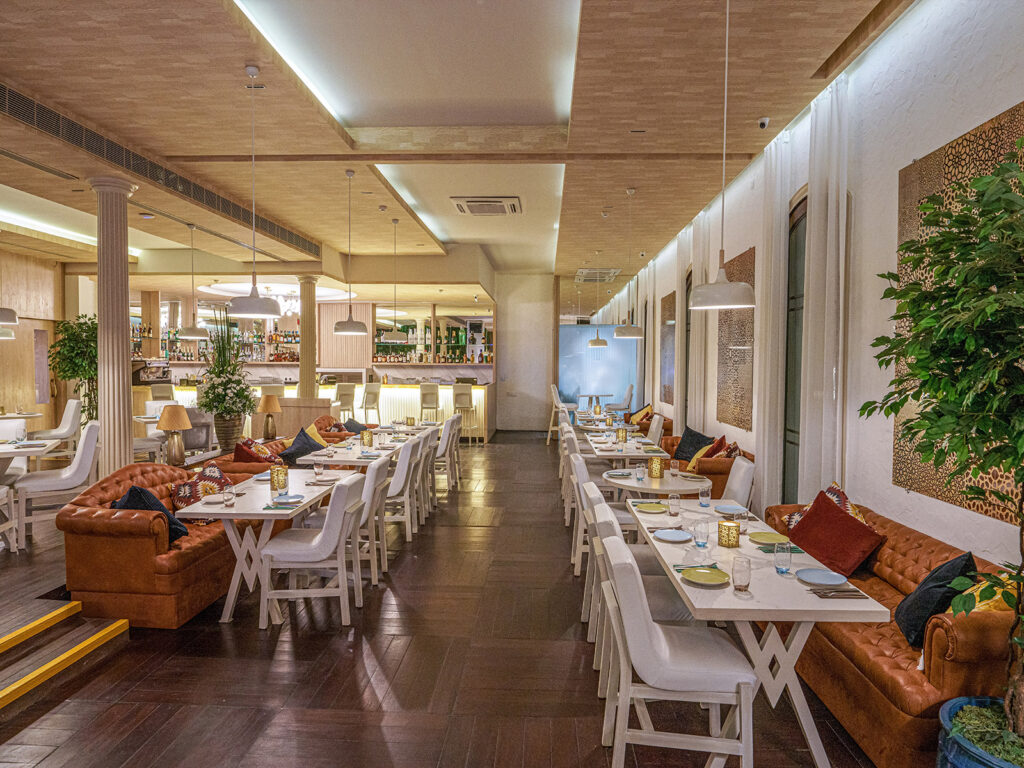 Recca, Kala Ghoda 
Located in the heritage precinct of Kala Ghoda, Recca introduces Mumbai to the world of progressive Mediterranean cuisine while using carefully curated ingredients from all over India. Designed by Siddarth Garrimela, Recca's interiors feature pristine white walls interspersed with aerial gardens, warm wooden floors, and a mix of seating options; all of which come together to create an immersive experience. Recca is the brainchild of Arup Saini and the acclaimed Chef Saby and stands as an amalgamation of history and gastronomy, and an homage to the traditional through modern sensibilities.