#NoFilter: Merchant Of Images Public Art Project By Aradhana Seth
20

Jan

'20

9:30 am

by

Beverly Pereira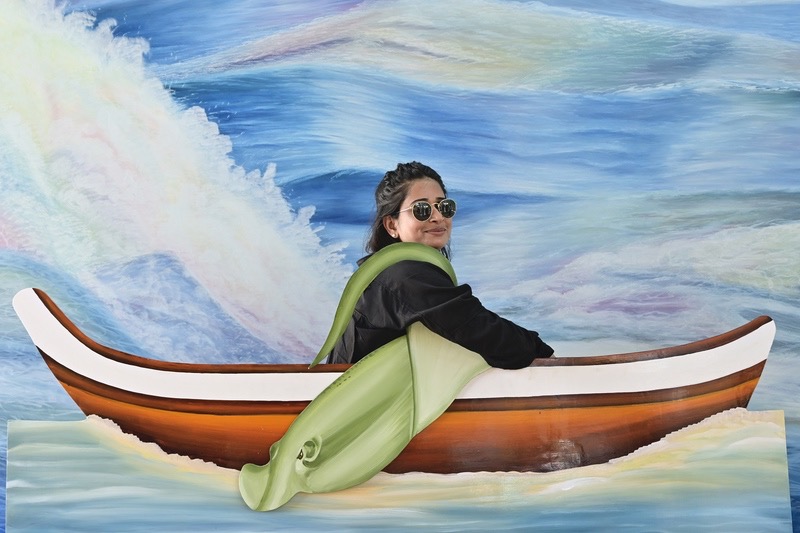 Long before the smartphone era, the once-hallowed photo studio was a place to commemorate special occasions like weddings and graduations. The act of visiting the studio was just as memorable as the occasion and most often, the outcome was a single photograph clicked after careful consideration. Later, in the 70s, 80s and 90s, another kind of portrait was gaining popularity in India — staged photographs against hand-painted backdrops. One could choose to be photographed against the backdrop of the Taj Mahal — even if they hadn't visited it, or sit atop a crescent moon. As is documented over time, the shared fascination for the moon in pop culture across countries of the world — in this case, the paper moon — was a reflection of mankind's desire to set foot on the moon at the time. At the Serendipity Arts Festival in Goa this year, festivalgoers went back in time to this very age. When a visit to makeshift photo booths at fairs, or even to photo studios, meant leaving one's inhibitions behind to stage a theatrical pose in a setting replete with kitschy props and bright, bold and fantastical backgrounds.
The Merchant of Images is an ongoing photography project conceptualised by the Goa-based film-maker, production designer, photographer and art director Aradhana Seth. As an art director, she's worked on such films as The Darjeeling Limited by Wes Anderson and The Bourne Supremacy; her work in production design includes Deepa Mehta's Fire and Earth. Seth's mobile photo studio has travelled the world — from Delhi to Derby and Vancouver to Jaipur and Kochi — on a cart fixed with a handpainted backdrop. At the Indian Summer Festival in Vancouver, where the public art project was launched in 2015, visitors sat for a photograph with a painted Taj Mahal for a backdrop. "I was surprised to have so many visitors. But I think there's something about the fun and performative moment that they enjoy. I never fully realised what a communal experience it could be until we started. You enjoy a shared moment with the photographer, with the people you bring along and even with people you don't know," says Seth, adding that a Canadian couple who were complete strangers had met in a queue and are still together.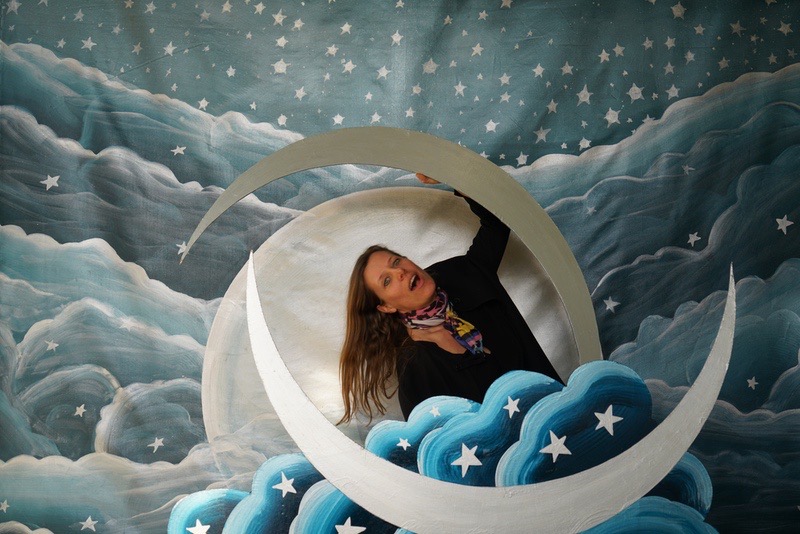 The photo booth was met with a similar response at the 2019 edition of Serendipity Arts Festival in Goa. Visitors posed against a vibrant painted backdrop of the ocean and held up props like crabs and fish. Some sat in a cut-out of a boat and held up oars. Still, others opted to be clicked with their heads sticking out of the windows of a cherry red ambassador — an ode to the late celebrated photographer Raghubir Singh — perfectly encapsulating the Goa experience of riding or driving with the wind in one's hair. "For this run, I wanted to riff on the ideal Goa a lot of people hold in their minds — to have fun and to bring pop culture and irony into play," she explains.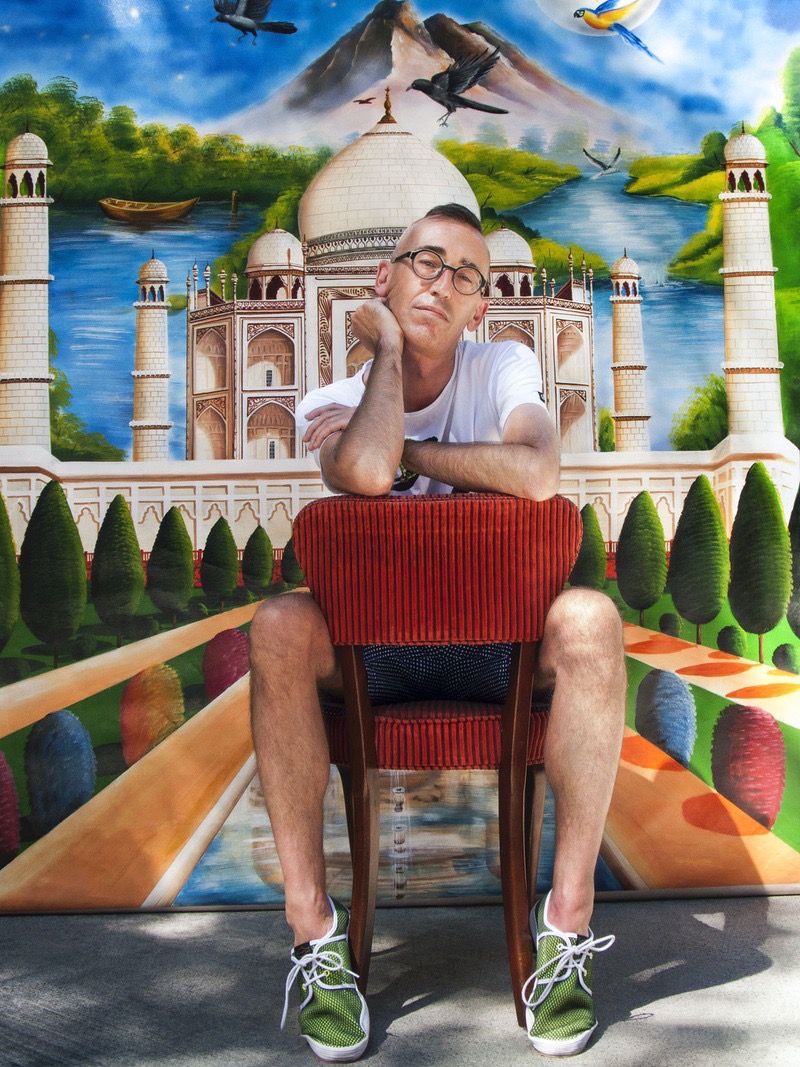 The idea to make photographs out of a mobile photo studio arrived when Seth was working on the production design for West is West. "As a production designer for movies, I often have to create family portraits/photographs to decorate the homes of fictional characters. While designing West is West, we set up a photo studio to make a photograph of a couple to portray a flashback to who they were when they got married. The process of thinking about the backdrop and what we were trying to say with the one photograph had me wanting to create more. The seed was sown."
You can go to the people, or they can come to you, says Seth when asked about the use of the cart that travels to public spaces at art festivals. "When I lived in the US, I found that one of the things I missed greatly was the omnipresent rairi/cart used by vegetable and fruit vendors. The street vendors who open up shop every day and then fold up and trundle away! So, I decided to take my own cart there! I married the canvas with the cart to make a mobile photo studio — one that can travel to any part of the world and into every neighbourhood. It always strikes me that so much can be created in such a small space." 
In this age of a thousand selfies, Seth feels that the mobile photo studio is as much about being a part of a choreographed image as it is about stillness. "The project is an invitation of sorts. An invitation to reflect as well as to perform. An invitation to look carefully at your surroundings and to be aware of the images you make. We want the sitters to feel the world of the studio they are inhabiting, whether it's the Hawa Mahal or the moon, the Taj Mahal or the sea," she says.
Indeed, sitters at the Merchant of Images photo booth appear far more relaxed than they would in a stodgy studio. There are no forced smiles in sight and sitters appear to enjoy participating in this public art project for the sole pleasure of performance in a setting far from reality. This all becomes evident when you browse through the @TheMerchantOfImages Instagram account. Some of the project's photographs were exhibited in an art gallery in the UK and even became part of bus shelter posters in Canada. The Merchant of Images project is more than just a photography project; in many ways, it is a social experiment built on public participation. "The response has been amazing. It's a great way to understand a city and how people feel free—or not—to express who they are."
"The physicality of places, people and objects are only their most obvious dimension. I try, through my photography, to hint at the inner scaffolding of things: of memory, longing, simple sorrows and complex joys," says Seth.