One house, Many Moods: Inside An Impactful Mumbai Art House
7

Jan

'20

9:30 am

by

Beverly Pereira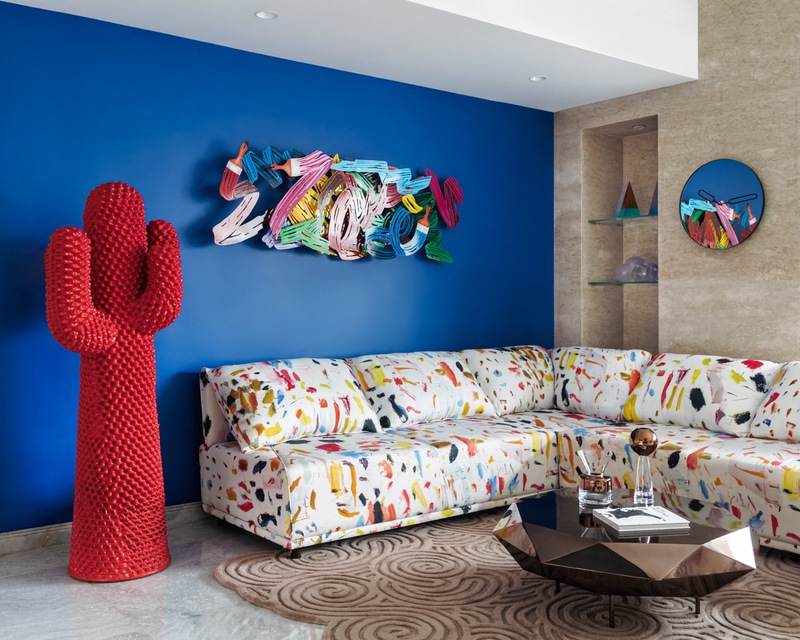 Perhaps one of the greatest challenges faced by the seasoned interior designer is to craft a space that carries the identity and sensibility of both the client and the designer. This, however, wasn't much of a dilemma for Mumbai-based interior designer Jannat Vasi who was tasked with designing a sprawling home for three brothers and their young families. The brief was open-ended, only indicating a requirement that each room reflects the personality of the young owners. In a way, it gave her free reign to give life to what she calls a "whimsical haven". Like a seasoned jazz player who conjures up stunning lines out of nowhere, she drew from the sketchbook of her fantastical mind with inspiration from the Memphis and Bauhaus movements. 
Vasi is known for dreaming up statement spaces that blend function and form through the deft use of art, bespoke furniture and collectables. And, she has done just this with this 7,000 sq ft home located in the tony South Mumbai neighbourhood of Peddar Road. The home is spread across three floors of a building that house seven bedrooms, walk-in wardrobes, bathrooms, a kitchen, gym, formal room, garage, swimming and an informal room. Infused with bold colours and layered with the unlikeliest of textures, each space is instantly distinguished from the next. Vasi has evidently veered away from dipping into a single colour palette or theme. Yet, an invisible thread binds each space together. 
The living room is an experience in itself, impactfully setting a modern, design-driven tone for the rest of the three-storey home. When viewed through the traditional lens of luxury living as perceived across India (think overly ornate, oft cringeworthy follies), the living room appears sedately minimalist. Look again, though, and an allusion to maximalism comes to the fore. An L-shaped sofa, upholstered in Pierre Frey fabric, bears artistic brushwork quite like the carefully considered brushstrokes of an abstract master. Resting atop a rug embossed with spirals, the pairing drives home the point that there are no rules in art and that, in fact, brave choices effect a stunning pay-off. 
A cherry red Gurfram Rosso Cactus exudes a deliciously tactile vibe against the living room's highlight wall drenched in blue. This effortlessly occurs alongside an equally sensational focus piece by David Kracov. A geometric rose gold coffee table by Kolkata-based Scarlet Splendour, and a curious mix of objects by Tom Dixon and Jonathan Adler speaks of a subtly luxurious sensibility shared by the designer and client.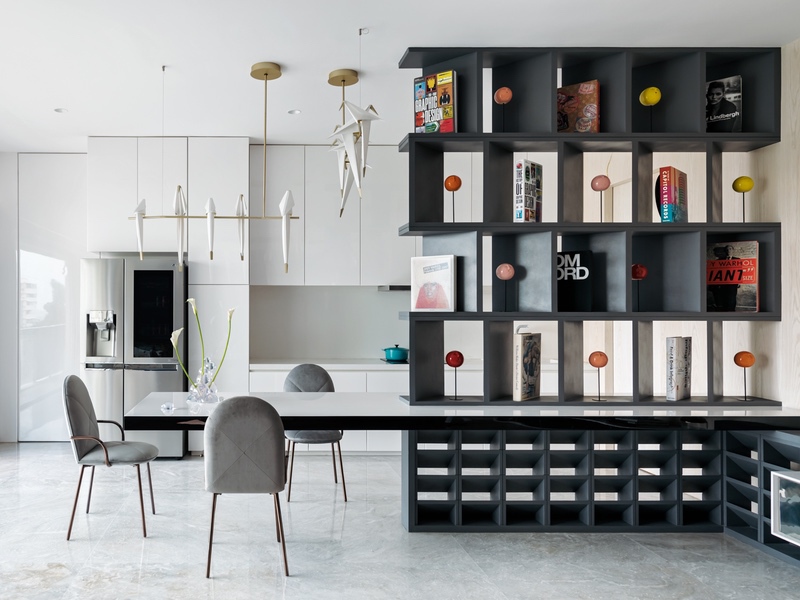 Within sight is a bookshelf heaving with a catalogue of visual books. The custom bookshelf with a projected cantilever dining table merely differentiates the living room from the open kitchen, all the while maintaining a visual connect.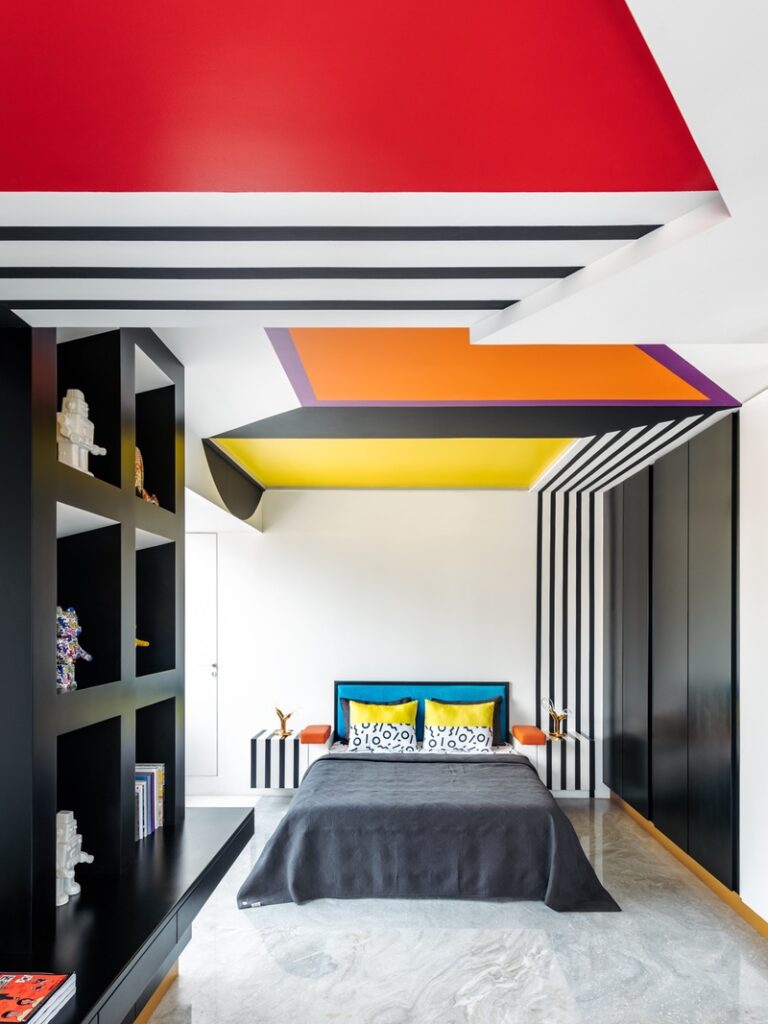 In the son's bedroom, the play of patterns, shapes, diagonal stripes and blocks of primary brights hark back to the Memphis design movement. "I design in three-dimensionality creating volumes through the use of colour and angular lines which visually connect the walls, floors and ceiling," says the designer, adding that the design is a tribute to Ettore Sottsass' Deco-meets-Pop style. Meanwhile, Luce Naga gold lamps and a bone inlay Sheikh Cabinet from Scarlet Splendour and a Paul Smith Anglepoise Lamp bring in a hint of maturity and restraint without once diluting the incredibly strong visual impact that the design of this room creates. 
Linear geometry and colour blocking flow into the master bedroom, even as modern design with traditional elements prevails. Timber textures bring in warmth, while a dual textured wall draws from a palette of cool blues. An inlay with Chianti marble, a bespoke creation by Vasi, is well in line with the room's pared-down opulence.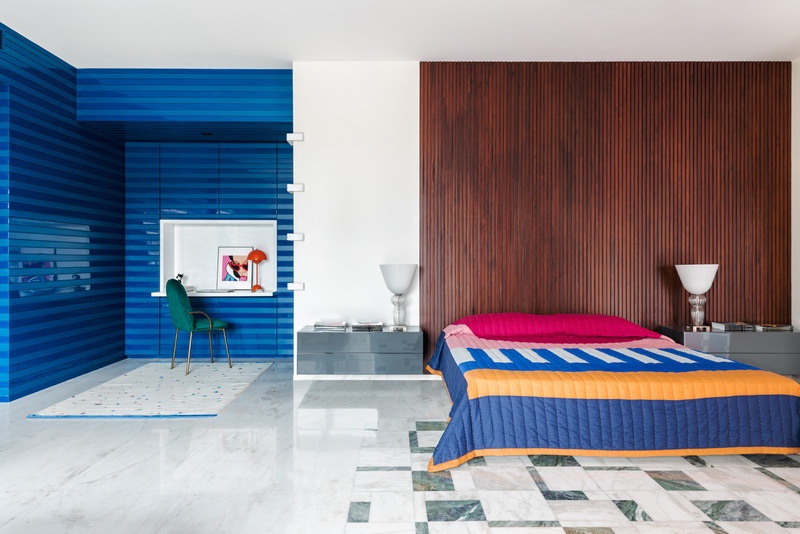 A Scarlet Splendour Vanilla Noire Playhouse Cabinet in cherry-red stands out amid all this understated luxury, and yet it fits right in. As does the Orion Chair, a luxe textural pairing of rich green velvet and metal. "Personally, I believe colour, when used in the right context, can dramatically alter the mood of a space. Interior design is a visual art and the possibilities to experiment with pattern and shapes to create a strong visual impact are endless. I love to create out of the box designs using exciting chromatic patterns and pure colour blocking reminiscent of the Memphis design movement. Moreover, my designs address the emergent shift in fashion and products globally towards bold colours and strong branding." says Vasi.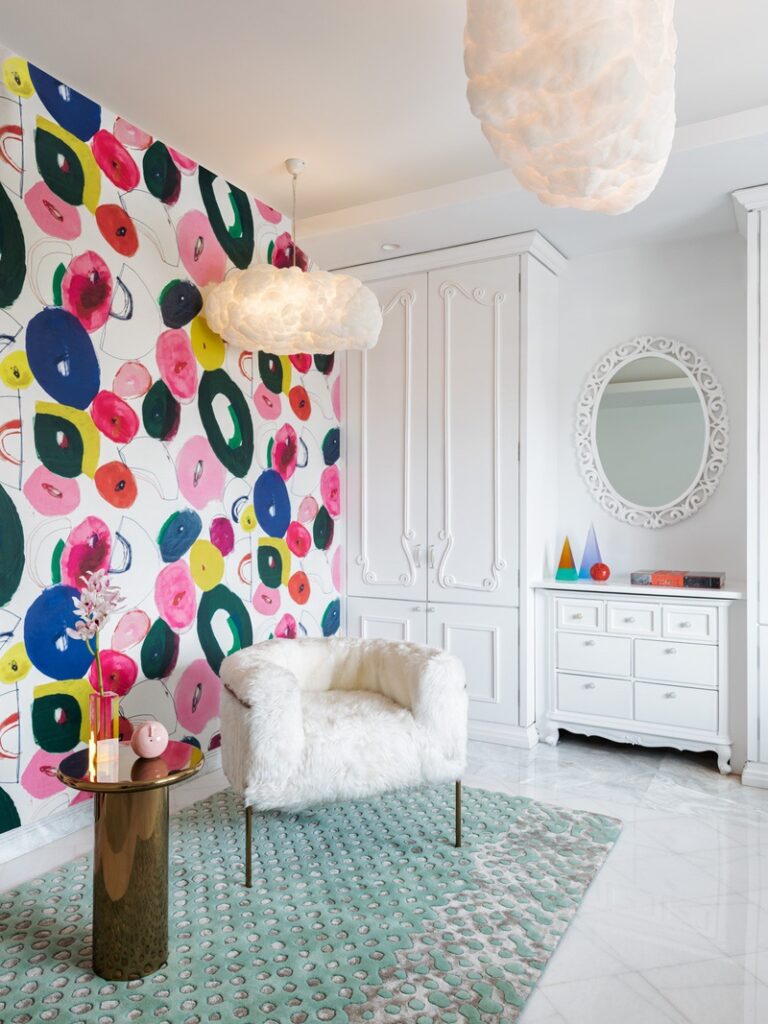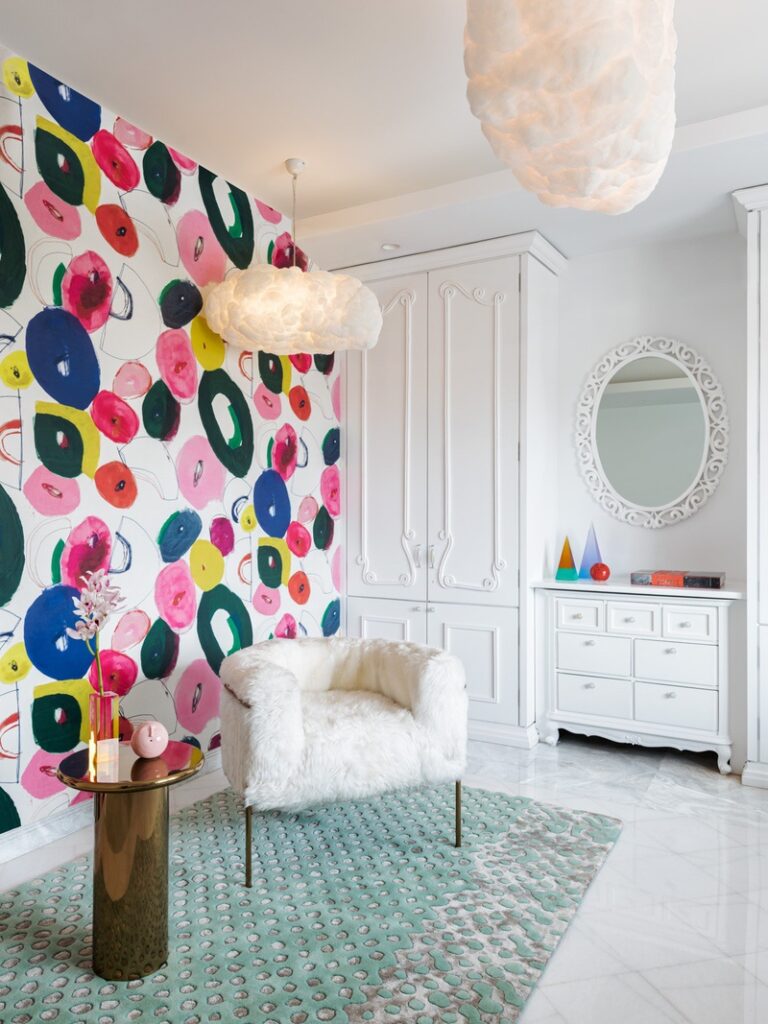 Step into the nursery and you'll go down another magical rabbit hole. Seeing as this room is for an infant, the design relies on a muted colour palette, soft lines and flocculent textures. At the same time, it is decidedly suffused with a succinctly modern feel. The Pierre Frey wallpaper with irregular, gently curved motifs seems to be the only pop of colour in the room otherwise furnished with pristine whites and pastels. The plush sheepskin Corunum chair and mint green rug from Scarlet Splendour are well at home here, as are the suspended cloud lights.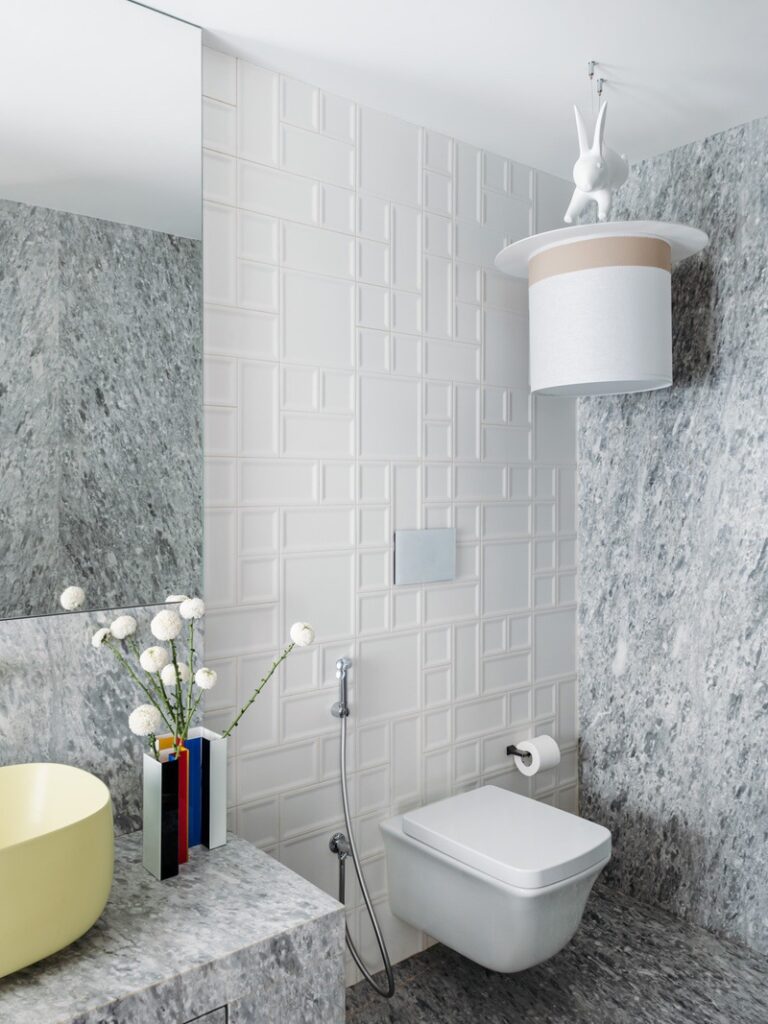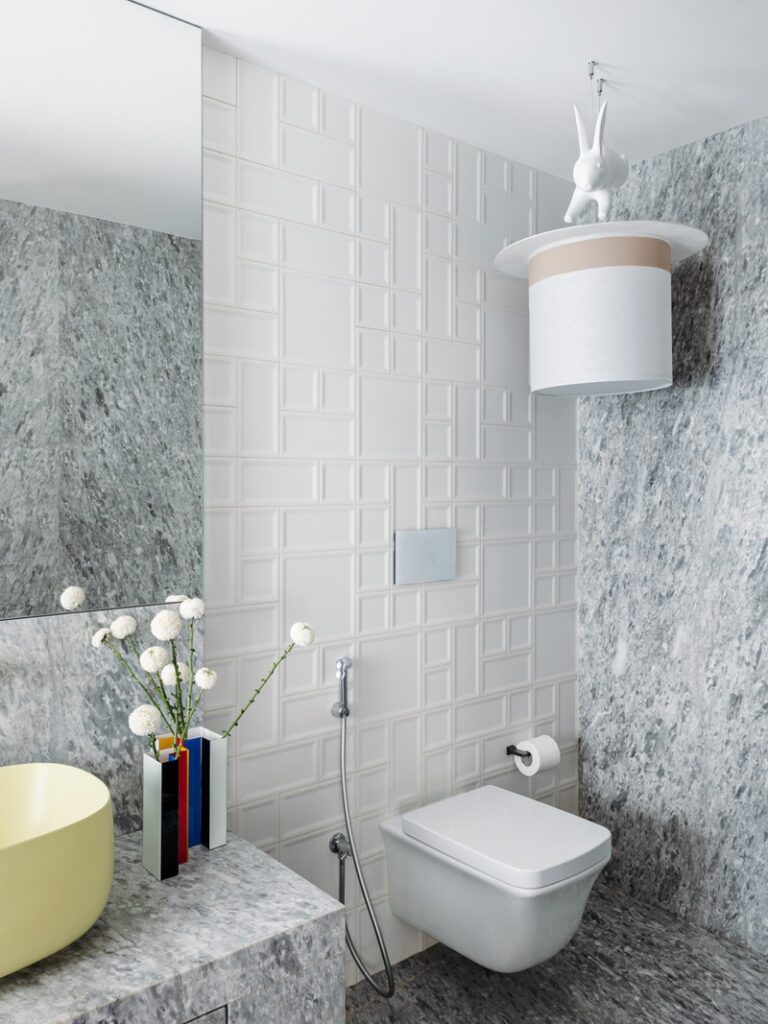 Vasi opted for a flat-out playful approach when it came to designing the building's garages. Built to showcase a range of limited-edition cars owned by the client, this space uses an open concept that holds the potential for invigorating workouts and endless entertainment sessions. Here, graphic patterns and neon signs—a retro nod to the good old noughties—are juxtaposed with raw concrete surfaces and refined terrazzo textures. Amid the playfulness of this space, a Scarlet Splendour Ciuco Cabinet brings in that signature touch of glam unique to the high-impact design of this sprawling house.