The Future in Lighting from Salone Del Mobile, 2019
27

May

'19

10:00 am

by

Nuriyah Johar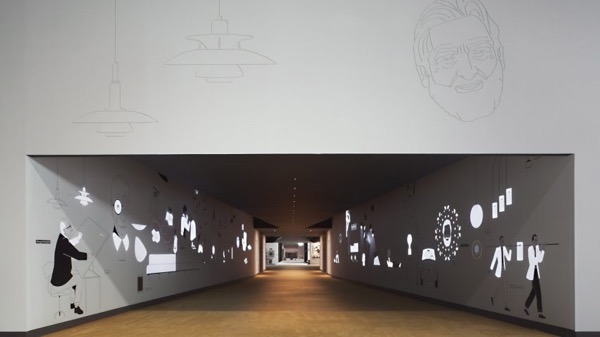 Every spring, Milan transforms into a Mecca for design lovers with artists, architects and designers religiously flocking to Italy's creative capital for Milan Design Week. With exhibitors ranging from global giants like Versace and Louis Vuitton to fast-emerging favourites like CC Tapis and Six N.Five, this is one of the most anticipated design shows of the year. An all-encompassing, immersive design experience, the show comprises the programs of Salone Del Mobile – an annual international furniture exhibition, and Fuorisalone – a series of events, displays and installations. While the former is staged at the halls of Rho Fiera, the latter takes place across various areas of the city.Additionally, Euroluce, the International Lighting Exhibition which runs every two years since 1976 presents the most innovative solutions in the field of light. While the brands showcasing continue to exceed expectations from a design perspective, we've observed a discernable shift towards lighting that puts technological innovation, user experience and sustainability at the forefront.
We visited Milan for the show with high spirits and higher expectations and returned with both thoroughly satiated. Here are our top picks for lighting from Milan Design Week –
Preciosa
After the show-stopping success of Preciosa's Breath of Light exhibit at Salone last year, the bar had been set pretty high for the Bohemian lighting brand. Their installations for this 2019 were equally dynamic while staying true to the brand's language of interactive design. Showcased for the first time, Preciosa's Carousel of Light was a grand installation featuring a pearl curtain with protean lighting, complete with a rotating platform and models of horses. However, our favourite from Preciosa's collection was Pearl Wave – a playful chandelier comprising more than 700 handmade triplex opal spheres. The interactive chandelier would react to 'happiness' surrounding it by coming to life upon glasses being cheered in a toast.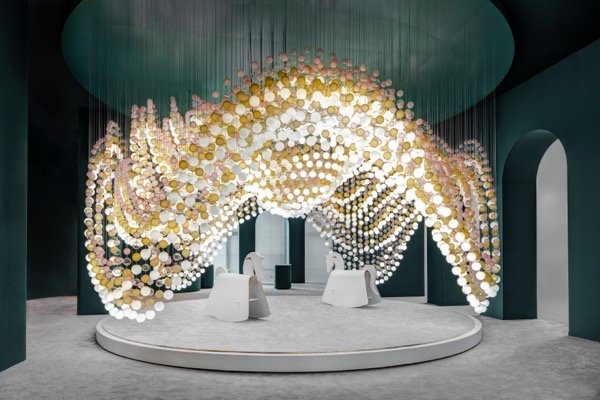 Artemide
One of the big guns in the Italian lighting sphere, Artemide's showcase at Salone saw collaborations with several architecture firms on products and installations that acknowledge the environment, community, and user comfort. Danish architecture studio Bjarke Ingels Group (BIG) teamed up with the lighting brand for a pioneering lighting solution dubbed La Linea. A flexible tube of light capable of twisting and turning throughout endless distances, La Linea can interact with the environment in new and unpredictable ways. Another one of BIG's collaborations with Artemide was Gople RWB. This installation illustrated an attempt to reconcile the needs of the natural and the urban environment by using RWB light technology, a system that helps plants grow while providing functional white light. Architecture practice Elemental also joined hands with Artemide on an environment-oriented light fixture, 'O', which appears almost invisible when turned off and only illuminates when its sensors order it to.
QeeBoo
Next generation brand Qeeboo's showcase at Salone may have been modest in scale, but was thoroughly compelling in its designs. The new collection featured products by the brand's founder Stefano Giovanni, Dutch/Belgian firm Studio Job, and noteworthy Italian designer Marcantonio. Though not exclusively a lighting brand, it was Qeeboo's lighting, more specifically Marcantonio's "Giraffe in love" which became a crowd favourite at the fair and subsequently went viral across social media. The product features a dreamy giraffe manufactured in polythene, holding a classic Marie-Therese style chandelier. Teaming a modern giraffe sculpture with an anachronistic chandelier reflects an unconventionality characteristic of the brand. Additional lighting from Qeeboo included Giovanni's 'Teddy Boy' and 'Teddy Girl' lamps which were reinterpretations of the classic childhood teddy bear, and the 'Empire' and 'V2 Schneider' lamps by Studio Job.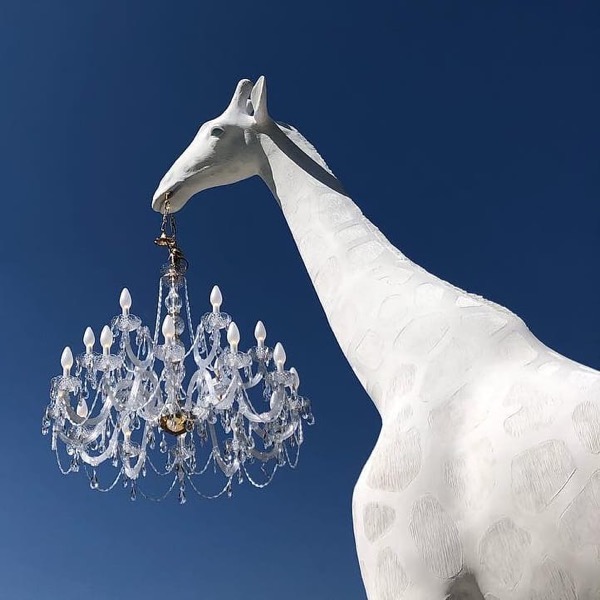 Louis Poulsen
Louis Poulsen
joined hands with B&B Italia and Flos to form a new furniture and lighting group – Design Holding, which debuted at Salone by presenting the biggest stand the Milan fair has seen. While the scale was undoubtedly impressive, one of the most interesting elements of the booth was the interactive set design by Calvi Brambilla. Incorporating a graphic corridor where all three companies' most iconic products and collaborative designers were depicted, the walls resembled a life-size game of pinball. Parts of the wall lit up upon being interacted with while illustrating the history of the three companies. Past the corridor, the booth split into three ways for the brands to present their individual pieces.
Louis Poulsen's statement piece at the show was a large-scale pendant light set to be an exploration of complex mathematical geometries by artist Olafur Eliasson. The light is composed of two shapes, an aluminium outer layer in the shape of an icosahedron and an inner layer that is a dodecahedron. Its complex form is perceived differently depending on where the viewer stands, creating infinite interpretations and perspectives that make the light come to life.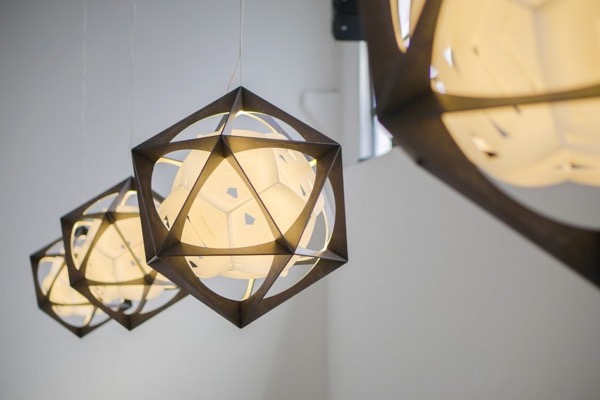 Flos
Italian lighting company Flos presented its extensive 50th-anniversary collection at this year's Salone del Mobile with an impressive list of collaborators including Michael Anastassiades, Formafantasma, Piero Lissoni, Nendo, Philippe Starck and Patricia Urquiola. Anastassiades' new collection for Flos included a striking lighting system, 'Coordinates'. The product comprised horizontal and vertical strip lights that formed custom illuminated grid-like structures across the ceilings. Also notable, was Formafantasma's 'WireLine', composed of a ribbed LED light and supported by flat pink rubber cables designed to look like belts. "The lamp plays on the contrast between the industrial feeling of the rubber and the sophistication of glass," explained the Formafantasma founders. Apart from the exhibit at Salone, the Flos showroom in Milan was devoted to a site-specific installation for the launch of the ethereal collection of blown glass lamps dubbed 'Noctambule', by Konstantin Grcic.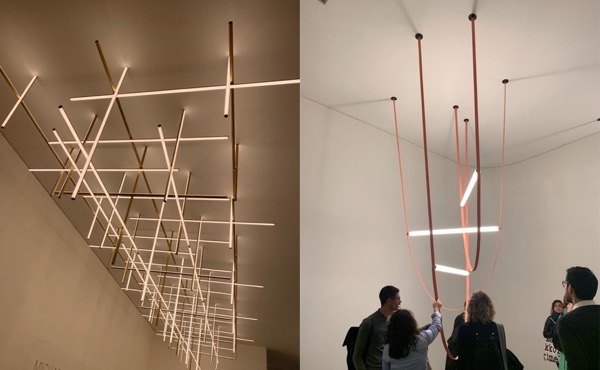 Photograph Credit – Design Pataki, Preciosa & QeeBoo