On Paper: Indian Artists Who Transcend The Medium
14

Aug

'19

9:30 am

by

Beverly Pereira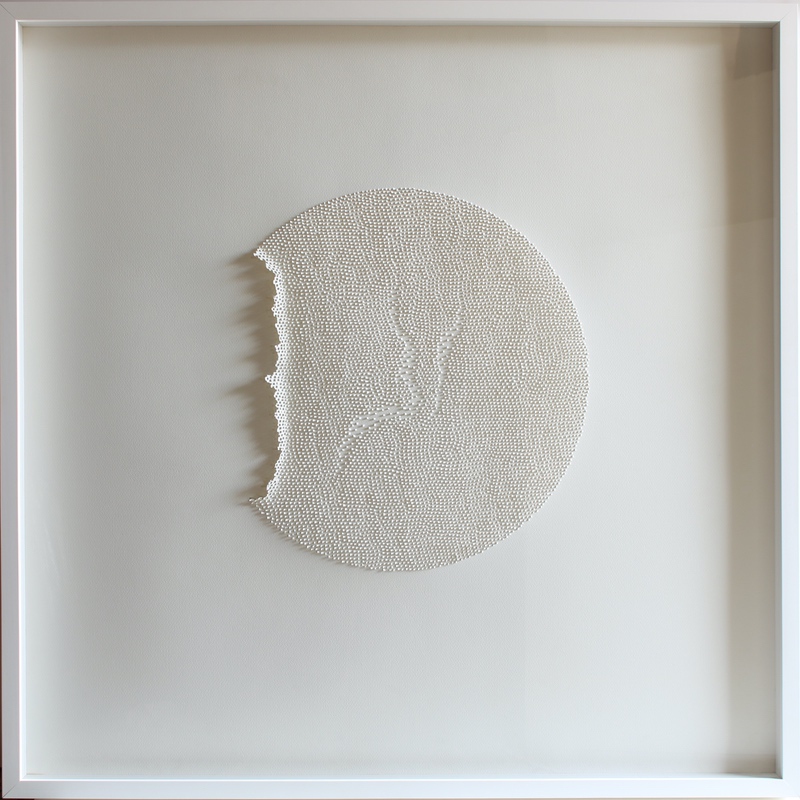 Paper is a material tinged with paradoxes. As banal as it may be, paper is an essential tool for the artist. Even a blank sheet of paper is a gateway to new possibilities. Paper as a medium is somewhat mundane, yet extraordinary when it comes to life in the hands of an artist. It is innately fragile even as it demonstrates strength when transmogrified into something that surpasses the two-dimensional. This is especially true in the case of some artists whose use of paper goes beyond its traditional role as a surface. The medium becomes a material potent with possibilities to be transformed into new, immersive realms.
Design Pataki identifies three Indian artists who manipulate the seemingly ordinary material to create extraordinary pieces of art.

Sachin Tekade
Sachin Tekade negotiates the starkness of white paper, using tiny cuts and folds, to create contemporary pieces of art that have a sculptural quality. Experimenting with the textural possibilities that a single sheet of paper holds, his work finds form as undulating patterns that appear to rise and ebb. Much of his work is a deep inquiry into both the spiritual realm and the natural world and is based on his perception of objects, structures and spaces. For his debut solo show at The Loft Art in Mumbai in 2012, Tekade deconstructed architecture and patterns created as a consequence of seismic activity.
Ideas, he says, are often born out of something he's seen, read or listened to. Starting with a sketch, Tekade moves on to crafting a small piece before working on the final rendition. There are times, though, when he may feel compelled and deeply inspired to skip to the cutting stage.
Tekade's work features in prominent art collections and he has exhibited at India Art Fair, Delhi, at START Art Fair/ Saatchi Gallery in London, and at notable galleries in Mumbai like Jehangir Art Gallery. "When I started working on Absence I was thinking that people will search for some mundane socio-political stuff in my art, the stories that usually keep artists preoccupied. I wasn't thinking of any statement or story. I think that's the beauty of minimalism—you don't need any narrative. I believe in the Bhagwat Geeta, karma and the cycle of life. The knowledge of the Geeta states that we have to become a non-entity in order to achieve singularity with the higher-order. This also reminds me constantly that minimalism is not just about art. It's about a way of life. Unburdening oneself," says the Pune-based artist on his 2016 series titled Absence.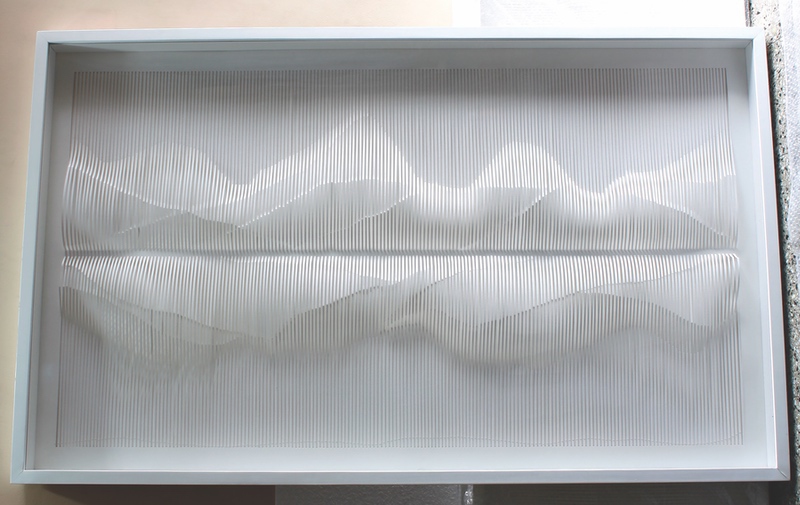 Tracing back to his earliest tryst with paper, he says, "When I was in school, a street artist had come to show his skills with kite paper. He would make flowers and other things. I was very impressed and immediately got all the things to recreate it. It was the first time I made something out of paper." But it would only be several years later, during his Art Teacher Diploma, and later as a student at the Faculty of Fine Arts in Baroda, that he would embark on a string of experiments with the modest material. Tekade, who's currently working on a series of parametrical textures, says, "I have a great affinity for the current parametric architecture. I love the evolving patterns, minimalism and simplicity in the forms of these structures."
Ankon Mitra
Ankon Mitra draws from the principles of origami to craft sculptural installations that use paper of different kinds and thicknesses. An architect by profession, he is the co-founder and design director of Delhi-based architecture firm Hexagramm Design. His origami-related explorations began while designing an origami-inspired roof for an airport project as part of his Digital Architecture & Computation studies at Bartlett, University College London. "Coming from an architecture background makes sure the essential architectonic nature of the origami process is respected, understood and elevated. Now I know that many origami artists all over the world are often architects. This cannot be a mere coincidence. Architects naturally gravitate towards origami because of the fabulous tools it offers architects to visualise spaces and create complex geometries with relative ease," says Mitra.
Mitra's pieces vary in scale—some appear to twist and turn in entire rooms. Like the immersive installation, he had created for the 9th edition of the Lucca Paper Art Biennale in Italy in 2018. Titled 'The Sights and Sounds of the Cosmos', the 7.5m x 15m x 3.6m installation depicted three galaxies crashing into each other creating a spectacle of lights and folds.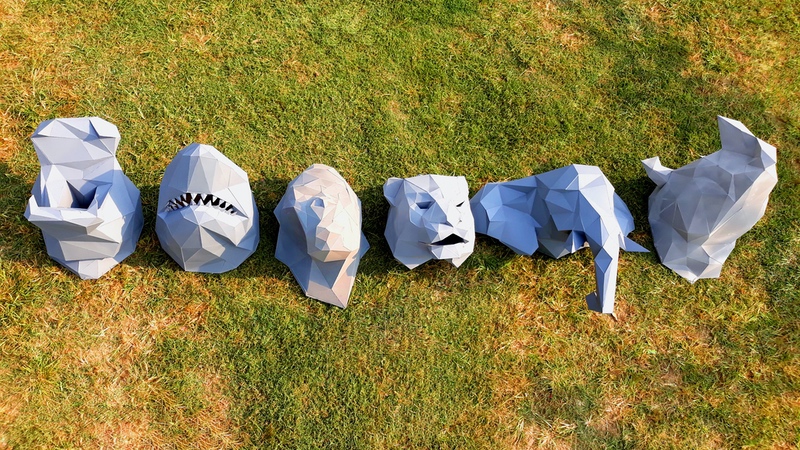 Another project, although smaller in scale, saw the fabrication of robust paper animal heads. The heads were first designed using software called Meshlab before they were printed out as large pattern sheets and assembled. Most recently, the team of origami architects at his firm worked on the set design for a theatre production called 'Animals Out of Paper'. While one designer at Hexagramm, Piyusha Patwardhan, crafted sturdy origami furniture for the stage, another designer Aditi Anuj created a large red hawk using a single sheet of red paper. The paper for the hawk, Mitra explains, was made in-house before it was folded. Incidentally, his studio is in the midst of experimenting with making paper out of such materials like coconut husk, agglomerated powdered stone and elephant dung.
Ultimately, Mitra's inclination towards origami-inspired architecture—which he calls 'Oritecture'—stems from his love for both the material and the technique. "Paper as a sheet material is weak and has no character of its own. But it can also be extremely strong, and origami can give it that strength. The geometry of folds makes the paper very robust, three-dimensional. The white colour of the sheet becomes numerous shades of white and grey after getting folded as the folds interact with the ambient light. The folds also render the paper flexibility to contort into hundreds of different geometric shapes and forms, like an adept acrobat," he explains.
Mitra is just as poetic when he talks about origami. "The act of folding-unfolding is all around us—from our eyelids to the form of our brains and intestines, from coastlines of countries to sand-dune formations, from leaves and flowers to the very nature of space-time, folding is everywhere. This is what intrigues me. If nature uses folding so much and so often, there must be a very good reason why she does so. I am a researcher and chronicler of those reasons. The science drives the art." Eventually, he says, the dream is to create a Serpentine Pavilion, completely made of paper, at the prestigious Serpentine Galleries at Kensington Gardens, London. Or, perhaps in the Turbine Hall of the Tate Modern.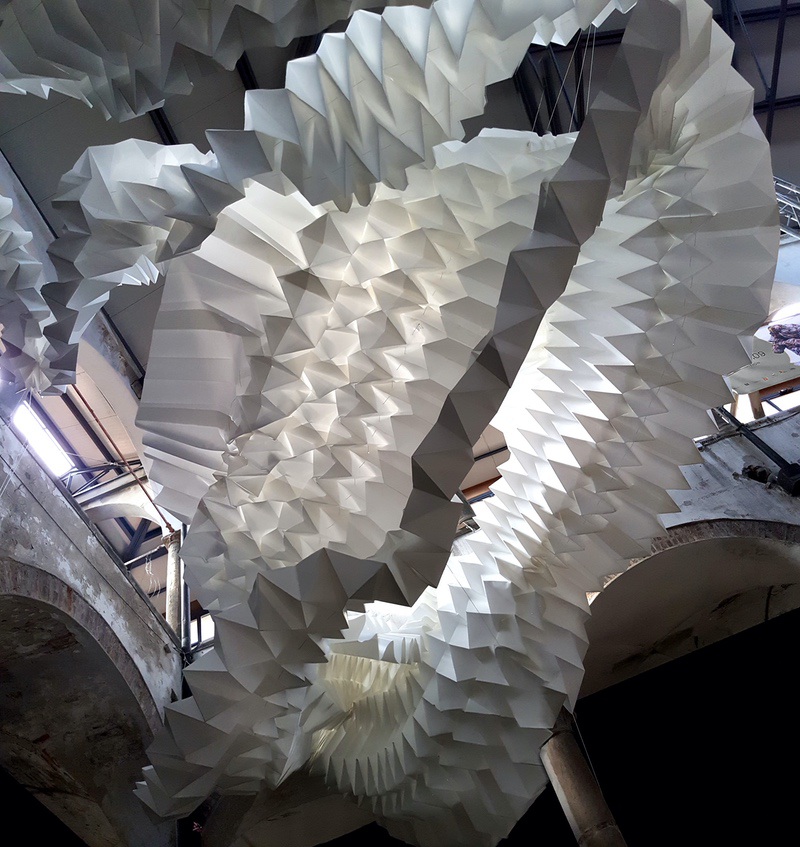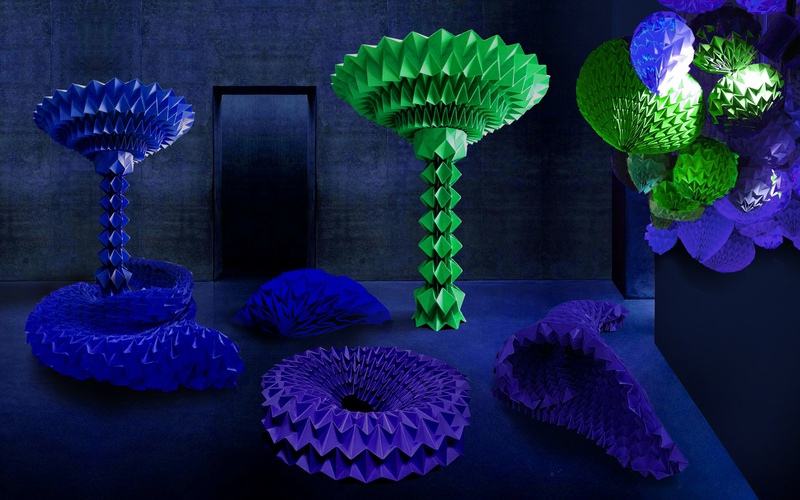 Himanshu Agrawal
Himanshu Agrawal is a well-known Indian origamist who works closely with brands to create large-scale origami. Some of his clients include Lexus, Audi, MTV and Lacoste. For Hermès, he was asked to create realistic, free-standing 3D paper sculptures of animals for the French luxury house's store window in Bahrain. The project, he says, was particularly challenging for the fact that typical origami designs are 2- or 2.5-dimensional and not closed on all sides. "I created a giraffe, gorilla, elephant and monkey for this project. These were shipped as is in a huge crate from Mumbai," says Agrawal. The paper sculptures ranged from approximately 2 feet to 6.5 feet in size.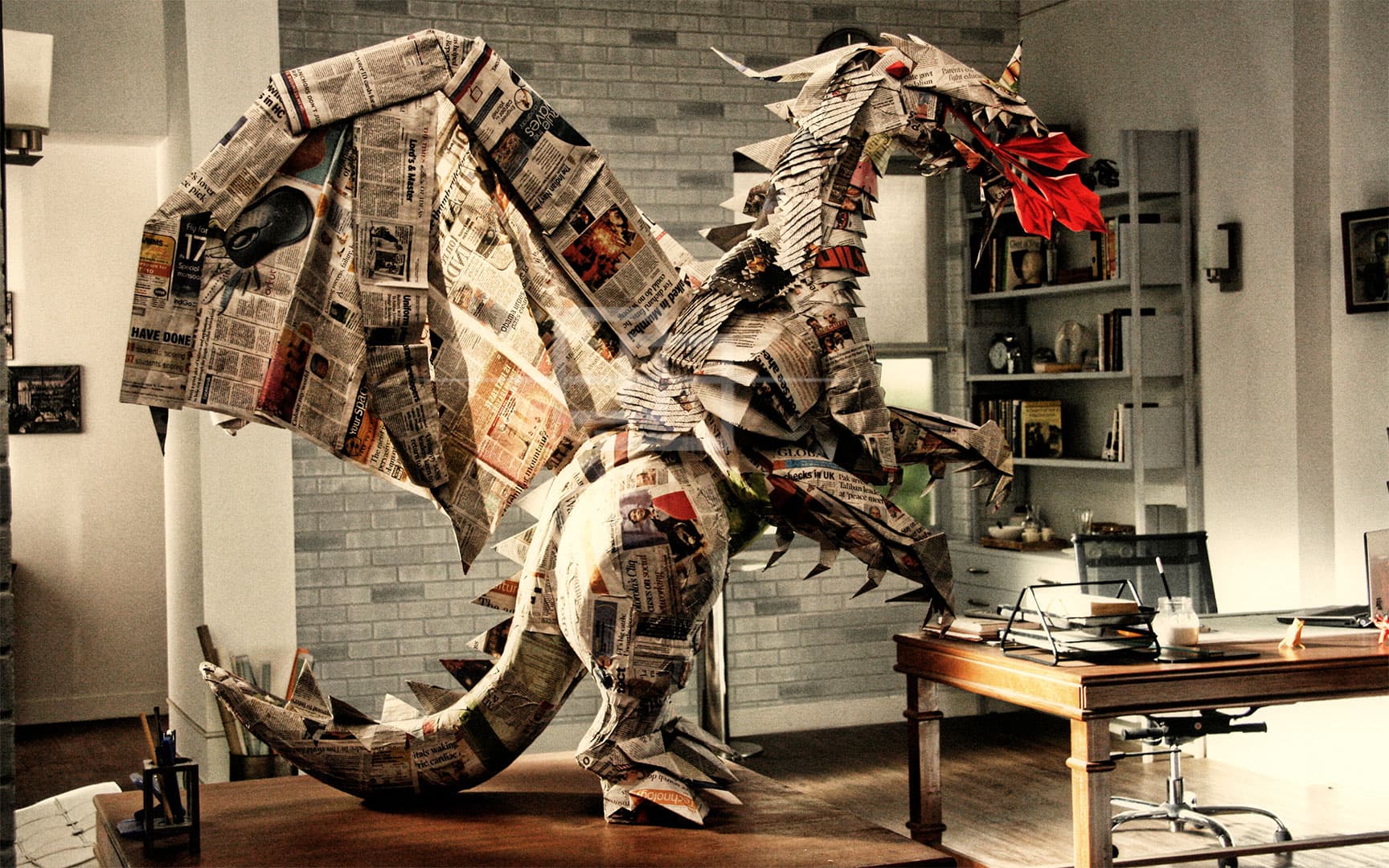 Agrawal's interest in the art of folding began in 1989 when he was gifted a book on paper planes. "In time, the idea that the same sheet of paper could be folded into any form really fascinated me. Eventually, I learned to express myself using origami techniques and then to custom design as per the specific requirements of clients," says the Mumbai-based origami artist, who initially created small origami pieces before he began to scale up his work. It wasn't long before his curiosity to "see how paper would behave at a large scale" was piqued in the year 2008.
"The challenges in executing the idea were very different from those faced in folding regular-sized sculptures. Origami is based on geometry. I had to rework the math to make the structure more stable and balanced. To work with gravity rather than against it," says Agrawal, who is a writer and voice-over artist by profession. He has since crafted 38 large-scale sculptures and many of these monumental pieces have won him world records.
Last year, he was invited by HSBC to present his work at the National Gallery Singapore. The paper sculpture, over two feet high, was inspired by the symmetry of a peony flower and the number '8' (considered auspicious in Asian countries). "I love Fibonacci sequence because of its elegance and I wanted to use it to show the beauty of the numbers visually. I started with the Fibonacci to divide the paper for my design," says Agrawal on the sculpture that took over 100 hours to come to fruition.