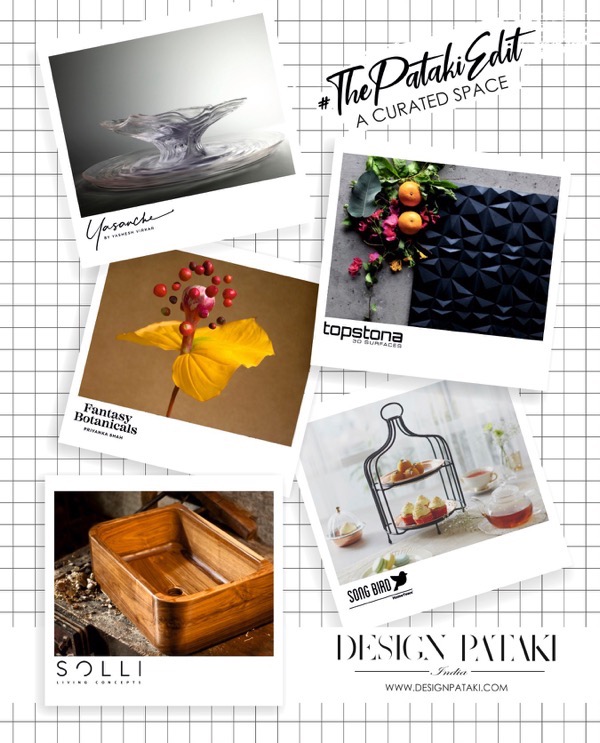 The second edition of D/code witnessed a collaboration with Design Pataki on an exciting new concept called #ThePatakiEdit. Curated by Esha Gupta, this was a space showcasing a varied mix of emerging and established brands, with a keen focus on current trends. Here at Design Pataki, our focus has been to fill the void and streamline the conversation around design in India, and one of the ways we achieve that is by putting a spotlight on independent design. The brands selected to showcase at The Pataki Edit represented a different ideology with their unique creations. Set to be an exploration of emerging design in India, The Pataki Edit featured brands from across the creative spectrum, with products ranging from sleek handcrafted wooden basins by Solli Concepts to wall art in the form of surrealist photo art by Priyanka Shah. The space was designed by Design Pataki keeping the aesthetics of each brand in mind and creating a synergy to compliment each brand or designer showcased. Bringing these diverse brands under one space sparked intrigue and created a compelling conversation between different spheres of design.
 Yasanche                                                                                            
Yasanche products evoke a sense of mystery by the power to seduce, entice and captivate the audience. With water as an inspiration, Yashesh Virkar of Yasanche chose to display a range of trays and vases made from resin, which captured the essence and fluidity of water and gave it a sculptural form.
Solli Concepts
A design studio dedicated to hand-crafted, timeless furniture showcasing the inner beauty and authenticity of wood, Solli Concepts exhibited their stunning range of teakwood basins. Built to challenge conventional thinking when it comes to furniture and fittings for wet areas, Solli's sinks add a little warmth and tranquillity to a traditionally cold and glossy area.
Topstona
Born in the heart of Jaipur, Topstona is a designer surface brand that uses natural stones to create 3-dimensional wall coverings. Inspired by nature, Topstona's products encapsulate the essence of ocean waves, ripples in the skies and of rugged mountain terrains – focusing on not only a visual appeal but a tactile one as well.
Fantasy Botanicals
Fantasy Botanicals is an evolving series of sculptures where familiar and unfamiliar organic elements are taken out of context to unearth a new meaning. Priyanka Shah, a Graphic Designer and Artist based in Mumbai, explores dimensions, emotions and feelings through forms and compositions making each exploration unique.
Songbird by Hometown
A range of speciality serve ware by Hometown, Songbird's designs combine whimsy with function. From wooden boat-like platters with spoons shaped like oars to bicycle snack stands and metal ferris wheels, Songbird's serveware makes a statement at dinner parties while sporting a thoroughly affordable price tag.