Rajasthani Hospitality Meets Ashiesh Shah's Signature Wabi-Sabi Aesthetic At Joshi House, Mumbai
20

Aug

'21

7:39 pm

by

Nuriyah Johar
"Le Cirque Minimal" – Ashiesh Shah's Frenchified response when asked to describe Joshi House in one phrase seemed puzzling at first, but all it took was a few minutes in the restaurant for us to truly understand what he meant. Right from the airy gypsy courtyard to the intimate bar area frescoed with giant charcoal elephants, Joshi House takes on a certain theatricality while still exercising restraint. It is sophisticated without taking itself too seriously; a characteristic common to many of Shah's hospitality projects across the city.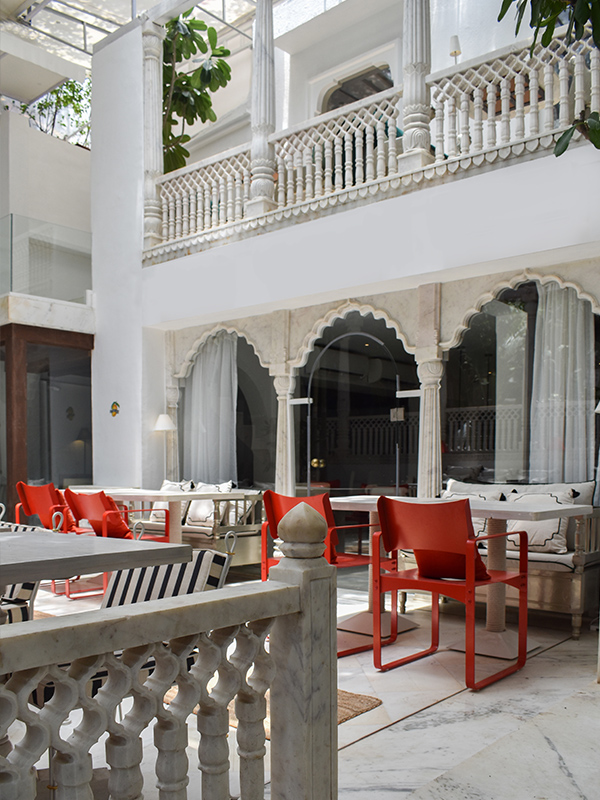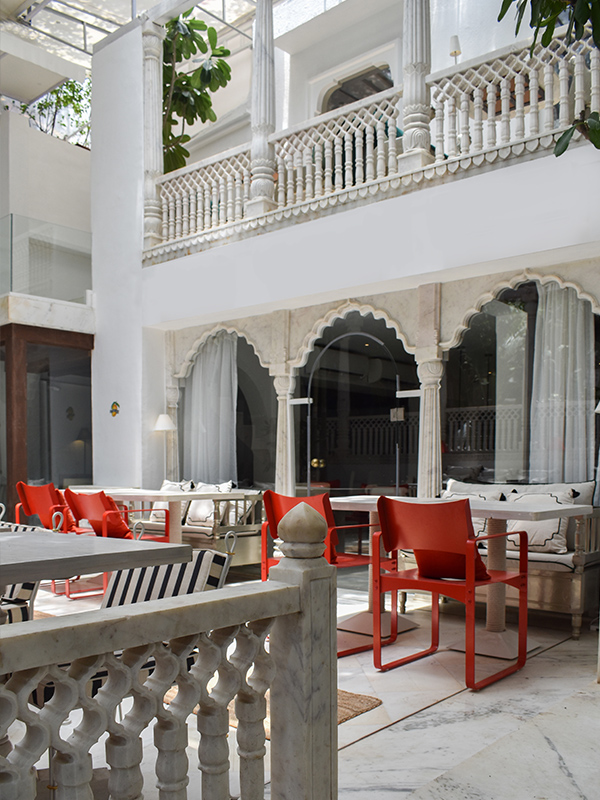 Even before it was fully fleshed out, Shah knew that Joshi House would be held to lofty standards. The restaurant would be replacing Pali Village Café, an iconic Bandra joint established by restauranter Suren Joshi, who is, incidentally, also the founder of Joshi House. In order to then establish a restaurant as (if not more) compelling as its predecessor, Shah and Joshi's shared vision for the space was to recreate the warmth of a Rajasthani Haveli through theme based 'private rooms' that spread across the two storeyed stand-alone bungalow. Every room features an underlying concept that informs its visual language while uniting under the overarching theme of urban royalty. With respect to its name, Joshi wanted the restaurant to exude a certain kind of warmth and luxury. "I want people to feel safe eating out, I want them to feel at ease at Joshi House, as if they have come to my home," he says.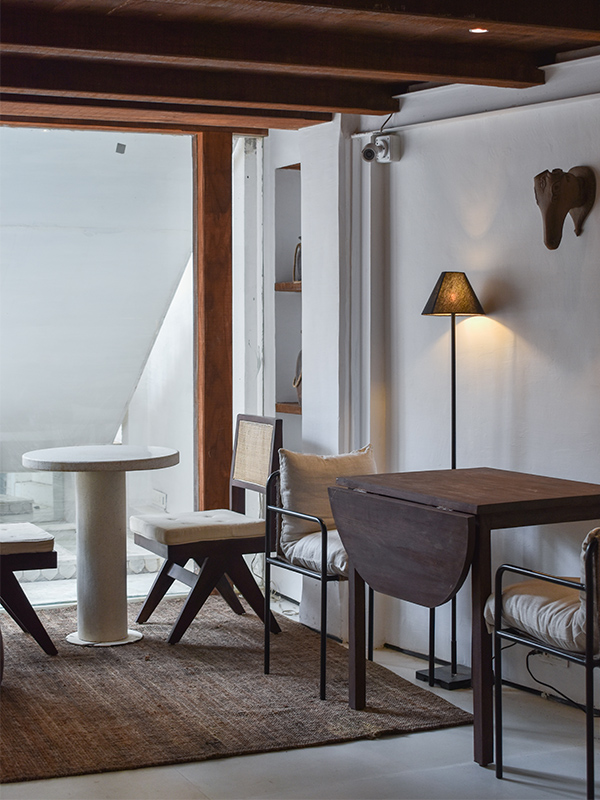 Colour has been purposefully used to delineate the different areas of the restaurant. Joshi House opens into a bright courtyard – monochrome elements with strategically injected reds against a white marble backdrop, framed from the outside by lush banana trees serve to create an aangan-like ambience. The downstairs interior, pristine white with shades of brown, exudes an intentional rawness which is characteristic of Shah's signature Wabi-Sabi aesthetic. A royal palette of silver and green finds its way to the upper level spaces, which then lead into a luxe monochromatic bar lounge with striking silver and gold elements.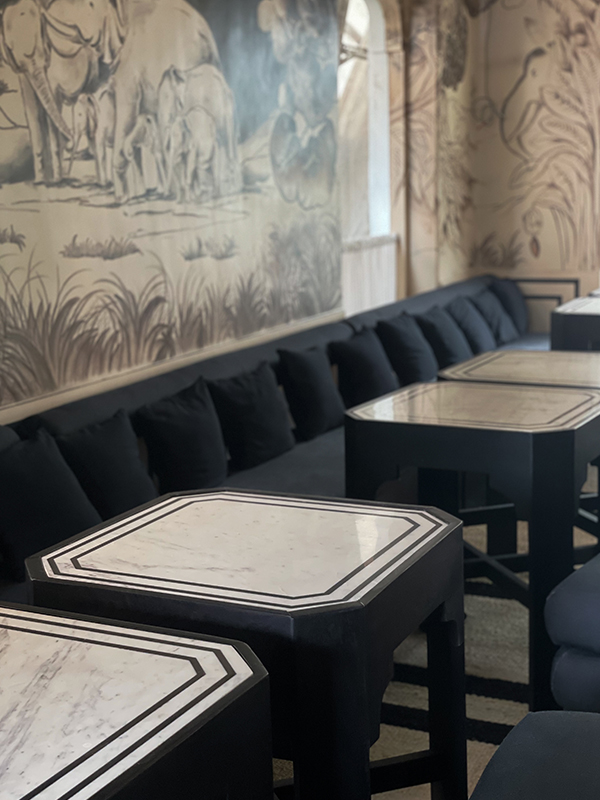 Paradoxically, both a differentiator and binder of the various spaces across Joshi House is the art that takes on an identity of its own. The entrance of the restaurant and corridors feature fine hand painted Rajasthani motifs. The spectacular bar area is covered with charcoal murals of pachyderms. A lot of the art used has been inspired by Mughal art forms and miniature paintings commonly found in the havelis and palaces of Rajasthan. "In light of the pandemic, we had the opportunity of collaborating with a range of artisans. Several artists from villages were commissioned to collaborate, thereby helping village crafts and providing them with employment opportunities," Shah's team tells Design Pataki.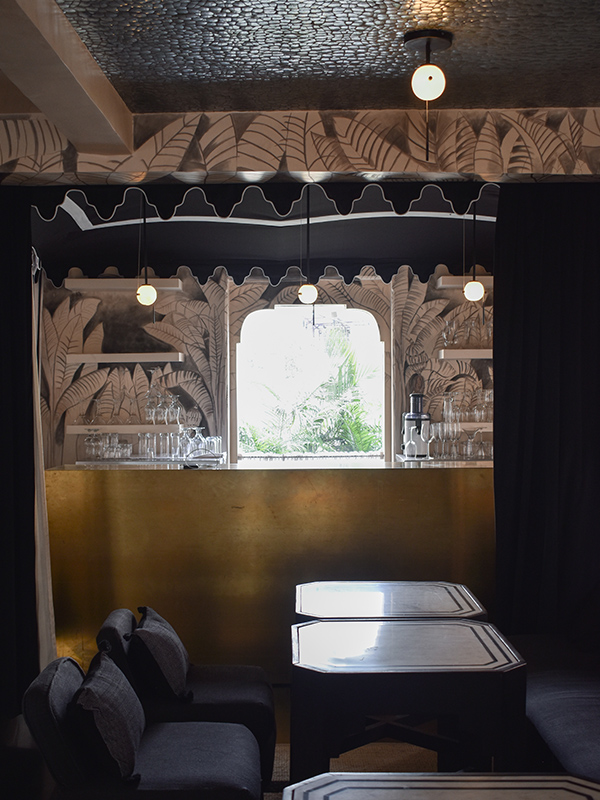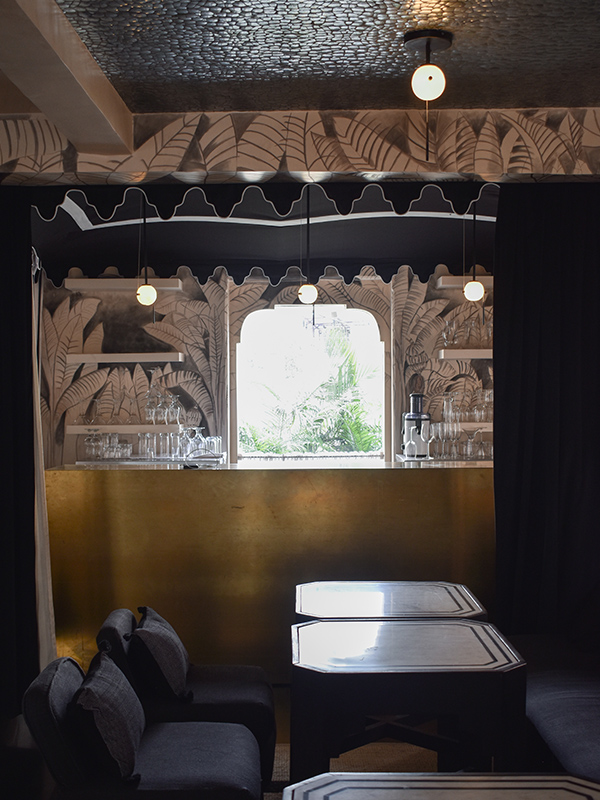 All of Joshi House evinces a conscious contemporization of Indian craftsmanship and design. "Although traditional, the elements borrowed from Rajasthani architecture are steered towards a minimal lens with a modern flair," says Shah. "The infusion of vivid reds and colour blocking accompanied with geometric motifs in place of the traditional paisley layering makes the space more chic and vibrant. The addition of the 'tikri' work on the ceiling coupled with hand painted murals pay homage to all the handmade processes that encapsulate the signature Wabi Sabi aesthetic that I gear towards."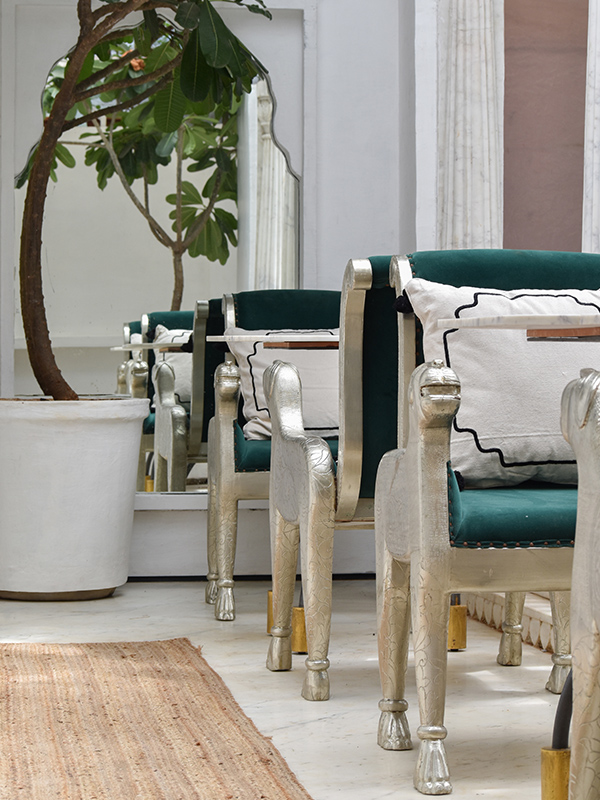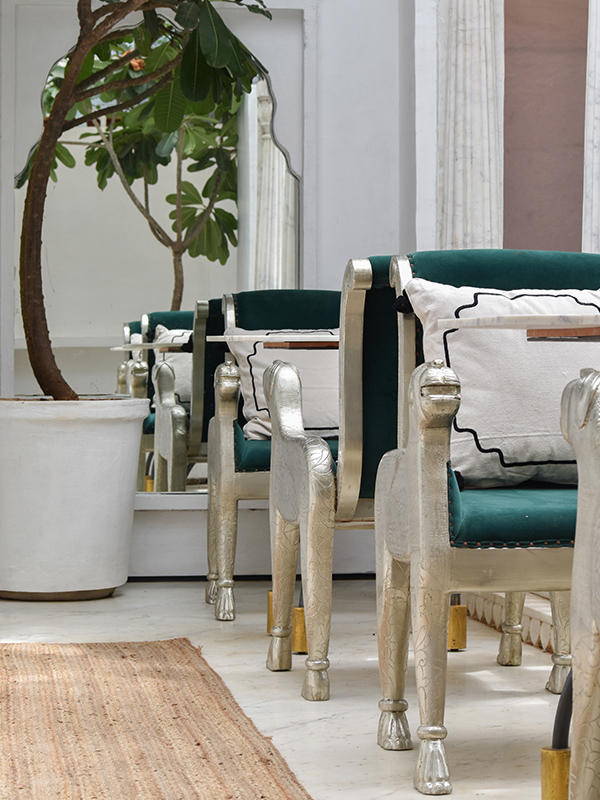 There's no doubt that craftsmanship is taken seriously here. Throughout its varied spaces, Joshi House is infused with techniques and objects celebrating artisans and handmade processes. Immaculate hand carved marble which takes the form of railings, columns, table tops, and even fountains is yet another testament to the sincerity with which Shah and Joshi took to patronizing Indian craft. From the furniture down to the soft furnishings and lighting, most of what is used in Joshi House has been custom designed for the space, skillfully crafted by artisans from Mumbai and Rajasthan.
A marriage between the nuances of Rajasthani craft and the subtlety of contemporary design, Joshi House stands as an exciting haven where every nook and corner tells a story.