Shadow Play at Rahul Mishra's Flagship Store by Open to Sky.
27

Dec

'18

10:00 am

by

Nuriyah Johar

The past few years have seen Mumbai's famous art district, Kala Ghoda become a coveted address for couture houses. Surrounded by museums and art galleries, the historic buildings within the narrow bylanes now house niche fashion labels that are no doubt, drawn to the creative atmosphere and cultural richness of the area. Designed by the Bengaluru and Kolkatta based architecture firm Open To Sky, Rahul Mishra's new store is the latest addition to the artistic neighbourhood.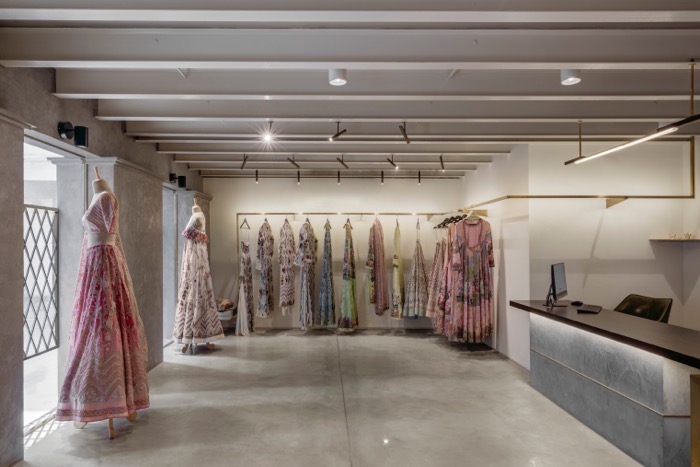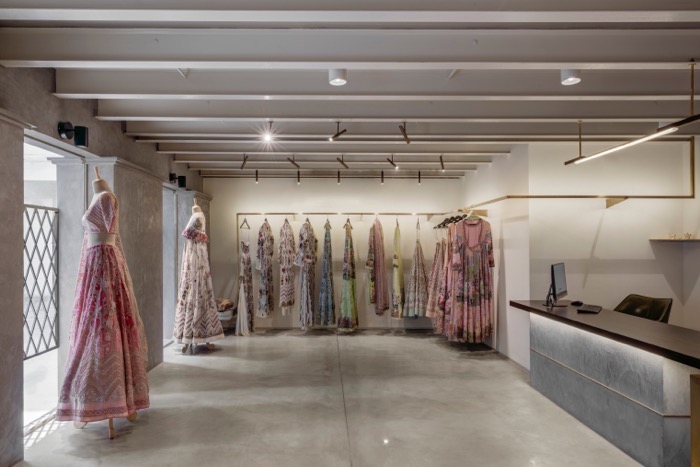 Given the location, the designer's brief was to create a space that was an extension of that innate sense of innovation that is so common to the Kala Ghoda precinct. The two-storey, 1,600-square-foot store is located in an older, metal-framed building – which was an important contextual consideration for the design process. Headed by Animesh Nayak, Open To Sky chose to adopt an aesthetic that was minimal with subtle elements of luxury so as to not draw focus from the clothing.  
The material palette is a strategic mix between the rustic textures of distressed concrete, reclaimed wood and stucco walls with the sharper, more intricate profiles of brass and black metal, fluted glass panels and dark woodwork. The ground level is designed primarily as a space for browsing, while the first floor, secreted away in the loft-like space, is as focused on creating an element of privacy. Meant for client discussion as well as a display space, it channels the atmosphere of a traditional atelier.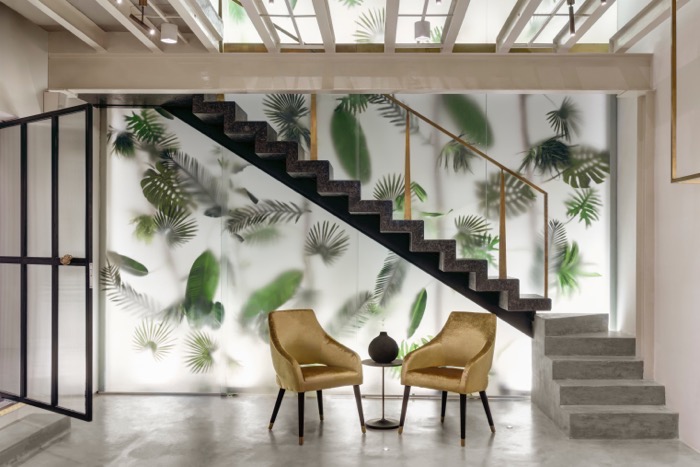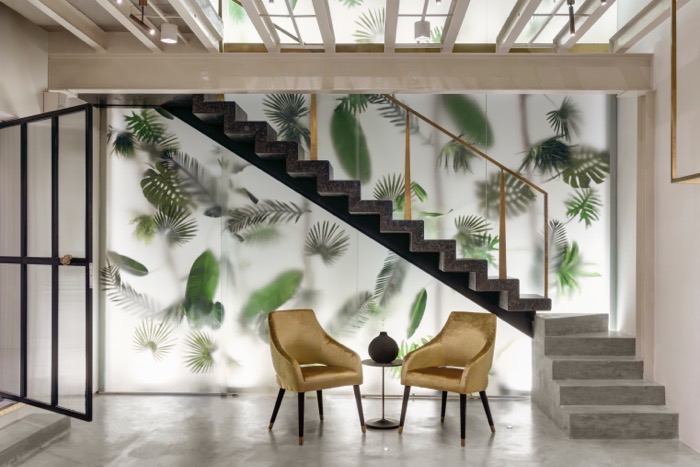 The element of greenery has been added to the space in a thoroughly unique fashion – with leafy green silhouettes only partially visible behind frosted sliding doors that run the height of the store. The designers made optimum use of the structural advantages that come with old buildings – like the stone slab ceilings with a much less-than-conventional clear ceiling height from the floor. This allowed Nayak to forgo resorting to a false ceiling to conceal the lights and services that are essential in such a store. Instead, he retained the grey stone ceiling and painted the steel beams running across in a contrasting white. The lights hang on a series of slender metal frames that run parallel to the beams.
Understated yet elegant, Rahul Mishra's store exudes a quiet charisma – a soothing counterpoint to the vibrant, vital spirit of Kala Ghoda.