The Surrealistic Fairytale In Bangalore's Glass Warehouse
31

Jul

'18

11:28 am

by

Payal Mohta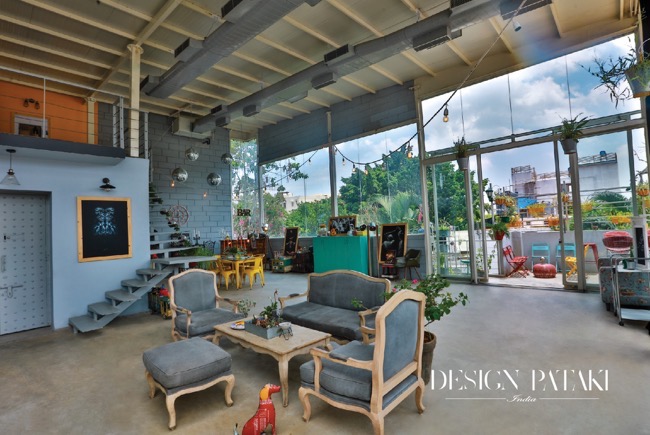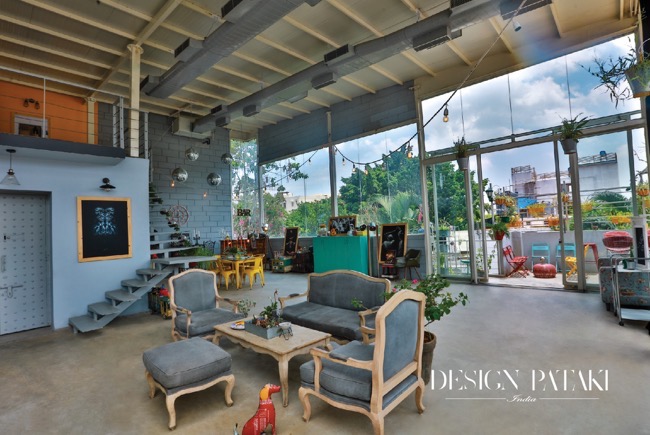 Imagine a double height warehouse neatly nested upon a two-storeyed neoclassical home. Now step inside to find bohemian and industrial interiors with unexpected pockets of mid-century modern vibes, Victorian charms, Parisian moods and even minimalist Scandinavian setups. This surrealistic fairytale is StudioC9 – a multi-venue space situated in the suburbs of Bangalore. Conceptualised and designed by artists Sid Do and Praveen, this four-storey structure is primarily a photo studio that seamlessly converts itself to an art gallery, intimate theatre stage, seminar hall, yoga space, playground for themed parties and also the couple's own home.
Though what truly delights about StudioC9 is its ability to envisage the fantastical potential of design – which is to amaze, excite and become an immersive experience for those in its presence.  
At the outset of StudioC9, a lush green permaculture garden laden with fruit-bearing trees, a thicket of vegetables and herbs frame the grey neoclassical inspired façade of the house. The interiors lead the visitor up a stairwell which is designed as an art gallery with monochrome walls that highlight the photographs displayed on it.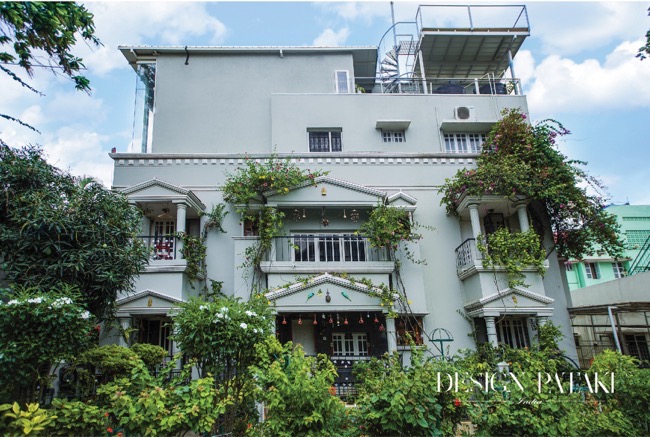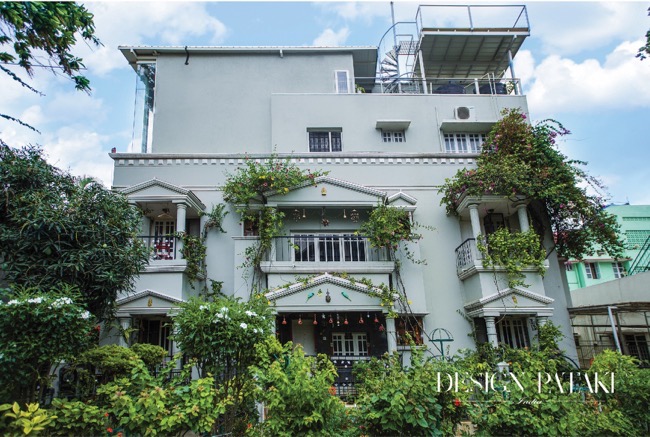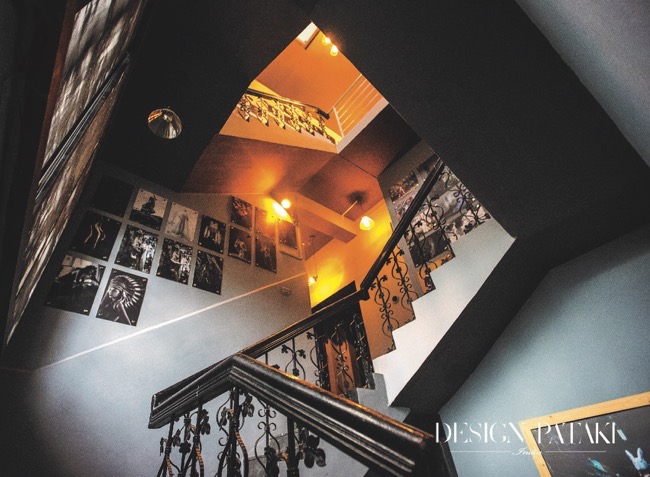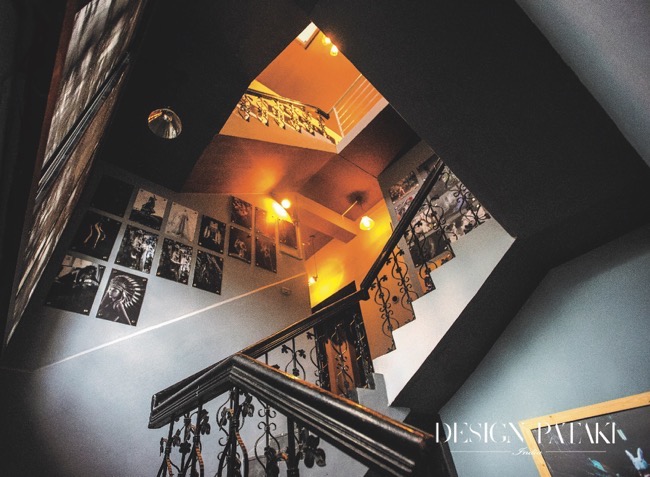 The winding staircase gives way to a giant red door that beckons the visitor to the daylight studio on the upper level. The double height ceiling and picture windows in the room allow natural lighting to flourish throughout the whole studio. The bare walls serve well for photo shoots and also as a projector screen when required for certain events.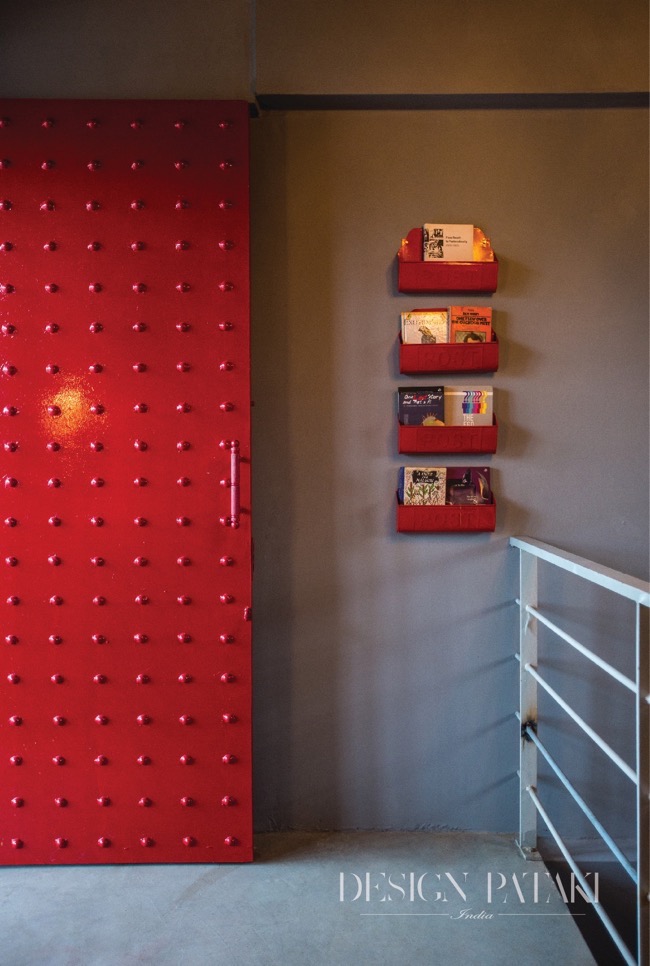 Far from imposing, the furniture in the room is a combination of reclaimed wood pieces to a vintage styled wrought iron set of a baker's rack with wine storage and a matching bar table and with chairs.
Though the piece that is most striking in the room is a bright yellow dining table, straight out of a Dali tea party.  The various collectables in the studio, which have been sourced from flea markets from around the world and curated online design stores bring on a bohemian enigma to the industrial aesthetics of the studio. "Through every look and glance we want to stay true to our efforts of creating a design that is out of the ordinary," says Sid explaining the design sensibilities behind the interiors of StudioC9.  
And so entering the makeup room on the same floor, the previously perceived experience changes instantly. Inspired by the characteristic "powder room" of the 18th century, this space elegantly displays white walls with subtle-grey wainscoting and delicate lace cafe curtains. Distressed carved wooden vanity dressing tables and chairs facing classic green room mirrors set aside victorian hurricane style-glass lamps while a bright yellow ceramic pair of lips that hang from the wall along with cheeky restroom signs that nonchalantly disrupt the quintessential vintage visuals.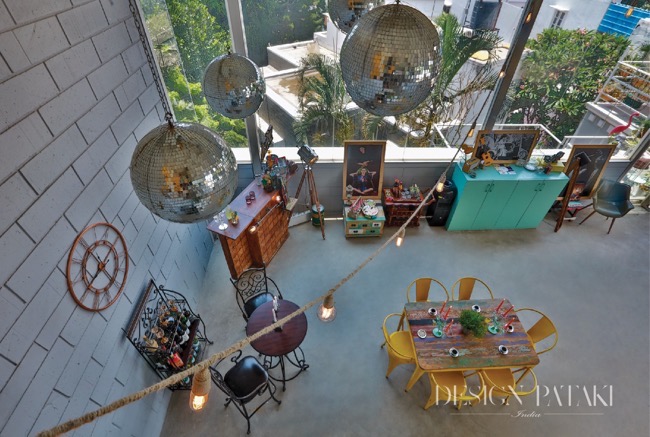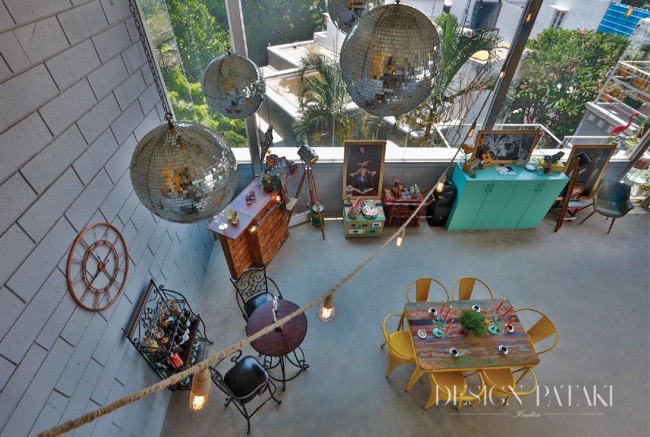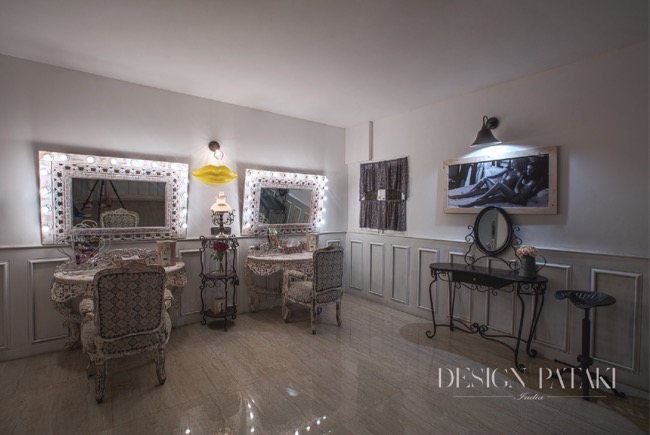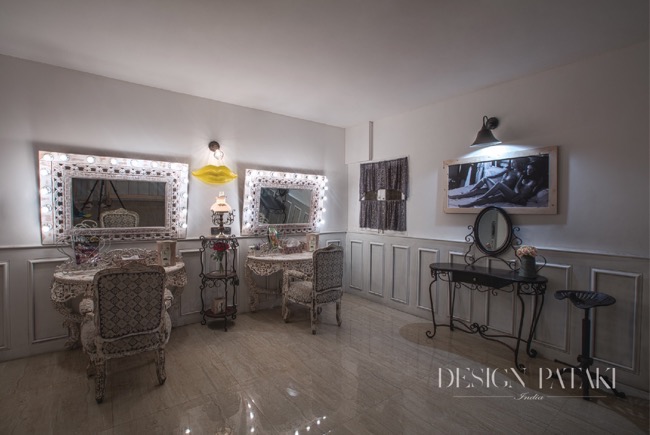 Bringing us back to the contemporary minimalist embrace is Sid and Praveen's office. Accessed through the daylight studio the miniature stairway that leads to their office has no railings which complement the surrounding open floor layout and provides a sense of continuity. The interiors of the office house have plush black leather chairs, dark hardwood flooring, reclaimed wooden bookshelves and memorabilia like vintage tennis rackets. In the studio's upbeat trademark style these pieces make for an exciting counter-intuitive take on the design board of an airy studio.
The formality of the office dissolves with the adjoining balcony which embraces natural elements through refreshing touches of greenery and potted plants. Overlooking it is the outdoor patio and open kitchenette with trailing creepers along its doorway. The space has pops of yellow terracotta as a slanted roof, pastel mint coloured exposed cabinets and cement flooring scattered with cute collectables give it a charming cottage-like feel.
With such diverse aesthetics, it's near impossible to pigeon-hole StudioC9's design sensibilities. Though Praveen admits that the studio's, "unique combination of styles makes it fall under the transitional design style – a space that is equally masculine and feminine in nature."
By combining niche elements of several styles that are seemingly disparate StudioC9 has created its own unique design personality. Reflecting on their labour of love Sid confesses,"At StudioC9, we understand the colossal importance of the impact that a well-designed space can have on one's life and work. Hence, we created a space that is inspiring, energising and through continuous innovation shall never become stagnant." And perhaps these very beliefs that steer far away from present trend bubbles is what will put places like StudioC9 at the forefront of India's design revolution.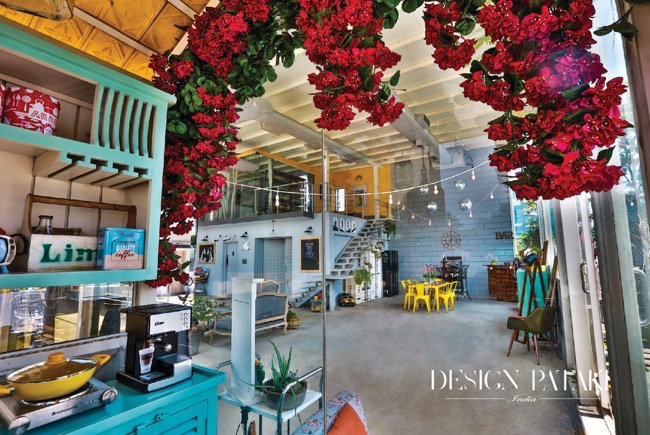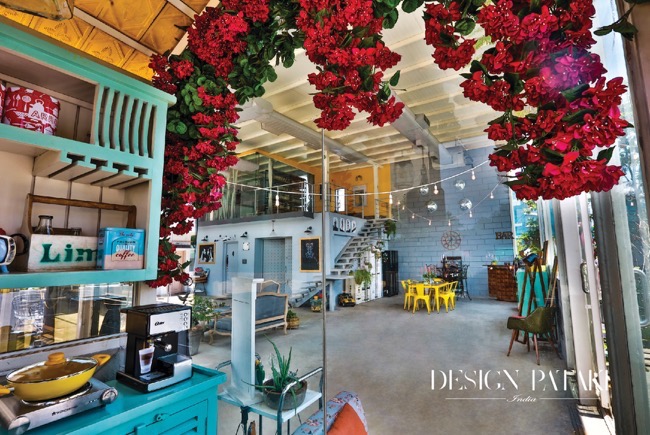 Photographs courtesy – Studio C9