Sustainable Food Meets Wholesome Design By Annkur Khosla At Earth Cafe
28

Feb

'21

11:01 am

by

Manisha AR
The most striking aspect of Annkur Khosla's recent work for Earth Cafe are the colour choices. Combining a very contemporary colour like the millennial blush with a sombre ash grey makes for a very modern take on cafe culture. The simplicity of using a two-tone colour scheme is appealing especially considering the concept behind the cafe itself. Interested in sustainable food practices, their menu has a range of options for those opting to go vegan, gluten and/or dairy-free. The space does a wonderful job of centring these ideas with its design.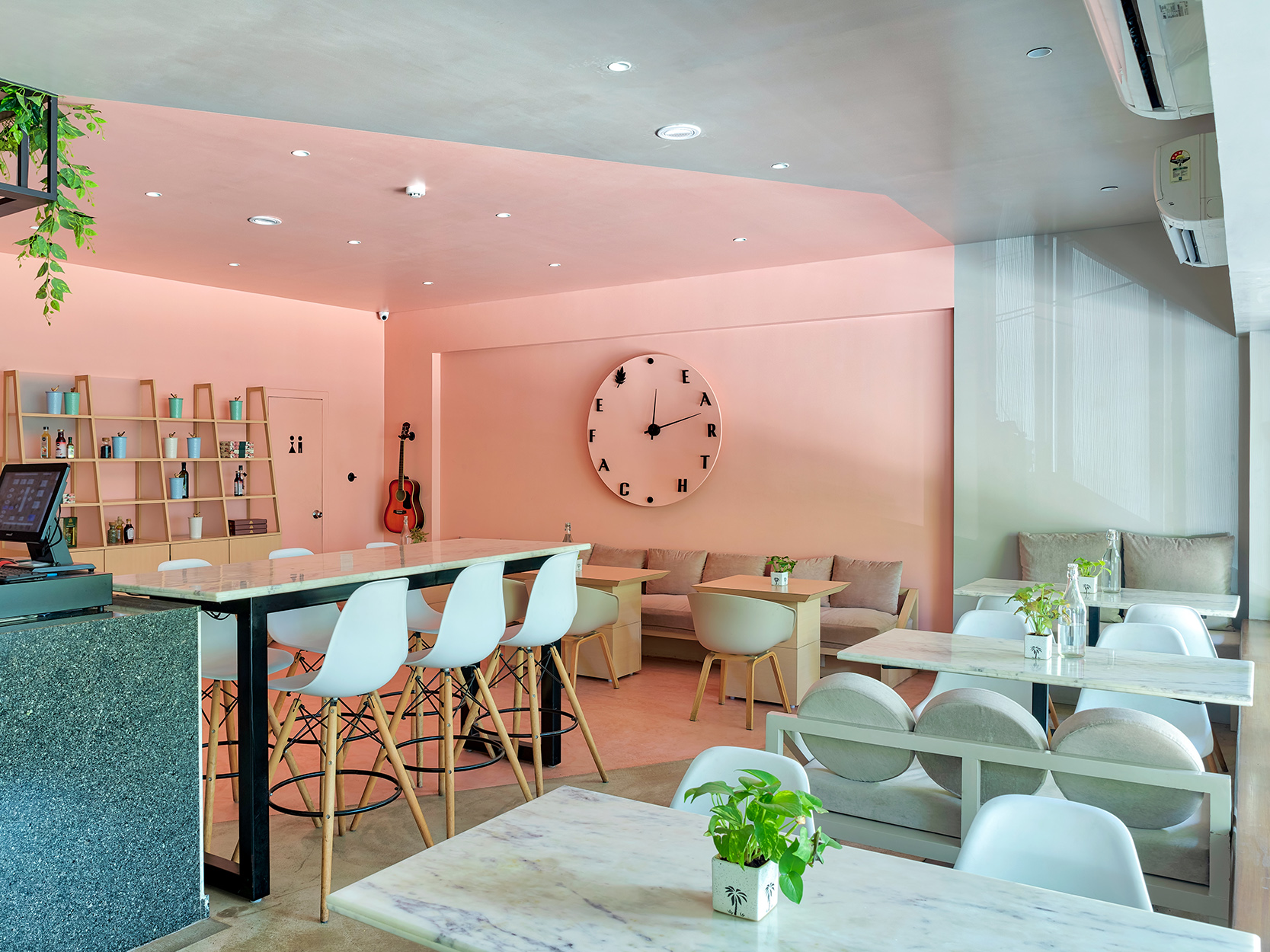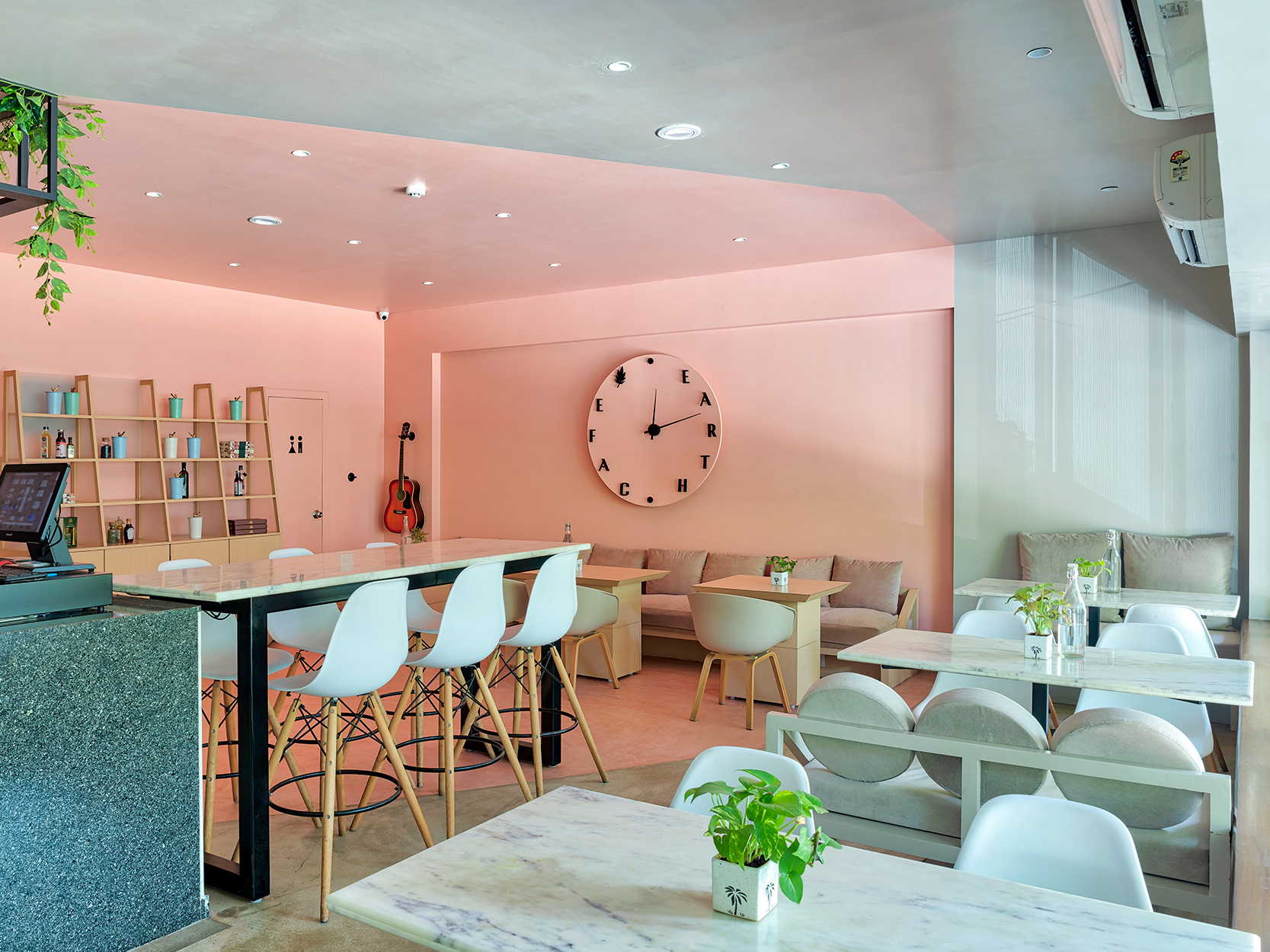 Khosla tells Design Pataki, "I was thinking a lot about getting back to our roots and the earth," she says referencing the cafe concept note. "This idea of the north and south or a metaphorical yin and yang which keeps us all balanced is what I had in mind," she tells us. Known mostly for working with homes, a cafe project was new territory for her. Her goal with any project is to create meaningful and soulful work that is in harmony with the physical space. As both an architect and interior designer, she is generous with her use of negative space. This can be seen at Earth Cafe in the way in which the seating has been arranged and in the decor choices which are far and few in number. They are minimal and all of the furnishings are used sparingly to enhance the color dichotomy of the space.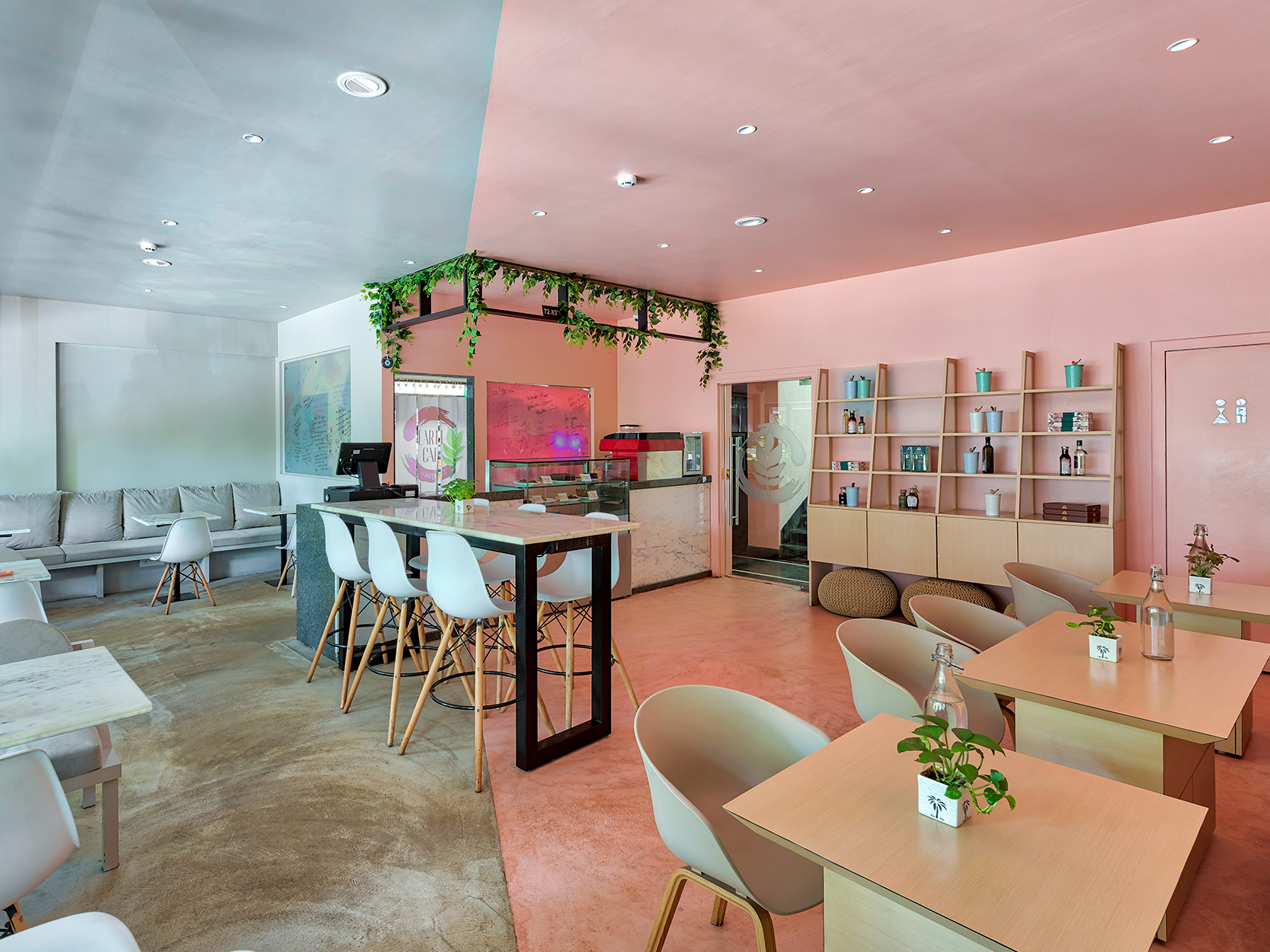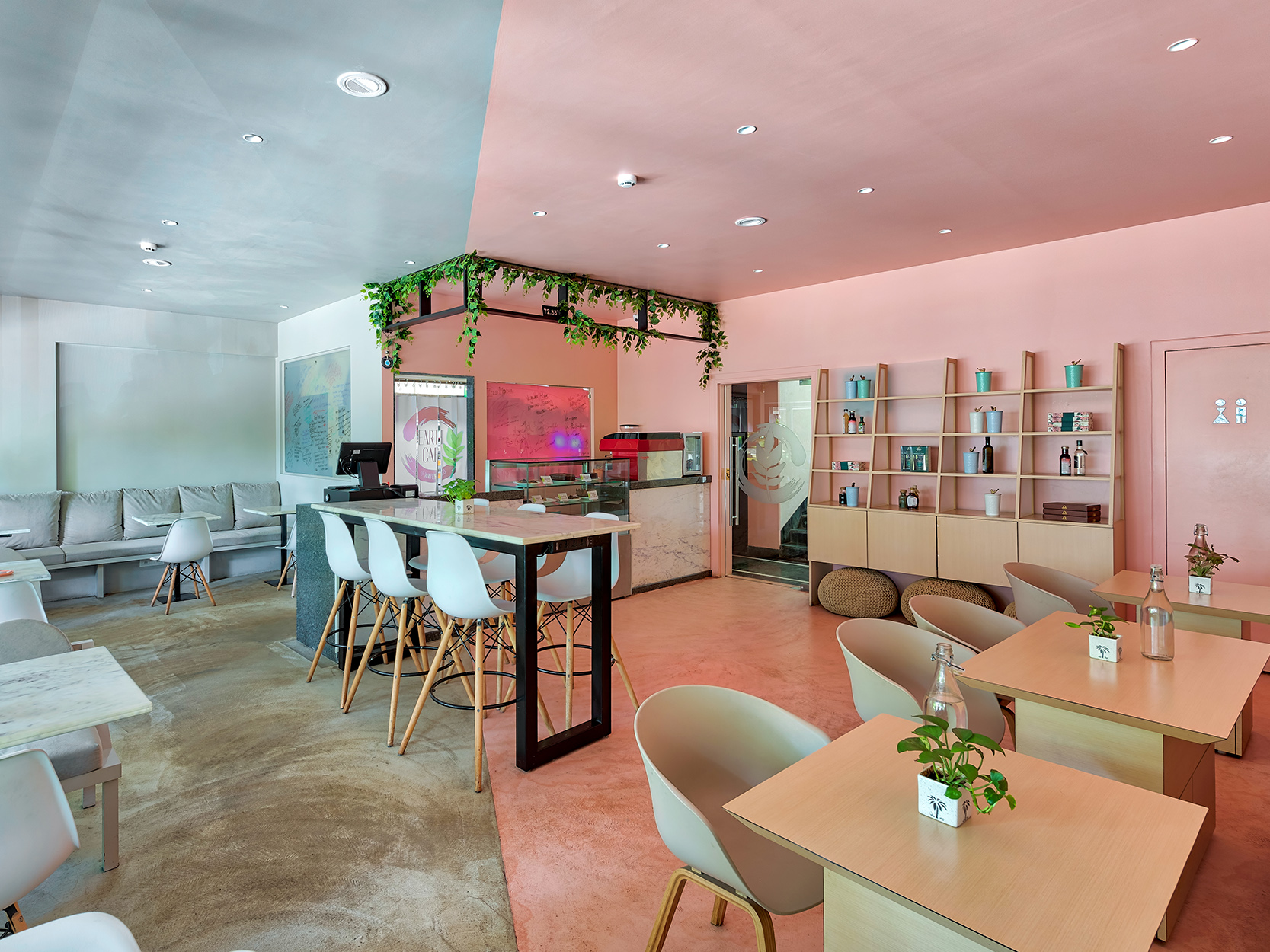 Sustainability with the menu and use of space is what marries the commercial aspect and design aspect of this collaboration. While Vicky Khatwani serves it on a plate, Khosla creates it by using large windows that allow for natural light into the space. In speaking with her, we also learned that the team at the cafe reached out to her specifically and trusted her vision from start to finish. In speaking to her, one can immediately recognize that Khosla's concepts come from a place of deep thought and personal philosophy of essentialism and simplicity. She is observant and acutely aware of the energy a space gives out and tends to harness it in her work.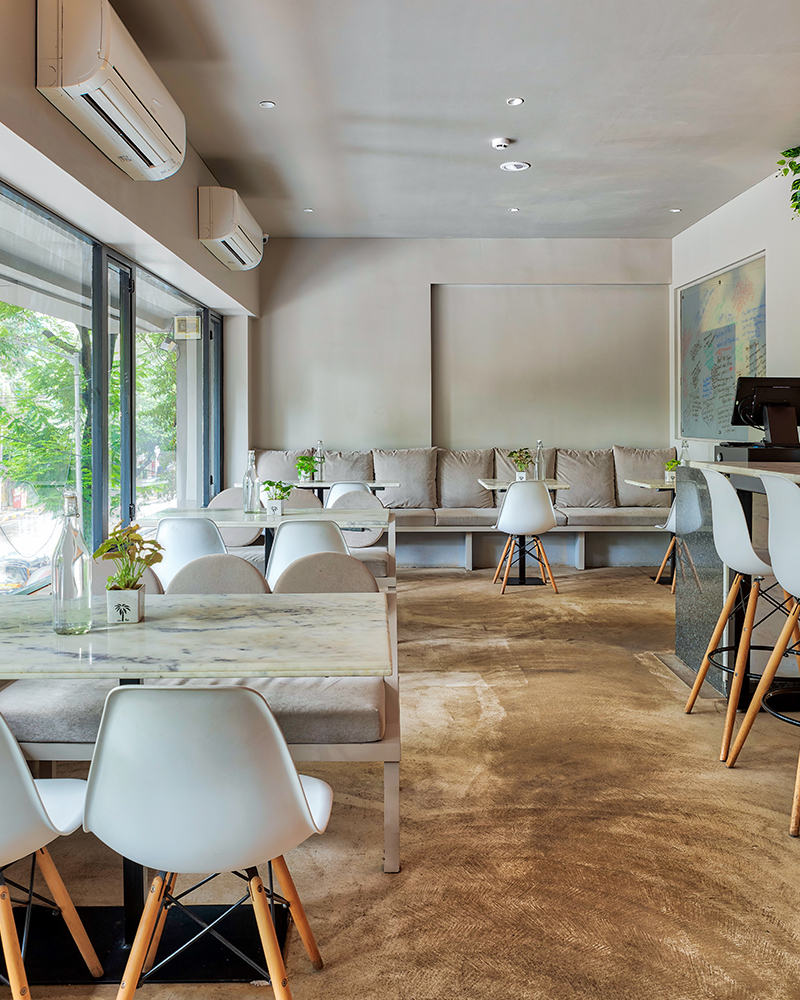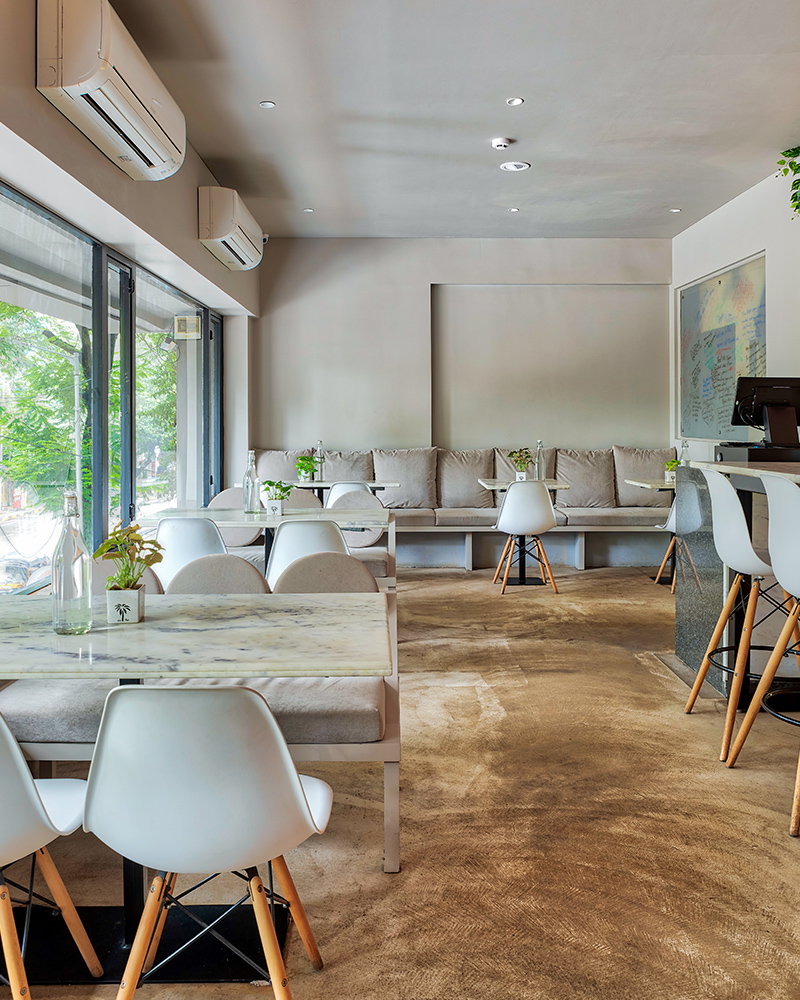 By using pastel colors, chic furniture that blends with the interior space and smooth textures a sense of calm and harmony is achieved within the space. There is also a hint of playfulness hidden in this design. "I am also very curious to see which side people choose to sit on and what drives them to make that decision," she tells us. The sharp line is meant to provoke cafe goers to pick a side- yin or yang, blush or grey? If you look on social media the blush side makes for a great backdrop because of the large clock behind the couch, while the grey is possibly better suited to those who prefer to work quietly and remain unnoticed. Regardless of which side one chooses, we find a wholesome balance and a sense of tranquillity in the design elements that come together at Earth Cafe.