The Most Talked About Design Happenings – Salone Del Mobile 2019
14

May

'19

9:30 am

by

Esha Gupta
As we stepped into the Salone Del Mobile, Milan, a friend accompanying us for the ride looked at me and said, 'This is like your Coachella!' I couldn't agree more with him, the 58th edition of the Salone Del Mobile, Milan, felt like a big booming design festival through every second. The energy was exhilarating, from the experiences and showcases at the Fuorisalone to the fair, the entire city celebrates design week.
This year saw many fashion houses, including Loewe, Dior, and Versace, show off their latest endeavours in the design category, while Italian well-known brands showcased their newest projects. Experiences layered with technology, science and design were presented by brands like Louis Poulsen, Artemide and Preciosa.

Navigating the city with must do and must-see lists we bring together our highlights from Italy's hotbed of Design –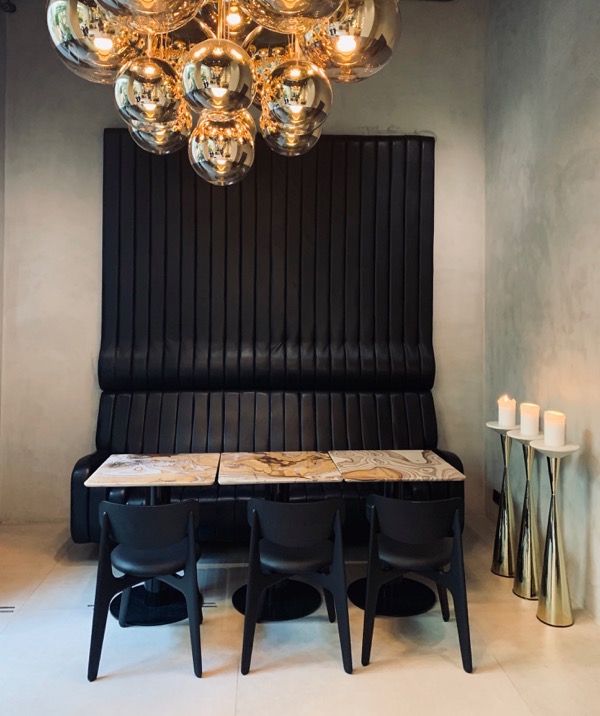 Tom Dixon, The Manzoni
"There is nothing dustier than a conventional furniture and lighting showroom," says British designer Tom Dixon referencing his newest design outpost. Created by Tom's Design Research Studio, The Manzoni is a multifunctional space comprising a restaurant and a studio. After years of having created temporary five-day exhibitions for Milan Design Week, Dixon decided to establish a more permanent presence in Italy's cultural capital.
The Manzoni is roughly divided into four areas – The bar and lounge, a dining room with a vast communal dining table, a lush showcase area called Jungle, and a formal dining space. Dixon's new collections showcased at The Manzoni during Milan Design Week include Fat, an upholstered seating line; Spring, a trio of pendant lamps; and Opal, a spherical lighting collection.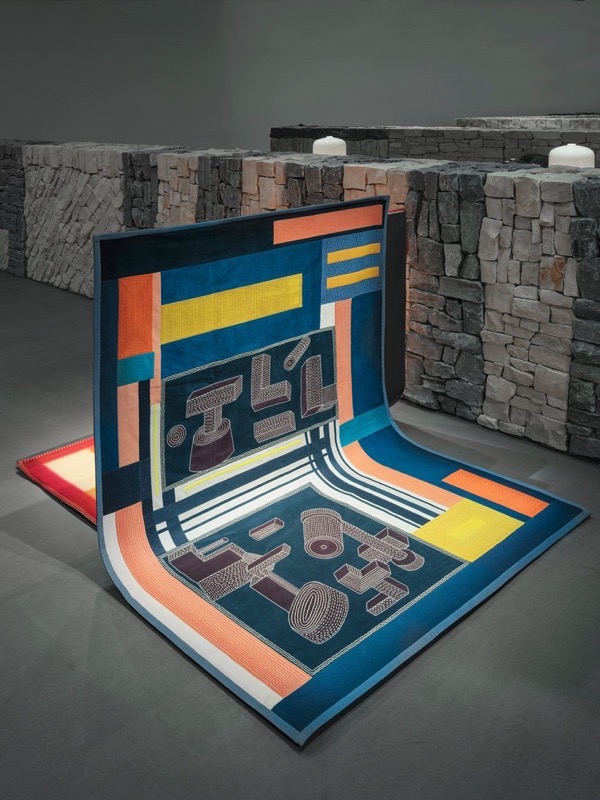 Hermes
This year in Milan, Hermes chose to pay tribute to materials for the presentation of their new home collection. "Materials trace a line, permeate a motif, delineate an object. Granite or porcelain, bamboo or leather, it is the materials that drive the dialogue between designers and artisans." The exhibition space for the luxury French brand was designed by Charlotte Macaux Perelman, who adopted an understated, earthy design and rows of stonewalling to offset the colourful objects and loud motifs. Highlights from Hermes' collection included Tomás Alonso's delicate bamboo lights, Gianpaolo Pagni's "Hippomobiles" designs bearing bright cashmere appliqués and striking equestrian motifs, and Barber & Osgerby's intense black and translucent white lamps crafted from granite and porcelain respectively. The art of leather marquetry also shone through the work of Josephine Ciaudo whose mahogany and leather boxes took inspiration from the silk jackets worn by jockeys.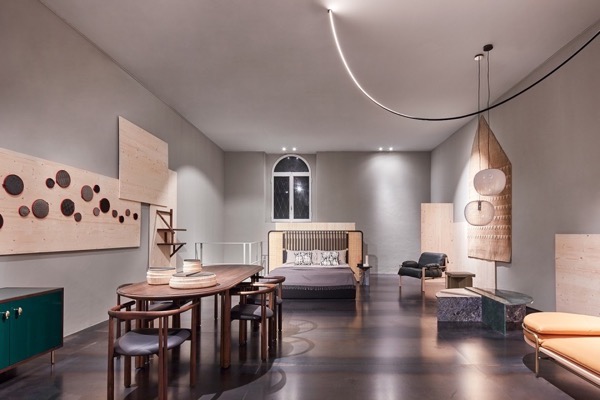 Spotti
The Milanese furniture brand Spotti featured Studio Delcourt's latest collection under 'Selected by Spotti'. Set-up by Christophe Delcourt, The Shape of Shade, was "A return to a primary and academic shape for a new series of pieces oscillating between inertia and gravity, light and shade, magistral proportions and infinite details." The selection combined new pieces from twelve top Italian and international interior design brands. On display at 'Selected by Spotti' were – BassamFellows, Bitossi, cc-tapis, ClassiCon, Collection Particulière, De La Espada, Delcourt Collection, Gebrüder Thonet Vienna, Matter Made, MoonShineMaterials, Roll & Hill and SEM.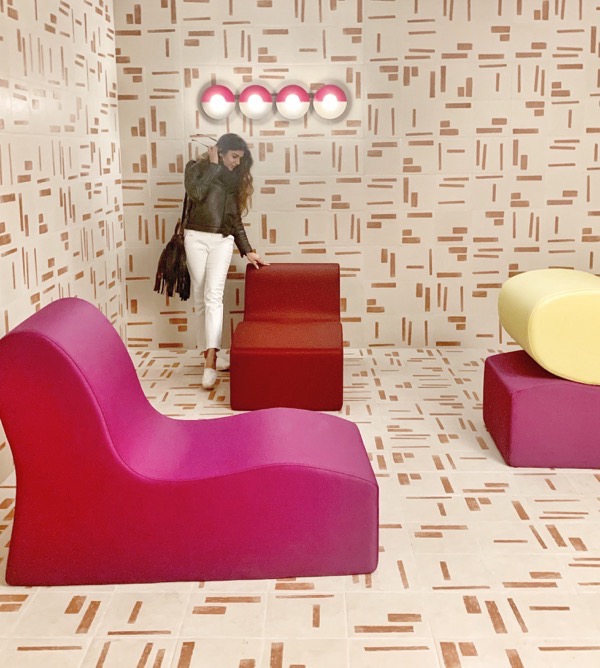 Studiopepe
House within an abandoned gold manufacturing factory, Studiopepe's installation for Milan Design Week was suffused with elements of mysticism, set to explore "the interconnection between matter and the archetypal power of symbols". Dubbed 'Les Arcanistes – The Future is Un/Written', the experiential set up translated into a sequence of spaces: the Source of the Vibrational Water, the Materioteca, the Alchemic Laboratory and the Mantica Society.
Shades of seafoam, chartreuse, violet and gold were splashed across the walls and melted glass panels, complementing the bizarre assortments of vintage and new furniture, neon phrasing on the walls, and clustered collections of objects on floating shelves.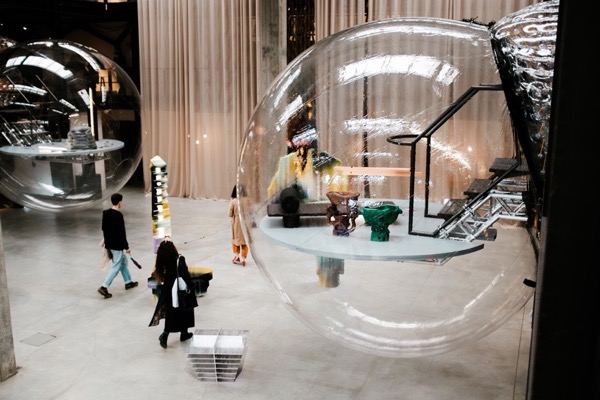 Nilufar Depot
Youngblood characterized the Nilufar Depot exhibit at Milan Design Week, with a 'temporary collective' featuring works of several emerging designers. Titled FAR, the space was curated by Studio Vedèt, with a 70's inspired set design by Space Caviar. Taking inspiration from a 1972 installation Oasis No. 7, the exhibit makes use of giant, inflatable globes which house the objects. Subverting traditional concepts of design and catering to the creative process rather than concrete functionality were the guiding philosophies behind these designs – from sculpted foam benches to planters coated in iridescent car lacquer. "It is a very fascinating environment the one created in Collectives, and I was amazed to discover how incredibly lively they are and how free they are when thinking about the future of design', says gallerist, collector, and founder of Nilufar, Nina Yashar with referencing the young designers.
Photograph Credit – Tom Dixon & Studiopepe by Design Pataki , Hermes, Nilufar Gallery & Spotti via Designboom