The Art of Wardrobe Tidying up with Beautiful Homes.com – Sponsored
16

Nov

'16

2:29 pm

by

Tansha Vohra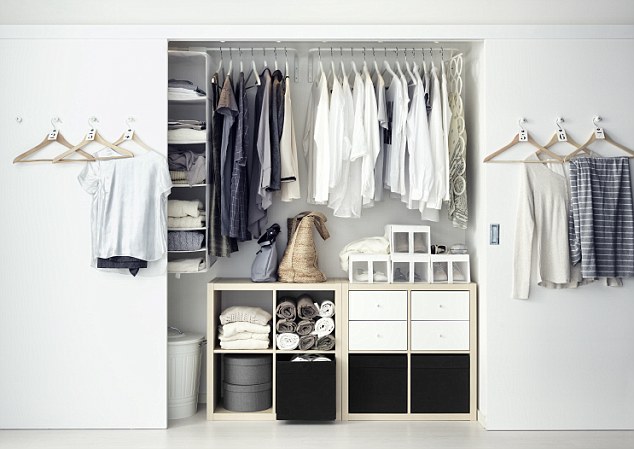 We've all got skeletons in the closet. There – we've said it. The art, however is in knowing how to hide them, only to find them when the time is right. We checked out the newly launched décor website of Beautiful Homes, and guess what we found? Only the most perfect hacks to everyone's perennial wardrobe problems. Marie Kondo is basically the Jedi master of decluttering – her way really is nothing short of artwork. We are fans of her bestselling book "The Life-Changing Magic of Tidying up: The Japanese Art of Decluttering and Organising," – this is the guide book to the perfect wardrobe. Kondo's work is based on the belief that decluttering your wardrobe and your space leads to better productivity and 'joy' in all arenas of our life.
Kanso – Elimination of Clutter is one of the principals of Japanese aesthetics. So here's how we figured you can go from drab to fab in five easy and practical steps, which don't involve your carpenter.
Folding – We love her videos on how to fold your clothes so they optimize each drawer, making it so much easier to not only find things, but also fit them into your closets. The FlipFold, the T-shirt folding board which we use is absolutely genius. Complete takes away the hassle from day to day folding.
Categorising – This is key especially if you have a small closet. Put your gym clothes separately, beachwear, winter, work wear. Colour of course you can use if you are a guy who loves his blue, white and blacks. Then colour is the easiest to segregate by.
Declutter – Marie says, " The criterion for deciding what clothes to keep and what to discard is whether or not it sparks joy!" When deciding what clothes to keep and what to discard, you must go through the process of confirming whether each clothes makes you happy. Amen to that.
Accessories – Separators for your accessory drawers is a must. This way at any given point you can see your jewellery, belts, socks, undergarments. Though also keep in mind sometimes getting more storage boxes sometimes adds to the process of acquiring more clutter. So your wardrobe accessory needs to be more functional than just aesthetically pleasing.
Rebounding – Avoid "rebounding", always put things back to their designated place. Also, creating a beautiful closet (for example, using same closet hangers, lining up clothes so it creates a gradation) keeps you motivated and helps avoid rebounding.
Here's to living tidily ever after!