The Chic Artsy London Pop Up, SQUAT
29

Jun

'16

5:35 pm

by

Crew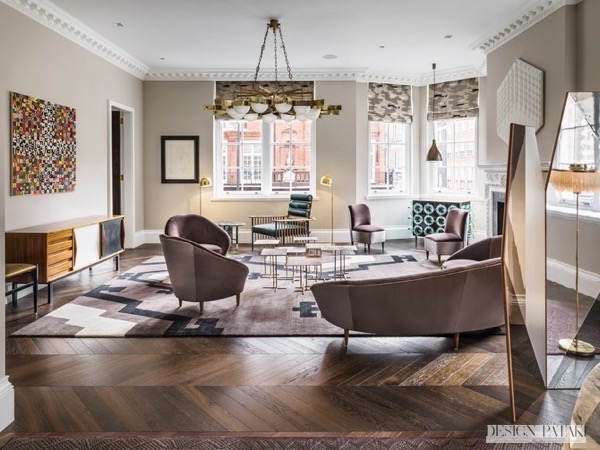 What happens when you take Milan based Nilufar Gallery and combine it with interior designer, Shalini Misra? You get the brilliantly created pop up, SQUAT London! Nilufar Gallery owner Nina Yashar with Shalini Misra and Mehves Ariburnu, Director and Creative Advisor at Shalini Misra Ltd respectively, launch the London edition of SQUAT. The concept was first launched in Paris then Beirut, Milan and now in the heart of Mayfair, London. It allows one to experience a curated lifestyle and as well as buy it, from the design and art pieces, to well, the property itself.
'I have always been keen on creating new and unexpected associations between furniture and space,' says Yashar. Created in a refurbished 2355 sq ft Victorian property, located only a stone's throw from Hyde Park. The exuberance of a historical apartment lend to Shalini Misras signature "already lived there" style. Instantly taking you to a home and not an apartment. Designed to engage in a dialogue between art, design and space.   
The entrance makes you stop dead just to look around and absorb everything. With Bespoke Nero Marquina and Thassos marble flooring, in amalgamation with Art Deco patterns. A high maple wood chest of drawers covered with black opaline glass and solid brass legs is decorated with 196 vintage glass spheres. This unique piece is made and signed by Roberto Giulio Rida using entirely vintage 1950s and 1960s materials. Set beside the chest of drawers are two sleek armchairs by Augusto Bozzi dating from 1956. The Thassos marble floor of the entrance hall flows with the black border to the corridor leading to the kitchen. A wall light from Lindsey Adelman's Cherry Bomb Fringe collection adorns the wall along the way.
The kitchen is the most interactive space, combining the act of cooking, dining and living. A light subtle grey marble flooring in a chevron pattern. Bronze cupboard finishes with a sleek Calacatta marble splashback. Julian Schnabel's Untitled (Chinese Painting) anchors the dining area, where 1960s Gio Ponti chairs gather around a table by contemporary Italian designer Massimiliano Locatelli.
The curved sofa and armchairs by Federico Munari sit beautifully in the reception room, designed in the 1950s, surround a group of low, metal tables by Osanna Visconti di Modrone beneath a brass ceiling fixture by Gio Ponti.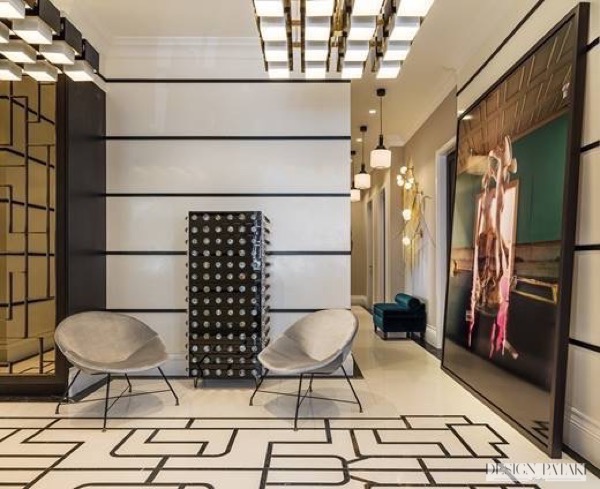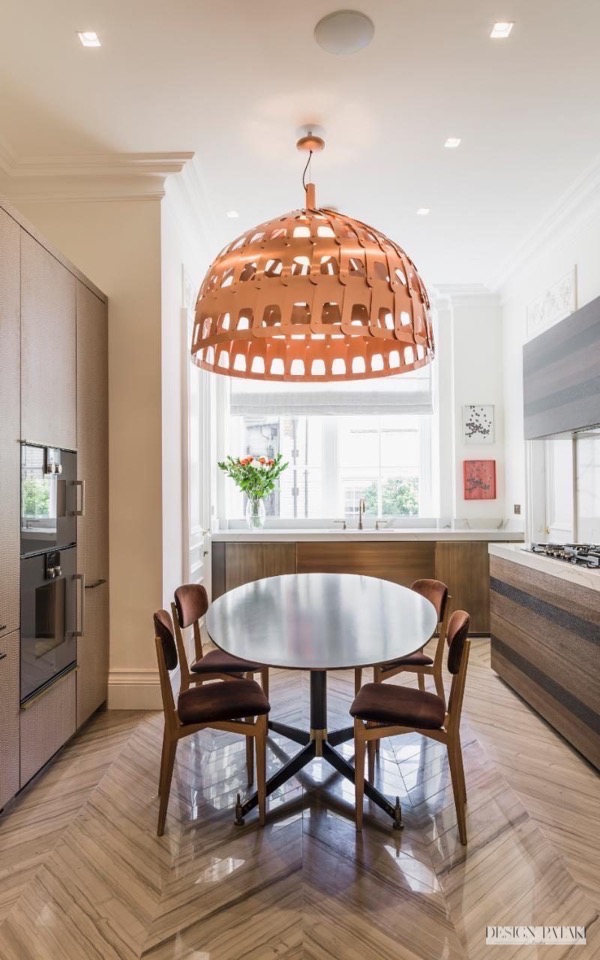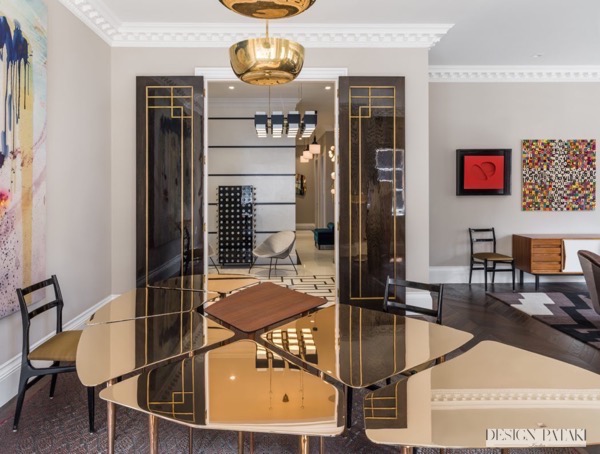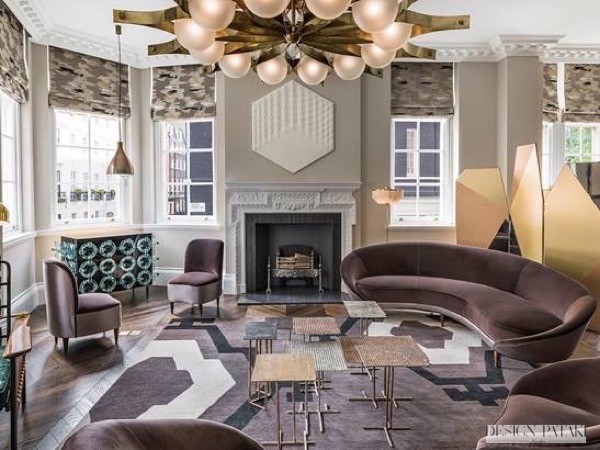 The master bedroom suite with a walk-in wardrobe, study area and a large bathroom is naturally lit with daylight pouring in from two oversized windows. The Super King master bed is framed with a Martino Gamper screen in metallic finishes with bedside tables in natural bronze and black patina from the Tracce Collection by Osanna Visconti di Modrone. A Dualita bench with copper details and Alcantara upholstery sits at the end of the bed with Lindsey Adelman's Catch ceiling light in brass with blown glass globes suspended above.
The Master bathroom is a combination of white Calacatta marble clad walls set off with dark grey stone and bronze accents. The wall-hung vanity unit in dark grey marble, dark oak and bronze trim details stands out on the wall-to-wall fresh white Calacatta stone. 
The Family bathroom the walls are treated with contrasting mosaic and stone surfaces creating a rich blend. The Carrara vanity top on a black-stained oak frame with drawers and white ceramic counter-mounted bowls is set within a recess of golden honey oak timber panelling with backlit mirrors.
With historic works by Italian and international design masters to creations by leading contemporary designers and emerging talents, SQUAT London a definite design lovers abode.
 SQUAT is open to the public from Tuesday to Saturday till 15th October 2016, 11.00am – 7.00pm.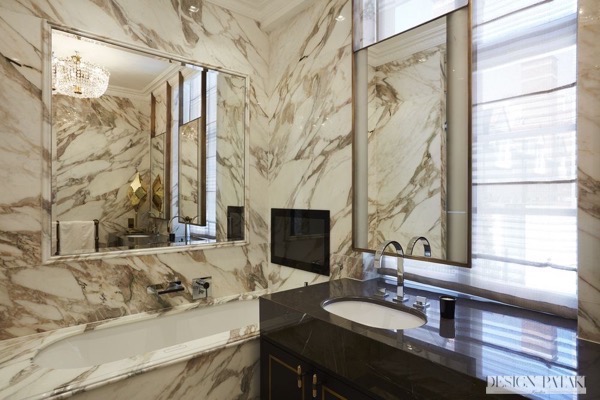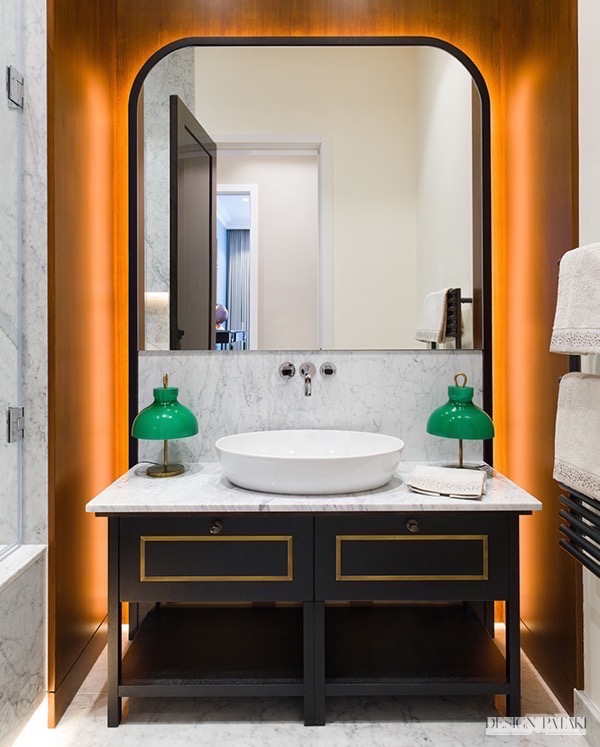 Photographs courtesy SQUAT London.