The Exotic 'Spices India' at Kochi, Kerala
3

May

'14

8:30 am

by

Crew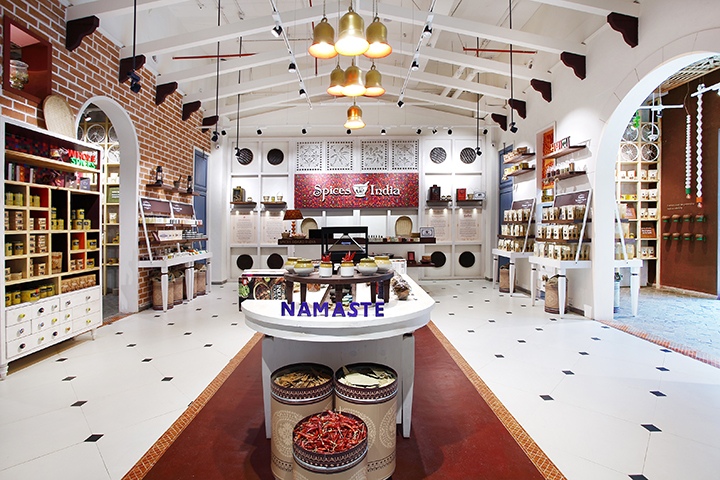 Kochi, Kerala has got a new local flavor to boast of, Spices India. An initiative promoted by the Spice Board of India to promote spices as a healthy life style product.   
We love the simplicity of the store with Indian elements put together in a not so OTT manner. Yes we too are tired of Indian Design being depicted by paisleys and gold. Designed to give tourists an experience of Indian culture, as well as a platform where spices are positioned with the correct knowledge being imparted. Instead of facts dependent on Google. They activate the sense of touch, feel and smell along with information on the culinary and medicinal uses.  
Bangalore based design group, Four Dimensions (4D), was assigned to conceptualise this idea into an exquisite store. "To create an environment around Indian spices arranged in an eclectic contemporary-traditional Indian set up was an interesting challenge indeed! The task was not just creating a befitting environment around these assortments but to create an identity amongst the target audience and help them elevate from their mindset of purchasing spices from the next-door kirana shop. Another primary target audience being the travellers/tourists from various parts of the world, the store had to be more of an experience that would promote Indian spices not only in the country but overseas as well!," explains Nagaraja R, Director, Design, Four Dimensions (4D).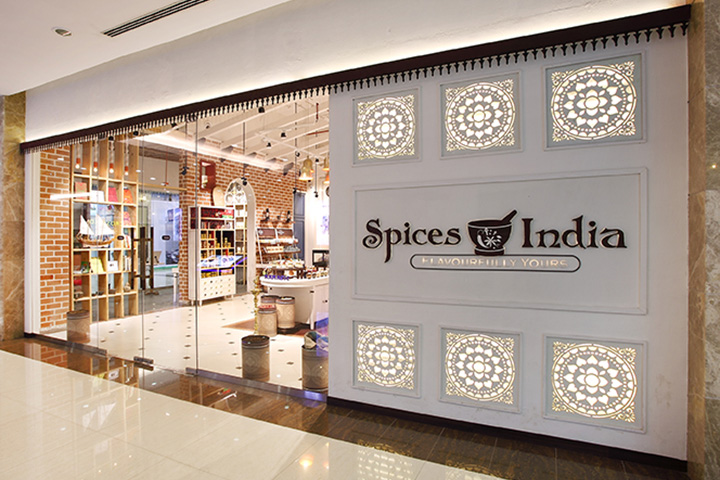 Modern clear glass has been use to allow light and give an openness to the space. The Indian jaali has been backlit and illustrated in the facade defining India's love for patterns. According to Shyam Sunder K, Chief Architect & Director, Four Dimensions (4D), "Like the toranas or the greeting garlands at every Indian door step, the metal moulding above the door height running all along the perimeter of the store, is the first to greet every guest stepping in."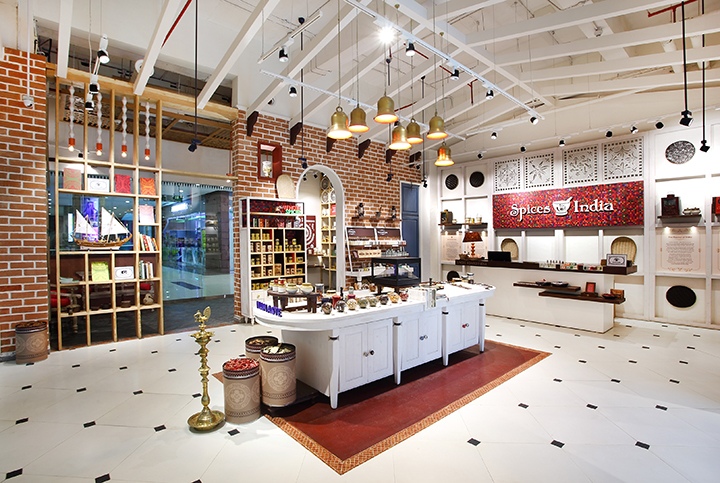 Further speaking about the store design, Shyam explains, "Two walls have been incorporated in the store which forms the spine within the space. These walls have been punctured with arches to get in the architectural flavor in this palette and are finished with white stucco texture and brick. Also a few display units have been incorporated within the walls including the fabric curtains with motifs of spices patterns printed on it, that hang from the top most point of these punctures. Just beside these units are shelves that simulate the Indian kitchen with its spice containers of all kinds. To accentuate this feature we have used cut letters that speak out words like 'masala' in Hindi and whole grains."
White furniture adds lightness though more colonial in style. Cement tiles from yester India has inspired the black and white checkered flooring. A strip of red oxide sits perfectly under the 'spice bar'. A different colour has been used for the corridors to demarcate the space. A slate grey defining the corridor pathway. 
Double ceiling height adds grandness to the space but dropping at the opening to maintain order. Nagaraja explains this further, "The central area showcases the sloped roof of Kerala in white wooden battens supported on dark wooden brackets, while the corridors have jaali patterned drop ceiling neatly finished in wood polish and golden tints."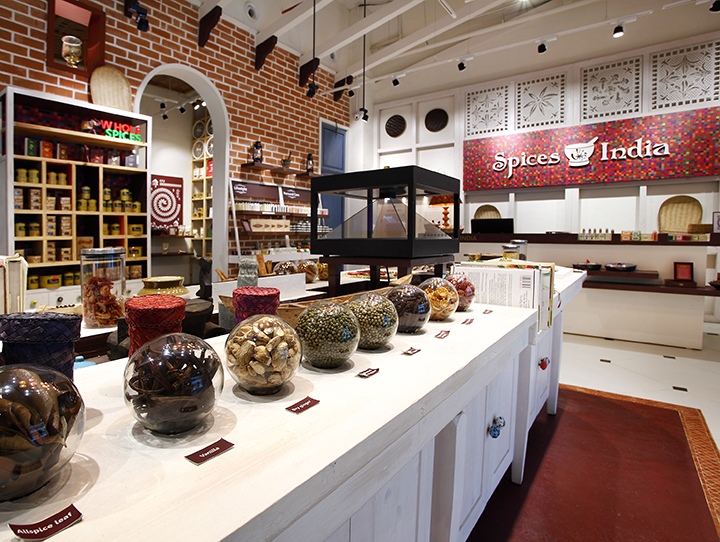 The spice bar is our favourite area. Apparently  also the biggest attraction in the store. We love how the spices have been placed in these beautiful glass bulbs. Further, ceramic handles, hand carved wooden bull heads finished in local art patterns, metal door latch & locks, wooden ship, old spice containers from Kochi port, table lamps made in Chenapatna, woven cane baskets from West Bengal, special handmade cane boxes from Nagaland, rustic old spice tins from Karnataka have all equally helped to set the mood within the store.
A small section has also been made into a lounge to browse through books, visual, maps to spices and everything else you need to know about the exotic spices which brought many a traveller to India's abode. 
Photographs via Retail Design Blog