The Hottest Launches At Salone Del Mobile 2021
9

Sep

'21

6:39 pm

by

Nuriyah Johar
Global design took off again in both the real and the digital worlds with Salone del Mobile.Milano, which was back with a bang for its special 2021 edition dubbed 'Supersalone'. Curated by the architect Stefano Boeri along with his dream team of co-designers, the event featured 425 brands, 170 young creatives and 39 makers, for a grand total 1,900 projects on exhibit. As was expected, 'Supersalone' was an event unlike any other. For the first time ever, the general consumer public had access to the fairgrounds for the entire duration of the event. Brands and designers from all over had a chance to present the very best products that had emerged over the last year and a half, in a highly emotional and scenographic setting. A special initiative titled 'Lost Graduation Show' offered students from over design schools worldwide a chance to showcase their graduation projects to the public.
Here are our top discoveries from Salone Del Mobile 2021 –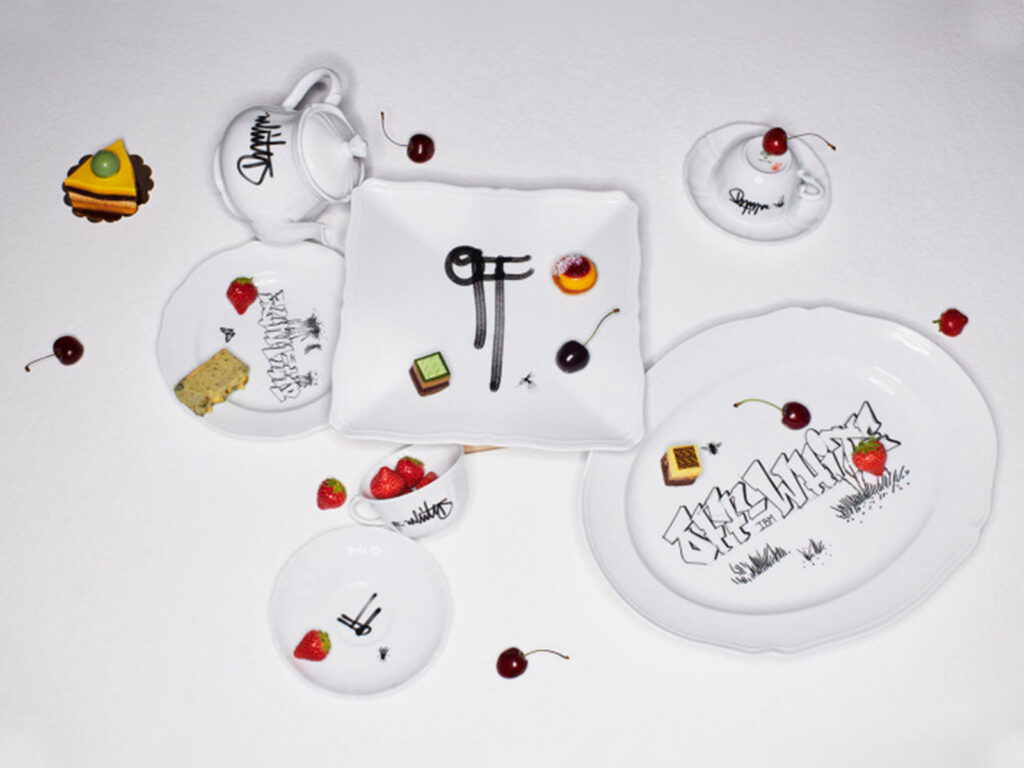 Off-White c/o Ginori 1735
Off-White c/o Virgil Abloh™ unveils a limited home collaboration with Ginori 1735. The iconic shape of the Ginori 1735 collection which has been around since the mid 1700s meets the cutting edge aesthetic of Off-White™. Signature Off-White™ elements have been superimposed on fine Ginori 1735 creations for a tableware set that features dinner plates, serving platters, a teapot, and tea cup saucer set, in a minimal colour palette of black and white.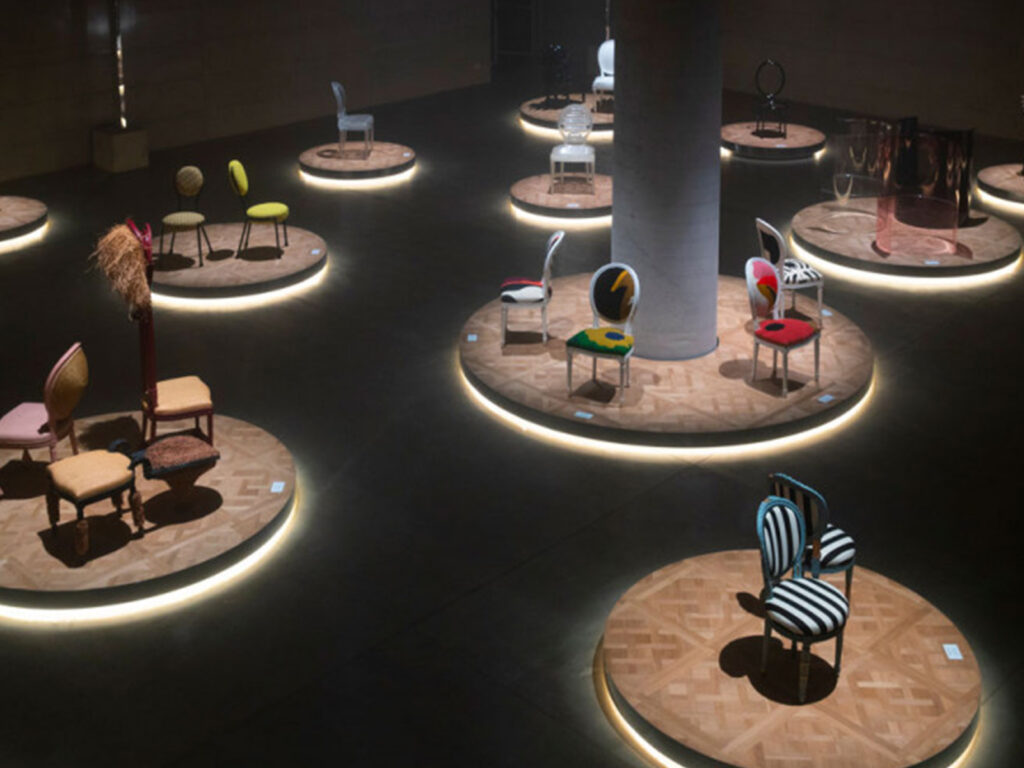 Dior Maison's Medallion Chairs
For Milan Design Week 2021, Dior Maison invited seventeen artists including India Mahdavi, Nendo, and Pierre Tovanovitch amongst others to reinterpret the brand's iconic Medallion Chair. The chair plays a significant role in the history of Dior – shortly after Christian Dior established the fashion house in 1946, he picked the Medallion Chair, a sleek, simplified take on a classic Louis XVI dining chair with an oval back to seat guests at his fashion shows. The reinterpretations for this classic piece include transforming it into a futuristic resin chair (Tokujin Yoshioka), adding leather fringes to the legs (Khaled El Mays), and adding to it hand-embroidery from Kashmir in Djerba wool (India Mahdavi).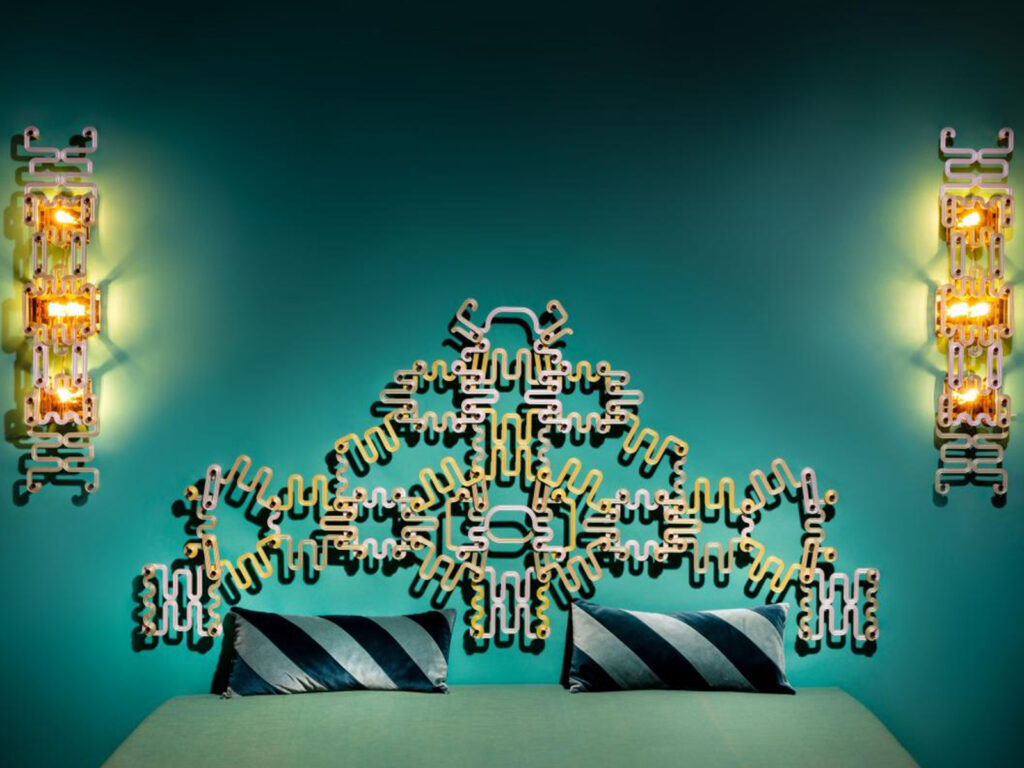 Ornate by Bethan Laura Wood
British designer Bethan Laura Wood's latest collection Ornate takes inspiration from the design of the boudoir. Celebrating ten years of collaboration with Nilufar Gallery, the collection features a bedhead, lighting, cabinets, a desk and mirrors, all in Wood's signature style of vibrant eclecticism. The designer takes inspiration from her travels, craft techniques from across the world, and a variety of cultures; all of which are synthesized beautifully in this one of a kind collection.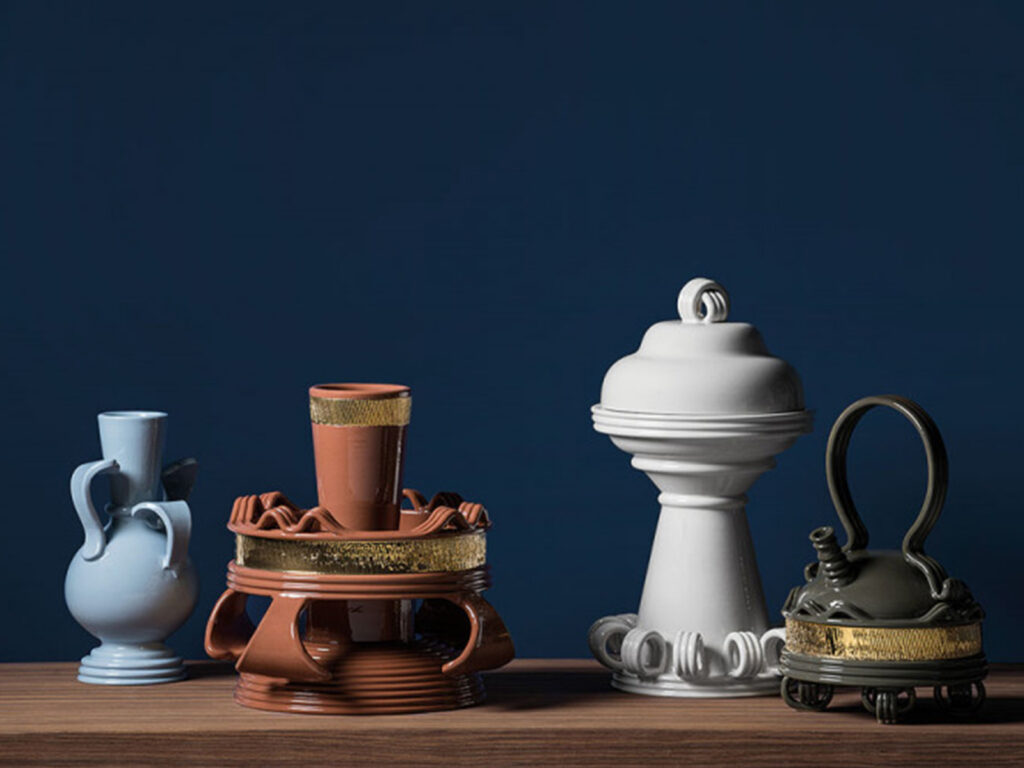 Pierre Marie's Baroque Ceramics for Bitossi
Celebrating its hundredth anniversary this year, the Italian ceramics brand Bitossi has opened the Bitossi Archive Museum near Florence, which houses around 7,000 pieces from the brand's extensive archive, along with images and drawings. This September, their focus lies on their latest collection by Parisian artist Pierre Marie who brings together the inherent rawness of ceramics and the classical design sensibilities of the Baroque period.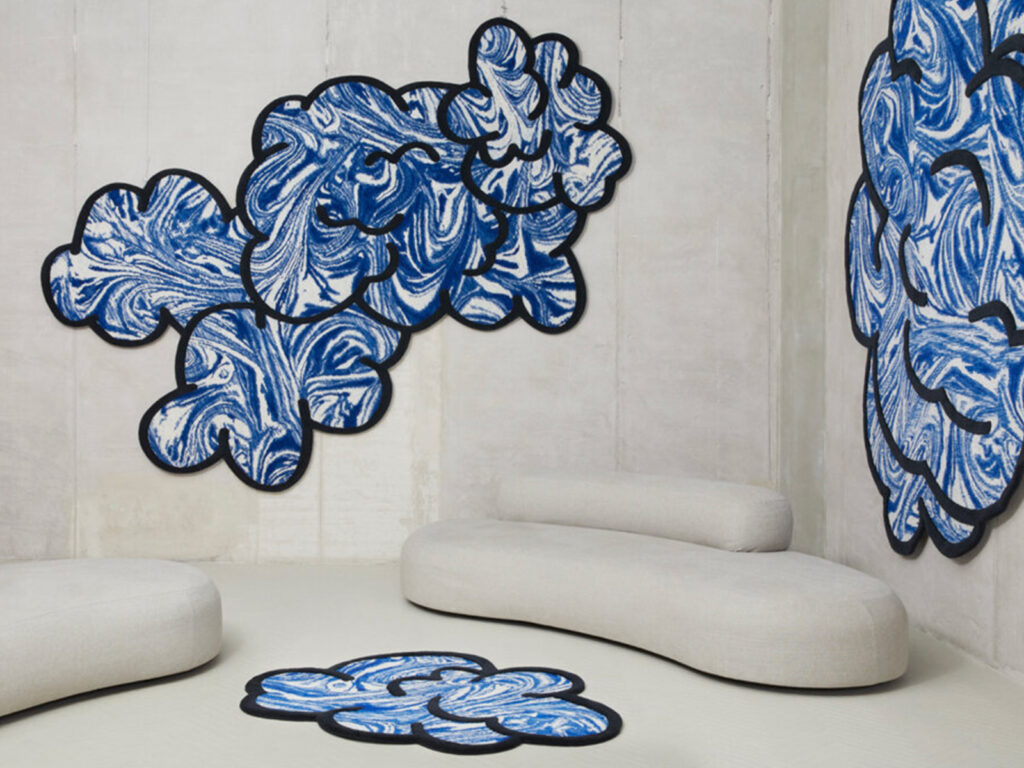 Venus Power by Patricia Urquoila for cc-tapis
A compelling celebration of femininity, Patricia Urquiola's Venus Power collection for cc-tapis is strong, powerful, and joyful. Thick black lines delineate the perimeter of floating cloud-like silhouettes and identify the single letters that compose the phrase "We all come from Venus". Taking inspiration from graffiti art, Urquoila infuses the rugs with a vortex of color and hypnotic textures that signal to the intriguing atmosphere of Venus. This marks the fifth year since Urquiola's first ever collaboration with cc-tapis on the Visioni rugs, which were presented at the Salone del Mobile in 2016.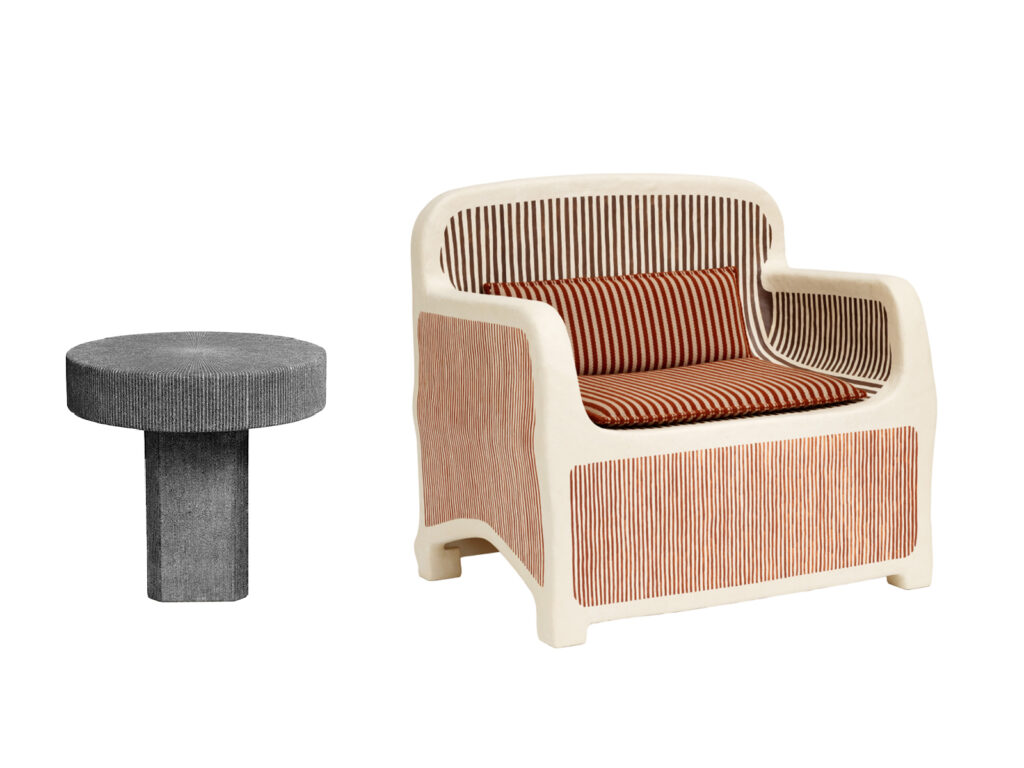 Studio Mumbai for Hermes
Hermes' collections for the home presented at Milan include an armchair and table designed by Studio Mumbai, the architectural firm helmed by Bijoy Jain. Sillage d'Hermès is an organically shaped seat inspired by faraway places that strikes a balance between material innovation and ancestral know-how. The structure of the chair is made of wood, while the coating is a unique compound containing cellulose microfibres made in Puglia, Italy, the 16th century-birthplace of papier mâché. Lignage d'Hermès, a bluestone table from Hainaut, Belgium designed by Studio Mumbai traces the direct relationship between a material and an artisan's movements. Chiseled by hand, the stone begins black, but turns white when engraved; the lines on which appear like rays of light.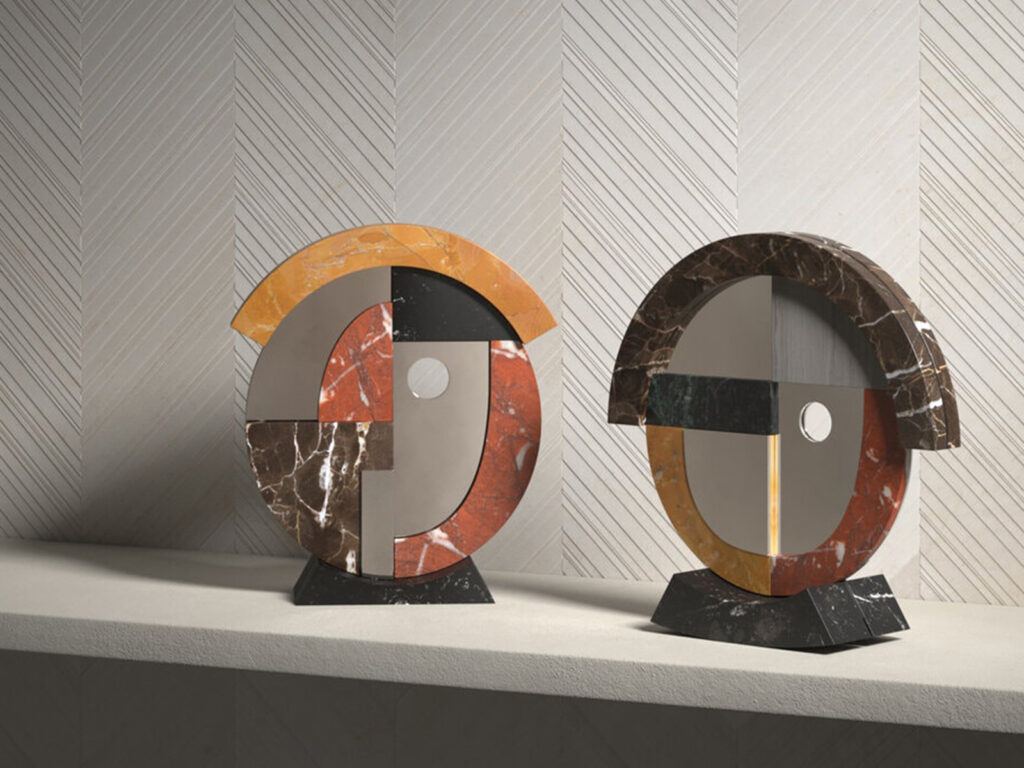 Stephen Burks for Salvatori
The Italian design firm Salvatori presents its collaboration with Brooklyn-based designer Stephen Burks – a series of sculptural mirrors crafted in stone, titled Friends and Neighbours. Featuring whimsical, anthropomorphic cutouts, the pieces urge viewers to see themselves in a new light.