Volcanic Rocks – Literally The Hottest New Material In Home Design
2

Mar

'22

9:52 am

by

Nitika Choraria
Considering how products can mitigate damage to the environment by using green materials and processes – design studios and brands today are becoming increasingly conscious of how their creations impact the planet. Designers have dived deep, investigated the possibilities of transforming geological substances, and translated the use of volcanic rocks into a wide range of sustainable objects that weave the organic and subtle together with an innovative point of view. With the unique ability to work with the new trend of lava-based materials, Formafantasma, Dzek and Peca have brilliantly crafted a stunning furniture collection.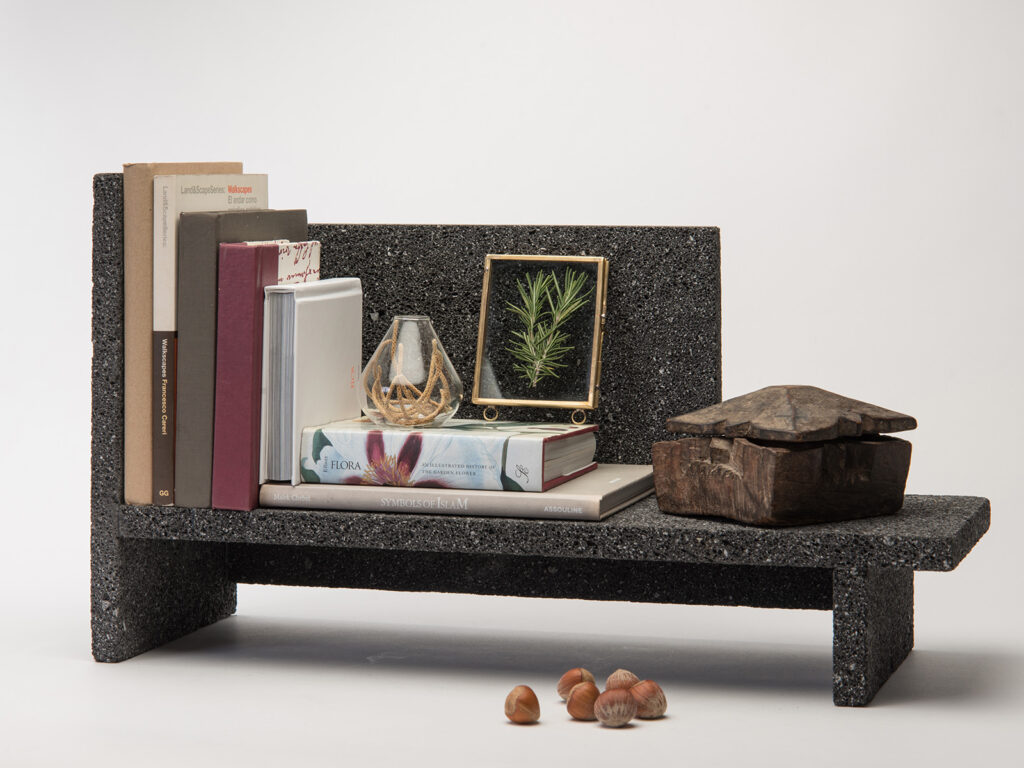 Nature features raw materials that offer a beautiful mélange of shapes and textures. After years of experimentation, research-based design studio Formafantasma and architectural materials brand Dzek have created – "ExCinere" – a refined collection of volcanic-ash-glazed tiles for architectural surfaces. ExCinere is a new take on the tradition of volcanic lava as a building material and a manifest of the enduring attraction between humans and the force of nature.
Suitable for both interior and exterior surfaces – from kitchen counters and bathroom floors to architectural façade cladding – the collection is available in two sizes and four volcanic glazed porcelain tiles that are rectangular and comprise yellow-brown tones. It features tiled wall panels, steps, shelves, columns and low benches as well as a wall-mounted block with an indented tiled nook.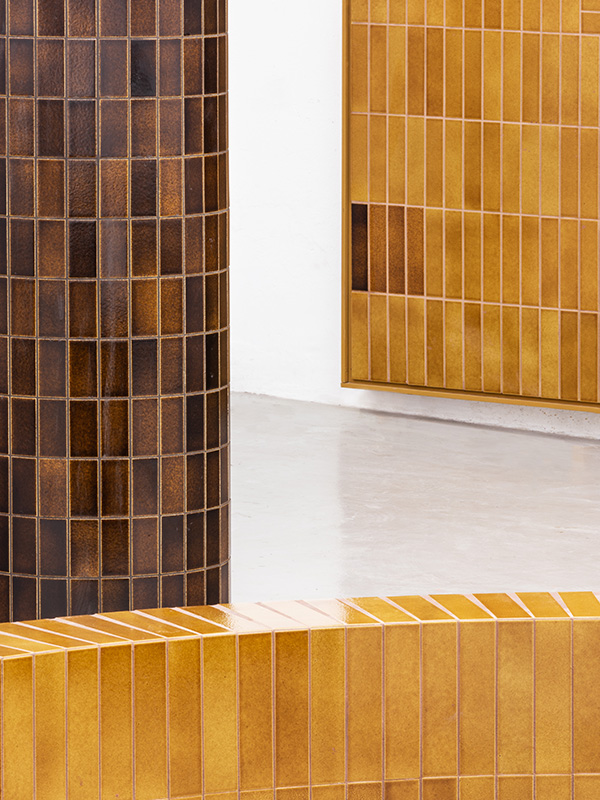 Making full use of volcanic lava's material properties, the collection is glazed using volcanic ash from Mount Etna in Sicily which consists of fragments from pulverized basalt – a magnesium and iron-rich volcanic rock created by the rapid cooling of lava. "The lighter glazes use extremely fine ash powders. The glazes become increasingly darker and more speckled as the ash particles increase in size and frequency," says Dzek. These glazes are then applied onto the porcelain tile bodies and fired in a kiln.
"Although volcanic ash and basalt rock may appear inert, their metal-oxide content makes them complex to work with," says Dzek. "The material has its own will and you have to allow it to go where it needs to," they add. Three years of exploding, imploding, cracking, and caving was endured before ExCinere's careful balance of porcelain body, ash glazes, firing temperature and method was achieved. These glossy surfaces are created by mixing varying quantities, particle sizes and densities of volcanic matter resulting in surfaces that are evocative of the dynamic landscape from which they come.
This collection was conceived as a means to further explore the full potential of the fascinating volcanic ash described by Formafantasma as "naturally-occurring, self-generating, and abundant". Formafantasma has been researching the potential of volcanic lava as a design material since 2010. This led to their 2014 project "De Natura Fossilium" – a series of homeware objects including stools, coffee tables and a clock with linear forms made of basalt rock formed after Mount Etna erupted in 2013. "Mount Etna is a mine without miners; it is excavating itself to expose its raw material," says Formafantasma. Formafantasma and Dzek together built on this existing research to investigate the uses of volcanic ash in creating architectural materials such as tiles. "We wanted to show the possibilities and how it could become an entire architecture," explains Formafantasma.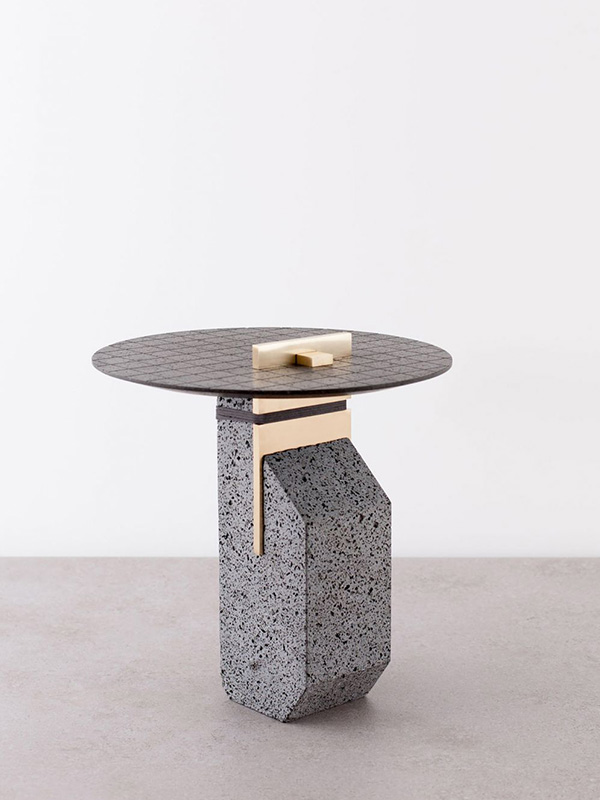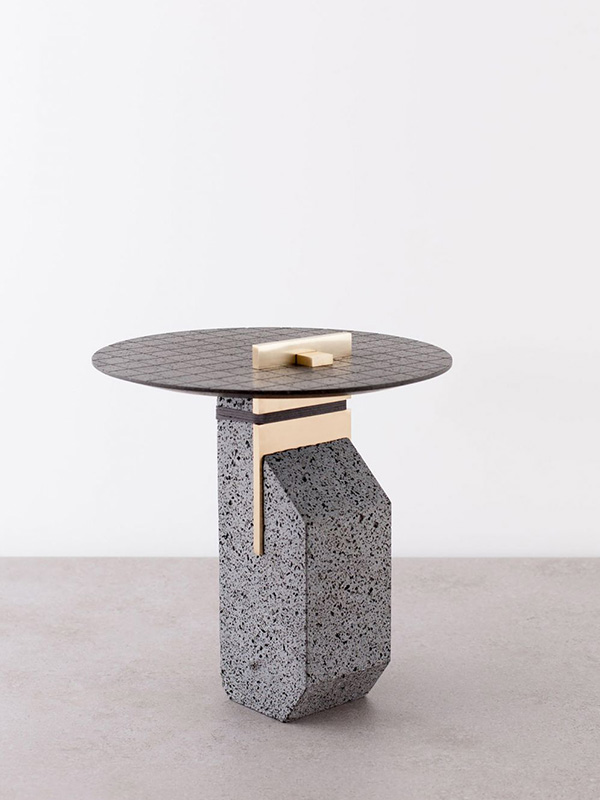 On the other hand, Caterina Moretti – director and head designer of Peca, a contemporary design studio in Guadalajara – has pressed locally sourced volcanic rock crafting a line of expressive columnar furnishings called "Loto Roca" or "Lotus Rock". These versatile Loto Roca pieces which can function as stools or side tables indoors and outside comes in two different width presentations and heights. The expressiveness of the rock makes this collection an indoor focal point and an integrative element in outdoor spaces providing the sensory satisfactions of the stone they're made from – turning warm in the sun, smelling fresh and sweet after a rain.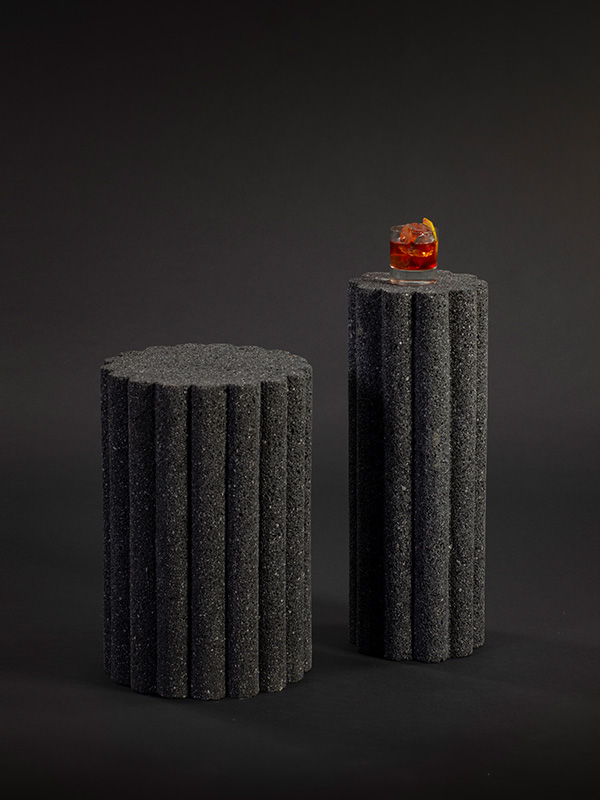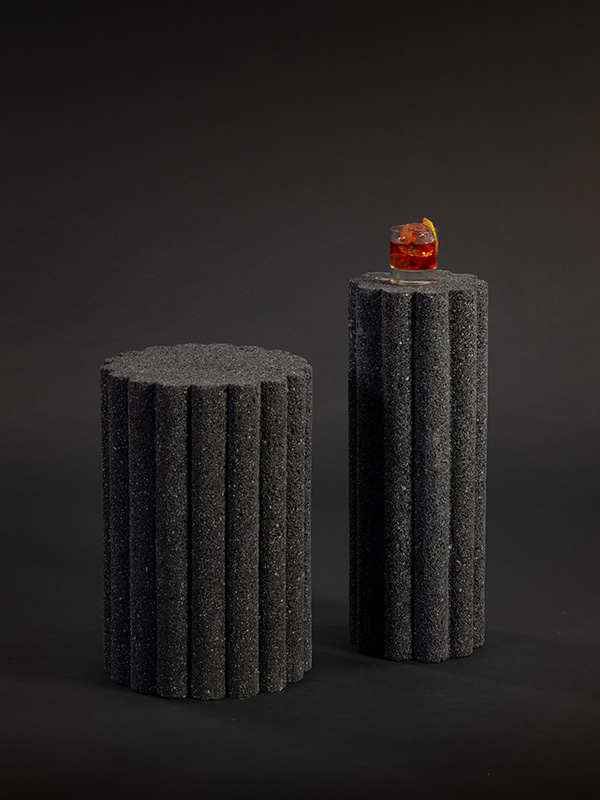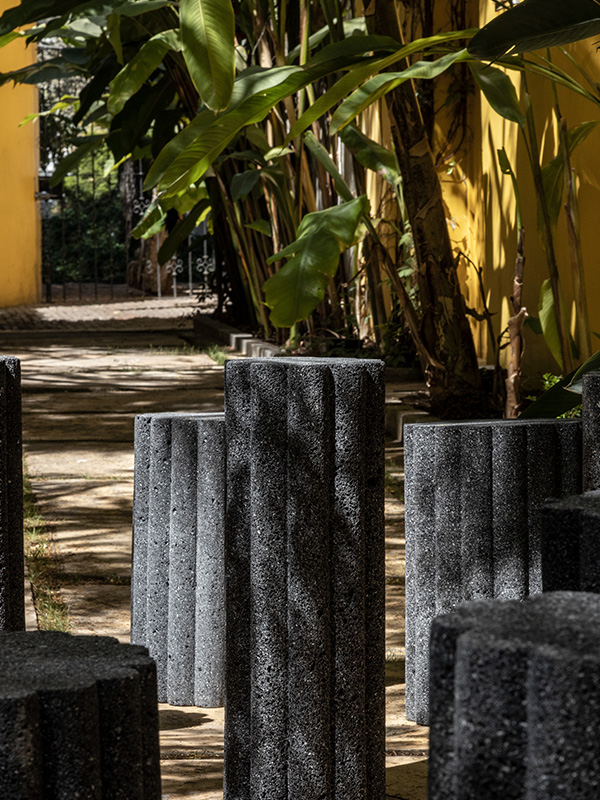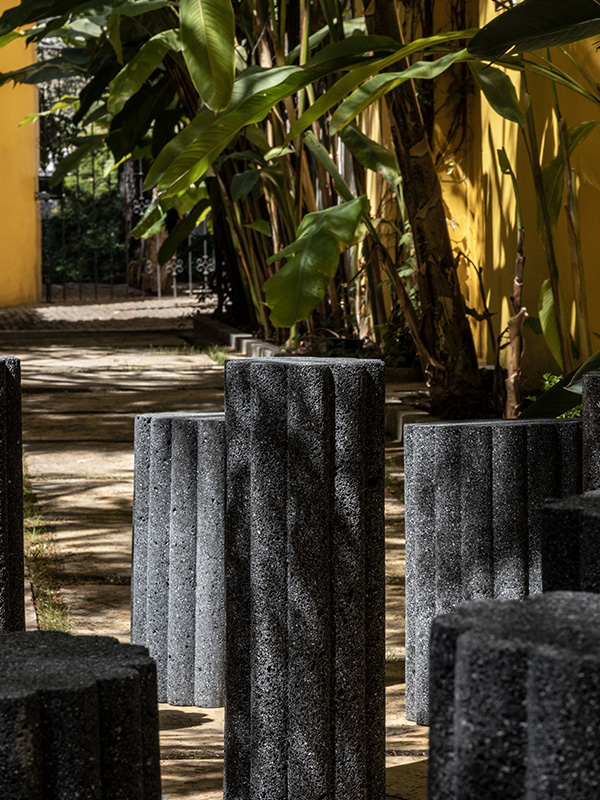 "Volcanic stone is lava that has cooled over time. Indigenous people have used it for centuries to create tools and household items," says Moretti. These volcanic rock monoliths have been handcrafted and carved in a Guadalajara workshop by artisans who are masters of the hammer and chisel. "We love working with this material because of the energy it exudes. It's primal yet workable enough for carving elegant, sleek objects while maintaining precise angles and geometric lines," she adds.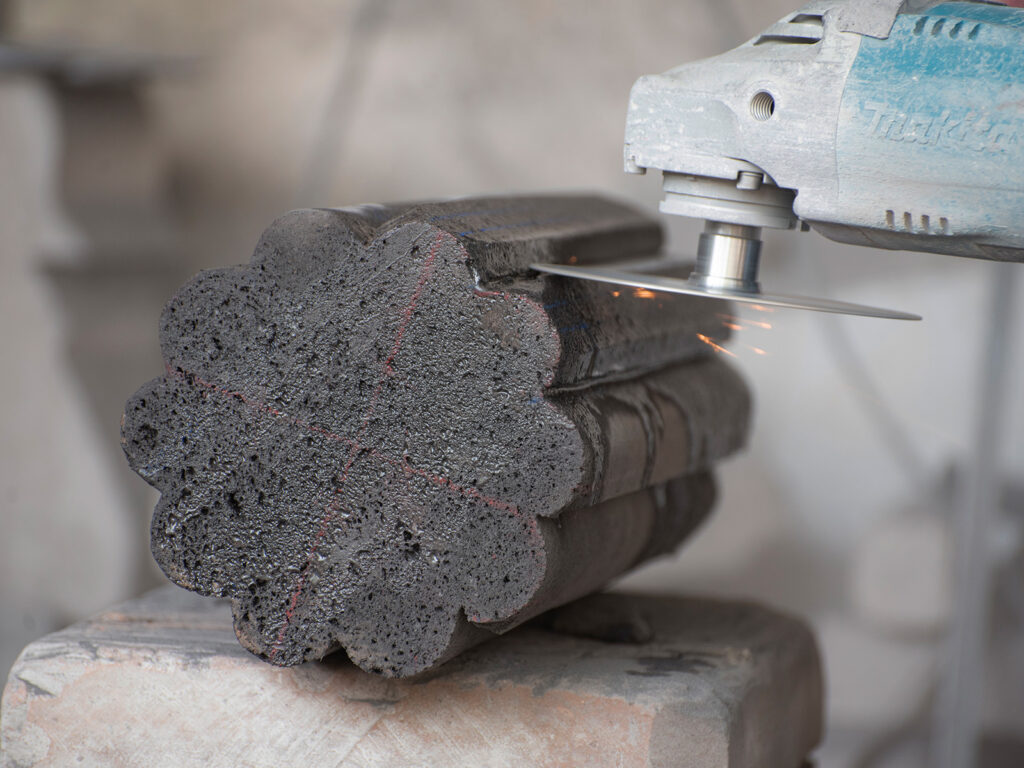 Adding on to this, Peca has additionally handcrafted a collection of shelves by carving blocks of lava stone. Moretti used dark gray volcanic rocks to make this range of modular Lava Shelves. Carefully handcrafted from volcanic rock – these shelves are the latest addition to her Lava collection, which breathes new life into the untamed nature of the rock through sophisticated everyday objects.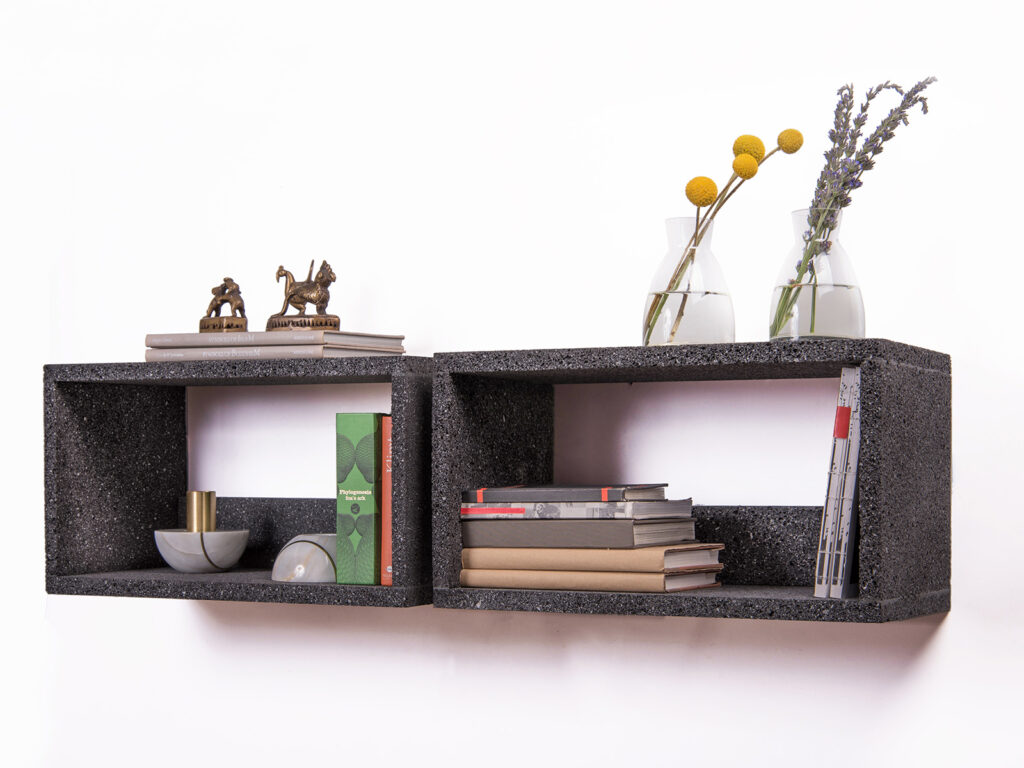 "Just as lava flows and morphs into different shapes, these shelves can be transformed in multiple ways when arranged in a room," says Moretti. A bookshelf or a credenza, an altar or a nook for a special collection – these are all possible by setting them on a table, hanging them from a wall or stacking them when desired.