The New Design Solution – CapriCoast.com – Sponsored
12

Jun

'16

7:25 am

by

Crew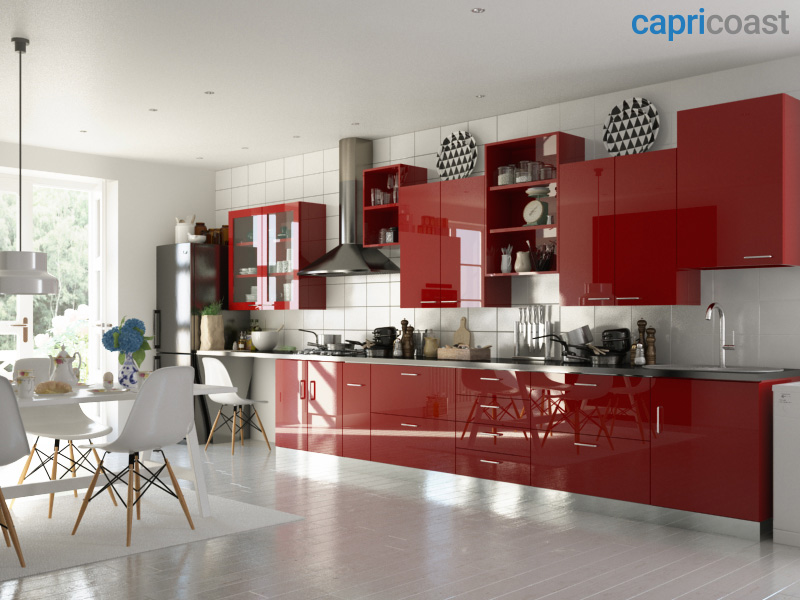 Do you remember the good old days of arguing with your carpenter? For the extra days he took, the quality he promised when he took on the work. The make do satisfaction with which you looked at your kitchen when it was all ready. Now there's a solution to that, introducing CapriCoast.com, which is all ready to change the way we design our home. Starting off, their prime focus is kitchens, with 1000's of pre-designed kitchens, their online 3D catalogue offers a wide range of models to suit any design inclination and budget. With every type of specifications here's how one can go about it.
Step
1 – When doing up your home, the cost is always rather large and that's one of the most important factors that kick in. An instant estimator tool called the 'InstaQuote' has been designed just for that. So everything is black and white, and you get no after shocks. With the 'InstaQuote' in place, it is now easy to generate multiple estimates from different vendors. They have a whole host of vendors that they have tied up with like Ibbhan, Curio, Sleek, Spacewood, Turning Space, Beth, Magickwoods, Diemme Cucine, D&P Interiors, Noble Interiors, MS Fortune Interiors, and Evergreen Interiors. So just fill in your requirements and let them take over from here.
Step
2 – Next up is to sit back, and in the comfort of your home consult with their design experts over a phone call. Share the space floor plan and voila you get your design ready and sent right back to you. The carrot is you get quotes from 3 vendors, so you know for sure you're buying at a fair price and can verify the quality. CapriCoast does all this hard work for the small amount of Rs 999.
Step 3 – Now if you're every salesperson or consultants dream and love the first design sent to you, then you're already done. Otherwise fret, not you can customize it further to what your vision is. You may want to make changes in the finish, functional or even layout changes. Remember there is a lot that goes into a kitchen. From the shutter finishes, to the baskets used, fittings, kitchen equipment and so on. A quick tip, kitchens with an island are really popular these days, so try and include one in. Even if it's small, that's fine, it will form a good conversation point for you and your family.
You would have your own Design Expert to guide you with every little detail. You can even switch vendors at this point. Also at this stage you might want to experience the materials being used. We understand it is a high involvement purchase and you would need to see stuff in person before taking a final call. For this, an assisted showroom visit can be arranged. 
Step
4 – Finito! In the rarest of rare cases, if there happens to be a delay from their end due to unforeseen circumstances, CapriCoast offers Rs 1000 a day cashback. This is without having to harass or chase them for your compensation. Customer satisfaction is taken very seriously.
Don't you love how easy breezy all of this was, which got us wondering, the name has nothing with design, so then why CapriCoast? So we had to ask, here's what we got, 'Capri (an island off the Amalfi coast in Italy) is a place that epitomizes tranquility and relaxation. It's a far cry from what the buying process for home interiors is like. As an organization we hope to make this process as relaxing and hassle free as the Capri ambiance!'
CapriCoast.com = Lowest Price + Promised Quality + On Time Delivery = 😀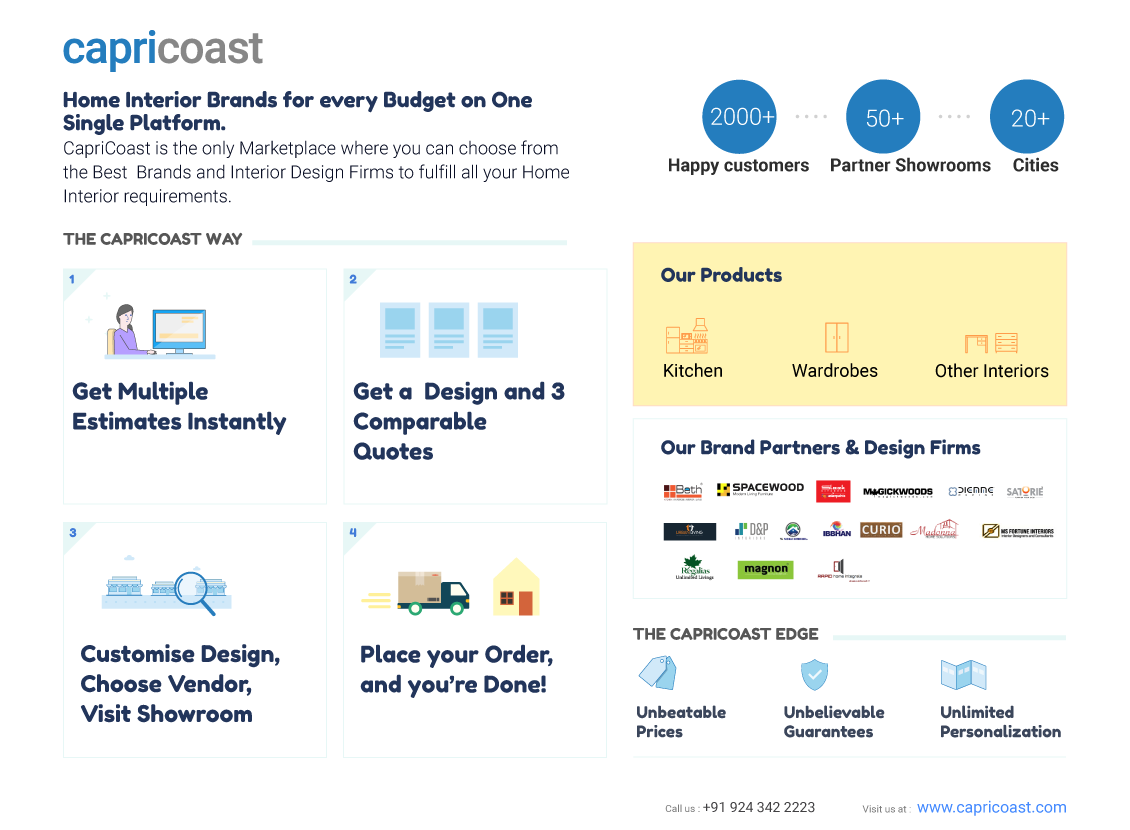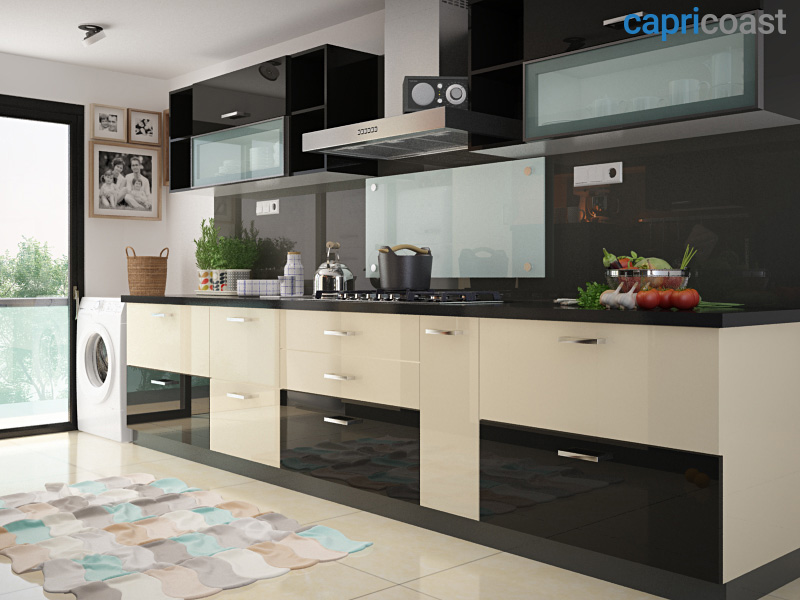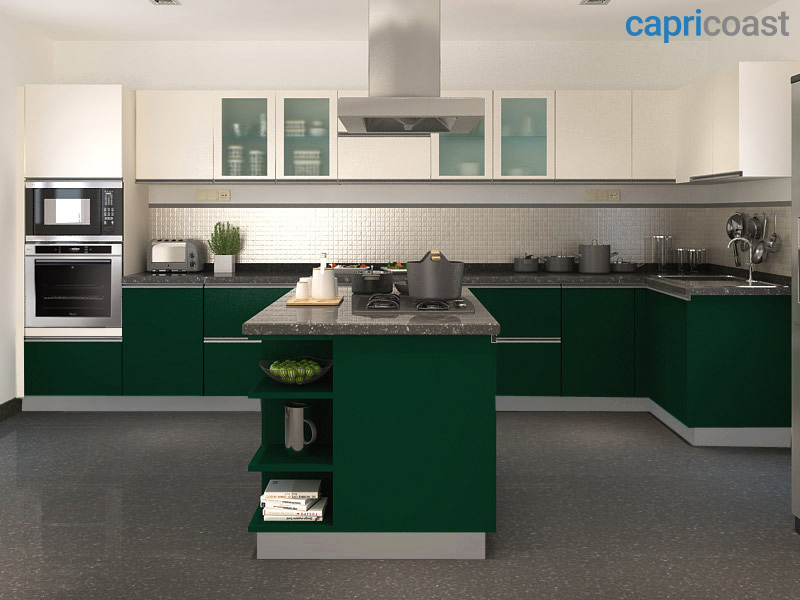 Photographs courtesy CapriCoast.com