The Panda is here!
18

Jul

'15

9:00 am

by

Crew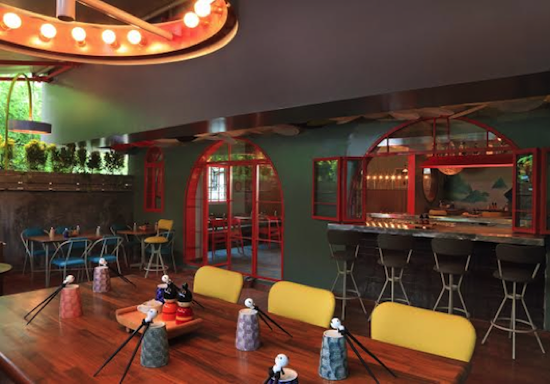 The city has been buzzing with news about the new Bangalore restaurant, Fatty Bao. It is an Asian eatery and bar, like many others in the city. But what is it that sets this restaurant apart?
While the space has a small unassuming entrance, its heart is pretty mighty. As designers we can tell you whimsy is the hardest theme to pull off. It requires the perfect balance. Too much makes it too childish and too little takes away from the essence. With Fatty Bao they seem to have hit the nail right on the head.
Starting with their adorable mascot the Panda (which lets accept everyone can't help but love), it's divided loosely into an all fresco section, a bar with high seating and a more serious dining area. Though it's hard to take anything seriously in this place. The walls are hand painted sporting floating raccoon and streams carrying rotund dim sums down all while you have a papier mache bowl of ramen above your head.
What we love about this place is the attention to details. They have cheerful chopsticks on tables held together with rubber pandas. Adorable thong slipper menu cards. We absolutely love the painted flooring. Also not to miss our favorite Tolix chair in cheerful colours! The play with the circular windows allows natural light to filter through the entire space. It guarantees you a fun and fresh experience.