Restrained Grandeur of the Shilling Bar & Brewery, Glasgow
15

Sep

'16

7:35 pm

by

Crew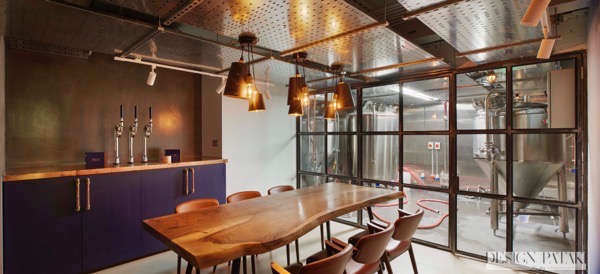 Glasgow has always been drenched in a history of brewing pioneers, so it comes as no surprise that this heritage is celebrated at The Shilling Brewing Co – a 160 seat brew pub set inside the former Commercial Bank of Scotland, redesigned by Jestico + Whiles. They are an award winning architecture and interior design practice with offices in London and Prague. The original architect James Miller used American styling in his design, with iconic columns reaching up to the third story. This giant facade has stood the test of time, and it's doors are now wide open for all to revel in it's glory.
It takes a whole lot of everything to redesign a building from the 1920's to suit modern aesthetic, but it takes a whole lot more to show restraint and respect to the structure still standing. Jestico and Whiles has done just that – their restrained intervention allows for more natural light to enter through the original full-height windows. However, they have stripped back the architectural clutter to reveal for the first time in decades, a beautifully proportioned banking hall with 20ft-high coffered ceilings. This newly liberated space has become the brewpub with a long bar clad in Statuario marble behind which the copper vessels of the brewery sit on an elevated gantry creating a distinctive backdrop.
Standing guard and ready to greet all those who enter this space that blends time, is a mural of a chained, majestic unicorn – Scotland's national animal. This work is done by local artist Gaz Mackay. Fragments of the past have been uncovered and cleaned, including fluted marble columns that frame a glimpsed view to a wood-burning oven. The columns are designed to create a picture frame for moving projected images that will be curated to change with the seasons. This sets stage for evenings with a nice film to watch with a comforting brew in hand.
A huge inset star embossed into the concrete floor signs the way to the bar, while a timber raised area, seared with the brand of Shilling is framed by theatre curtains and will serve as a semi-private zone if required. In the basement, the original foot-thick steel vault doors lead to the bathrooms tiled in black-and-white chequer board while, hidden behind the strong room, a private space with a picture window provides views to the brew room.
The Shilling Brewing Co. is well on it's way to integrate art, science and design unlike no other. They have curated a new on-trade experience where the science of brewing is left often for all to look into and observe. Beers straight from the source – does it really get better than that? This is a haven for all those who want to feel the grandeur of the flapper era architecture, with modern brewing lending it's grace to the beer aficionado. Next time you're in the mood for beer served with a side of history in Glasgow, you know where to go.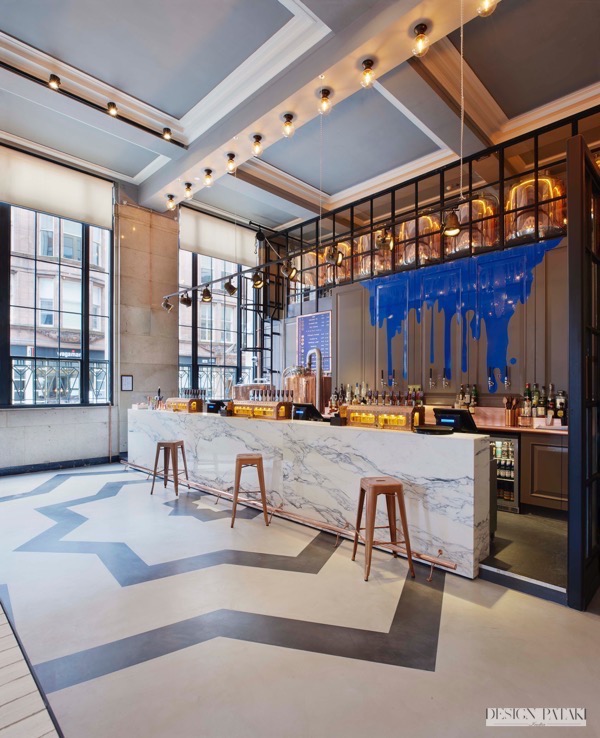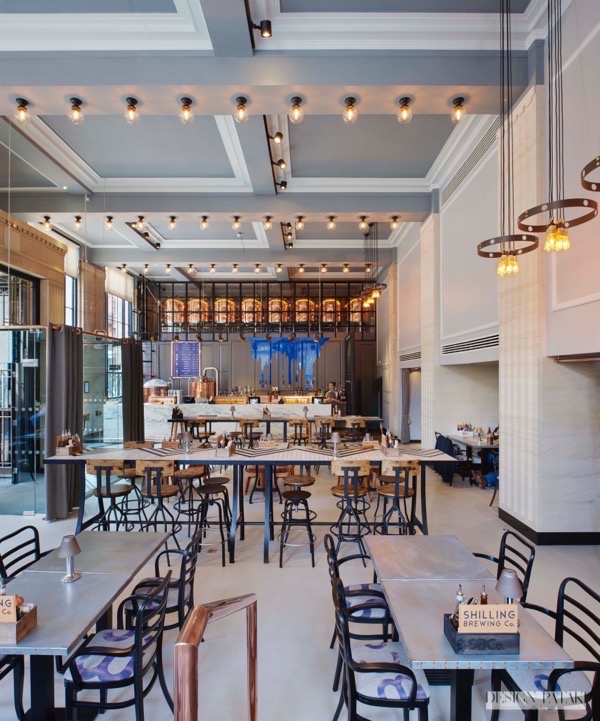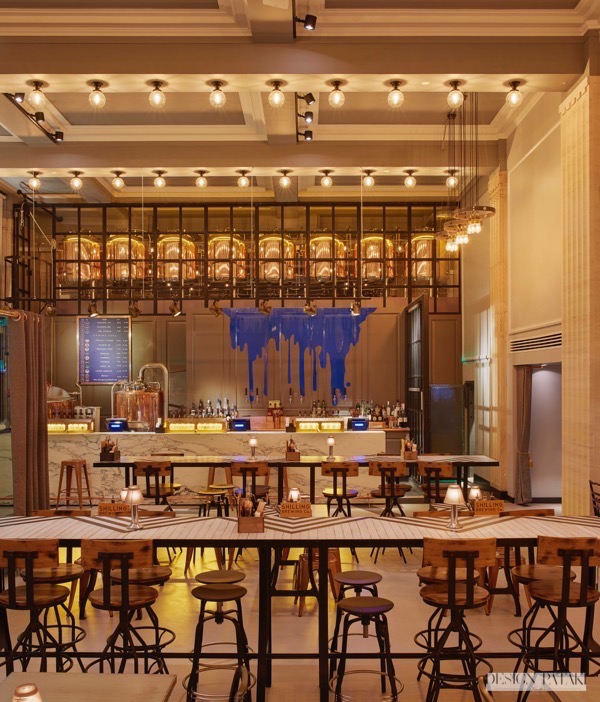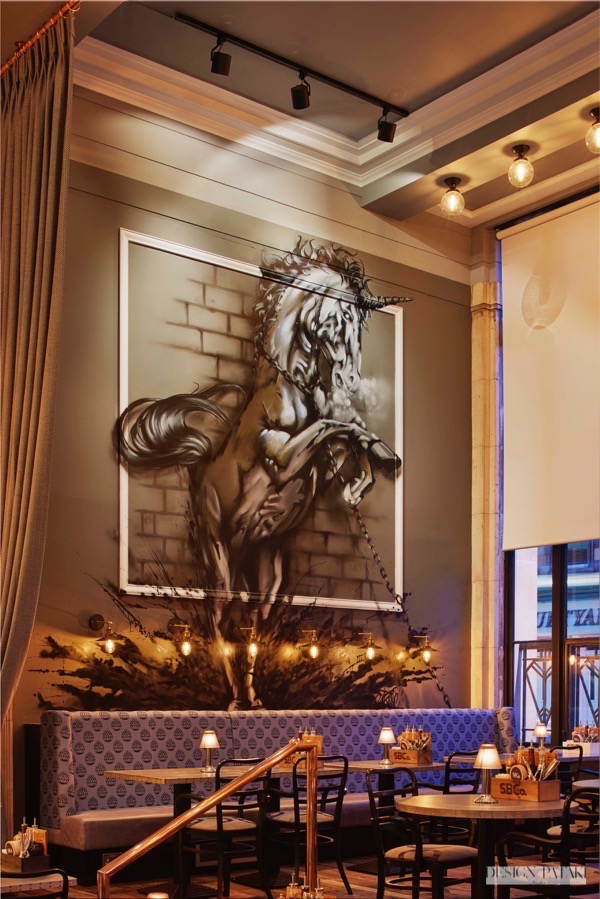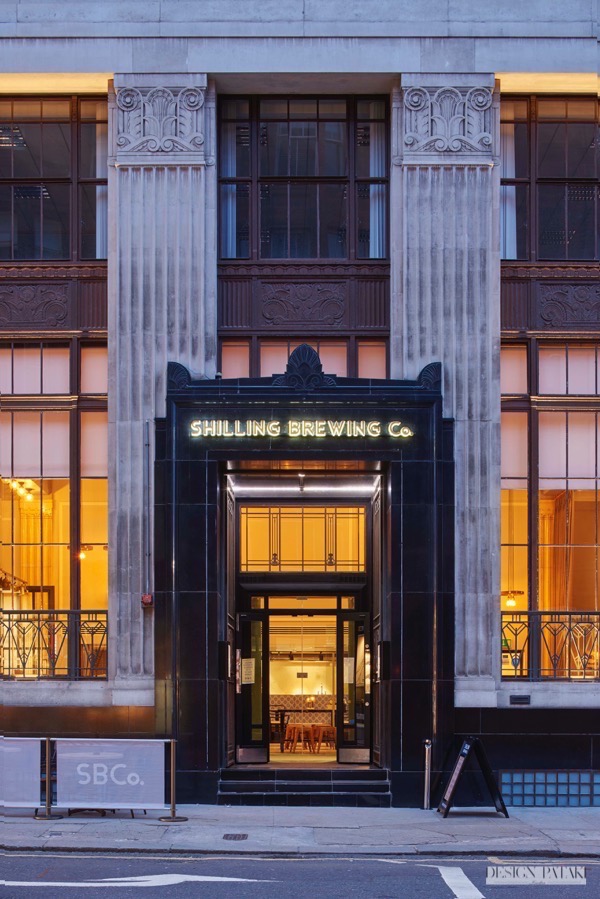 Photographs courtesy Jestico + Whiles