The Return of the Art Fair- Art Basel 2021 Report
30

Sep

'21

7:21 pm

by

Manisha AR
After a long pandemic delay, art fairs are back with gusto. Art Basel, the first major international art fair to open up to in-person international visitors has brought back some confidence into venues and stakeholders. There have been memes and talks of the intensive new protocols being followed at the VIP Preview. However, that did not prevent a good international turnout (save for the Americans who were present in low numbers).
Most venues and galleries resorted to online viewing rooms throughout several lockdowns which raised questions about the need for in-person art fairs. It is an age-old debate among critics, curators, and artists, which we won't get into here. Instead, here is an excerpt from Hilde Lynn Helphenstein, more popularly known as Jerry Gagosian in her Art Basel Report 2021, "every person hoping to become a professional artist must attend Basel Switzerland once. It is more informative than grad school, and perhaps, more advantageous," because she adds "Basel is where the cream of art professionalism has risen, morals aside."
This year, many artists and gallerists have chosen to play it safe with the works being presented. There is an overall theme of simplicity, reflection, and many instances of tried and tested. There was an increased focus this year on interactiveness and audience engagement in the real world. So we bring to you a round-up of some larger works that caught our eye. Curated by Giovanni Carmine, Unlimited at Art Basel includes installations that go beyond experience booths at the fair and curated by Samuel Leuenberger, Parcours is a selection of performances that will take place across venues in Basel adjacent to the fair. We've picked out the ones that best describe the art world's return to in-person art viewing.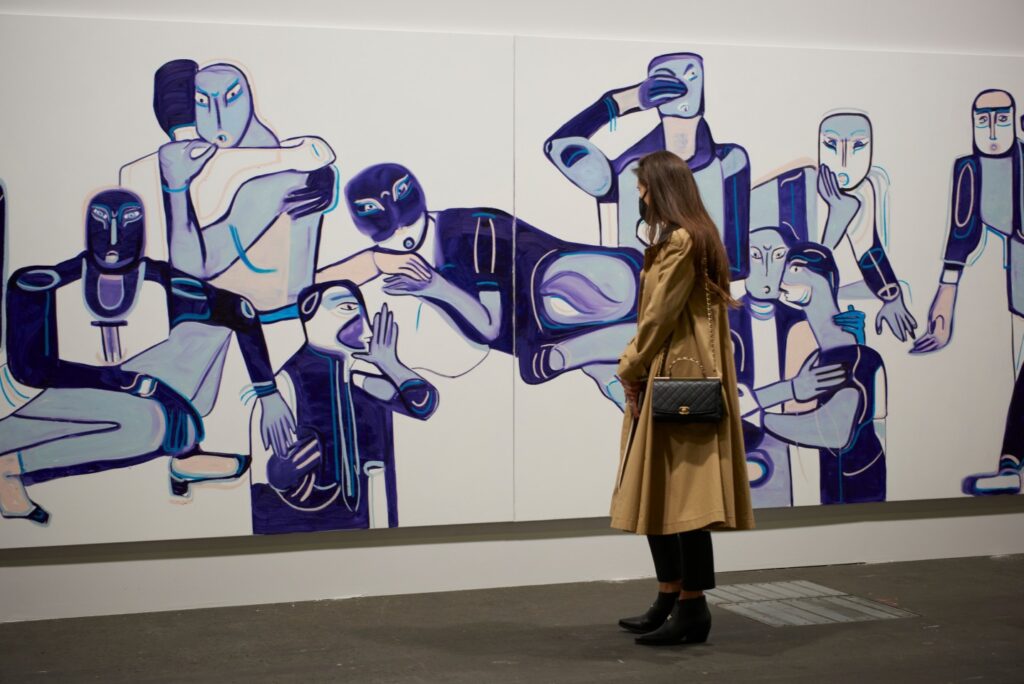 Pushing the boundaries of figure painting, Melike Kara's voice is fresh and not at all predictable. Engaging in her own myth making, the figures on her canvas are both speaking to viewers and themselves at once. They are in the middle of a story, a moment full of possibilities weaved with just the right amount of character and depth. These faces on the canvas in spite of having no specific origins story or connection to real events and histories, they manage to form an emotional connection with the viewer. In an essay about her work, Tenzing Barshee writes, "the main problem of the concept of diaspora, is the general misconception that people belong to a certain territory when historically, people have always moved around."
A young and emerging voice in expressionist figurative painting, Kara lives and works in Germany. She is deeply interested in 20th century German figurative traditions, social hierarchies as well as in exploring her personal history of the Kurdish diaspora– an experience of statelessness. These figures on Kara's canvas, they could be gods, they could be humans, they could be monsters– it's hard to judge no matter the urge to make that snap judgement. It's inside this small window that her work softens the viewer.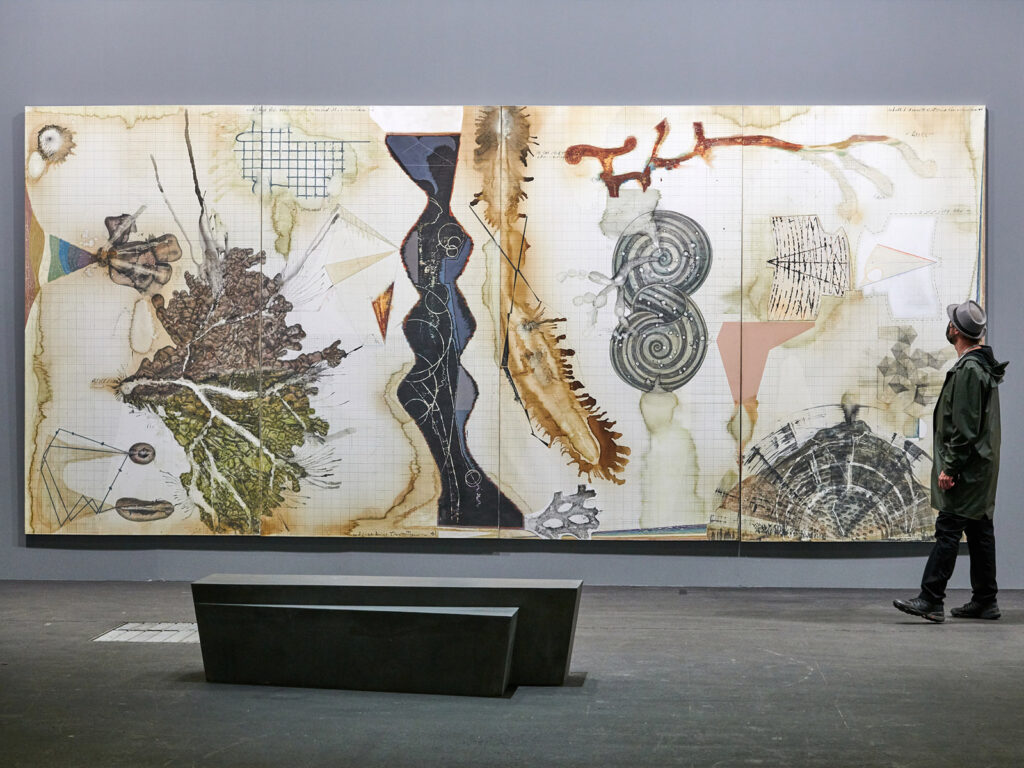 Like a palindrome, 'Jitish Kallat's Palindrome/Anagram' can be read in multiple orientations. Brought to Art Basel by Galerie Templon, this mixed-media work is a series of large-format works that resembles a puzzle with elements of botany, astronomy, and geology. Known for his use of diverse materials and working with restrictions, this series was Kallat's return to painting after a self-imposed hiatus of five years. In it, he poses more questions than he answers. Like looking into someone's notebook of observations, drawings, and ruminations, Kallat's work is almost a narrative but it doesn't conclude, the story doesn't have an end. It leads us to something bigger, quieter, and more abstract that the viewer is left to speculate for themselves.
Mumbai-based artist, Kallat's interests lie in engaging with ideas around time where he likes to weave cosmic preoccupations with historical events like his Circadian Studies 2020 or Untitled (Two Minutes to Midnight), 2018. His works are meditative, reflective and sometimes even offer a perspective or lens through which to view. With 'Palindrome/Anagram,' perhaps it's one way to look back and forward in time at once when you're inside an art fair.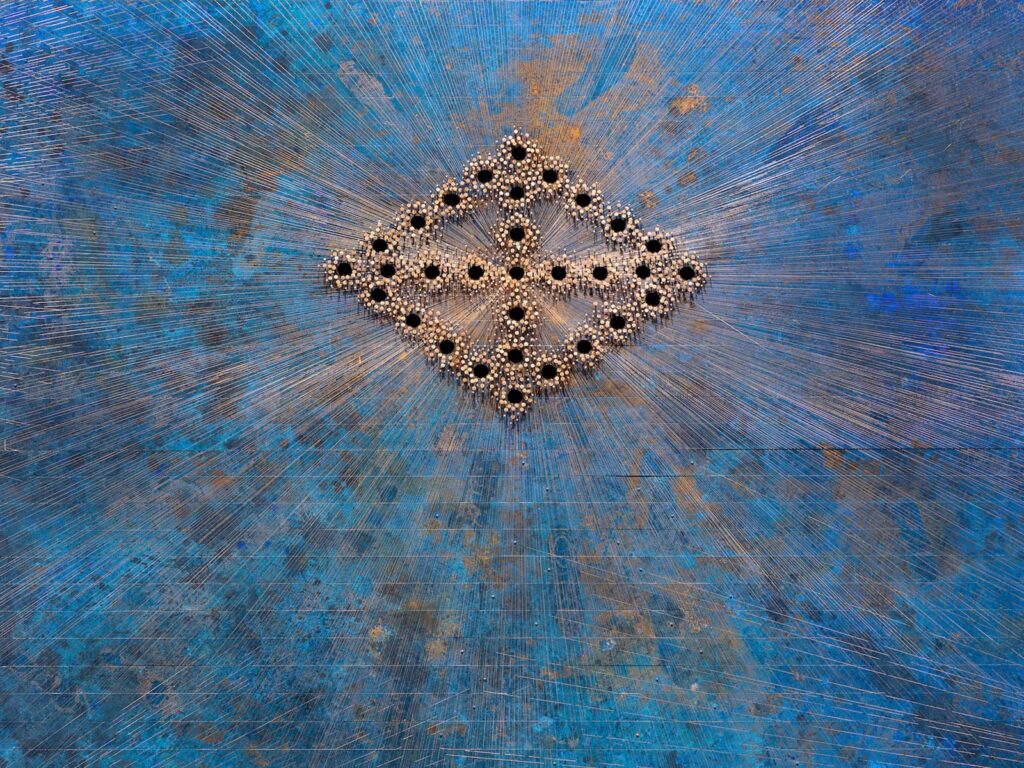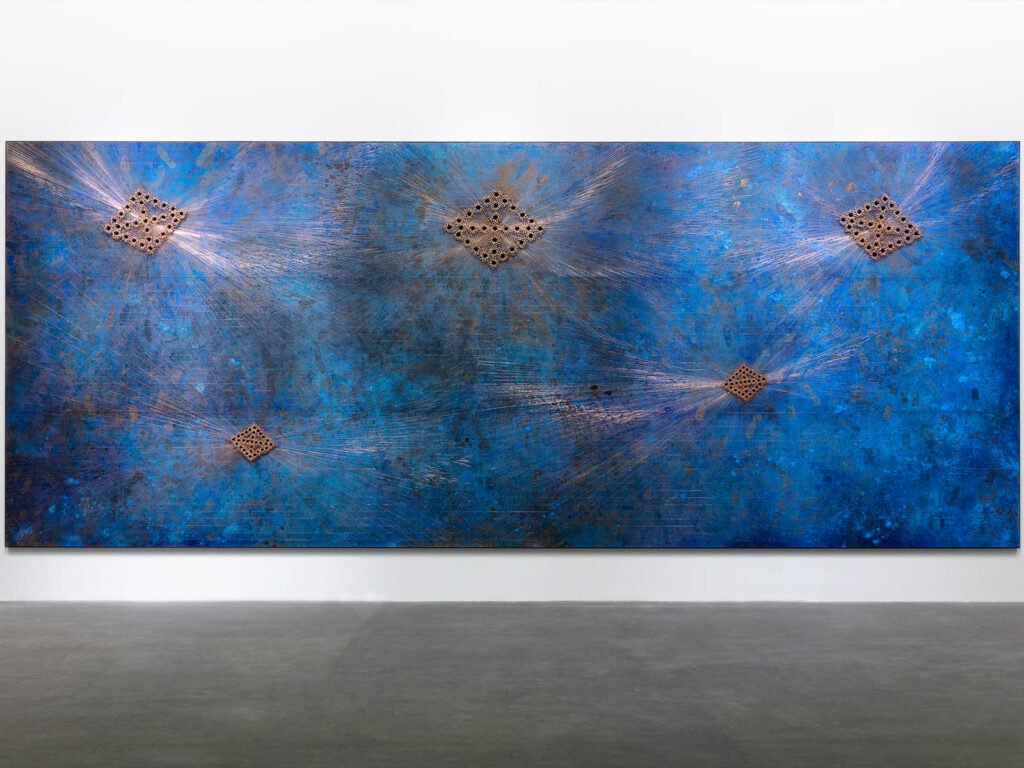 An exploration of the material copper, which is a resilient material with healing properties in some cultures, 'Nari Ward's A Brief History of the Known' is a process-oriented piece. Presented at the exhibition by Galleria Continua and Lehmann Maupin, this large-scale work is part of Ward's ongoing Breathing Panel Series. In the piece, he also incorporates a diamond-shaped pattern known as a Congolese cosmogram to reference the cycle of birth, life, death, and rebirth. Ward uses a clear coat of lacquer to capture or freeze this oxidation process in time. He also applied a coat of patina to create discoloration and darkness for contrast. There are many stories hidden in this installation that reveal themselves to a viewer the longer they engage with his work.
A Jamaican artist based in New York, Ward is known for making sculptural installations with discarded material he finds and collects in New York neighborhoods like shopping cars, doors, television sets, cash registers among others. In his work, Ward recontextualizes these objects to create metaphorical meanings that confront social and political issues like race, poverty, and consumer culture. With A Brief History of Known, Ward is referencing a moment in history where the Congolese cosmogram, found on floorboards of a Church in Savannah, Georgia, was used by formerly enslaved people to breathe when they were hiding. It is also a moment of healing with time. The blue and fluid work cleanses and absorbs.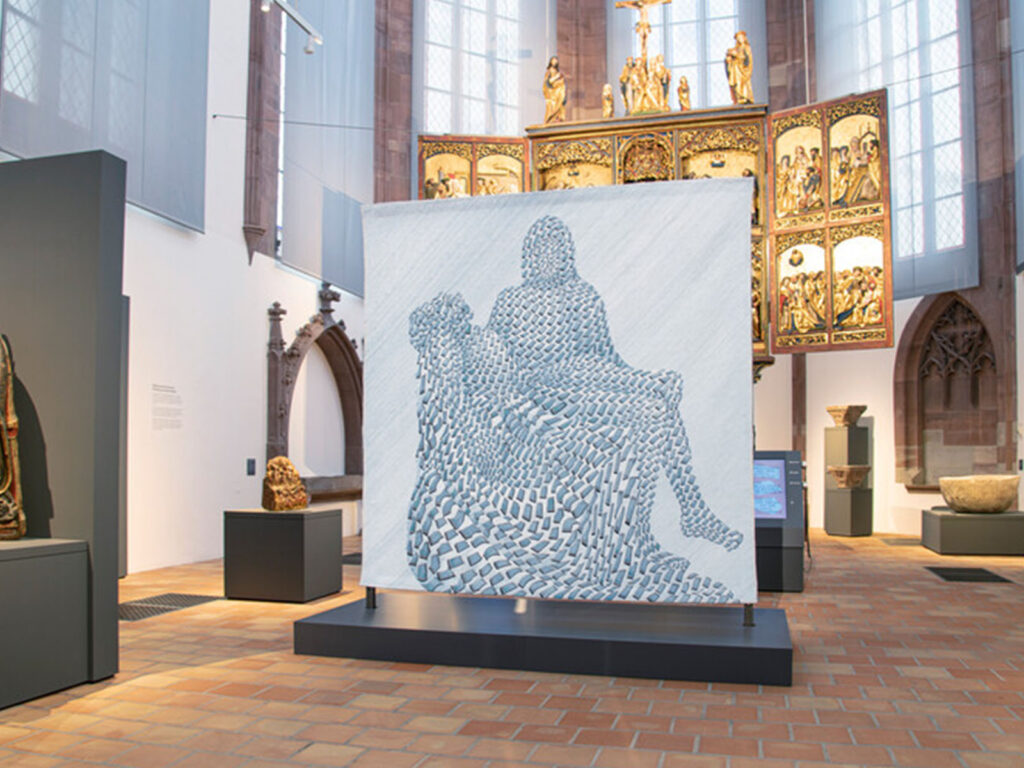 Woven by hand, Thomas Bayrle's 'iPhone Pietá' is a reproduction of Renaissance sculpture by Italian sculptor Michelangelo. Placed inside the Basel History Museum (previously a Church), the iPhone Pieta obscures the altarpiece usually found at the back of churches. It shifts our gaze to a device commonly found in the hands of people- an iPhone. According to the Art Basel audio guide, "it not only challenges the original iconic image but it also illuminates what we do not choose to worship instead."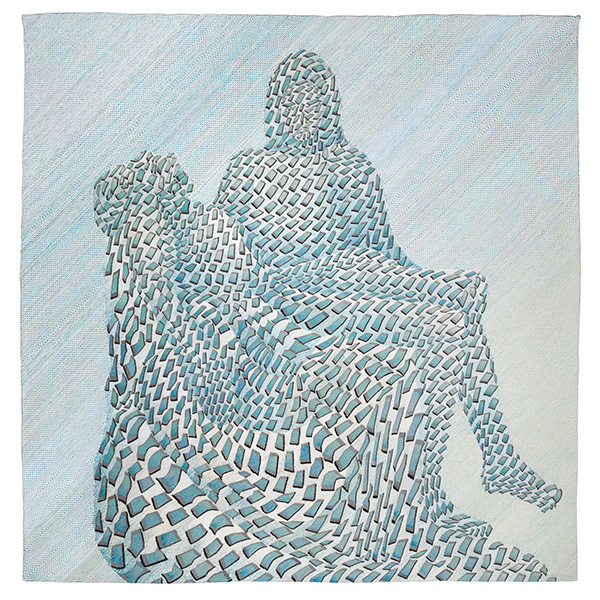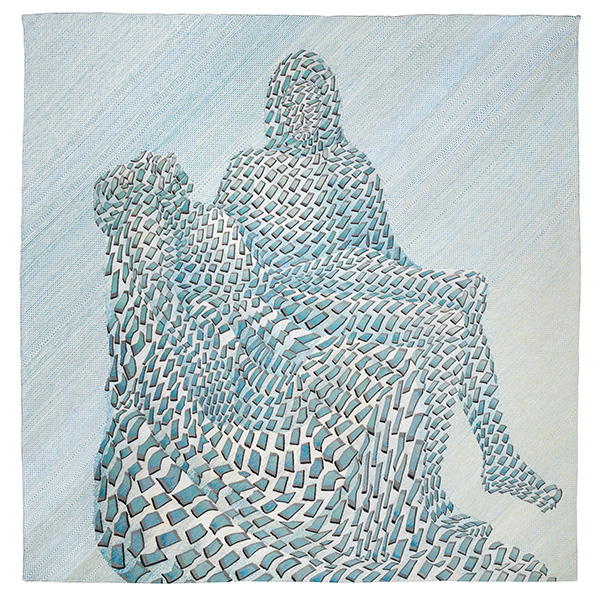 On closer inspection, one will recognize the familiar shape of an iPhone which has been multiplied and its form distorted to recreate the motif. Bayrle's little art joke is comic relief and marks a moment in art history where we can access so much information about the past without ever having encountered any of the original works. At the same time, we can use the same technology to make an endless supply of new work. A symbol of hope, the original Pietá, recreated and included in Art Basel indicates that perhaps not all is lost. Based in Frankfurt, Thomas Bayrle's work engages with mass production and generic designs of popular products. Considered a pioneer of German pop art, he is best known for his super forms which like the iPhone Pietá are large images of smaller icon-size images brought together.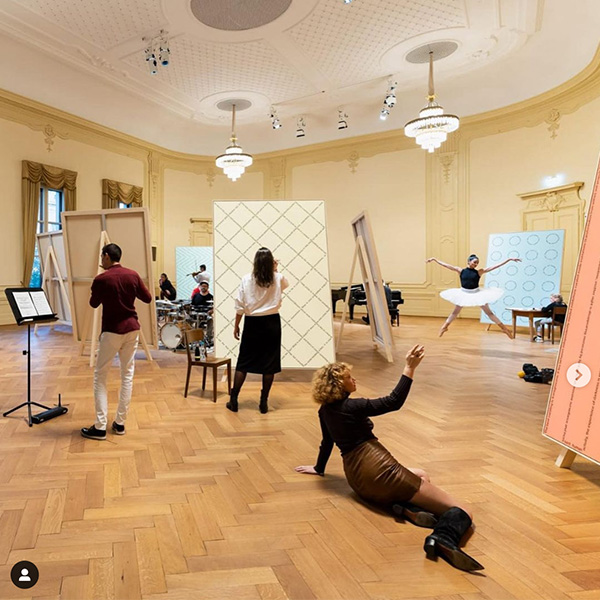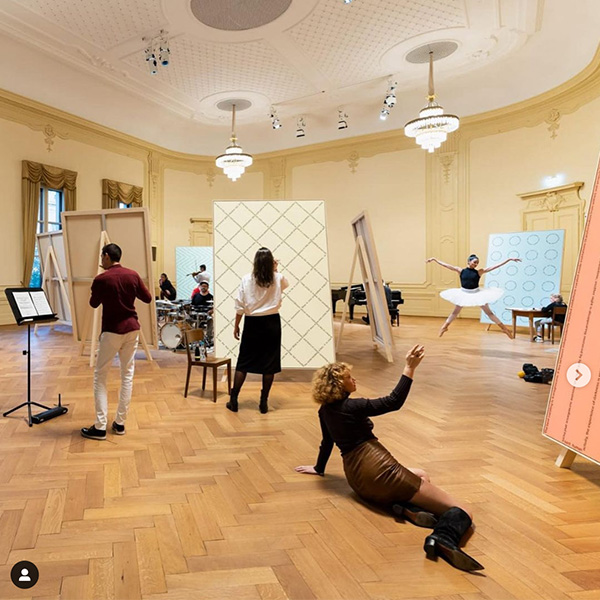 An installation, a performance, and 12 paintings are all part of 'The Interview Painting Ensemble (a mise-en-scene in 12 acts)' by Claudia Comte. Performed at a historic music hall in Basel, Comte experimented with incorporating interviews she conducted with curators and translated them into movement, image, and experience. So even though the interviews involved decipherable words, the canvas they are presented on prevents a complete reading. Each painting has been assigned a performer who activates the work using gestures, actions, movements, and sound. A Swiss artist, Comte is known for large-scale installations and mixing the old with new- like classical references with modern art using a language of her own. Often relying on an environment to activate and bring them to life. Meanwhile, Hamish Fulton's 'Walking in Every Direction' encourages participants to go on an hour-long walk as part of his piece. The performance provides instructions on how to walk forward in the Central Market Square of Basel without bumping into people closest to them. Up to 500 people are invited to this intervention to perform on the first day of the art fair. Later on, the recording of this event is played for the rest of the week on a large screen. While this act of walking feels simple, it is one many artists have engaged within history, including British land artist Fulton. The difference, however, is that instead of taking a stroll, the walk has been designed to emulate a focused task encouraging walkers to reflect on the act of walking itself.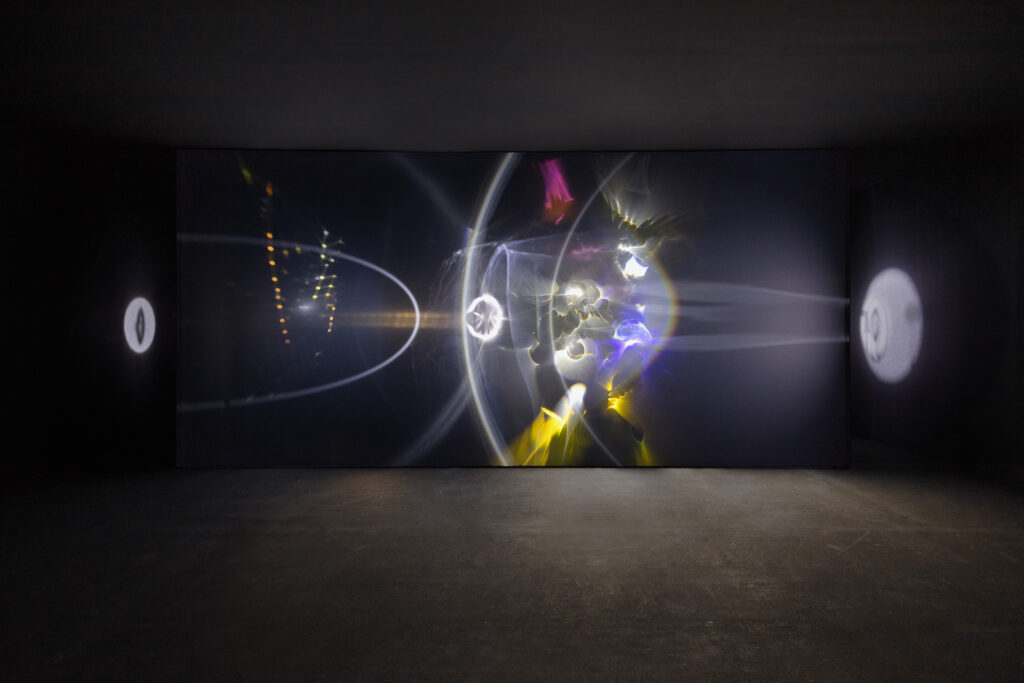 We would be remiss if we didn't mention Olafur Eliasson's Pluriverse Assembly. A symphony of lights, lenses, mirrors and filters, the final outcome is thrilling. Eliasson's installations frequently incorporate built environments and the viewer's point of view which makes it a joy to experience his works. Using the most simple and basic aspects of art and science like color, lines, refraction, shadows and light, Eliasson is able to transform a viewer's experience even inside of a built environment like the Basel Art Fair. The beauty of his work lies in conveying to the viewer how the same white cube gallery space can be used differently if the materials involved are changed. After all, people look at what's being illuminated before they notice what is being concealed in the dark.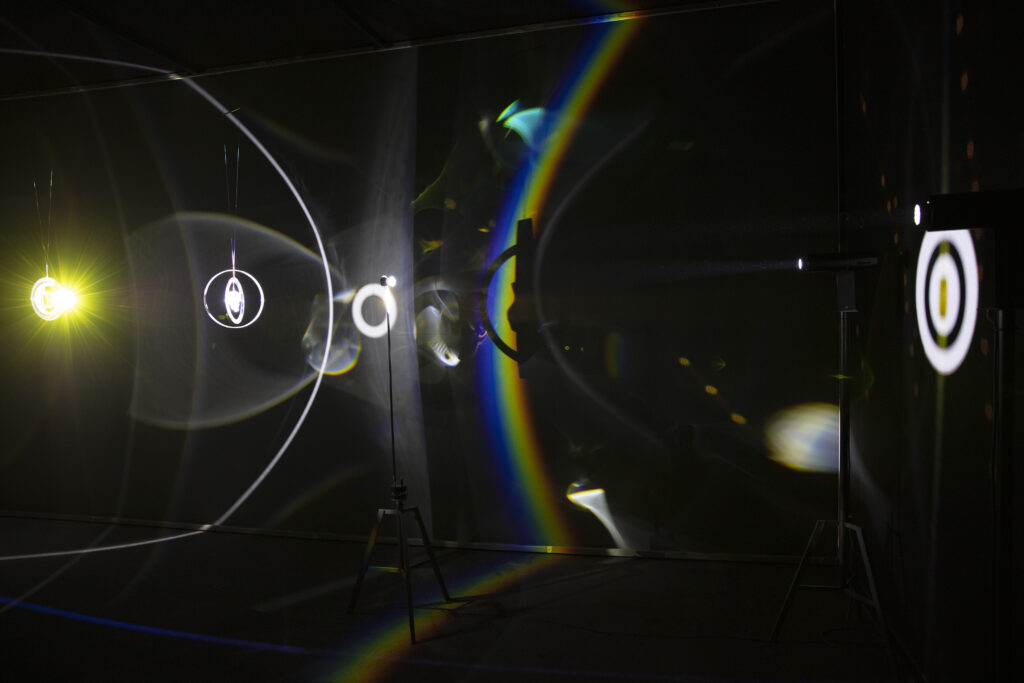 Eliasson works between Copenhagen and Berlin, he is known for his large-scale spectacular installations and sculptures. In the past he has created work like The Weather Project (2003) and Ice Watch (2014) to create awareness about climate change. His immersive environments often build on early 20th- century abstract animations of Hans Richter and László Moholy-Nagy– both of whom were known for their experimental approach to film, painting, sculpture and the occasional integration of technology in their work. Eliasson's practise is self-aware, considers a viewer's perception and is often interdisciplinary. He doesn't limit himself to just sculptures, paintings, photography or public interventions, he designs a choreography that incorporates them all.