The Upcyclers – Workshop Q
28

May

'13

6:47 am

by

Crew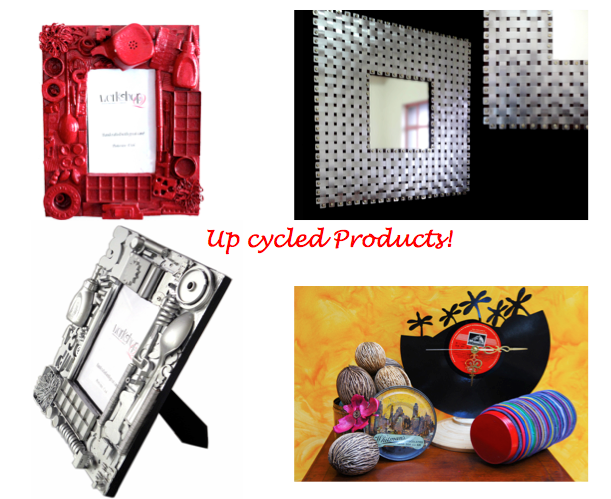 The holiday spirit is still in the air. I am getting out of the city for The New Year (very excited!). But while I'm away I'm leaving behind this very interesting interview we did with Radhika & Madhvi Khaitan of WorkshopQ. They create wonderful accessories using scrap materials. Love the vinyl records converted into clocks. In the photo frames you can actually see spoons, nut, bolts. Forming a very unique piece. We grill them on the hows and whys.

1. How did the idea of up-cycling and workshop q come about?
WorkshopQ is simplicity blended with sustainable creativity. It is a movement where we look at things from a different perspective and give new meaning to 'green design'.The increasing awareness of the importance of being eco-friendly in the west as opposed to the lack of awareness in India, actually inspired us to start WorkshopQ. We wanted people in India to start looking at things from a different perspective and reminding them that what we often label as 'waste' is not truly waste.
Whilst creating eco-friendly pieces, we also wanted for our products to have a certain quirky and chic look. Having it look like it was made from scrap was not what we wanted to aim for at all. Hence, we decided to base our products on the concept of upcycling where we add value to our products and make them look fresh and absolutely new!
2. Were the products accepted well in India?
We struggled a bit in the beginning but our quirky designs lured people into getting concious and living our products! With supplying to 21 cities and a wide e-commerce presence, India certainly accepted our product with arms wide open!
3. Any new materials which were enjoyable to work with?
We have definitely enjoyed working with steel (the steel-a-look mirror) and vinyl(our clocks) tremendously as the possibilities are endless.
4. What inspires you'll in the creative process?
Anything and everything! Inspiration is all around us, it is just a matter of looking at things differently.
5. Was price points an issue with the corporate companies? Do you'll try staying within certain price points?
Price is a super sensitive issue with corporates or even the general consumer for that matter. We definitely try to stay within a certain bracket in order to increase our product appeal.
6. Other than home accessories, whats next in the pipeline to be up cycled?
For now we are sticking to home and office accessories!
Have a Very Happy & Safe New Years!!*Design Pataki in conversation with Radhika & Madhvi Khaitan