This 10,000 sq ft Hyderabad Home Weaves Itself Around Mango Trees
24

Jun

'21

3:14 pm

by

Beverly Pereira
The Brick Mask House designed by SpaceFiction Studio works with nature to become a striking backdrop to its forested surrounds. In doing so, it places an acre of 20-year-old grid-planted mango trees in focus. Cradled by trees, the 10,000-sq-ft residence in Hyderabad was designed as a secluded retirement home for a couple. The team led by architects Baba Sashank, Vindhya Guduru, and Santhosh Kandanala steered clear of any elevation or obvious presence of a building, instead opting to weave the structure around the existing trees.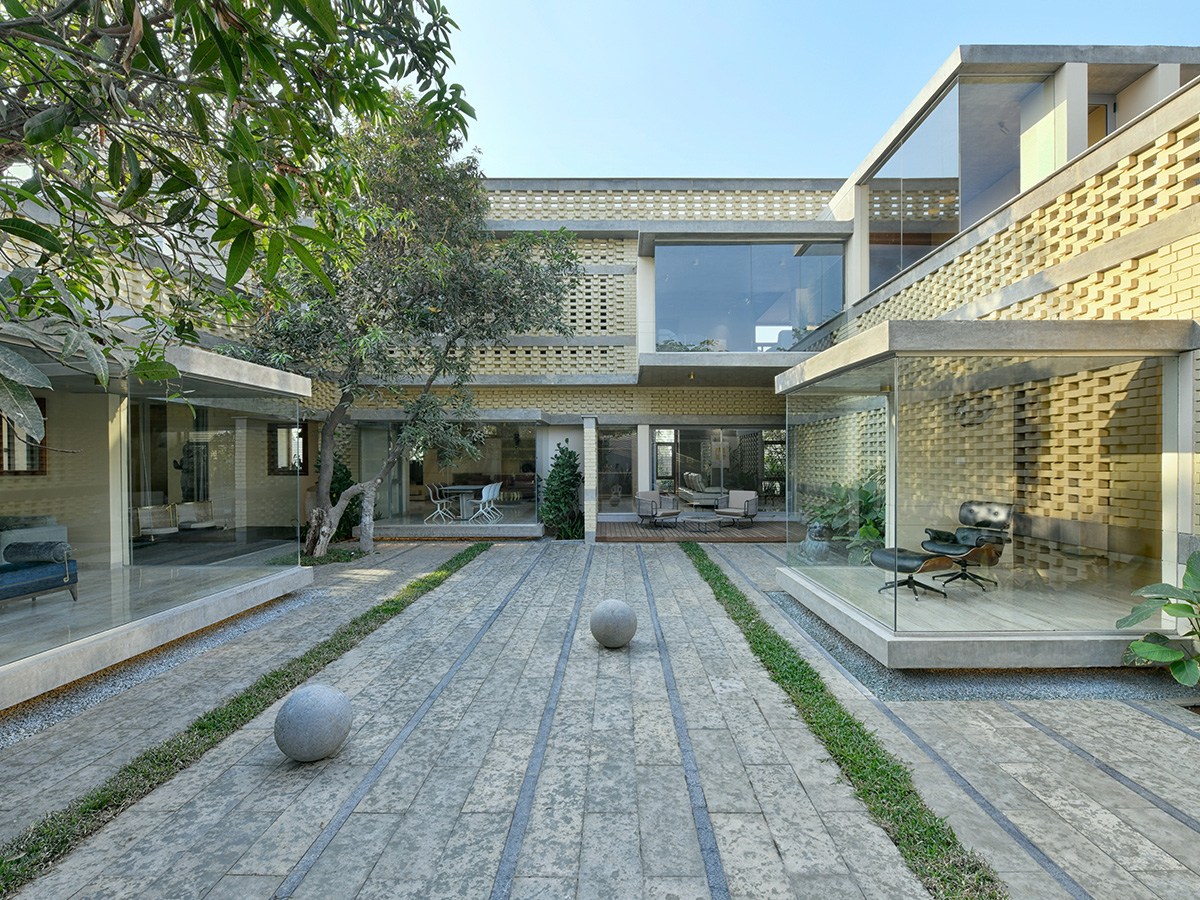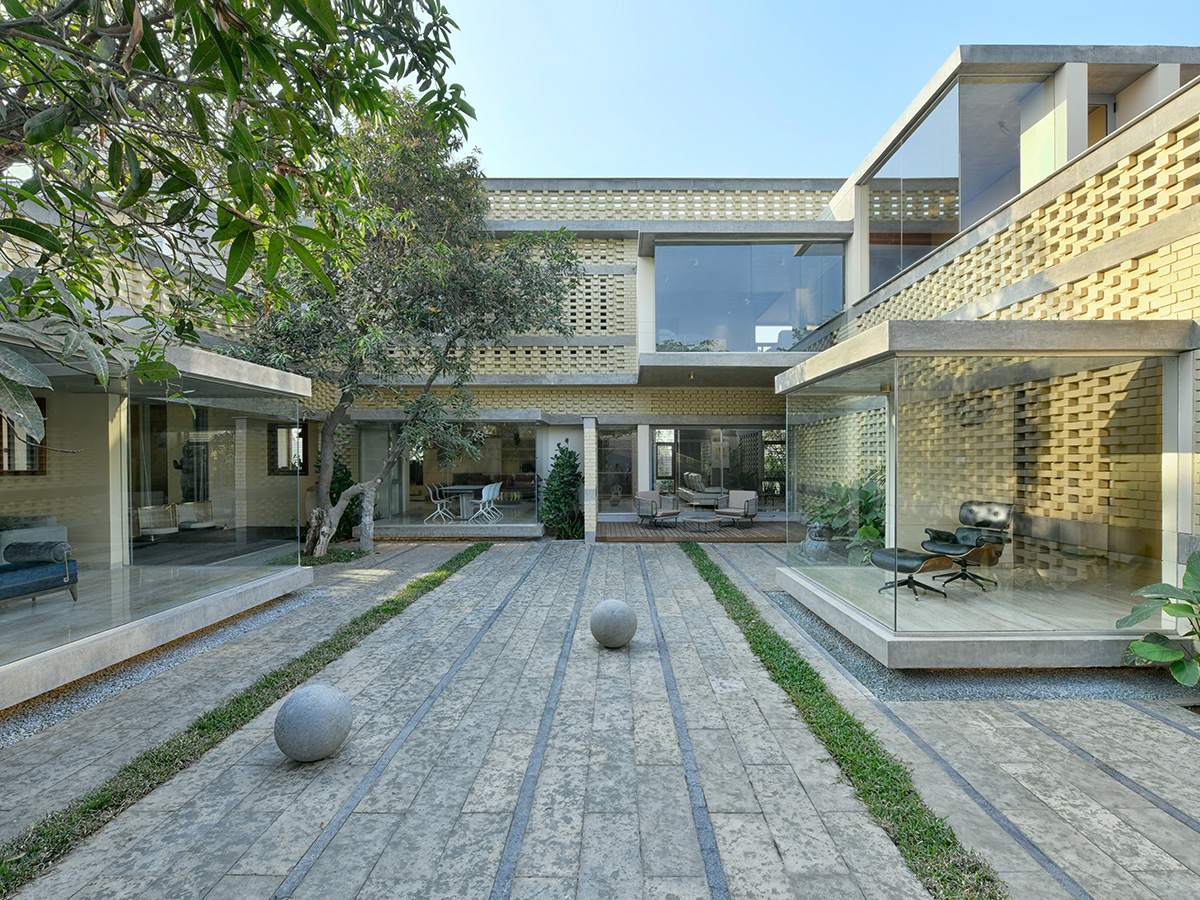 Moving around, whether inside or outside, one is treated to a multitude of ever-changing experiences. At the very heart of this home is an open-to-sky courtyard around which the home is gently wrapped. Glass projection boxes looking out onto abundant greenery protrude from its brick façade, keeping the homeowners in constant connect with nature.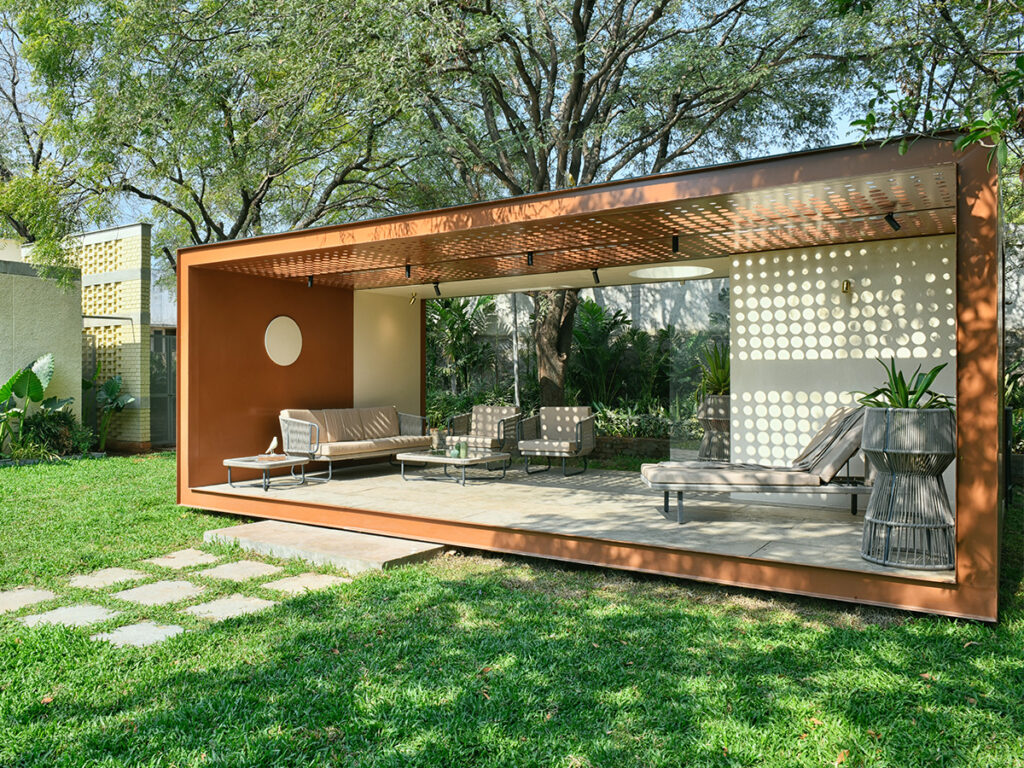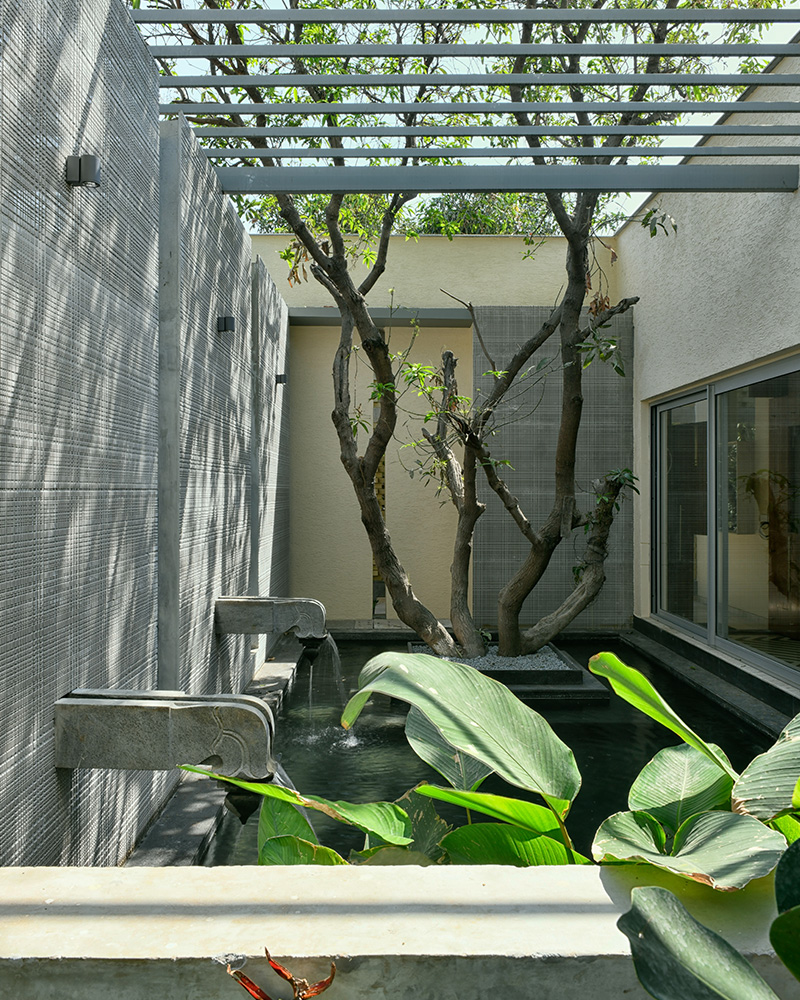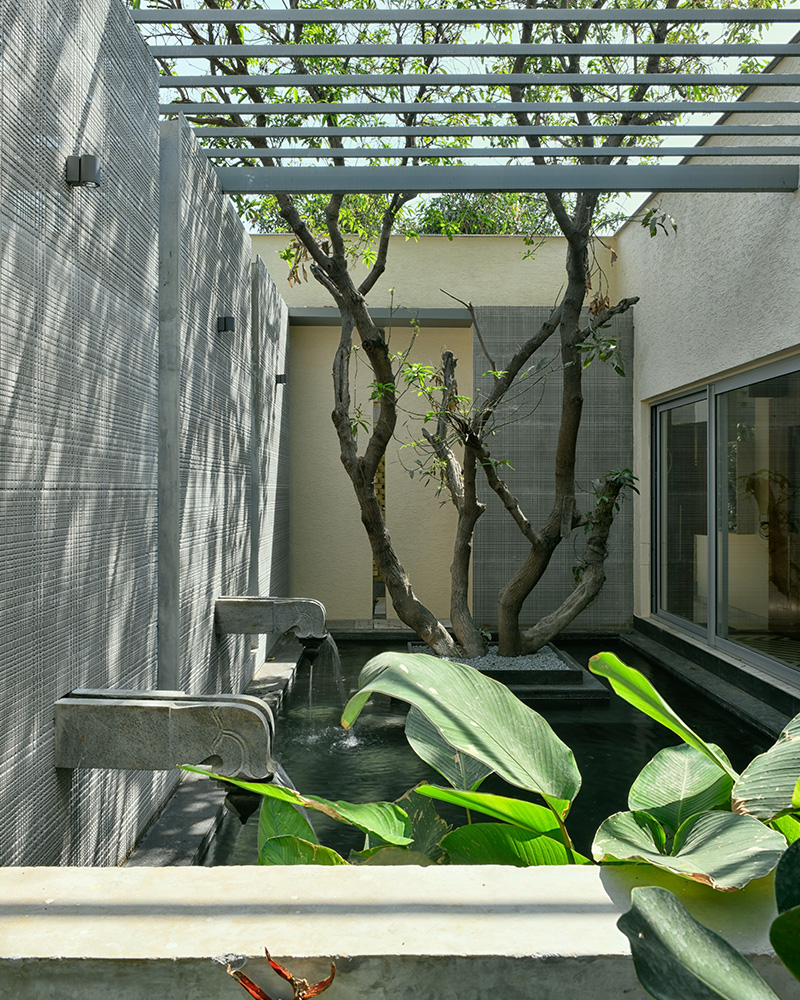 The central courtyard is resplendent in traditional south Indian temple statues carved out of granite, and trees that cast mesmerising chiaroscuro effects to the beholder. This, coupled with the gentle sound of swaying trees and gurgling water from the Mahabalipuram temple spouts, fills the courtyard with a sense of tranquillity. "The style is one that's reminiscent of a space that has long been existing with old sculptures and trees in a contemporary, tropical setting," says Vindhya Guduru of SpaceFiction Studio.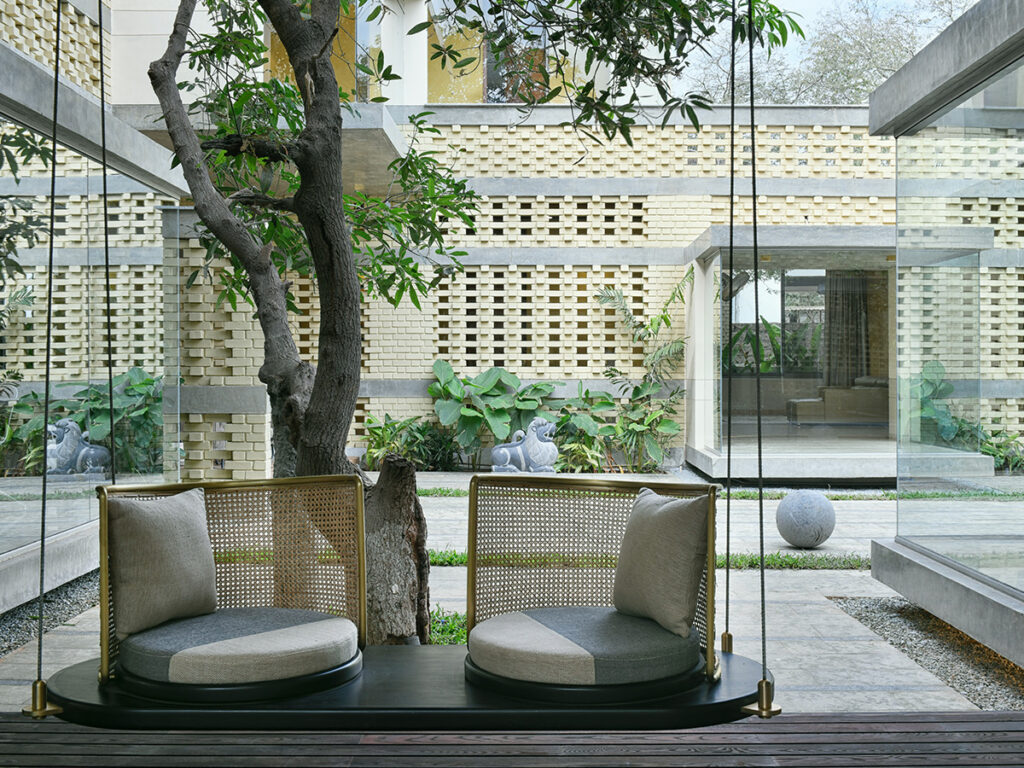 With a setting so serene, it's only natural that the team at the Hyderabad-based design and architecture studio made a conscious attempt to blur the lines between the home's interior and exterior. Peripheral walls made up of local wire-cut adobe bricks with interjecting layers of exposed cement lintels work to this very end. By controlling the perforations, depending on the space it divides or encompasses, the team was then able to harness the changing of light with the progression of the day. When lit by the sun, the perforations cast shadows inside, and when back lit, they reveal a hint of that which happens behind them. "The skin of the building was perforated to take the concept of blurring the boundaries of inside and outside forward by another step, beyond that of doors and windows. The scale is ever-changing as one moves through the spaces," says Guduru.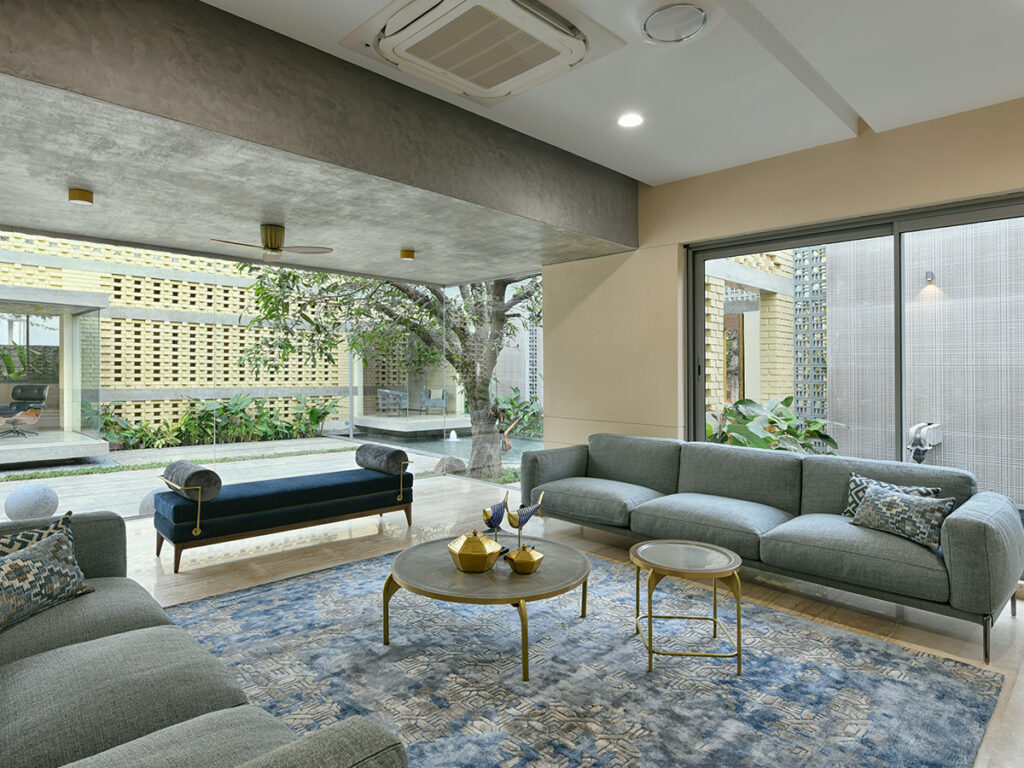 Inside, the home intentionally carries a subtle theme with a palette of wood, concrete, brass and glass. The flooring is primarily Italian marble interspersed with handmade cement tiles grouped in varying patterned effects. "With such a strong visual character outside, the interiors were meant to act as a window to the exterior and, as such, needed to be subtle. The only highlighters, lime plaster in distinct shades for each space, were to create visual depth," the architect explains.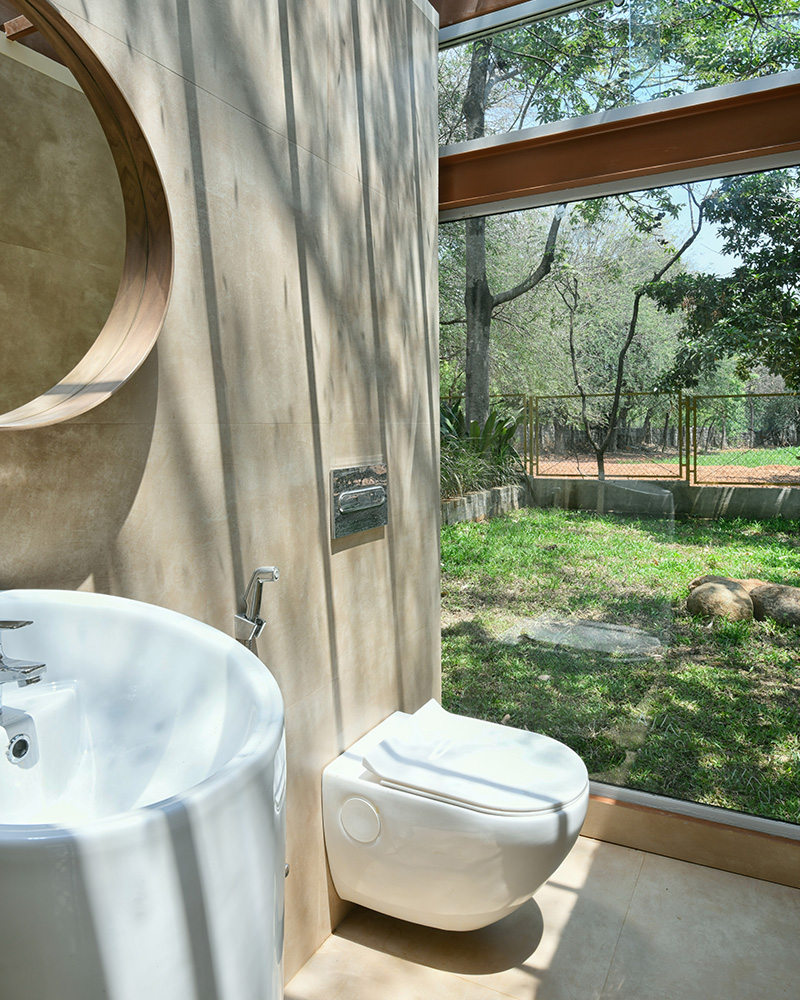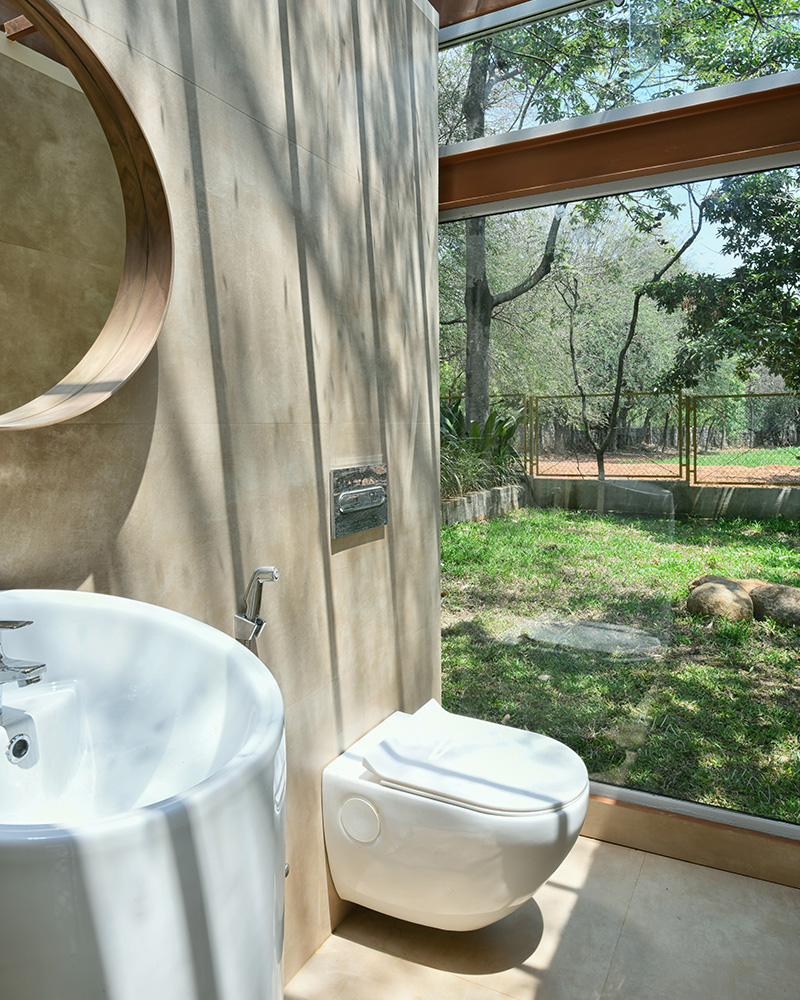 The home is made up of two wings connected by a double-height space. The east wing accommodates a drawing room, an indoor courtyard with a waterbody and mango tree, a prayer space, and a pebble court with an existing tree. Soft furnishings by D'décor, Ikea and Fabindia and furniture by BoConcept, Bent Chair, Loomcrafts, P.O.D, STANLEY, Seating World, VANTO, Gulmohar Lane and Alankaram bring in modern elements grounded by local touches. One sees both statement and functional lighting fixtures by Luminary Studio and Light Sketch; rugs by D'décor peppered with hand woven carpets; and décor sourced from OMA and House of Things.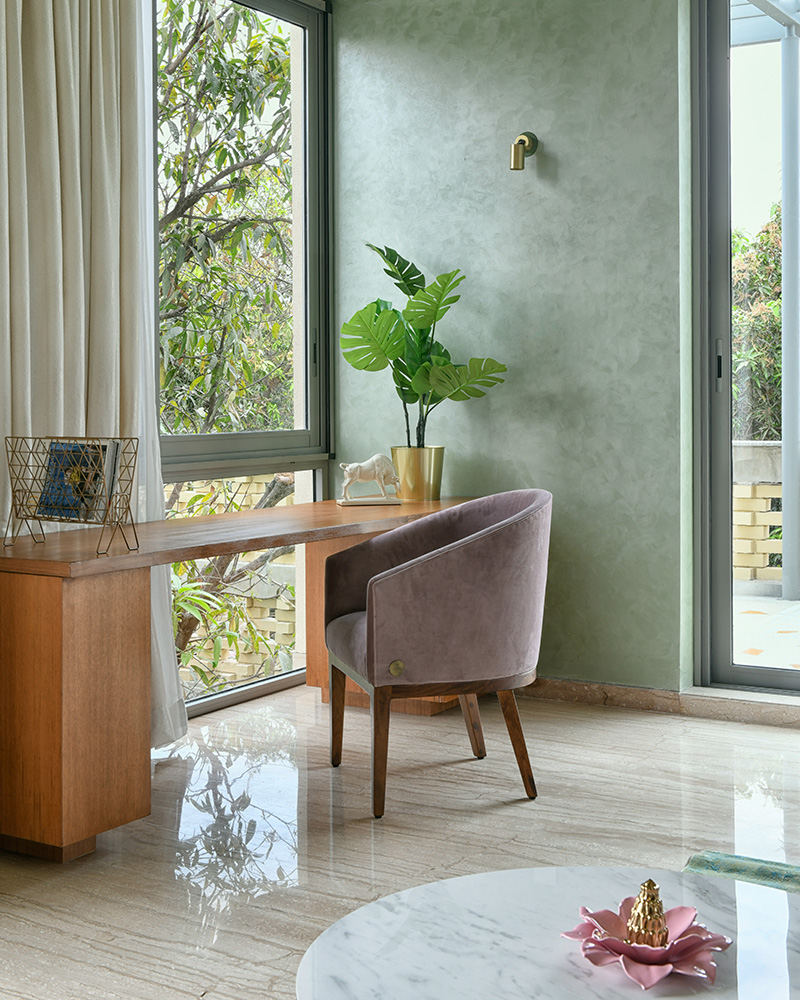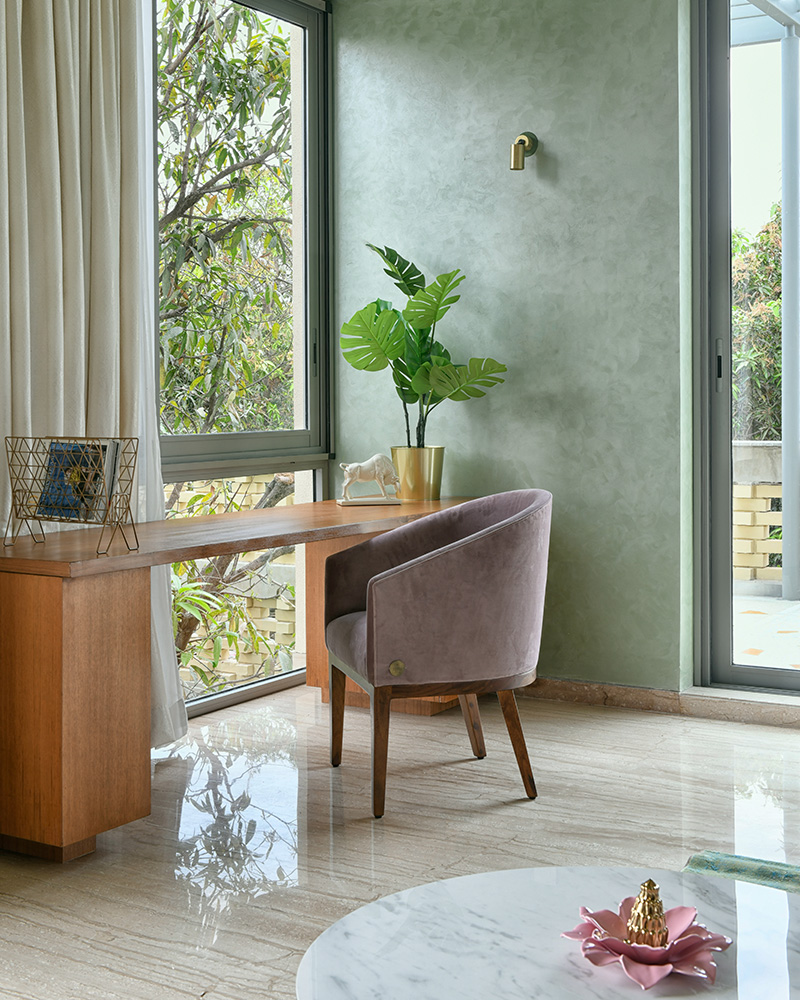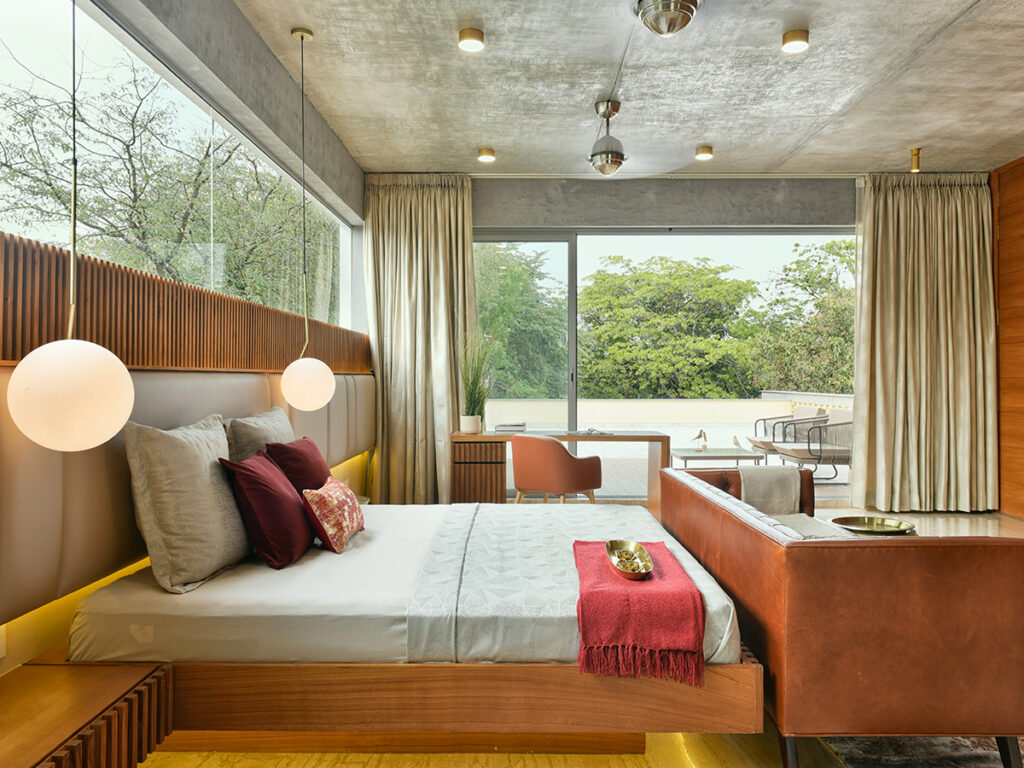 The west wing houses two bedrooms with a study in between, all of which is accessible through a long corridor fashioned into a gallery of sorts for paintings from the owner's collection along with sculptures placed on pedestals. The 'gallery' wall, finished with yellow stucco lime plaster and brass knobs fitted on a grid, gets swathed in light every morning when the eastern sun casts all manner of shadows upon it through the perforated brick façade.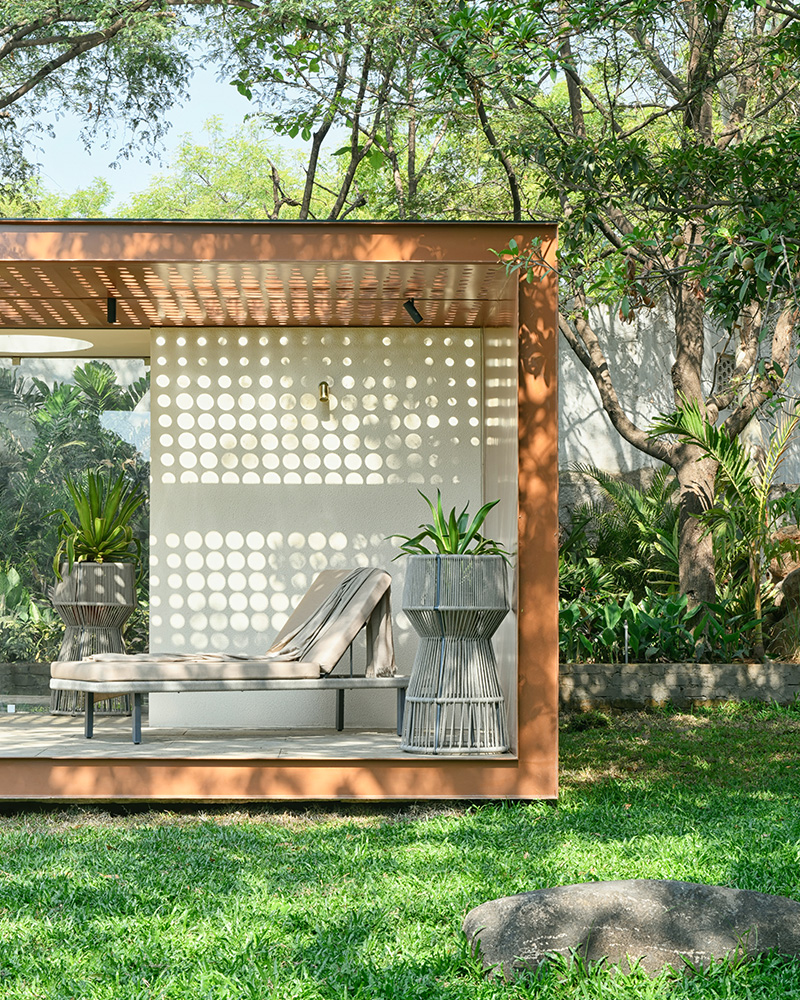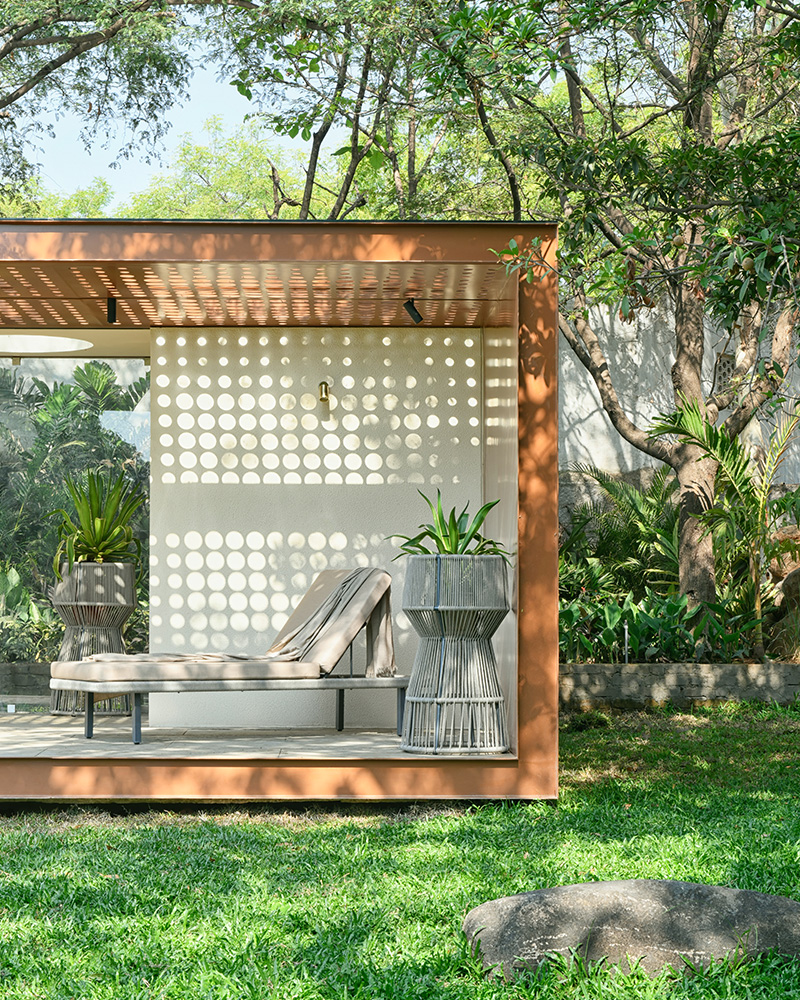 Striking aesthetics aside, the porous skin allows for windows to be opened at will, inviting the breeze in during the warmer months. Besides, by orienting all major openings to the relatively heat-free north and by placing services which buffer the harsh sun towards the south, the air-conditioning load of the home is reduced to a great extent. The ample use of solar powered systems to create more power than what is consumed makes the Brick Mask House a project that's not only truly sustainable, but also one that's perfectly at home with the forested land that cradles it.