This Art-Filled Bangalore Home Is A Compelling Revival Of Tropical Modernism
2

Aug

'21

7:01 pm

by

Nuriyah Johar
This twenty year old townhouse in Bangalore is an evocative repository of culture and memory. It is layered with art and antiques that embody an ethos of tropical modernism in the most authentic fashion. Seemingly suspended in time, the home is a crossover between restoration and gut renovation – spreading across the second floor and terrace level of an old building tucked away in the quiet streets of Indiranagar. "The guiding impetus was to create a haven where warmth and comfort assumed centerstage." says Kayva Sheth of Studio Ruh. The design team comprising Kavya Sheth, Vasundhara Shiva Kumar, Priyanka Singh superbly brought to life the vision of Radeesh Shetty, Founder and Director of The Purple Turtles and Beruru, and owner of the home.
The design for the home harkens back to the sprawling residences by icons like Geoffrey Bawa and Minnette de Silva, drawing heavily from Sri Lankan aesthetics. With open, fluidic spaces and lush indoor landscaping, nature is given a free rein, and Bangalore's beautiful weather serves as an ever changing backdrop to this tropical interior.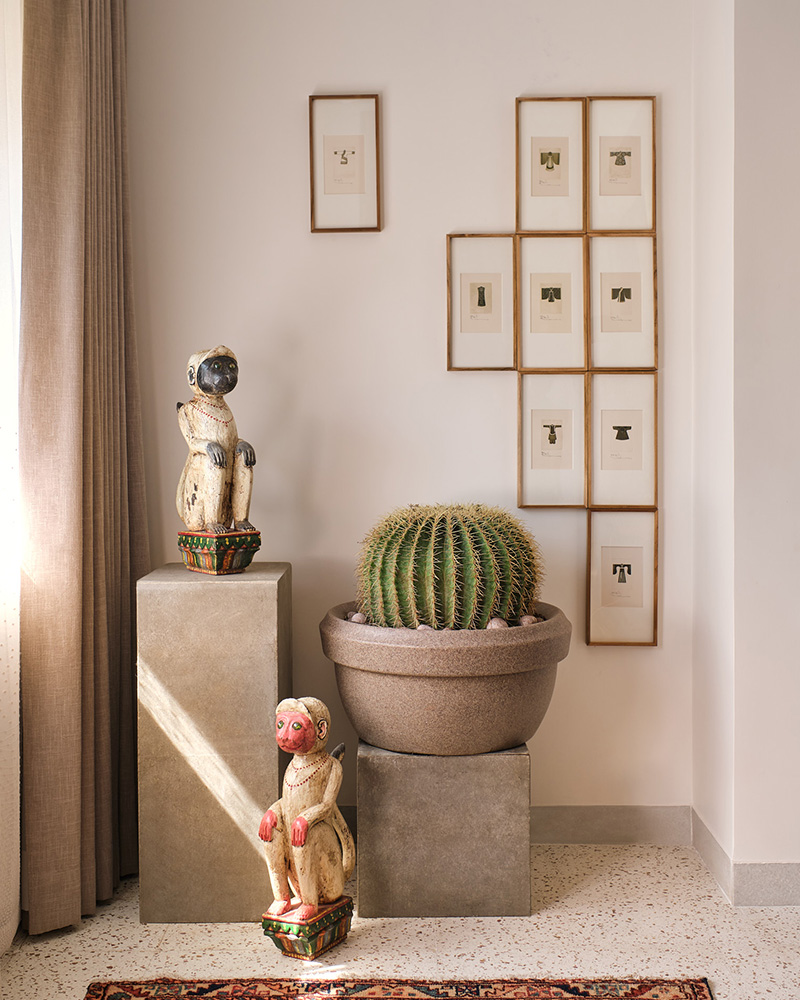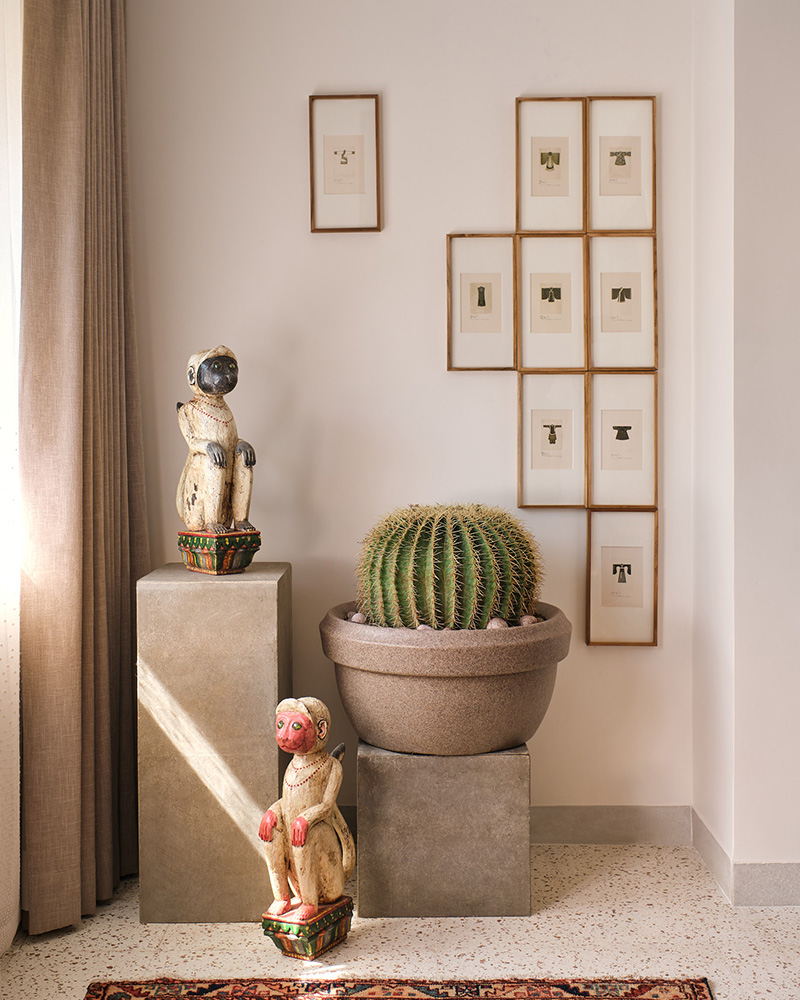 "Ambience was key and we delved into the extensive usage of raw materials in their native form, celebrating flawed and distressed finishes over perfectly polished elements," says Sheth. To this effect, her primary material palette comprised solid wood, natural cane, stone, metal, and stucco, all of which lend an earthy undertone to the home. When it came to sourcing statement pieces of furniture, decor accessories, and planters, Radeesh Shetty's homegrown atelier's The Purple Turtles and Beruru were the obvious choices. Virtually styled by interior stylist Samir Wadekar, the accents used across every part of the home were thoughtfully selected to complement the overall design language. Much of the home is designed with the intent of allowing maximum amounts of natural light to flow through, creating an open flow in the layout, and restoring the original mosaic terrazzo floor to its former glory. A number of internal walls were demolished in order to consciously create a fluid living, dining, and kitchen space.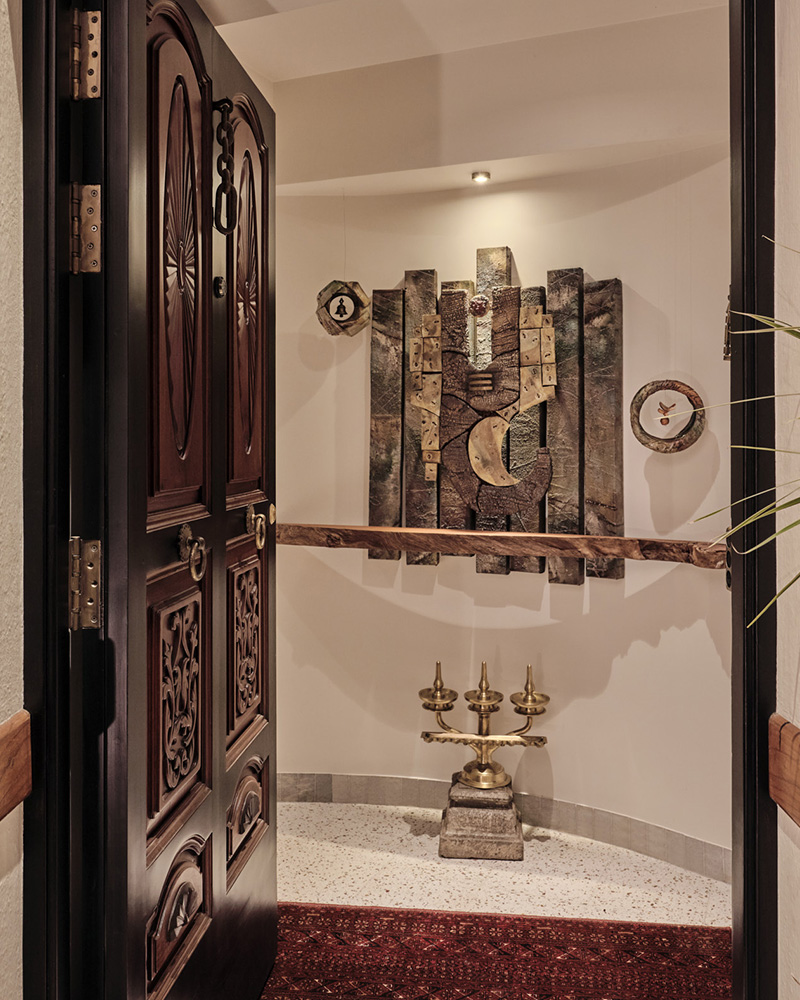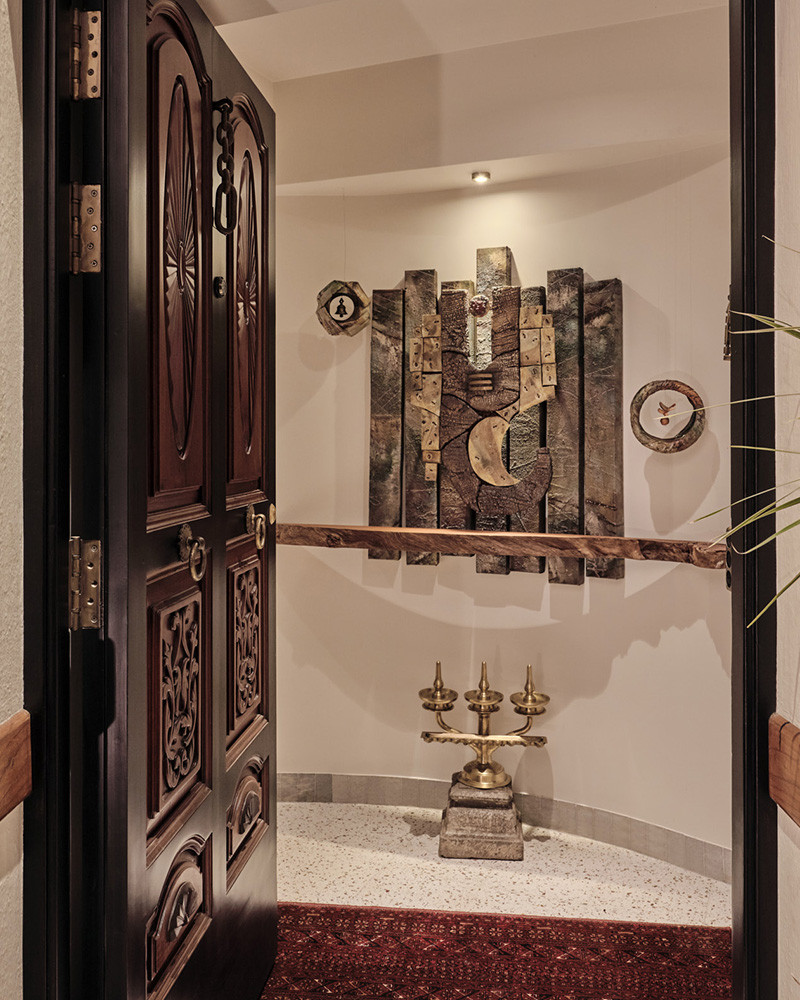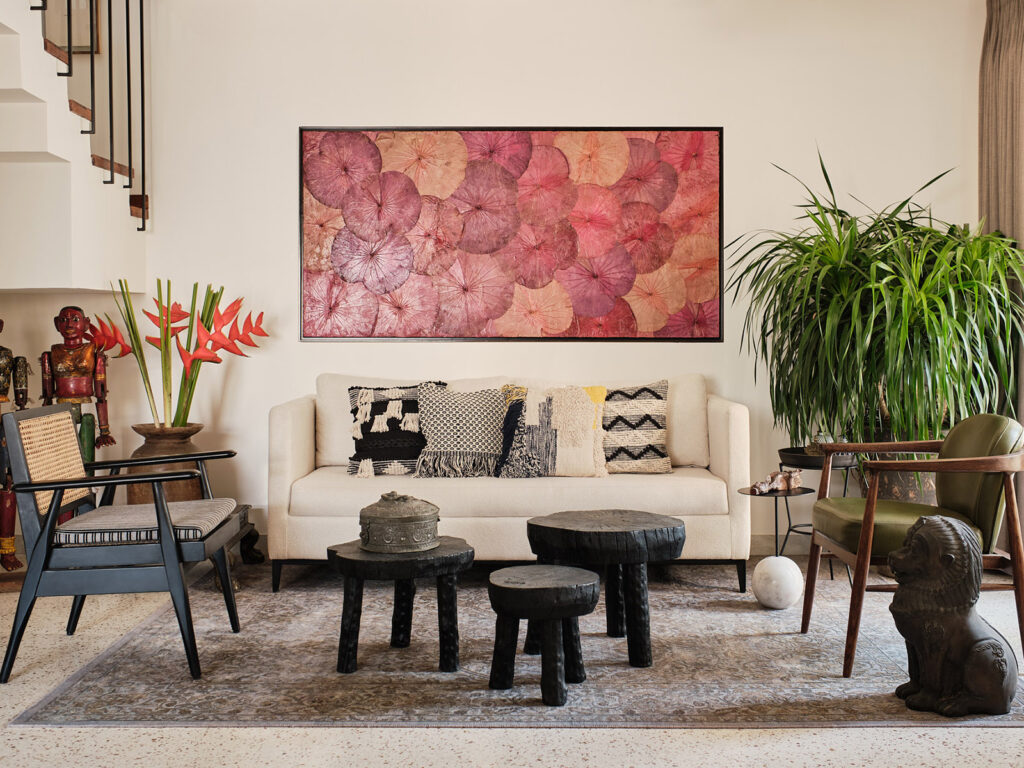 A pair of antique double doors cleverly reworked into a solid single entrance door serve as a preview to what the home has to offer. They lead into a narrow foyer where a striking Ganesha mural by artist Adil Writer takes centre stage. A background palette of cream and off-white lends an openness to the living room, which is then layered with small doses of maroon and olive. An impressive piece of Balinese Lotus art by a Vietnamese artist characterizes the accent wall, serving as an anchor. Sculptural tribal art, distressed wooden tables, and giant floor vases with bright greens further add to the overall curio-heavy ethos of the space.
The living area leads into the dining, where a live-edge table crafted in Pondicherry with intricate brass joinery serves as a dramatic highlight. A grand mirror with a wooden frame, crafted by repurposing an antique door adds volume and fills the communal areas with an abundance of natural light. For a brief moment, it even creates the illusion of an entryway, speaking to its sheer size. A hand-chiseled stone sink sits neatly in an alcove by the mirror, and a recessed niche on its other side houses a collage of minimalist prints that illustrate attires from South-East Asia.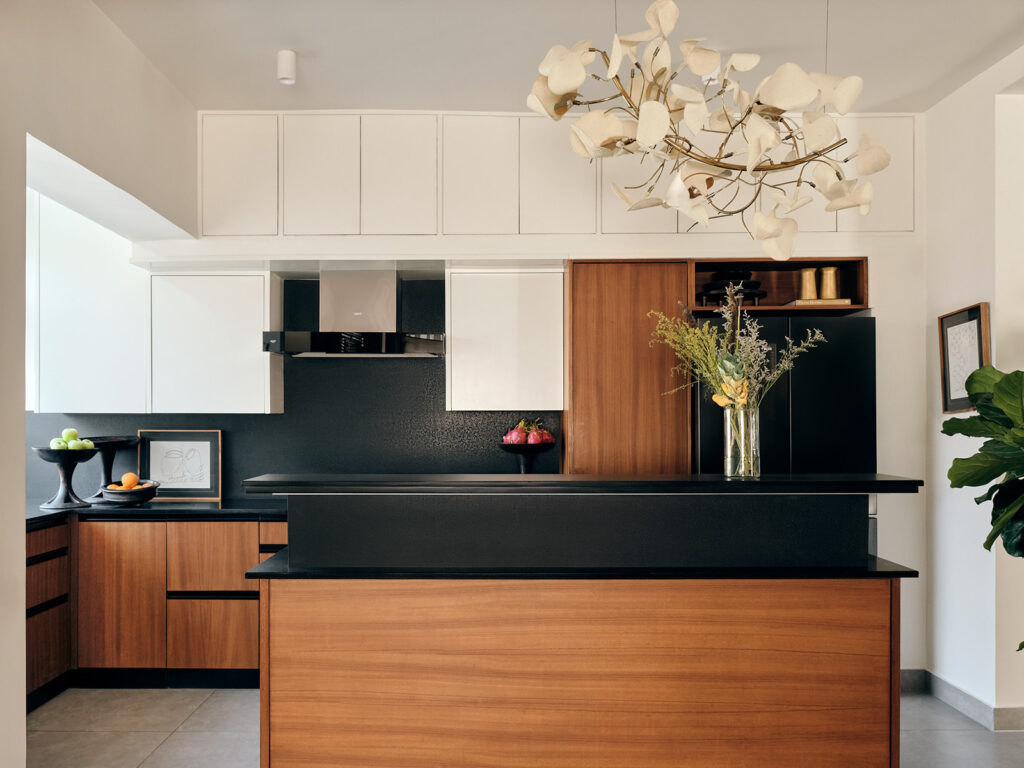 In order to best utilize the space and carry forward the open-concept plan, the former kitchen was completely gutted out and replaced with a central island. A sleek walnut finish interspersed with matte black and white, along with brass transition profiles delineate the kitchen area from the dining. Undercutting the sharp angularity of the kitchen, and organic-silhouette asymmetric chandelier ties the space together.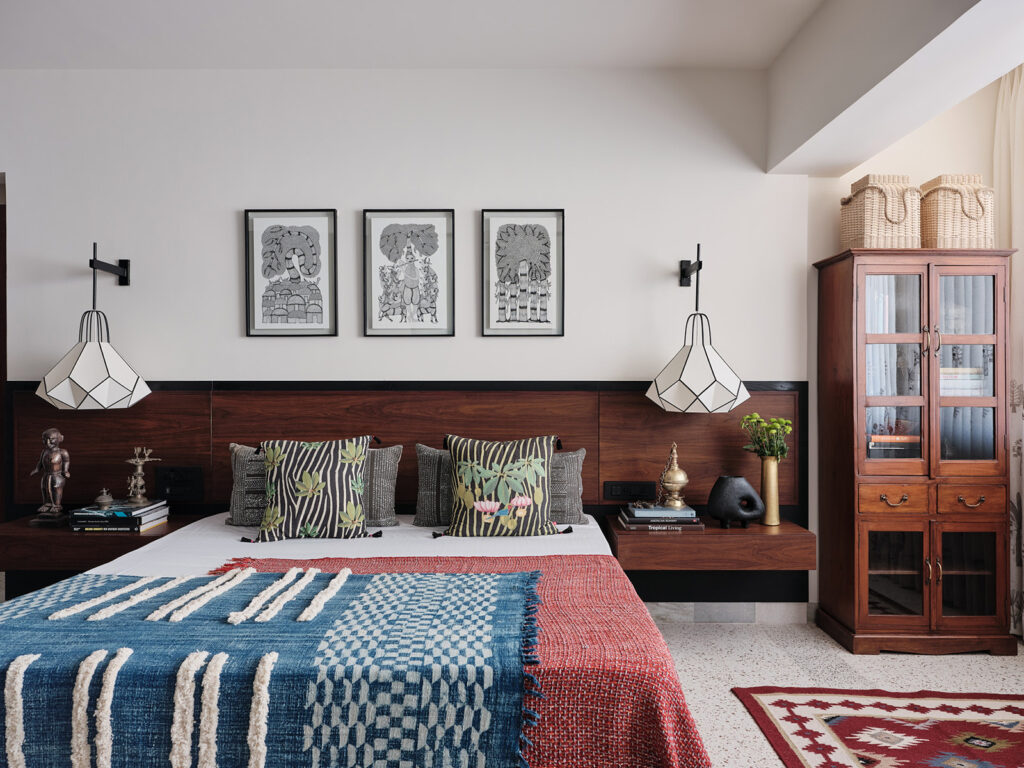 The spacious master bedroom takes on a muted palette and is layered with colours and prints through the soft furnishings, selected antiques, and art. "The design intent was tethered to creating a sanctuary of sorts for Radeesh where every inch of the space echoes serenity and understated beauty," says Sheth. A large wooden headboard which extends across both sides of the bed adds an overarching warmth to the room, and pairs beautifully with The Purple Turtles's white origami lanterns. Like the rest of the home, art is used liberally yet thoughtfully in the master bedroom. A triad of Gond art pieces in black and white hang over the wall, complementing the Indian brass decor accents used in the room.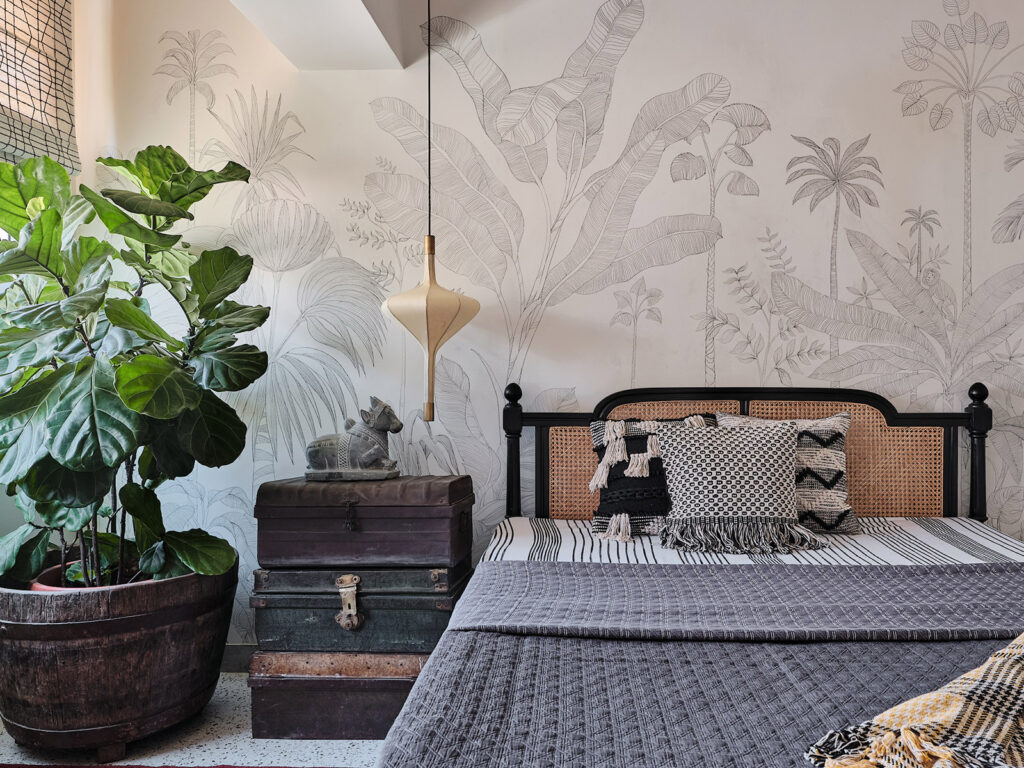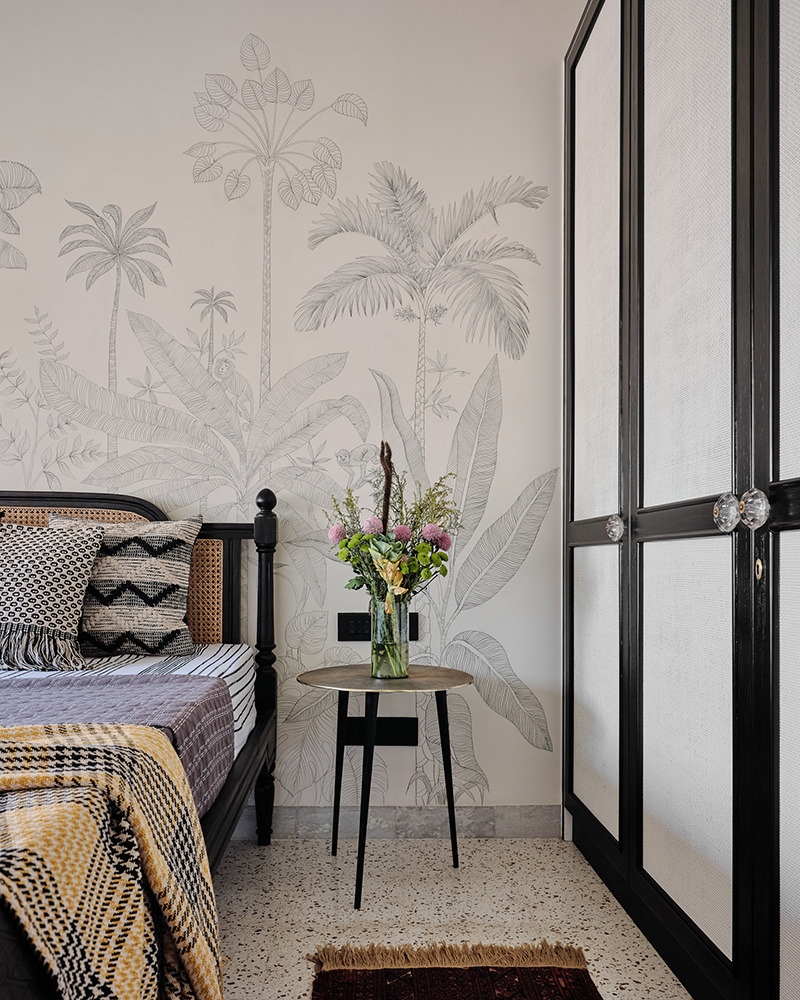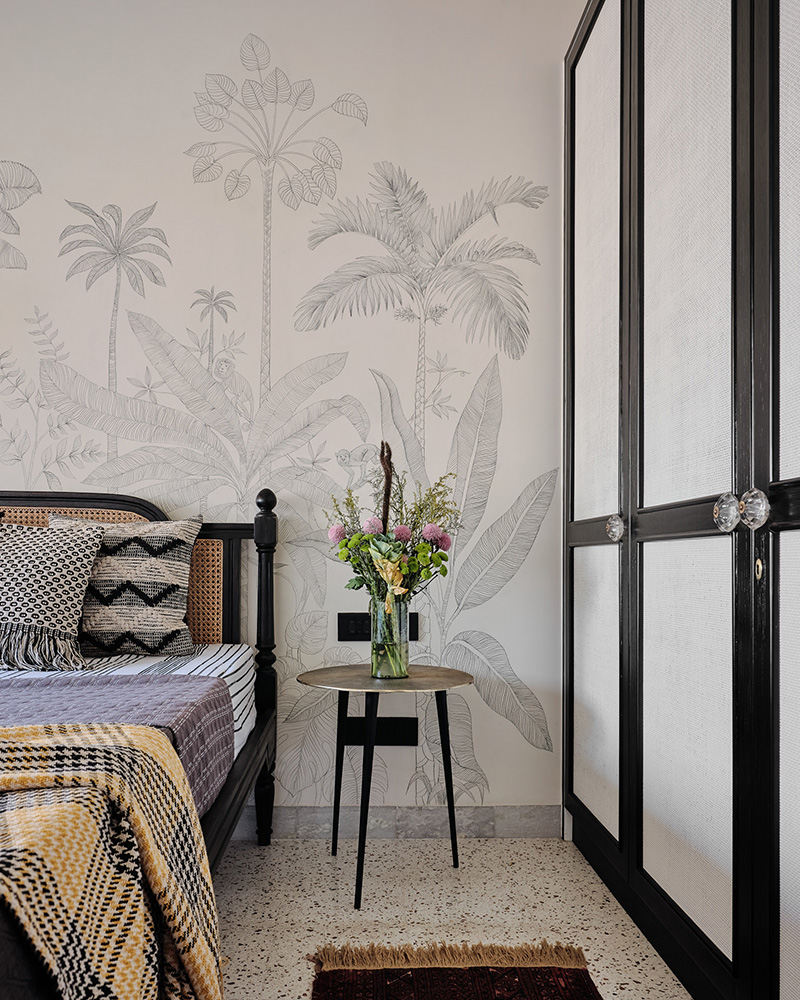 Tropical modernist elements in a crisp monochrome palette wash over the guest bedroom. The accent wall features an exquisite hand-illustration of lush tropical flora by a local artist that sets the tone for the design of the room. Taking cues from colonial design, a dark-stained wooden bed with a wicker headboard is paired with a nightstand made up of stacked antique trunks, while a sizeable fiddle-leaf fig adds a hint of green. The Lumina pendant lamp from Oorjaa crafted with banana fibre paper hangs over the bedside. Driving home the monochrome theme, Sheth makes use of black and white cane wardrobe shutters that also tie in with the internal doors used throughout the home. The spirit of the tropics is carried forward in the bathroom which conjures up images of the beach through its pistachio stucco walls and pearlescent tiles arranged diagonally across the walls.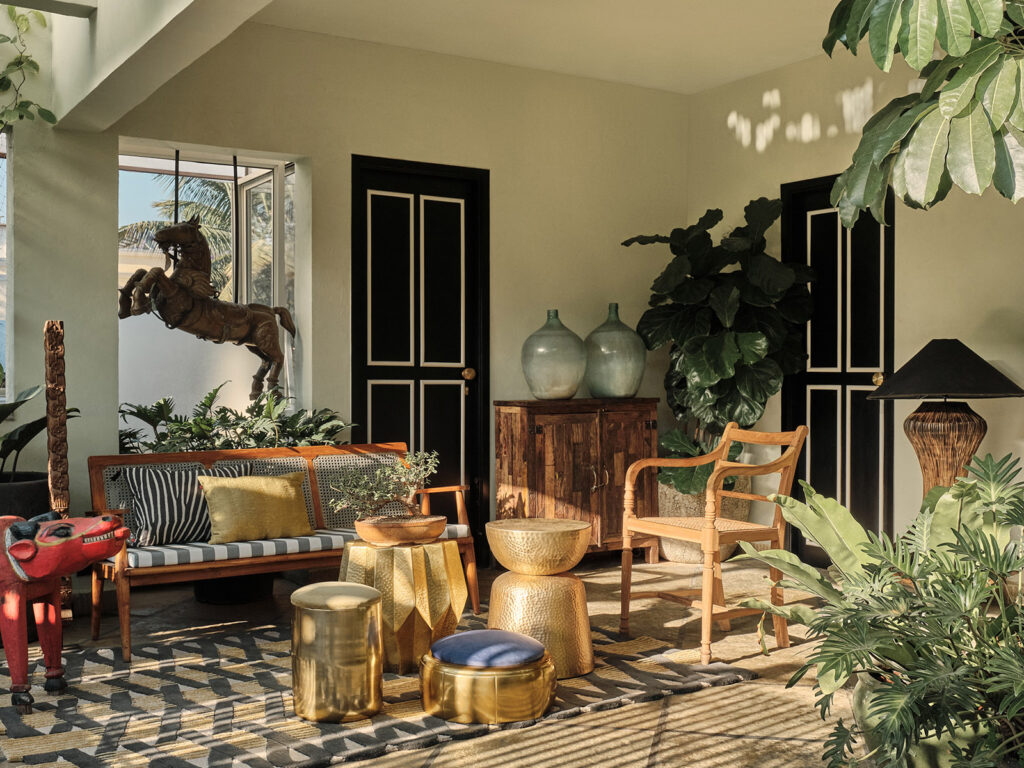 A sleek staircase with light wood and metal profiles leads one into the terrace, through a pair of rescued antique double doors. What immediately separates it from the rest of the home is the flooring; diagonally laid Shahabad stone evokes imagery of classic Sri Lankan gardens. Given that Radeesh is a plant enthusiast, Sheth doubled down in the greens, creating an open space that seems almost like a conservatory! The various seating areas in the terrace comprise an eclectic mix of chairs, benches, built-in ledges and an assortment of small tables.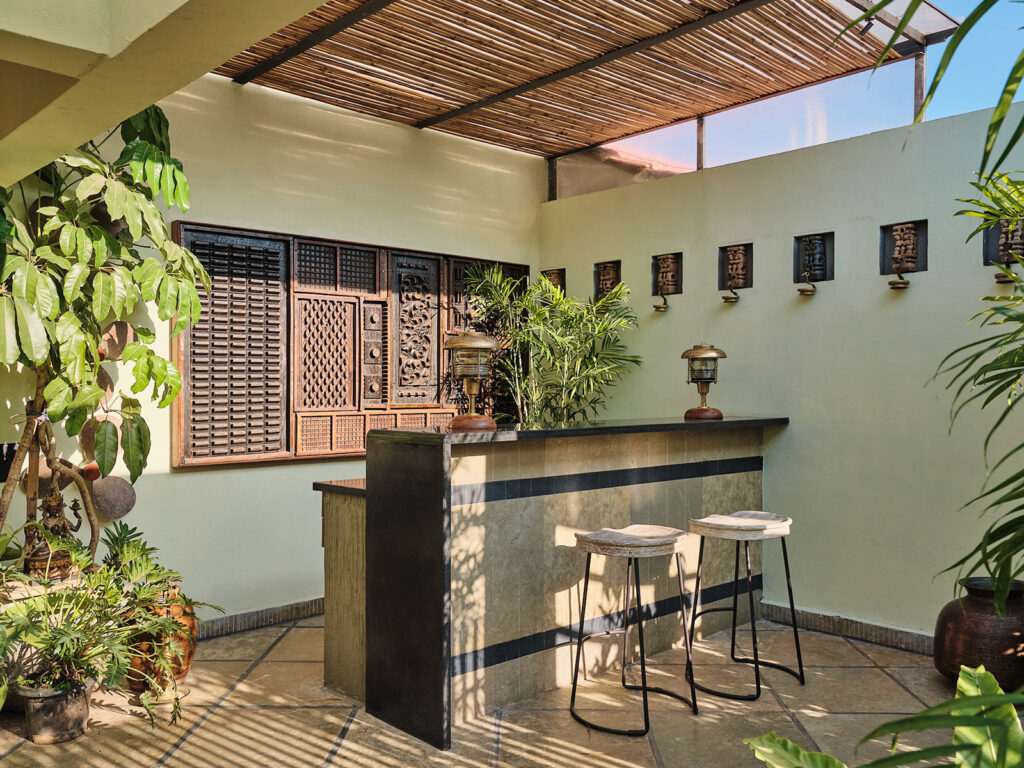 A solid Shahabad stone bar with a granite top sits underneath a custom slatted bamboo roof by Bamboopecker. Behind the bar, an intricately carved wooden panel serves as an element of interest and antique lamp holders add to the overall aesthetic. The powder bathroom adjacent to it takes on the terrace's material palette as well, finished in bare stucco surfaces and featuring a pedestal monolithic stone sink placed against a modern olive-green herringbone tiled wall.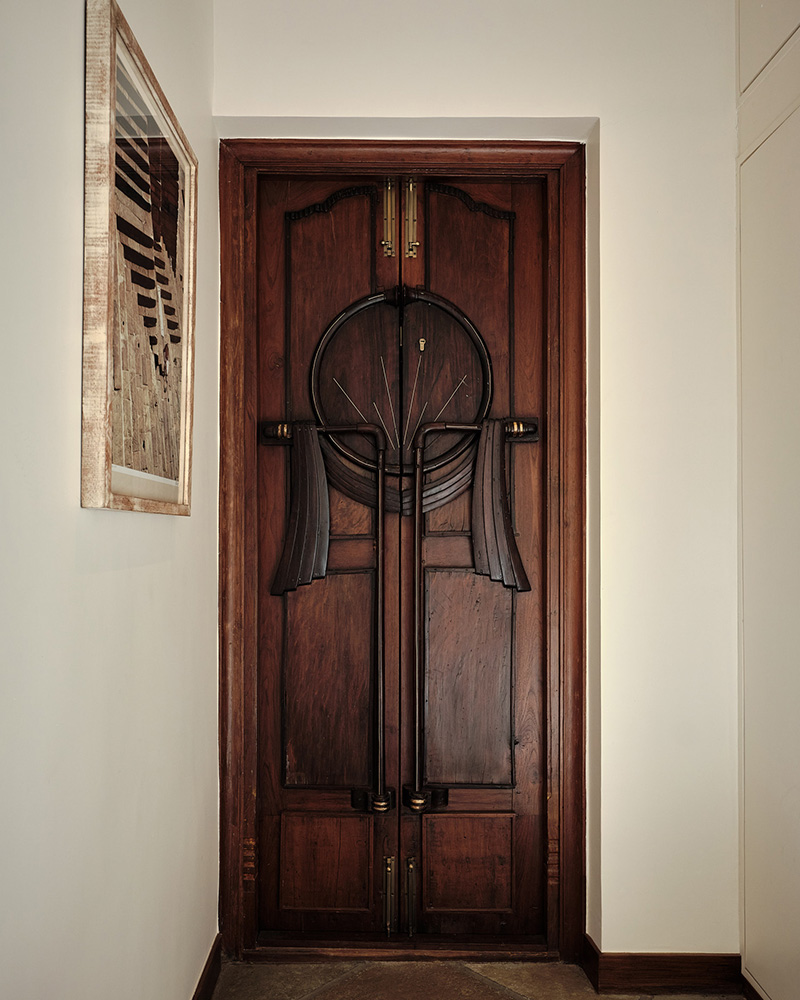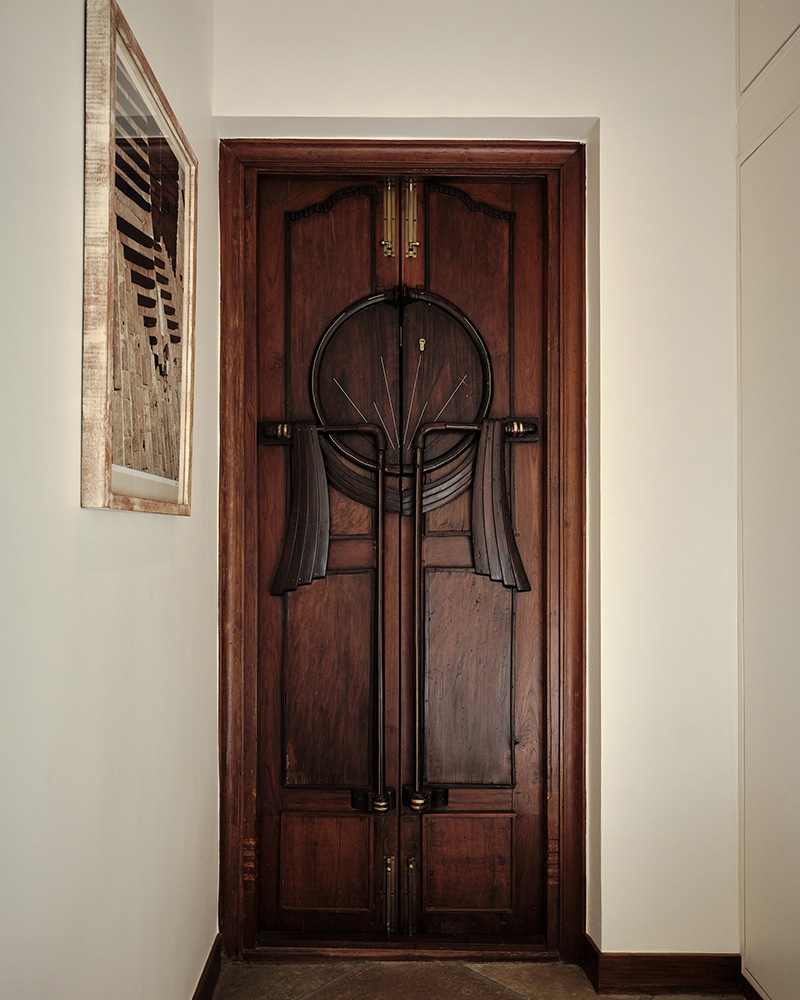 "This project is a testament to the fact that a trust driven collaboration and a shared vision for spaces can manifest into a physical resultant that redefines what the quintessential abode is for a user," says Sheth. A striking expression of a passion for craft, love for travelling, and eye for priceless curios, the Open Plan Residence is a true archetype for collaborative design.