This Art Residency Space In Delhi Evolves In Harmony With Nature At This Architectural Gem
7

Nov

'23

12:14 pm

by

Vatsala Sethi
Originally conceived as a studio space by artists Rashmi Kaleka and Ranbir Kaleka, the vision for Farm8 evolved dramatically over time. In fact, when they first set foot on this property in Arjangarh, Delhi, their initial impulse was to let it be- a rustic space with abundant greenery, chirping birds, and an intriguing assembly of columns and footings. Studio Array embarked on a unique journey to develop a way to coexist with the structures and preserve the old while embracing the new. This space transformation began in 2020, guided by a deep respect for nature and an ethos of permaculture, a concept rooted in minimal waste and ecological synergy. The entire project, encompassing flexible rooms, open galleries, a community kitchen, and more, is structured as a cluster of modules – a modernist approach to architecture that echoes the ethos of the past.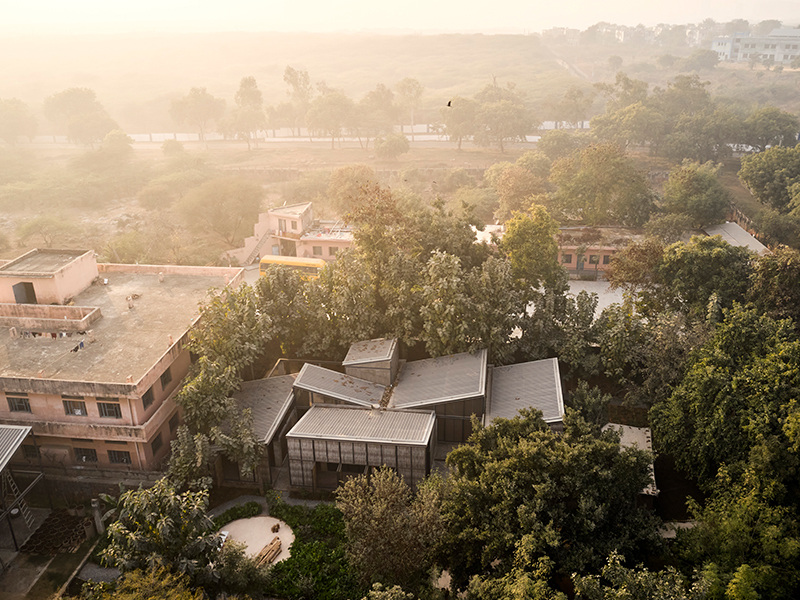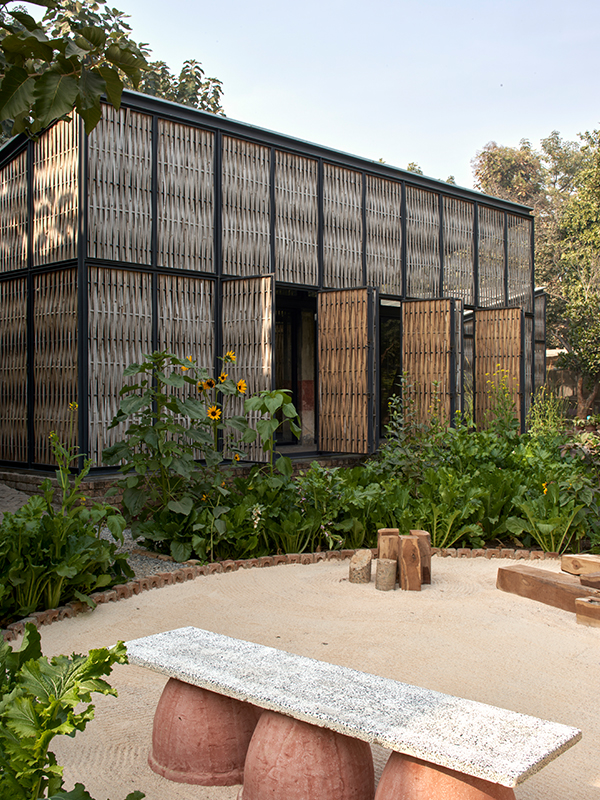 What sets Farm8 apart is its innovative approach to design, manifesting as an 'inside-out' living experience where the boundaries between indoor and outdoor spaces blur. Instead of glass, bamboo screens grace the space, and bricks are meticulously laid without concrete, inviting the growth of small flowers, weeds, and grasses between the gaps.
Farm8 is more than simply a building; it is an organism that serves as a live example of how the old and the modern may coexist together.
Also Read: Inside A Sprawling Gurugram Home That Maximises Neutrals, Natural Light, And Nifty Storage
Originating as a collective endeavour of eleven pioneers, comprising Rashmi Kaleka, Ranbir Kaleka, Vivan Sundaram, Bharti Kher, and Subodh Gupta, among others, Farm8 germinated in the early nineties, a time when the ethos of permaculture had scarcely entered the public discourse. The philosophy of permaculture means working with nature but not disturbing it using elements of nature. Rashmi Kaleka developed a keen interest in permaculture and started researching and studying for three years. With everyone's agreement, they turned the plot into a no-dig regenerative space and adopted regenerative farming and permaculture practices.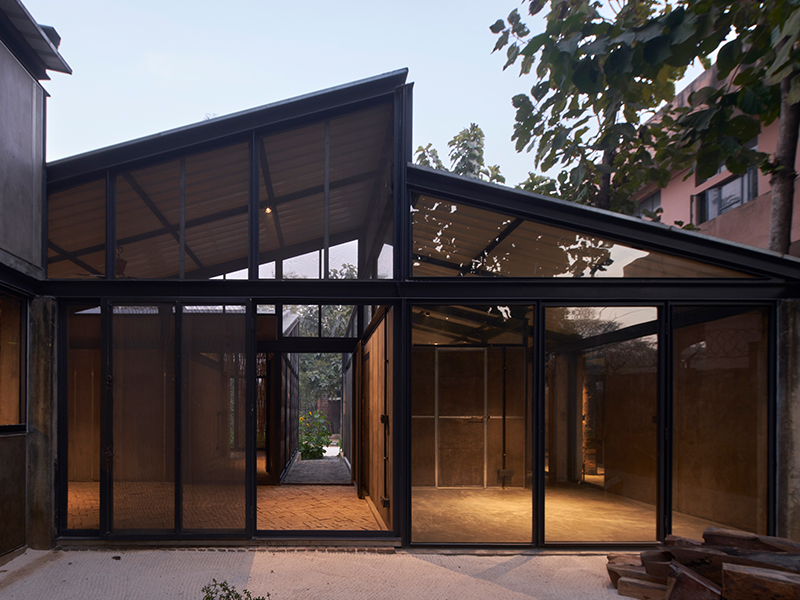 "Do you know the interesting thing about this particular form is the energy, the synergy between the members? We have never fallen out since 1989," remarks Rashmi Kaleka. "We have been together for a long time. We've seen ourselves grow, we have seen partners who passed away so the farm has become an integral part of our lives," Kaleka adds.
Also Read: This Elevated Weekend Retreat in Bamboo Encapsulates Kolkata's Rural Charm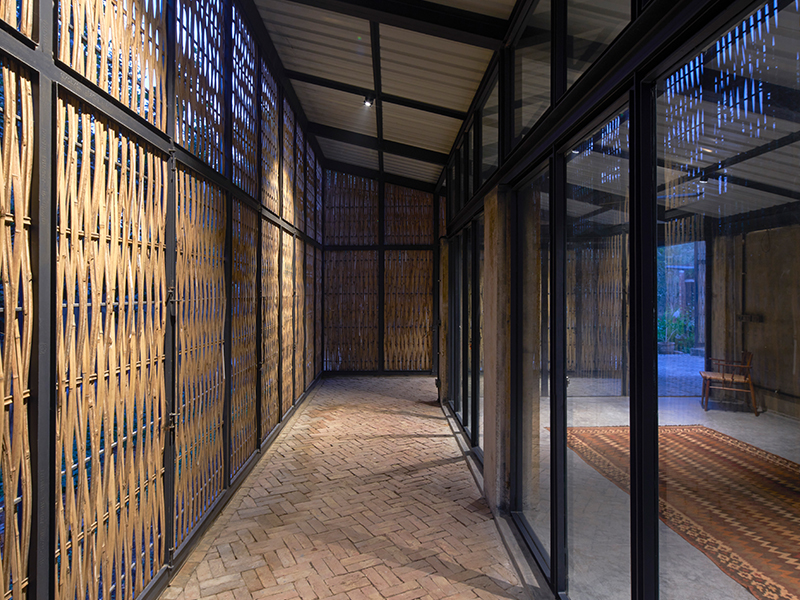 What started as a conversation about bringing out the inherent quality of spaces and briefs, rather than coercing them into contrived archetypes, transpired into a collaborative vision between the artist, Rashmi Kaleka, and Studio Array architect, Rachit Srivastava. The two came up with this concept of old and new and how the dialogue between the old and the new takes place. They wanted a certain lightness to the structure which originally came from Srivastava's first thought of not building at all., While he agrees it is a romantic idea, as well as an oxymoron to being an architect, so he decided to find a middle ground The duo consciously chose to retain the original columns of the land and construct them as separate modules. It would comprise six rooms, a large multipurpose hall or gallery, a dining area, a reception area, and a kitchen. Studio Array created a cluster, not just one building which operates like one organism.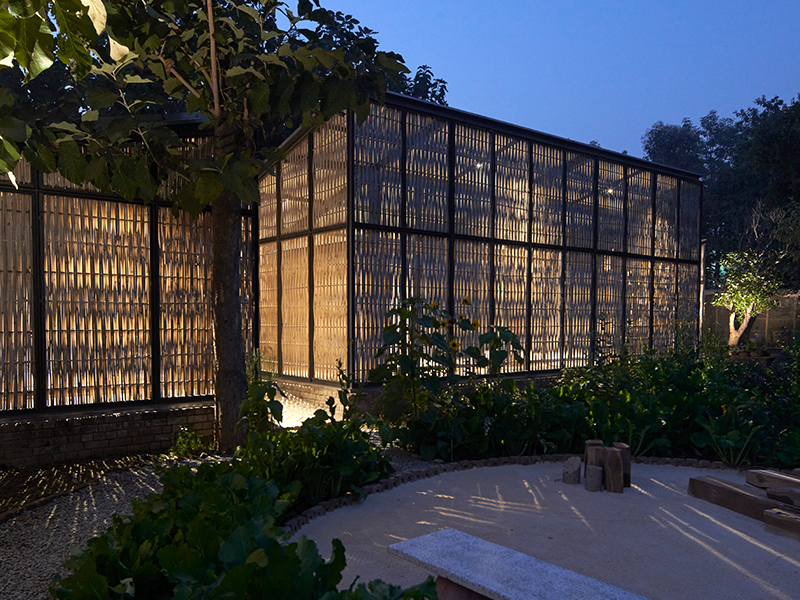 What sets Farm8 apart is its utilisation of sustainable materials and practices, engineered to cultivate a symbiotic relationship with the natural surroundings while prioritising the visitor experience. Rather than enclosing the spaces with glass or impenetrable walls, the architects introduced a transitional layer woven from bamboo screens with other natural elements. They intentionally chose not to paint or stain the bamboo. "As the bamboo ages, it changes colour. When we installed it was yellow, but now if you look at the building right out there, they've turned silver. So every year, every season, the building looks different. It's more of a feeling that we are trying to generate," mentioned Studio Array. One of the distinctive facets of the farm is the courtyard garden with a Japanese wabi-sabi ethos found in the northern part of the building. With the idea of transparency achieved through glass, the studio wanted to incorporate porosity in the structure which again accompanies the idea of the inside-outside connection. These gardens provide the idea of the diversity of open green spaces and seamless integration into the larger ecosystem.
Also Read: A Glimpse Into This Santorini-Inspired Weekend Home In Rural Pune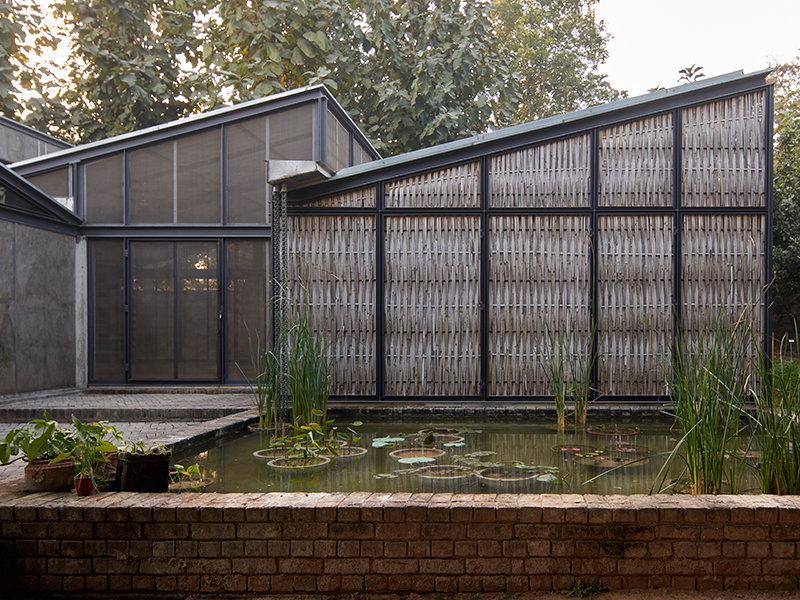 Over the years, Studio Array imagines the bamboo to be grey, creepers going over it, and the most beautiful moment would be when one cannot distinguish which parts of the structure are outside and which are inside. Rashmi Kaleka hopes to establish various creative collaborations that will arise from the interactions between visiting artists and residents of Farm8. With the support of a curator, she plans to set up modules that would purely have to do with life on the farm, and how a curatorial practice can link artists to the land.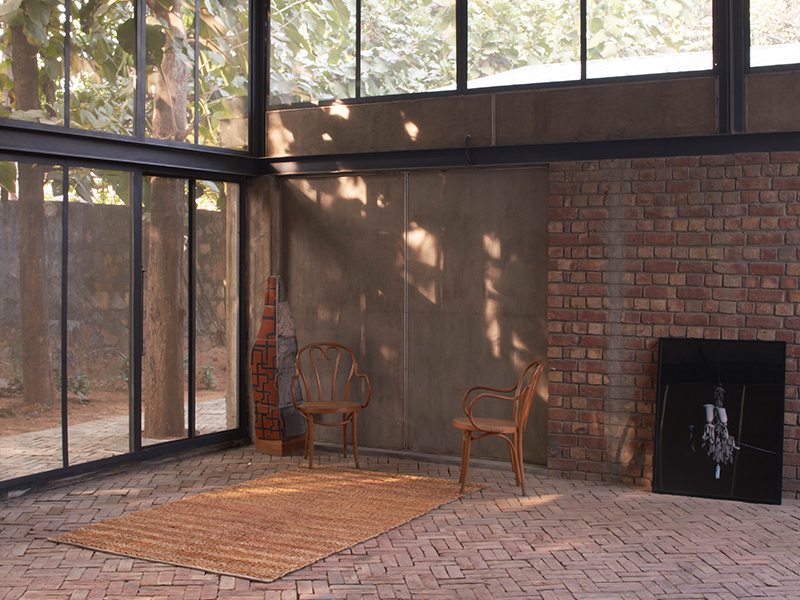 The essence of sustainability and the imperativeness of waste reduction permeates the very core of the farm. Kaleka thinks everybody must think about, not just being the victim of consumerism, but considerabout what it means for us as a species to survive. "Are artists doing enough about that? Or are they just part of the market that contributes to it? I think people need to think to develop an awareness or observe a lot more of our planet. Things are happening in the oceans. So many grasslands have disappeared. That's something art should look into."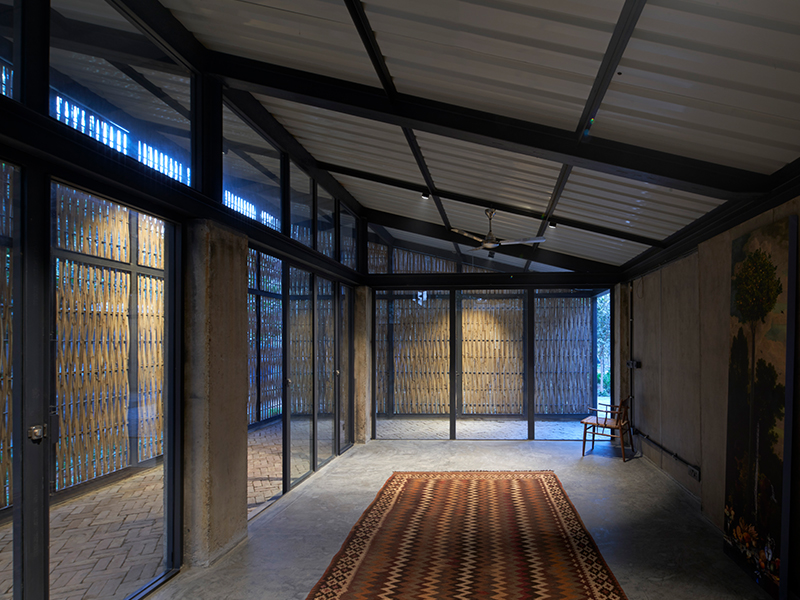 The farm, like its creators, thrives in a symbiotic relationship with the world, inspiring us to reflect on our impact on the planet and the beauty of blending tradition with innovation. Farm8, with its porous frameworks and diverse green spaces, is a beacon of sustainable design and creative collaboration, reminding us that art, in all its forms, has a vital role to play in our collective future.