This Bangalore Bar Is All At Once Whimsical, Flamboyant And Classically Cool
9

Jul

'21

7:06 pm

by

Beverly Pereira
Imagine walking through a doorway, leaving the everyday chaos of the real world behind to enter what can best be described as a scene straight out of Middle-Earth. Now there's not much to cringe over when it comes to a bar with a design inspired by Tolkien's imagined world, complete with hobbits and shires and other mystical references. This sounds about right particularly if one is throwing back a few somewhere in Europe. In India, though, we've seen a slew of themed gastropubs that more often than not come across as more clichéd than cool. We had almost resigned to the fact that the novelty of these bars ultimately wears thin, until we came across the RR Nagar outlet of 1522 The Pub in Bengaluru.
Designed by FADD Studio, the 10,000-sq-ft bar finds a sprawling home on the last two levels of a building in the upcoming suburb. The design, quaint in its allusion to the old world, conjures up imagery of Europe's dimly-lit medieval castles and their airy, sunlit glass conservatories. Yet, there's not a single tired reference in sight. What the pub's aesthetic really projects is the sophisticated yet theatrical design sensibility of the project's principal designers Farah Ahmed Mathias and Dhaval Shellugar who looked to European underground vineyards and castles for this project. "For us, the primary inspiration was Castle Ashby in England and its Romanesque details. When the client led us in the direction of creating a castle-like feel, we knew immediately that we wanted to create this space. The distinction between the open upper level and the closed lower level only reinforced our design approach," says Ahmed Mathias, co-founder of FADD Studio.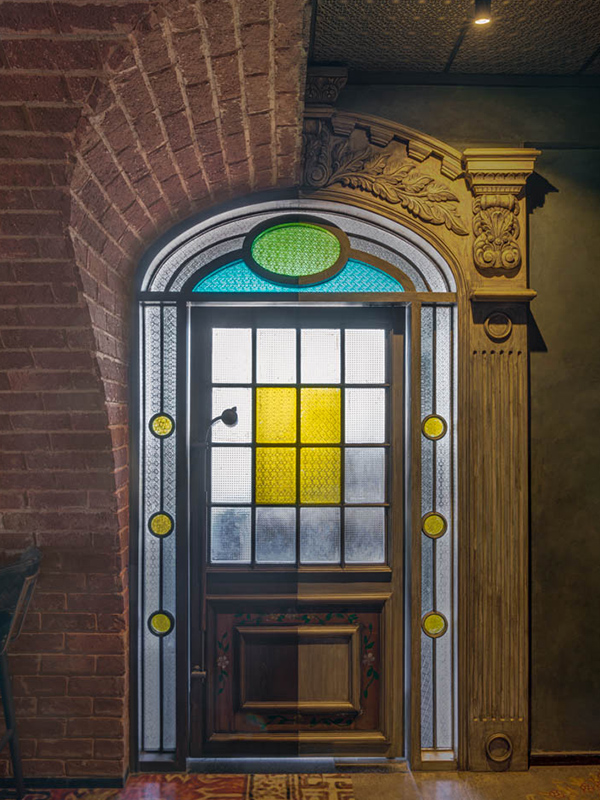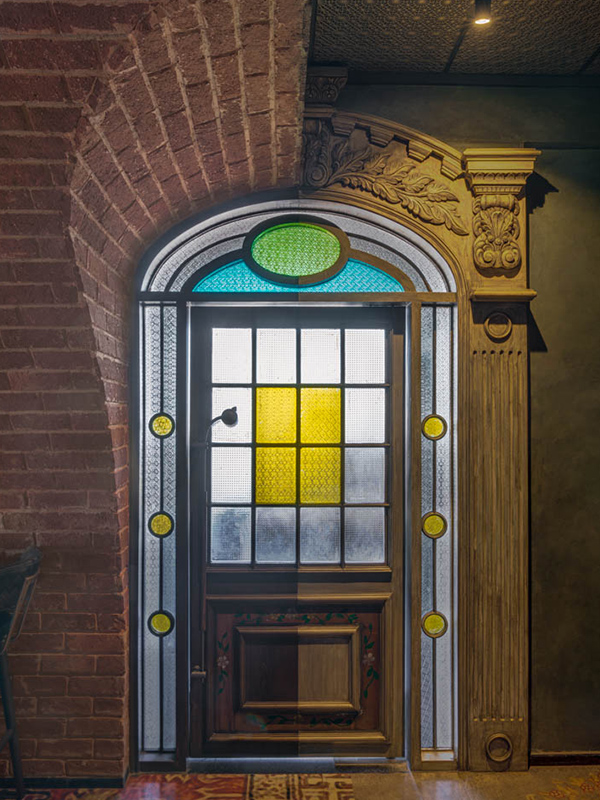 Heavy brick-clad walls dominate this space to the grand extent of giving off the impression that one could well be seated with a crystal goblet in hand in a damp old underground wine cellar solely lit by washes of warm light. "The entrance to this floor is portrayed in such a way that it appears as if a central wall between two distinct sensibilities was broken down and the designs of both preserved. A singular stain glass door amalgamates the brick curvature with the moulded architrave to create a motley yet arresting aesthetic," the designers explain.
Soaring arches make an appearance in many of the projects led by Ahmed Mathias and Shellugar. At 1522 The Pub, too, we see scooped out arch-shaped niches and even a vaulted ceiling — both elements strongly recall the Gothic architecture of cathedrals and lofty structures of yonder. "We don't have a signature style per say. We take direction from the client. When we look at certain elements, there are things we tend to get drawn to — elements that have a certain timeless appeal and that have character and history. Dhaval and I are really drawn to arches because they stand for design elements that reflect the true sense of classical architecture. They can completely change the look and feel of a place in the same way that marble flooring automatically changes the look of an apartment. Similarly, from a design perspective, the entire connotation changes when you have arches at home or in a restaurant," she says.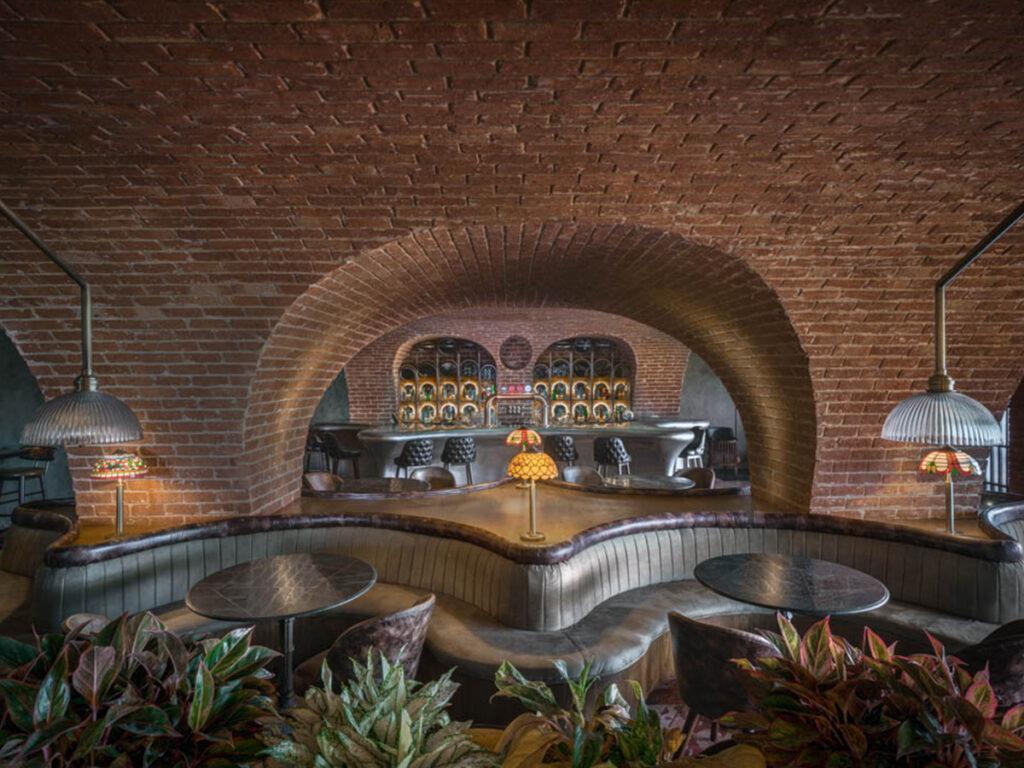 Venetian plaster in olive, plush velvet wrap-around seating, leather-upholstered bar stools, and the generous use of wood add to the old-world charm and warmth of the pub. In the midst of it all, a bar, irregularly shaped like an amoeba, appears to float around the perimeter. Its presence lends a futuristic touch to the otherwise classical sensibility that prevails. The furniture was sourced from Kernig Kraft in Jodhpur, and Bangalore-based brands like Making Concepts and Studio SFA, while the soft furnishings, accessories, and planters came in from Petals and Purple Turtles.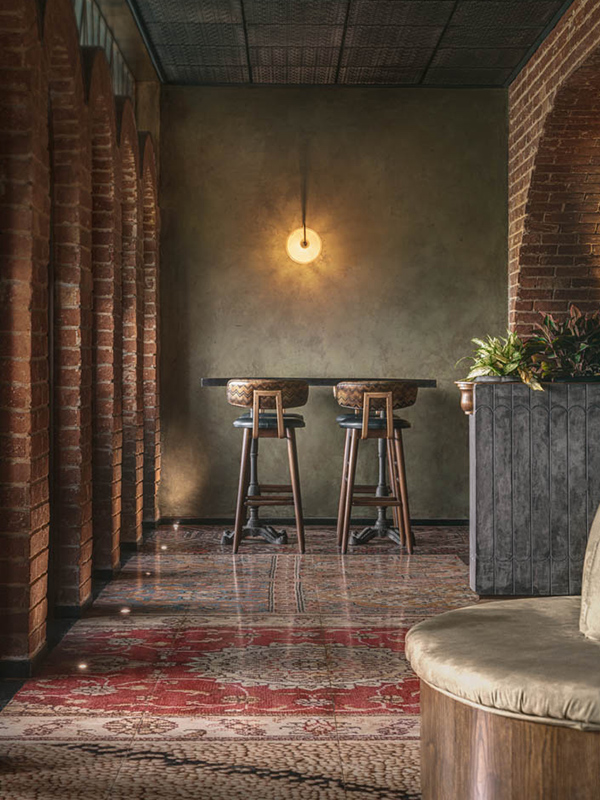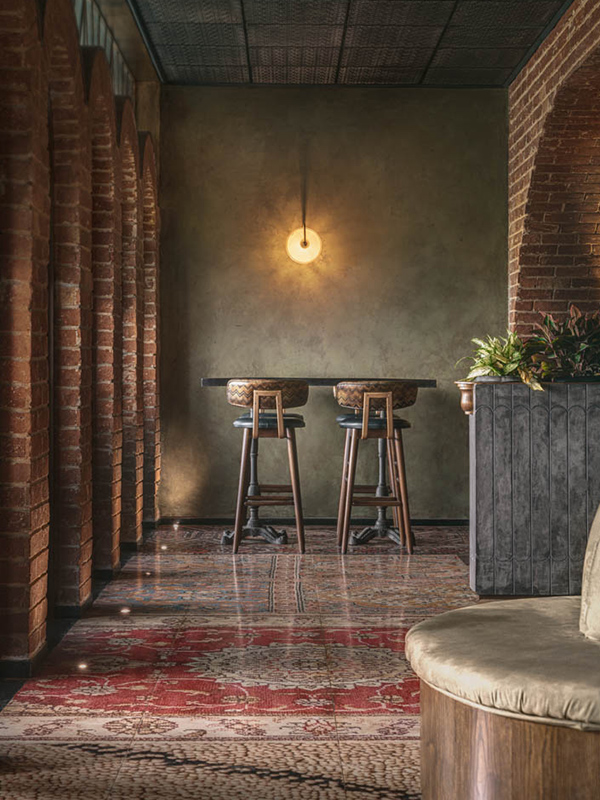 Walking across this level feels like treading upon stacks of antique rugs, but this is just an illusion — the designers painstakingly customised and printed on tiles artwork based on images of real rugs. The floor tiles were sourced from Home Décor (Mumbai), Nustar Tiles (Bengaluru), Keramos and Ram Ceramics. The process, says Ahmed Mathias, proved to be an interesting challenge that turned out exactly the way they had envisioned it. "We were inspired by aerial images of the Grand Bazaar in Istanbul and its rug shops where rugs are stacked one on top of the other. We would have liked to have used real rugs, but it wasn't conducive to this F&B space. So we needed to make the flooring look just like a stack of rugs. We worked with high-resolution imagery of rugs to create the artwork and then printed it on tiles. Then came the challenge of labelling so that each tile fitted in with the whole like a jigsaw puzzle to form the complete picture."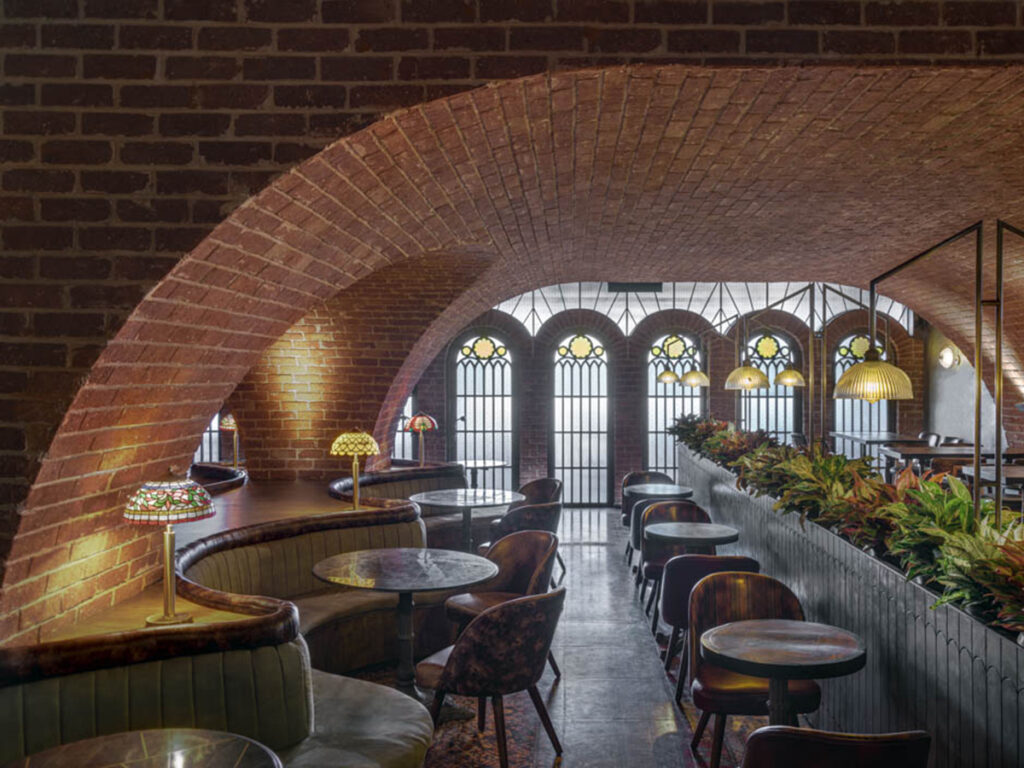 The classical design carries forth to the second level, where large arches mimic the stained-glass windows of cathedrals, bringing in ample light. A long distressed wooden bar fitted with oven-baked green tiles is set against a brick wall with wrought iron stairs leading up to a Juliette balcony. Intended to look like the façade of an old European brick home well preserved over time, the backdrop to the bar is rather charming coupled with the chic introduction of giant crystal chandeliers. All decorative lights were sourced from the Hesperus (Mumbai) and Jainsons Emporio (Delhi), while the architectural lights came in from Luminac, Bengaluru.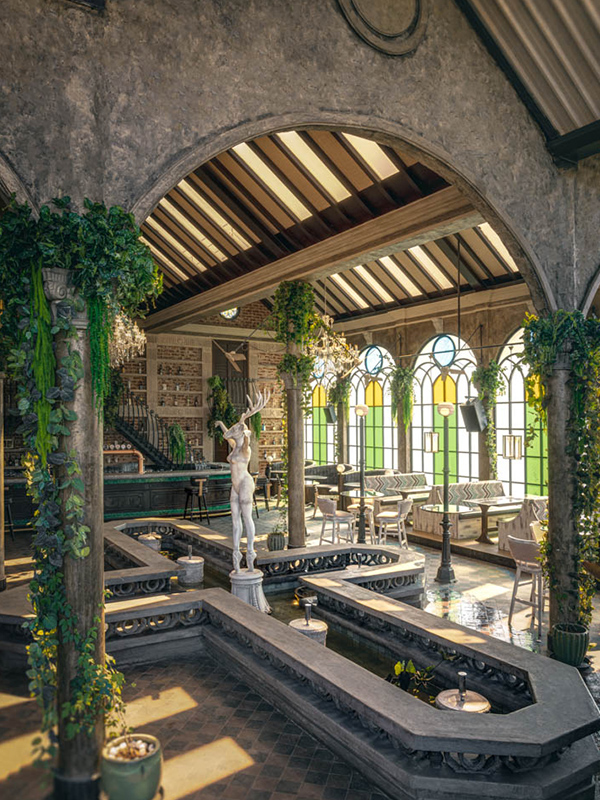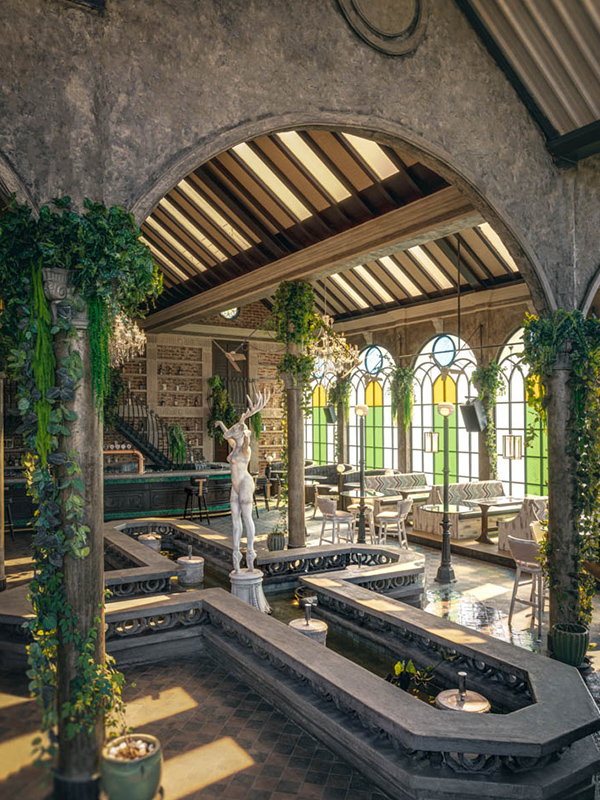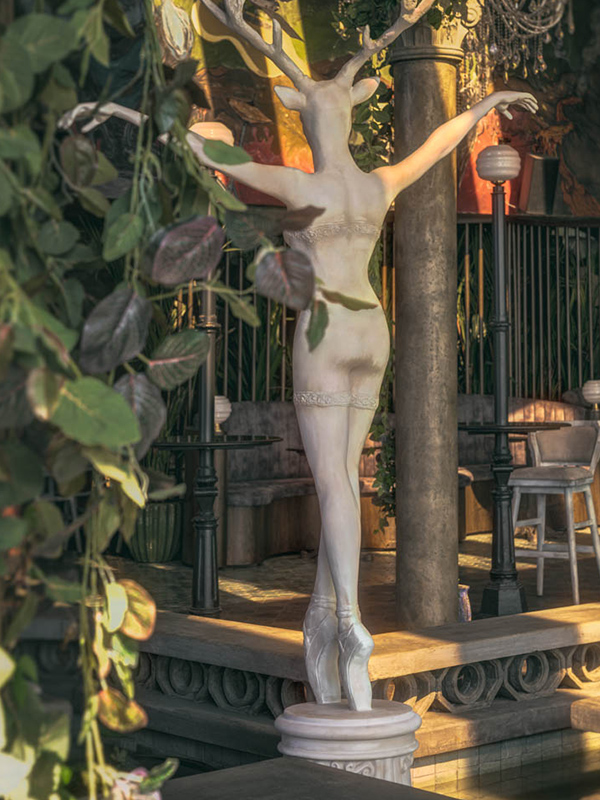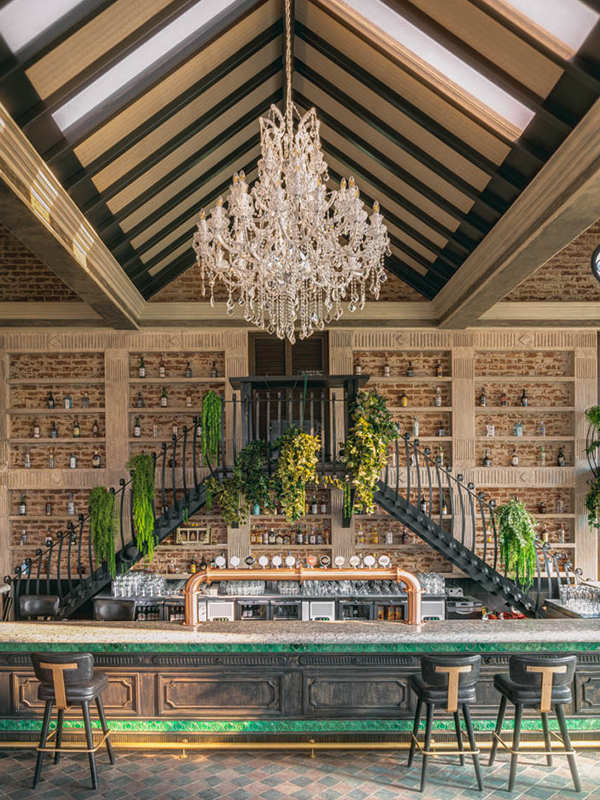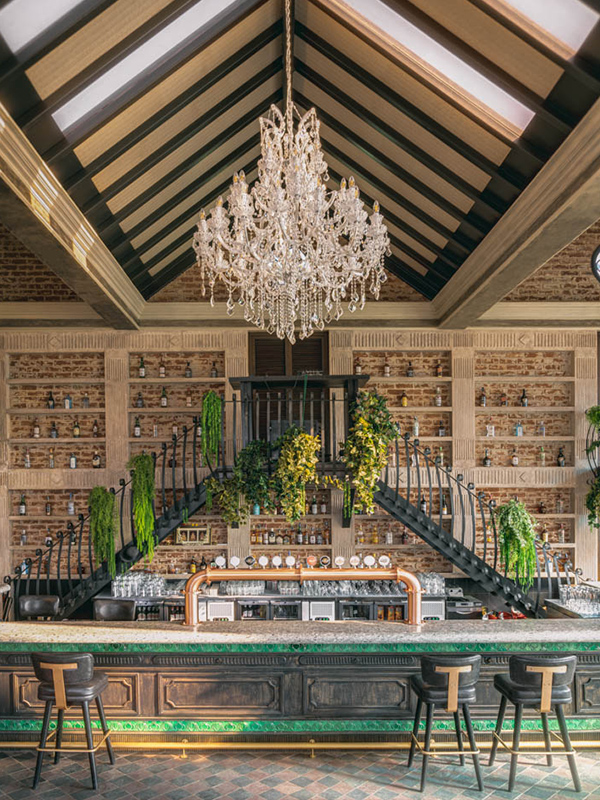 The mercurial sensibility of the designers at FADD Studio pervades on the partially shaded rooftop that's high on volume and scale. At times, it's easy to be transported back to the airy greenhouses or conservatories of European castles thanks to the copious amounts of natural light filtering in through windows and skylights, the abundant greenery, and concrete pillars with plant vines gently creeping down the moulded capital columns. At other times, glancing at the central water pool whimsied up with a centaur ballerina — a bespoke piece crafted by Mandar Arts in Mumbai — it can feel like one is seated on the sprawling lawns of a castle.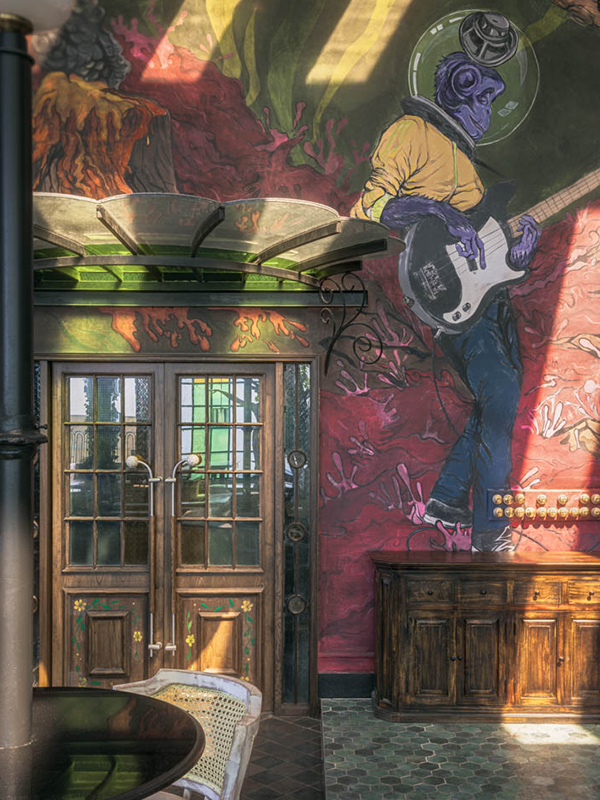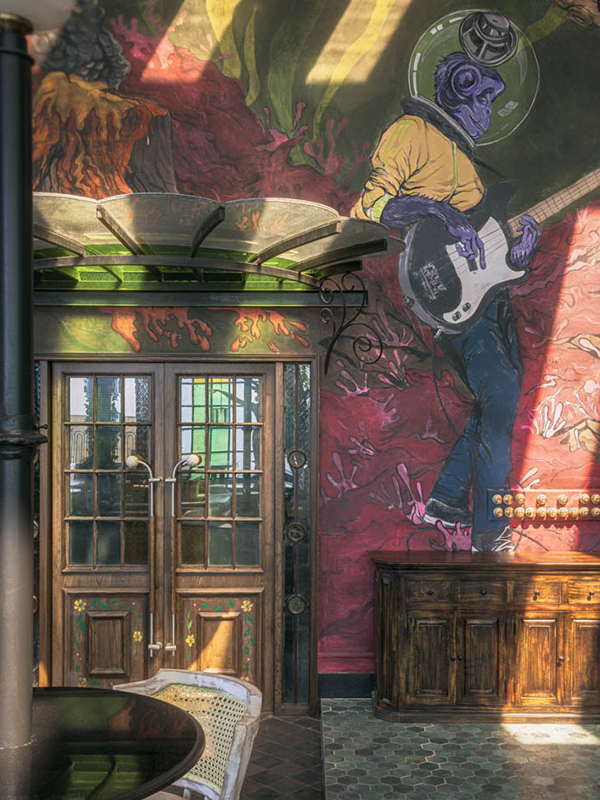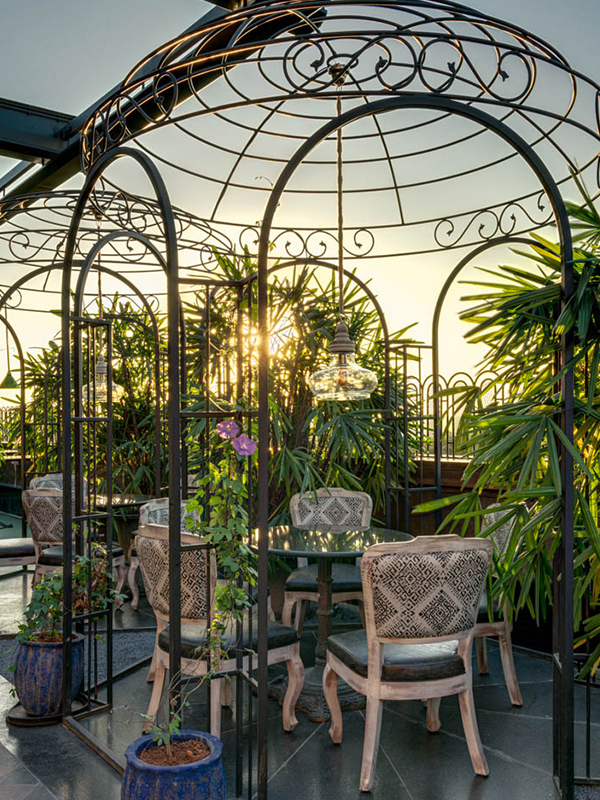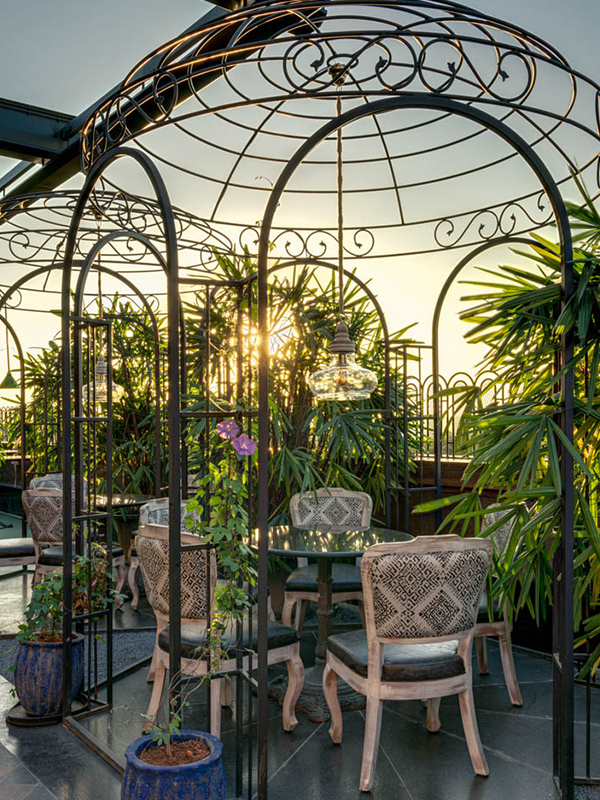 Further along, a rich monochromatic room of green beckons. Stepping away from the bright conservatory-style space, the room with all-green tiles and furniture serves as a break-out area and space for larger groups. The quaint and magical charm of this level is not lost even as one steps into the open-air section. Here, four metal pergolas, open to the sky, lend the impression of an old-world tea room and are perfect for private and intimate gatherings.
1522 The Pub can be many things to different people — a whimsical playground for adults, a flamboyant space for the brave-hearts, or an intoxicating speakeasy for the stylish set. Either way, its larger-than-life and intricately detailed design makes it the perfect escape from the mundane.