This International School In Kolkata Boasts A Half-Olympic-Size Swimming Pool And A 1100-Sq-Ft Jungle-Themed Library
20

Aug

'23

6:53 pm

by

Vruti Desai
Setting new benchmarks with state-of-the-art infrastructure and facilities across a sprawling campus, RP Sanjiv Goenka Group inaugurates its avant-garde educational institute. Inspired by Jenga – a wooden block game to improve manual dexterity coordination, and balance – Serie Architects, playfully stacked these giant blocks to create a magnificent tower. The RP Goenka International School (RPGIS) strives to accelerate the best in international education while cherishing the deep-rooted Indian culture and ethics. Redefining the fabric of the Alipore area in Kolkata, this academic centre shares a common ethos of student-centred learning with a fresh perspective focusing on active and inquiry-based learning. Shashwat and Shivika Goenka, Founders of RP Sanjiv Goenka Group, envision enhancing knowledge through the responsible application of digital technologies beyond traditional subject boundaries.
"Fundamental to our work is a highly refined approach to design with an emphasis on sustainability, rigorous and intelligent spatial planning, and the innovative use of materials", state the founders of Serie Architects.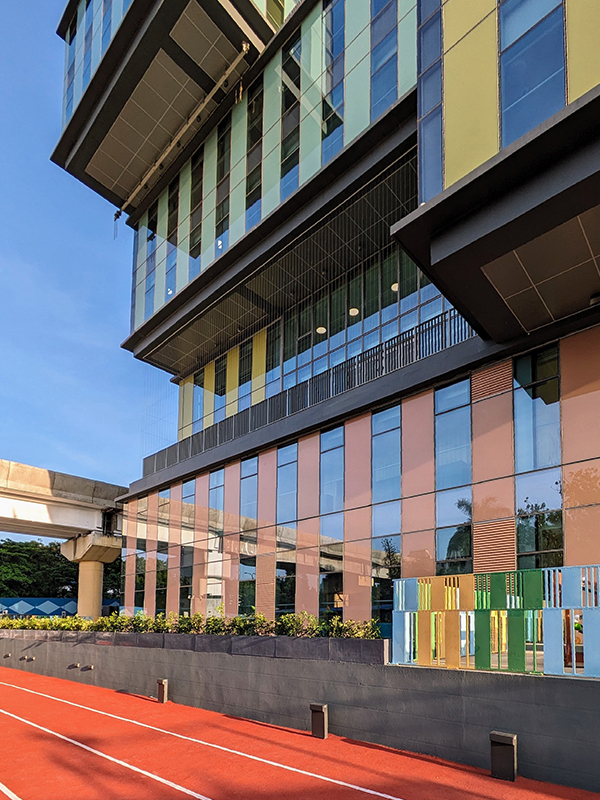 Given its location in the prime residential area and the limited land size, RPGIS is a high-rise school, unlike the traditional schools where the circulation and flow of spaces are horizontal. Through advances in design and construction technology, and the fondness for expressive forms, this configuration of 3D massing allowed Serie Architects to provide unique solutions catering to the requirements for all sections of the school with comfort, highlighting vertical movement as the critical design challenge as well as the resolution of the project.
Accentuating the relationship between architecture and interior design as symbiotic, the pull and push assembly of the Jenga blocks compose compelling proportions with double height volumes that allow the varying quality of spaces. Visually highlighting each block of the façade massing in pastel shades, the 10-story building appears as a set of five blocks stacked on each other, optimising the use of natural light and ventilation.
"The school has a very soothing, pastel colour palette, making it a very friendly, warm, colourful space for young minds to enjoy and thrive in".
"The architectural design of RPGIS is a milestone for us in our quest for a future-oriented school that integrates well within the dense urban fabric of South Asian cities and yet exceeds all the facilities that a traditional low-rise school of the 20th century offers. We are very proud of the outcome, which involved meticulous planning and careful execution over the past four years", says Ar. Dharmesh Thakker, Senior Associate of Serie Architects.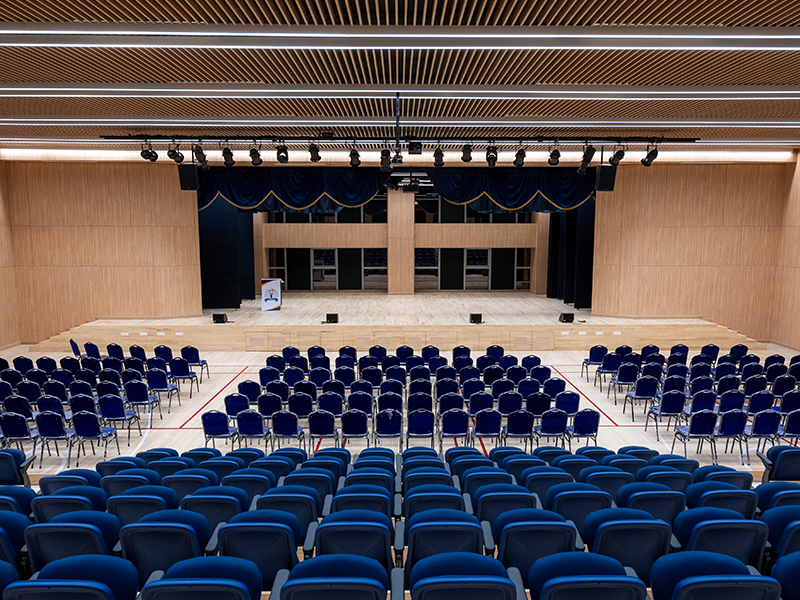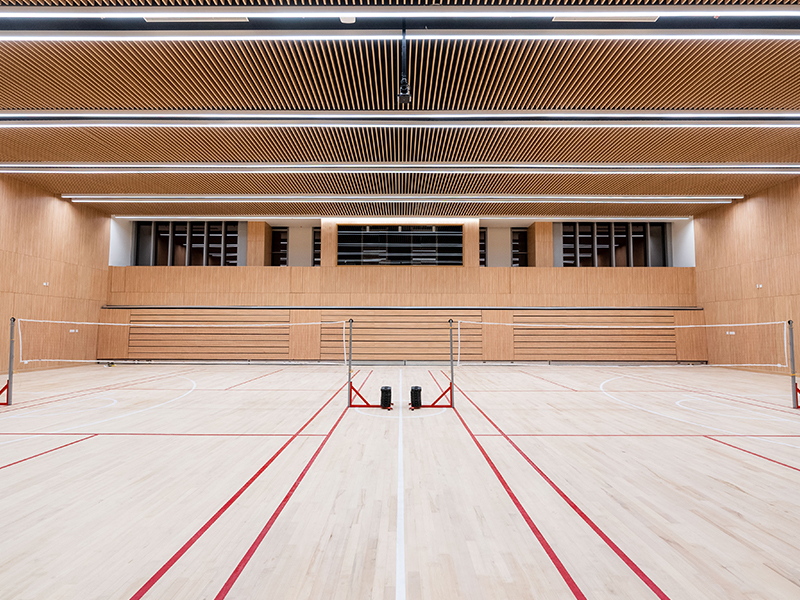 The school comprises an exciting mix of spaces, featuring a dedicated stretch of 17,000 square feet of indoor sports facilities, 1100 sq. ft jungle-themed PYP library, a half-Olympic-size swimming pool, a sizable indoor multipurpose hall, outdoor running tracks, and much more.
Serie Architects' approach to accommodate all large-format requirements of the IB School exposed the arrangement of non-conventional structural systems, ribbed slabs, and modular structural grids for the classrooms to adapt to dynamic strengths. With a four-story atrium space, multiple sky terraces, varying degrees of creative breakout areas, and eight-foot-tall glass windows in all spaces for ample daylight, RPGIS exhibits conscientious planning and introspective designing.
"Tailoring education to every student's learning capability, RPGIS is committed to inclusivity, providing dedicated needs spaces for a diverse learning experience", states Goenka Group.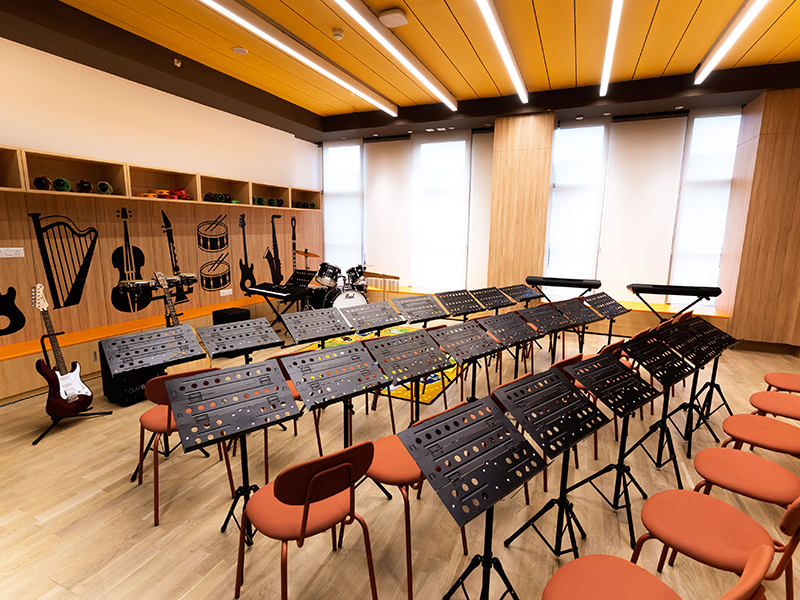 Technological advancements stimulate the importance of pushing ahead with the dynamic time and easing processes with the help of automation. Serie Architects' design focus complements an inventive approach to technology and innovation. The high-tech advancements of the school, precisely designed to meet the functional requirements of each age group and create a distinct identity for each floor is to be taken note of. The robotics studio, innovators' lab, black box room with audio-visual facilities for enhanced performance theatres, separate music rooms, dimmable artificial lights, and colourful sound absorption panels in the smart classroom dictate some of the striking features of RPGIS.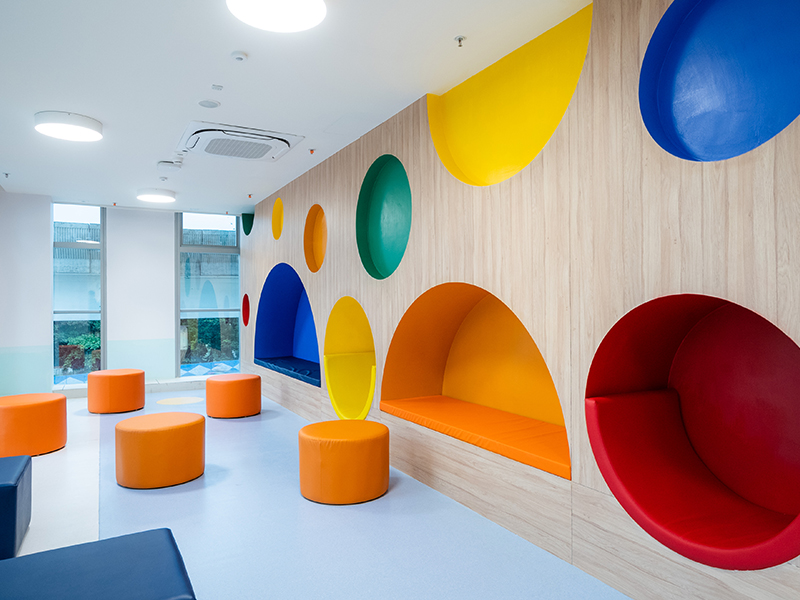 Apart from being a diverse and fully equipped structure, RPGIS is aesthetically well-curated to enhance the students' experience by providing age-appropriate themed spaces through colours, materials and texture. Using vibrant bright décor, wall paint and patterns provides a visual stimulus to young minds, whereas subtle shades complement the mature spaces for older students. The Institute showcases various styles and finishes, some crafted in-house by the team, while other furniture pieces are sourced from multiple locations nationwide. Focusing on the expertise of each supplier in their respective fields, delivering quality décor for the students was the driving force behind the entire approach. Like the game of Jenga, achieving balance and choosing just the material enhances the cognitive performance and durability of the structure. The marble-finished common spaces are elegant and durable; vinyl flooring for grip and safety, acoustic boards, and perforated WPC panels (Wood Plastic Composite) help absorb excessive sound and provide a friendly environment for activity areas.
"The team was constantly engaged in making our buildings more sustainable", Serie Architects.
RPGIS showcases deliberate efforts of being mindful of designing our built environment by incorporating solar roofs to generate energy, water filtration plants, and centralised waste segregation for the entire institute.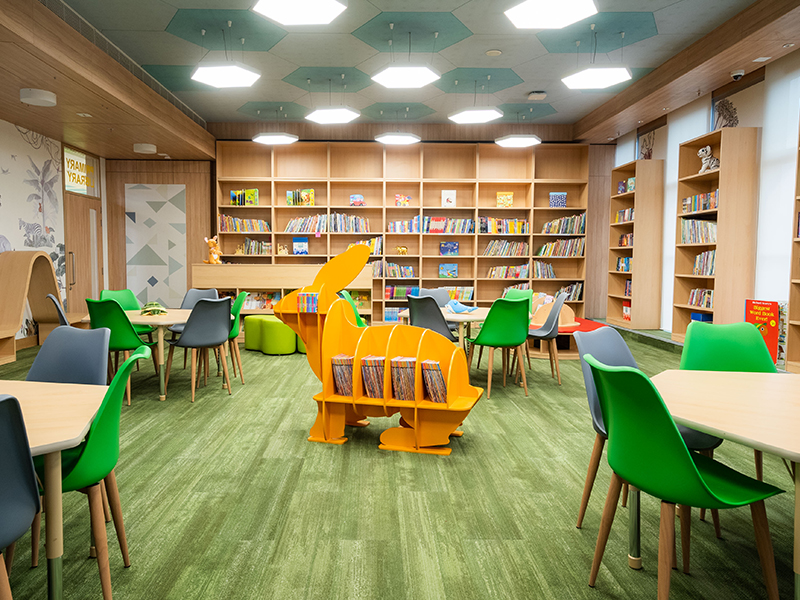 Also Read: https://www.designpataki.com/restoring-a-mumbai-icon-how-the-david-sassoon-library-regained-its-former-splendour/