This Mumbai Abode Weaves The Contemporary With A Dash Of Luxury
17

Mar

'22

10:08 am

by

Nitika Choraria
Nestled in the heart of Mumbai, this 5,000-square-feet duplex designed by Hiral Jobalia Studio and styled by Samir Wadekar is a feast to the eyes. Home to a young family of four with two children and penchant for entertaining, this space is modern yet effectively multifunctional.
Enjoying a spacious plan spread over two levels, "this project involved creating a single cohesive living experience out ​​of two 4-BHK units stacked atop each other," says Hiral Jobalia, Principal Architect. The lower level houses the common spaces featuring the formal and informal living, kitchen and dining area, entertainment room, powder room, puja and other ancillary spaces. The upper level comprises the private areas including the master bedroom and both the children's bedrooms.
With an objective of maximizing space while minimizing wastage – sleek fixtures and plush materials paired with vibrant art pieces by – Brinda Miller, Baiju Parthan and K.K. Raghava – make up this stylish home to meet the family's brief. "The clients had a clear vision of the home they wanted. Keeping in mind that no extra space was wasted this apartment was designed with the intention to bring in rooms that would make the entire abode feel more wholesome" says Jobalia. Focusing on intricate detailing, art and innovative utilization of materials this house upholds the personalities of the occupants and well establishes a sense of upscale chic. "However, the biggest structural challenge was to design the staircase of this duplex residence in just the right amount of space" she adds.
Upon stepping into this home, one is welcomed to a soothing aura with a mélange of a warm and cool color palette that takes over the space complemented by varied materials of – fluted timber, metal panels, marble, satin and dyed veneer. Warm wood and metal beautifully encapsulate the first level of the apartment that has a touch of ultra-modern elegance. As one enters the house, a visually arresting metal screen rendering a sense of privacy adorns the formal living area. "This screen is inspired by the work of visionary architect Carlo Scarpa and we went on to custom design it in steel and finished it with a satin metallic paint" says Jobalia. Further adding to this undeniably stunning space is a – Minotti sofa, Poltrona Frau armchair, Giorgetti center table, custom-designed metal console with wooden drawers, Hands Rug and floor lamp from Rakumba, Australia.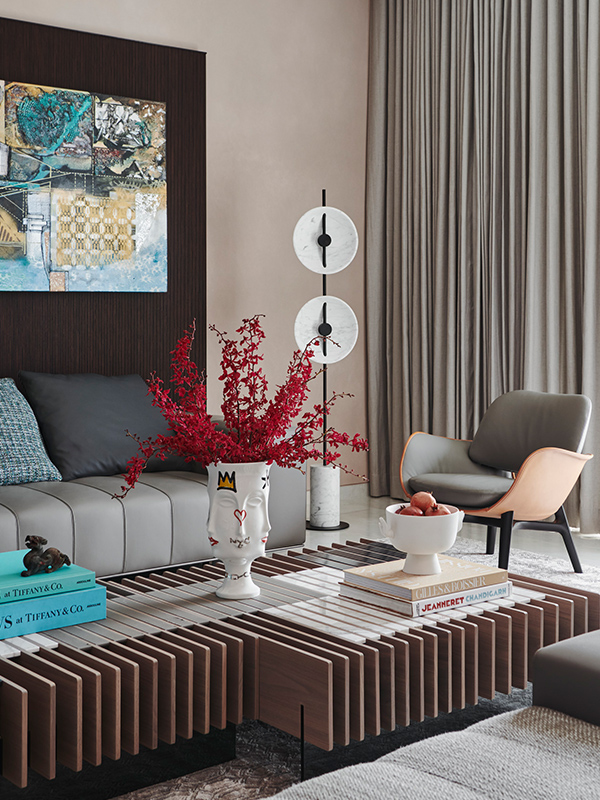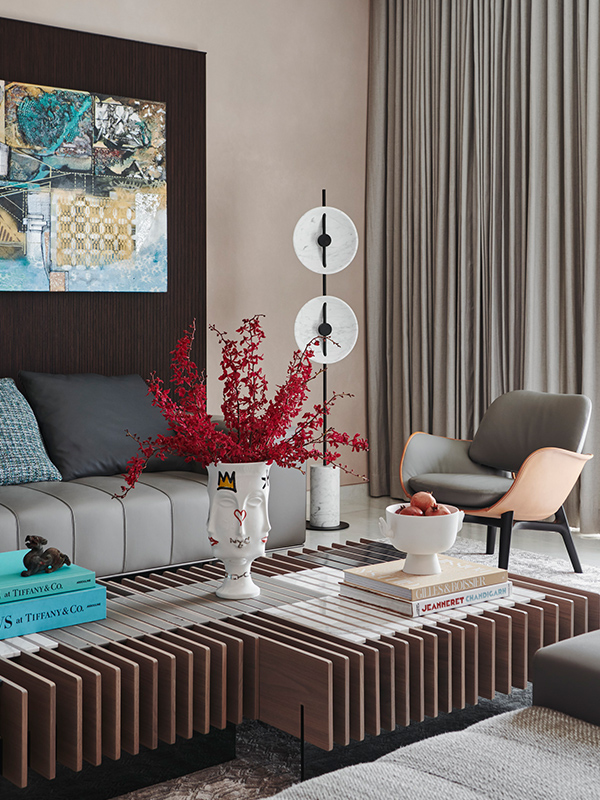 Walking into the informal living area, an eye-catching and massive Roll & Hill pendant light instantly draws one's attention along with a custom-designed bookshelf, Giorgetti sofa and Vissionairre armchair. In the same space – the dining area with a Henge table, Minotti chairs and Rimadesio sideboard effortlessly blends in with the muted soft-hued composure of this home. Fabric paneling as a backdrop embellished with dyed veneer creates a refreshing ambience.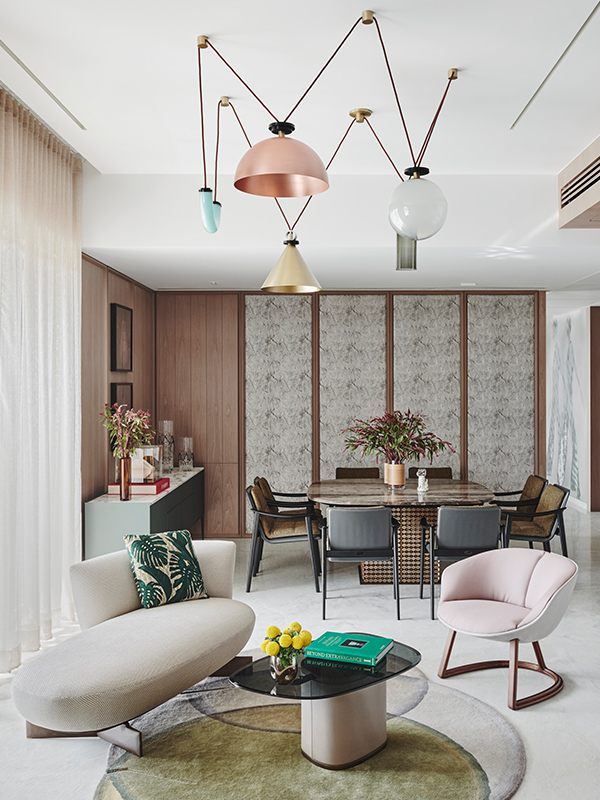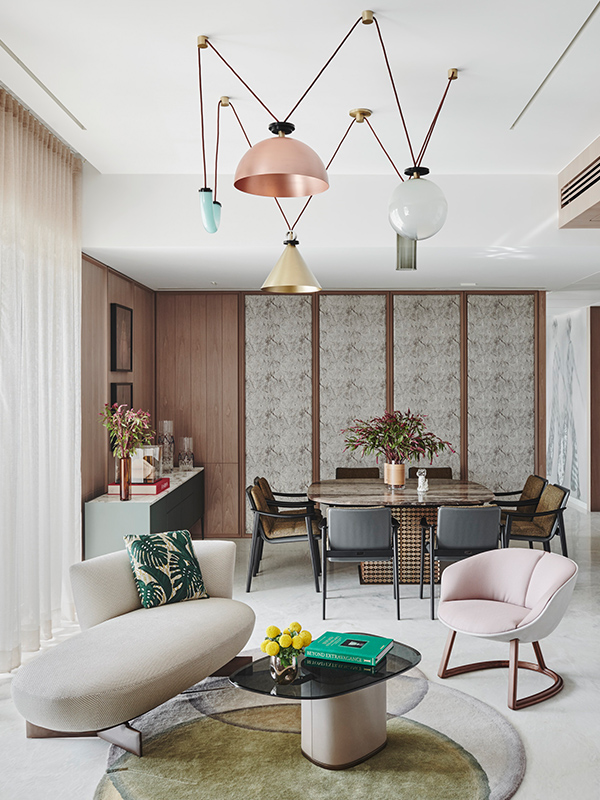 The first level harbors an entertainment area as well featuring a unique mosaic floor – a combination of marble and iridescent tiles – from SICIS. A Mario Bellini Sofa by B&B Italia, tables from Decastelli and custom-designed media unit further add character to this eclectic space comprising a cool color theme of grays with textured walls. This area is additionally divided by glass sliding doors which separates it from the staircase.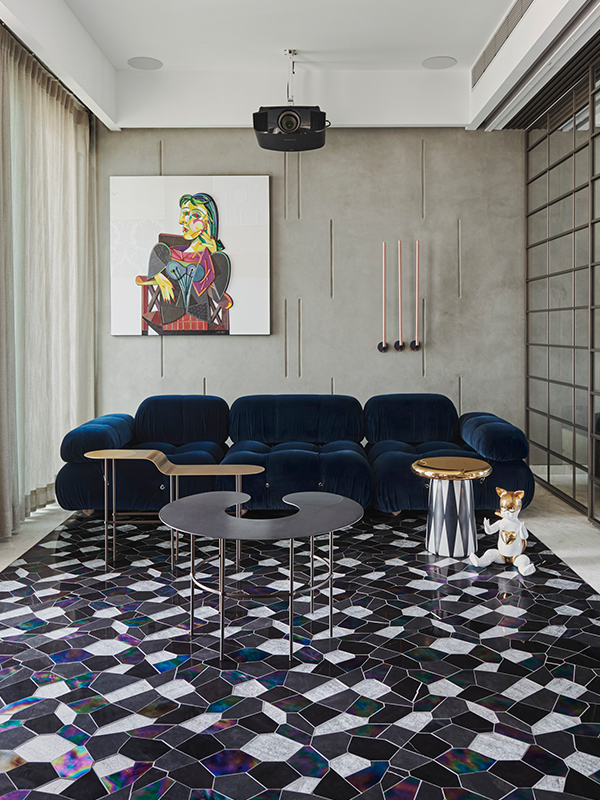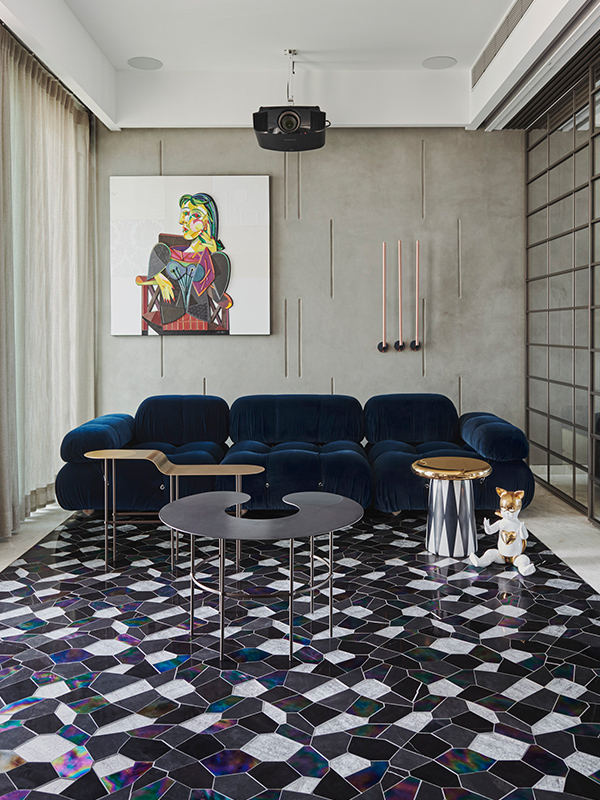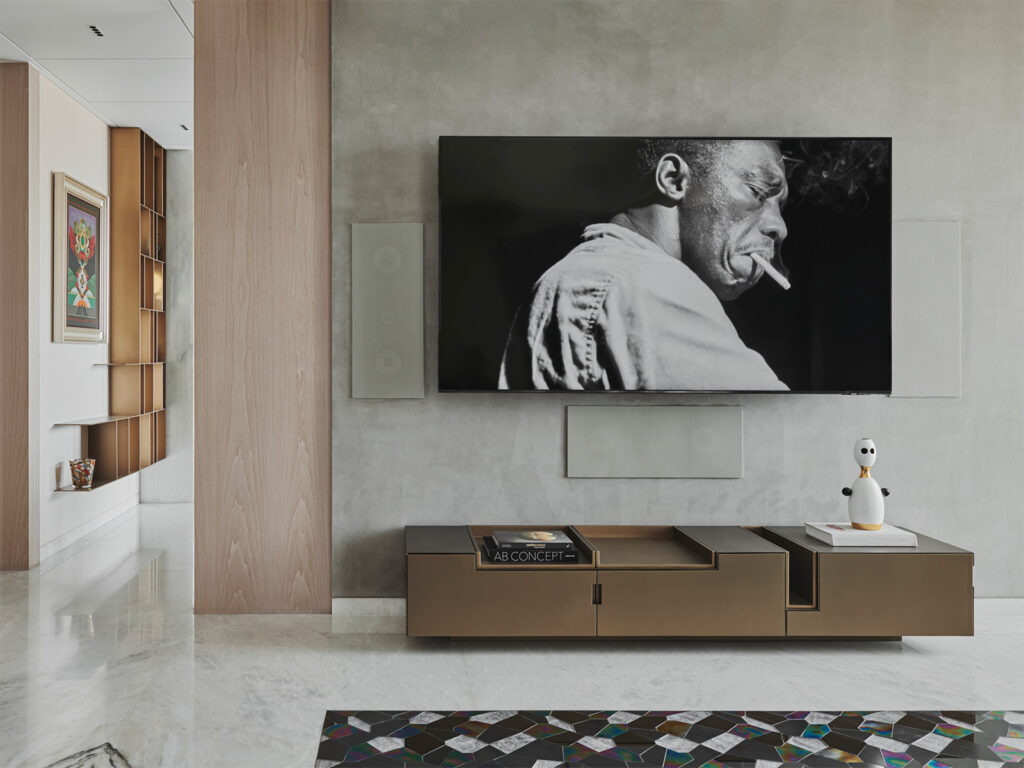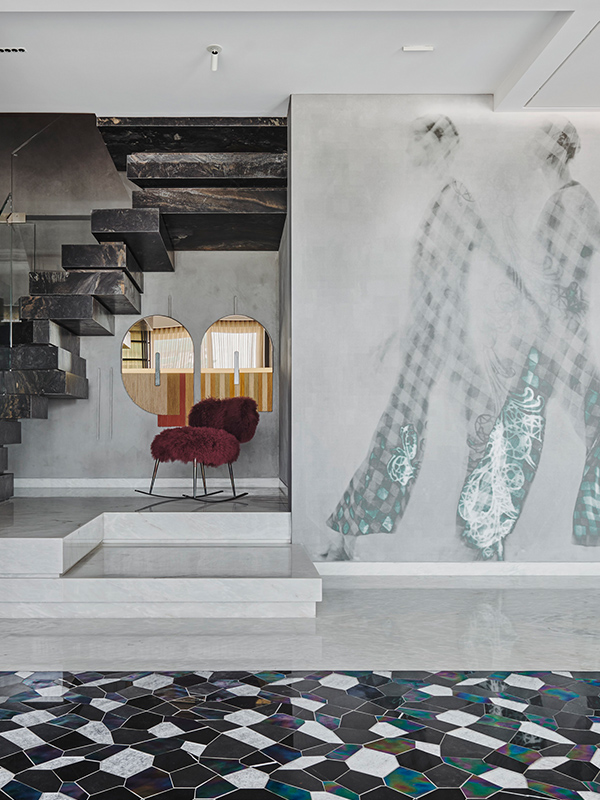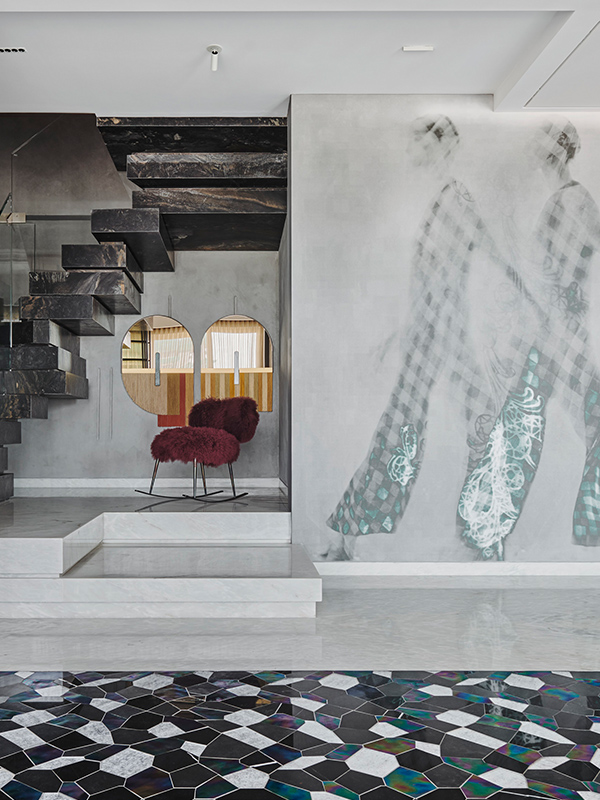 The powder room on this floor features a harmonious interplay of Lemurian Quartz & Sicis Mosaic.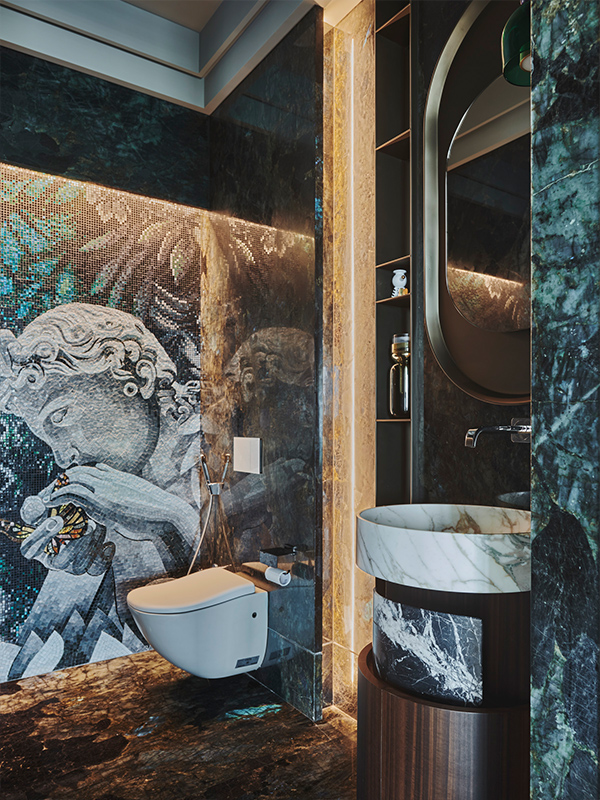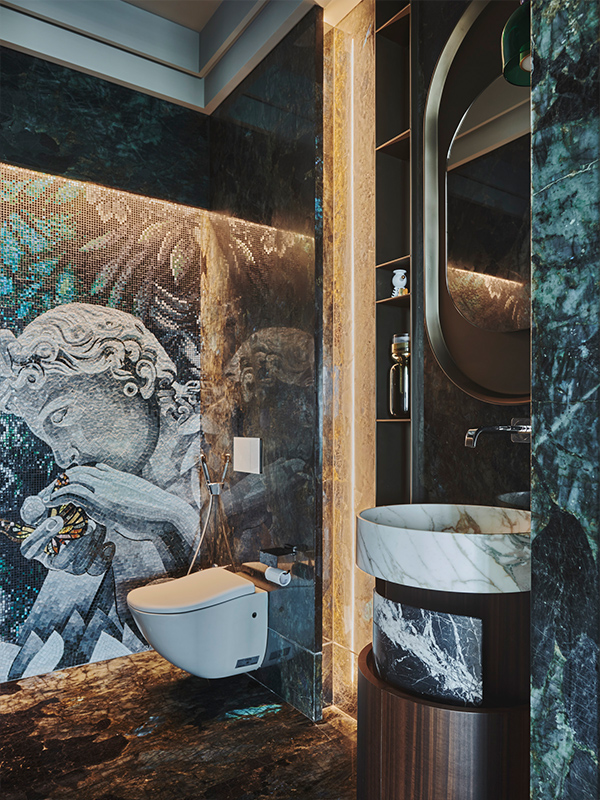 Going up to the second level of this apartment – the master bedroom comprises a color scheme of gray and white. Textured walls with ribbed concrete panels from LCDA Paris set the tone. A lounge seating space with a small study desk from Baxter Italy accompanied by a compact library shapes the utilitarian elements of this area. Covelano White marble and a dark exotic rugged stone with lights above the vanity from Bocci take over the master bathroom.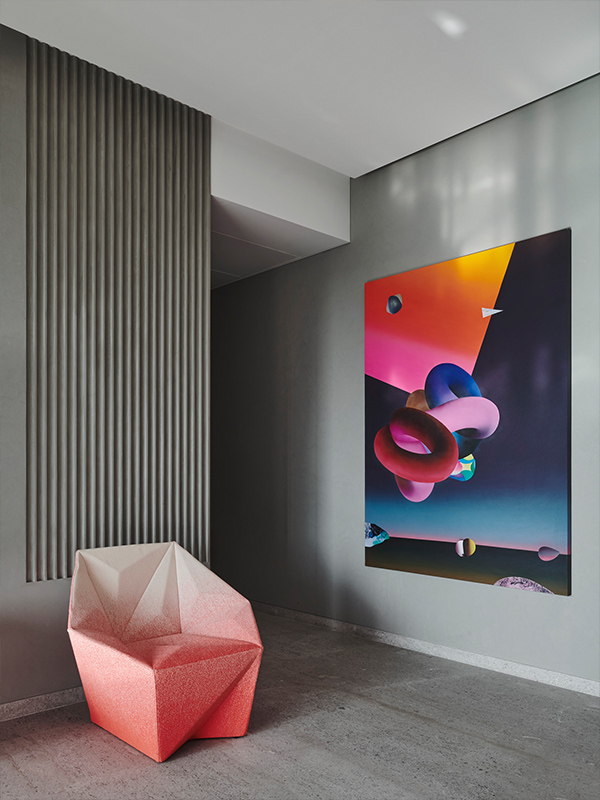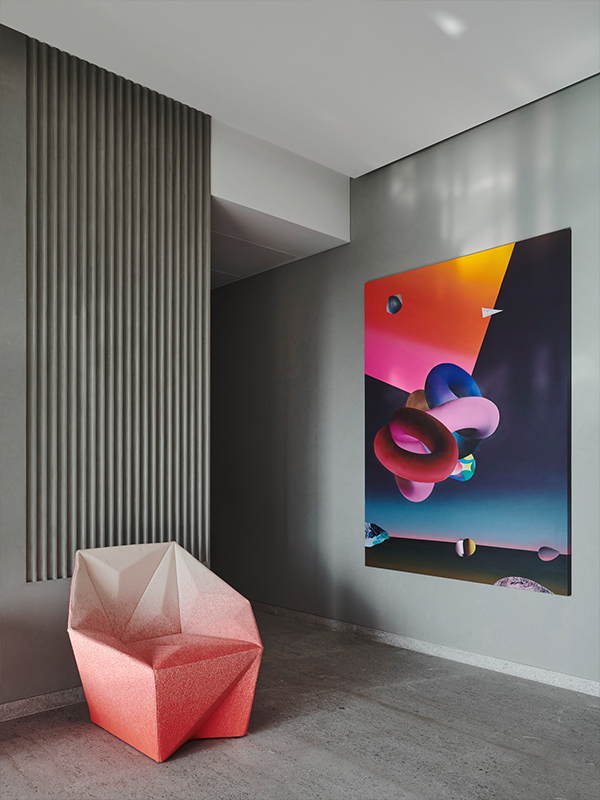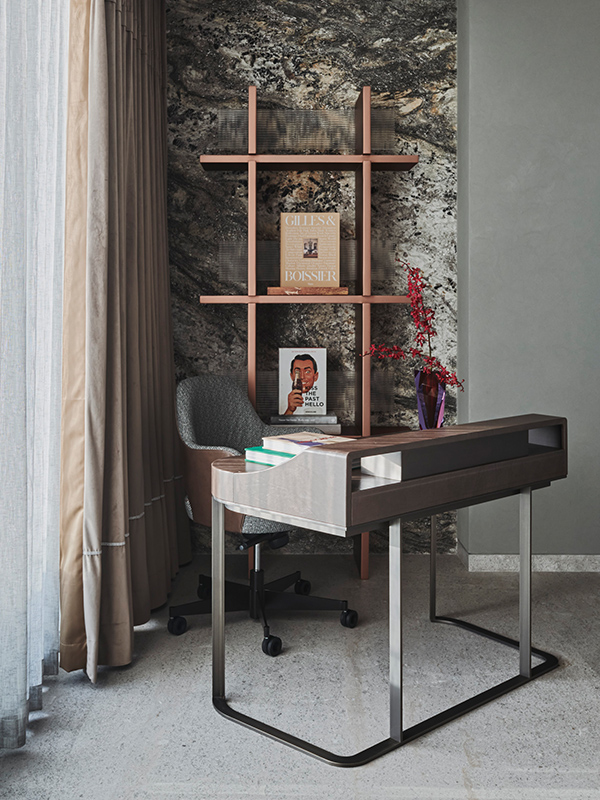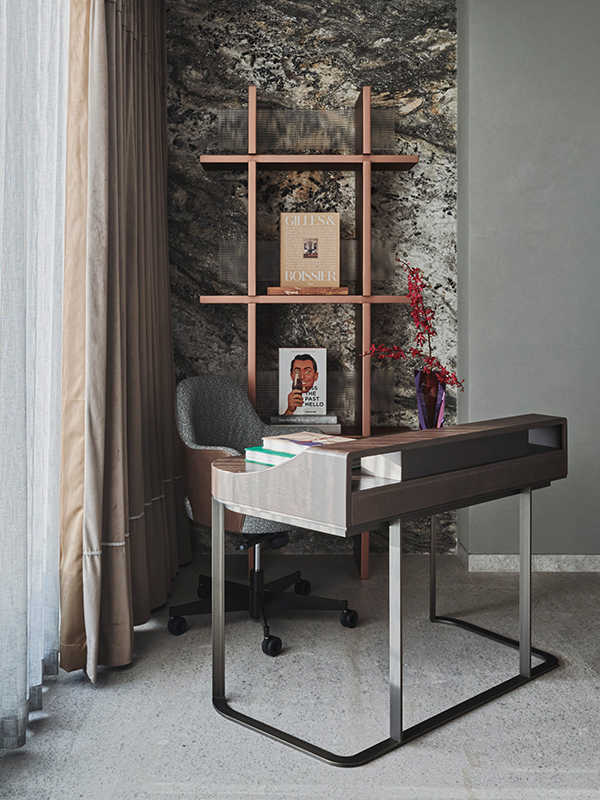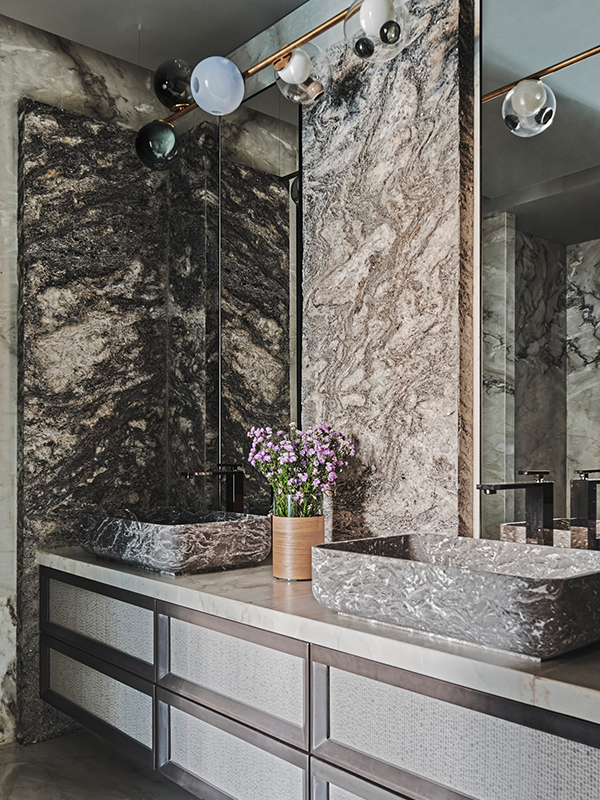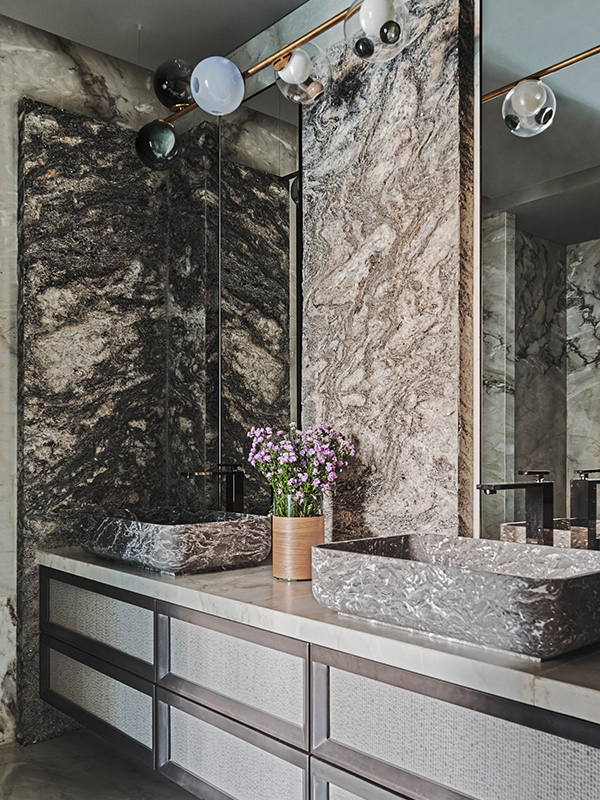 Characteristics of the son and daughter brilliantly comes alive through their meticulously designed bedrooms. The son's bedroom features geometrical shelving boxes above the custom-designed study desk to keep the cheerfulness consistently alive in the space along with a bathroom comprising Panda White marble and a Wall&Deco wallcovering.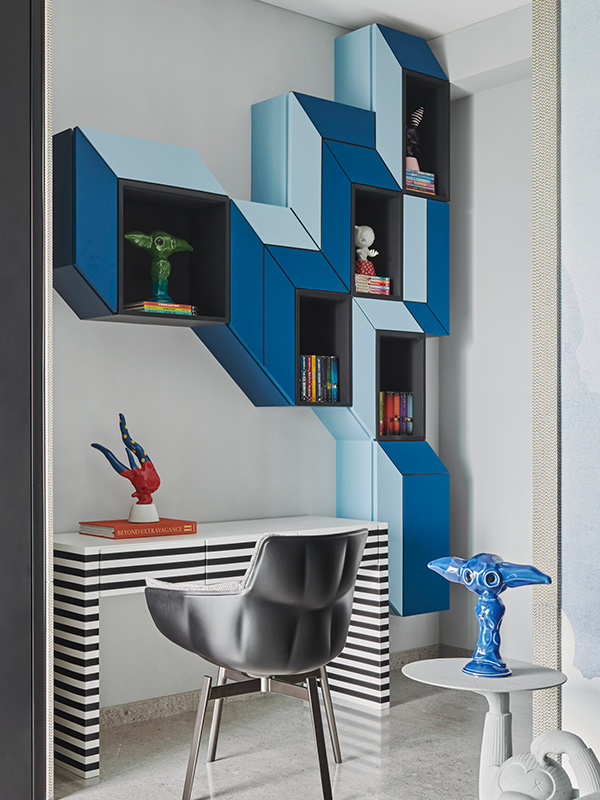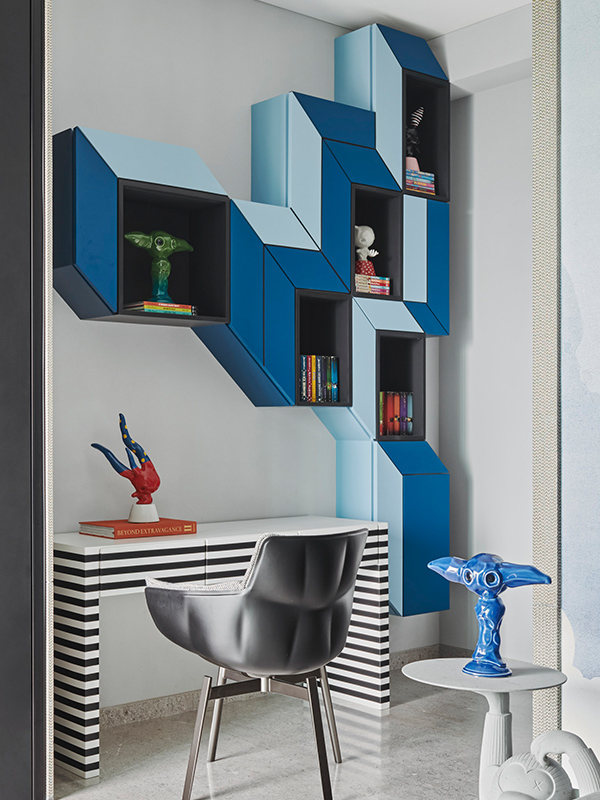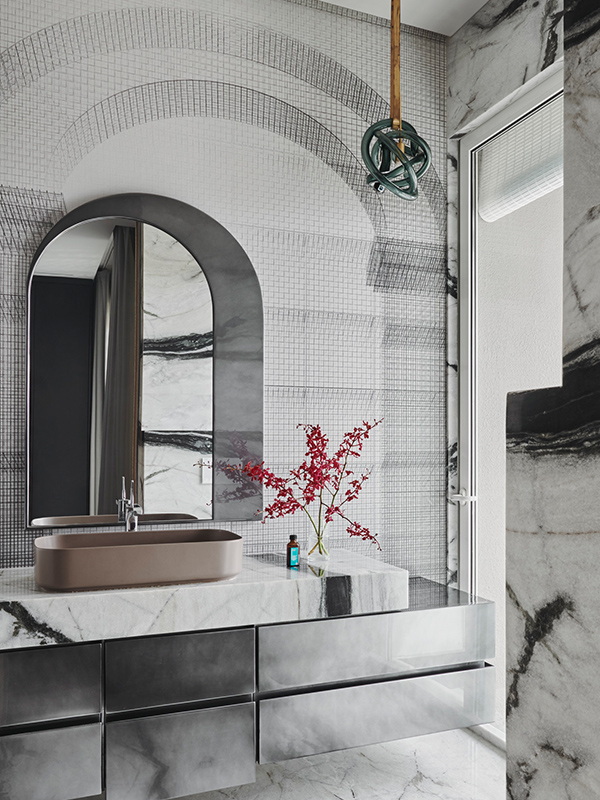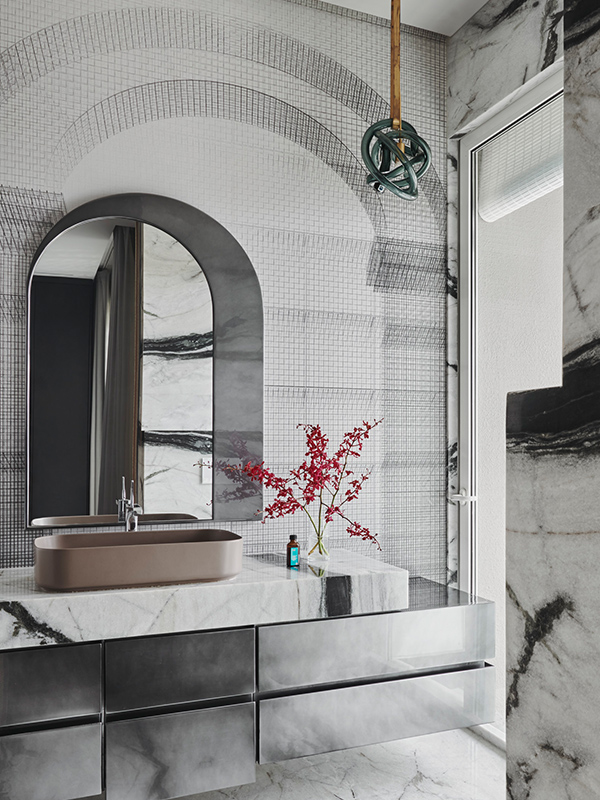 The daughter's bedroom on the other hand showcases a surreal Inkistro Bianca wall-covering – evoking comfort and joy. The bathroom built in this space is designed with Azul Calcite marble and gold wall-bracket lights that are put up above the vanity counter.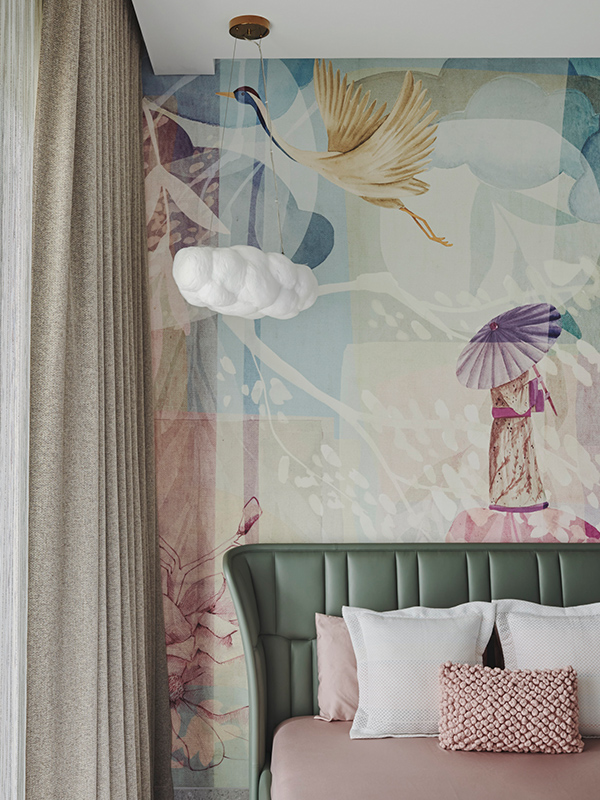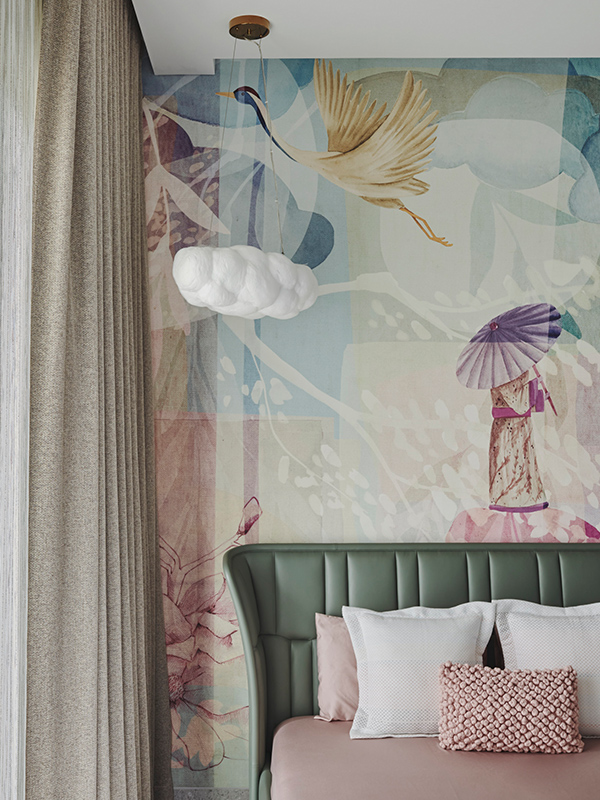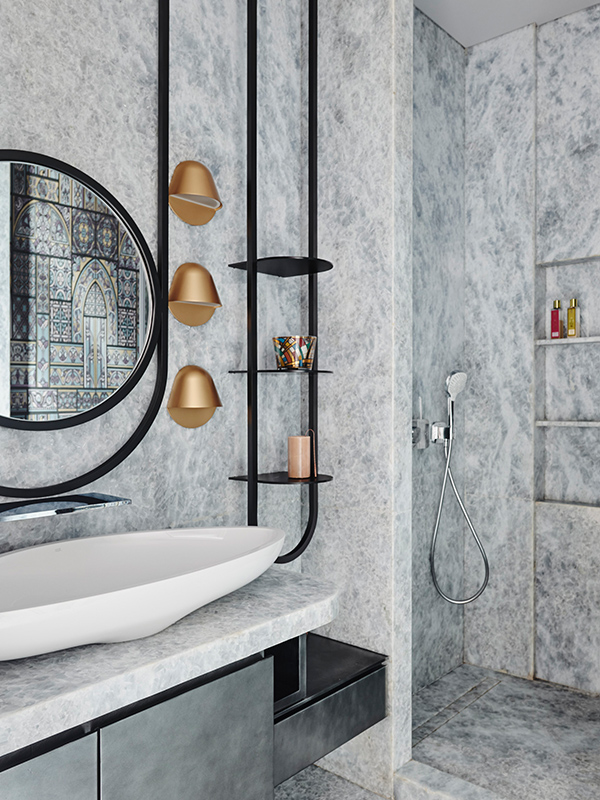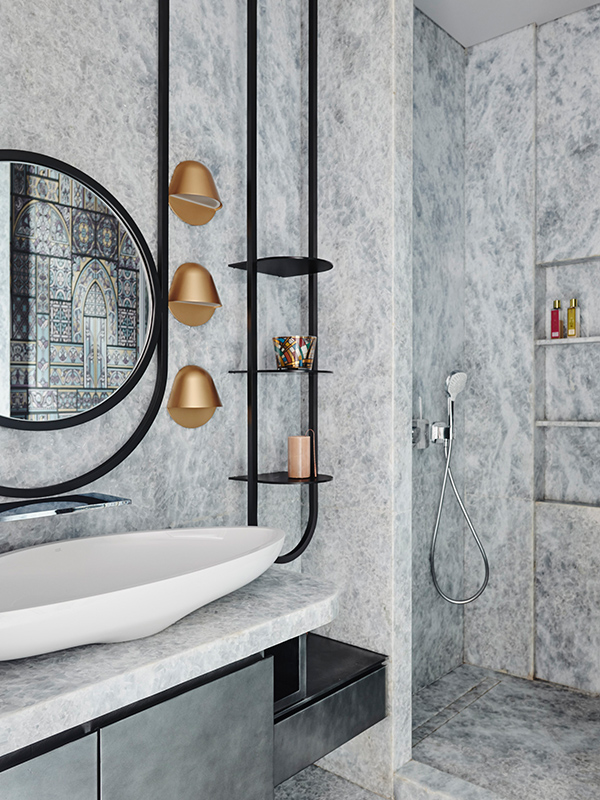 "We absolutely enjoyed designing the staircase that is well articulated despite the tight space. Furthermore, we loved creating the lounge area as it stemmed out of the client's need for a space to entertain their family and friends and additionally crafting all the custom furniture from the screen at the entrance to vanity counters – allowing us a lot of creative freedom" says Jobalia.