This Saudi Arabian Espresso Bar Is A Silverscape Of Dynamic Futurism
15

Sep

'22

11:54 am

by

Nuriyah Johar
Valencia-based creative consultancy Masquespacio has fast established itself in the world of restaurant design. Across the continent, their colourful maximalism has taken over fine dine establishments and burger joints alike. Founders Ana Milena Hernández Palacios and Christophe Penasse have lent a classic 'Masquespacio' flavour to every one of their projects, ever since they began their collaborative practice in 2010. Their latest project, however, witnesses a marked departure from their signature style. For MO, an espresso bar and bakehouse in Khobar, Saudi Arabia, the firm has created a sprawling silver 'parallel universe' of dynamic futurism.
When Omar and Asim from RightGrain (an experience-based company) reached out to Masquespacio for the project, it was clear that they were looking to abstain from conventional sensibilities and create an experimental space that would stand out in every way. "Omar and Asim were ready to challenge us and we were ready to challenge them," says Penasse.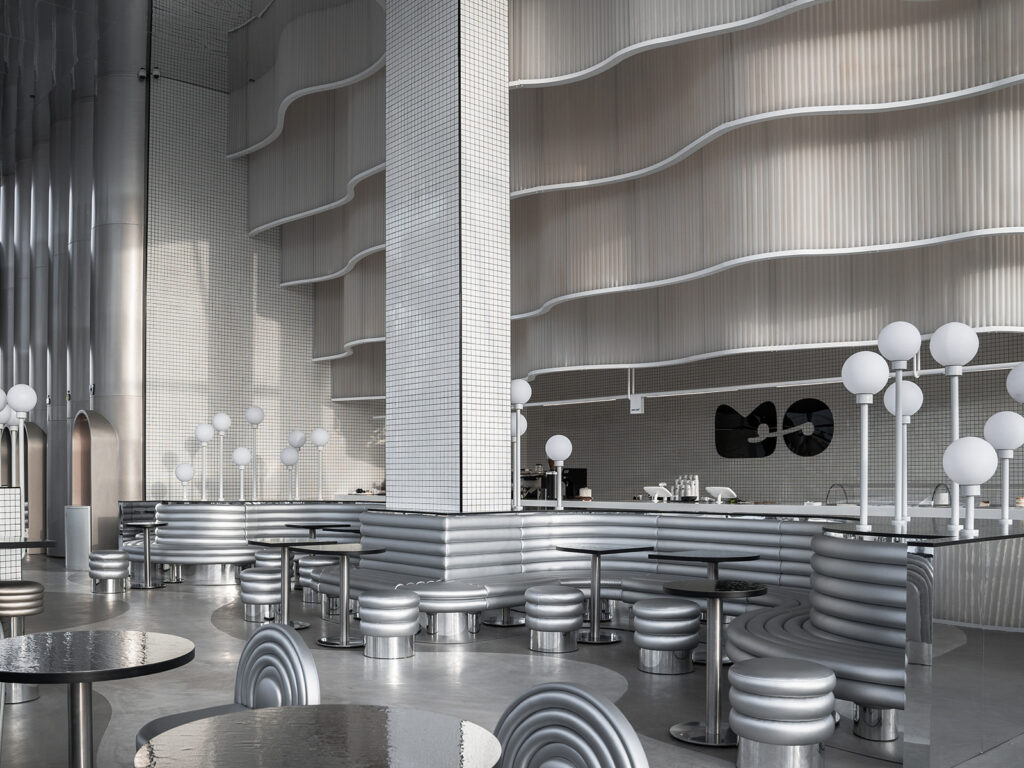 For the interior of MO, Masquespacio created a novel concept based on water in its three states – liquid, solid, and gas. The space then was divided into three zones each of which corresponded to a particular 'state' of water. Starting with the espresso bar area, the designers created a vast, undulating waterfall by sandblasting individual tubes to create the illusion of liquid. In front of the bar lies the 'ice' area characterized by a futuristic series of frosted pipe-like lamps suspended from the ceiling. Lastly, clusters of gigantic bulbs that appear as though emerging from the platforms represent the 'gaseous state', tying together the overarching narrative. Throughout the interior, a metallic silver colour palette generates reflections that create the distortion, seemingly as though made by water.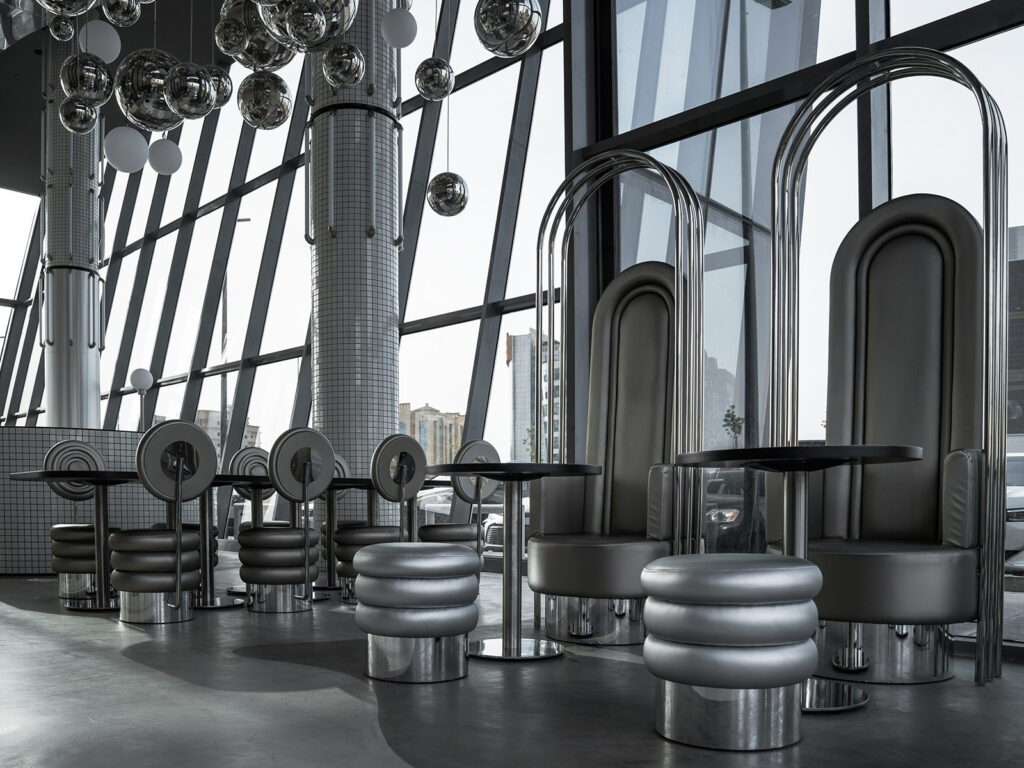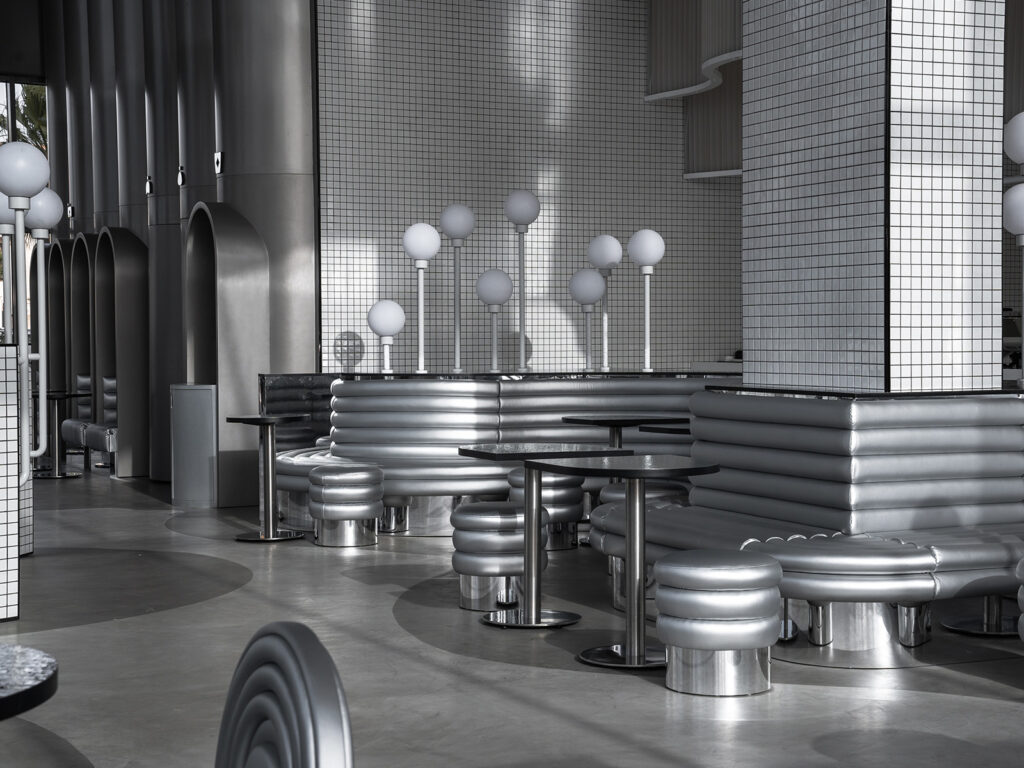 Given the unique nature of the project, the restaurant-design veterans at Masquespacio customized every piece of furniture and lighting for MO. A range of versatile seating arrangements, from low lounge sofas and shared tables to high stools and semi-private booths add a refreshing sense of variety, cutting through the sharp monotones of the space. Tubular forms, sleek mosaic tiles, and mirrored surfaces add to the avant-garde nature of the interior.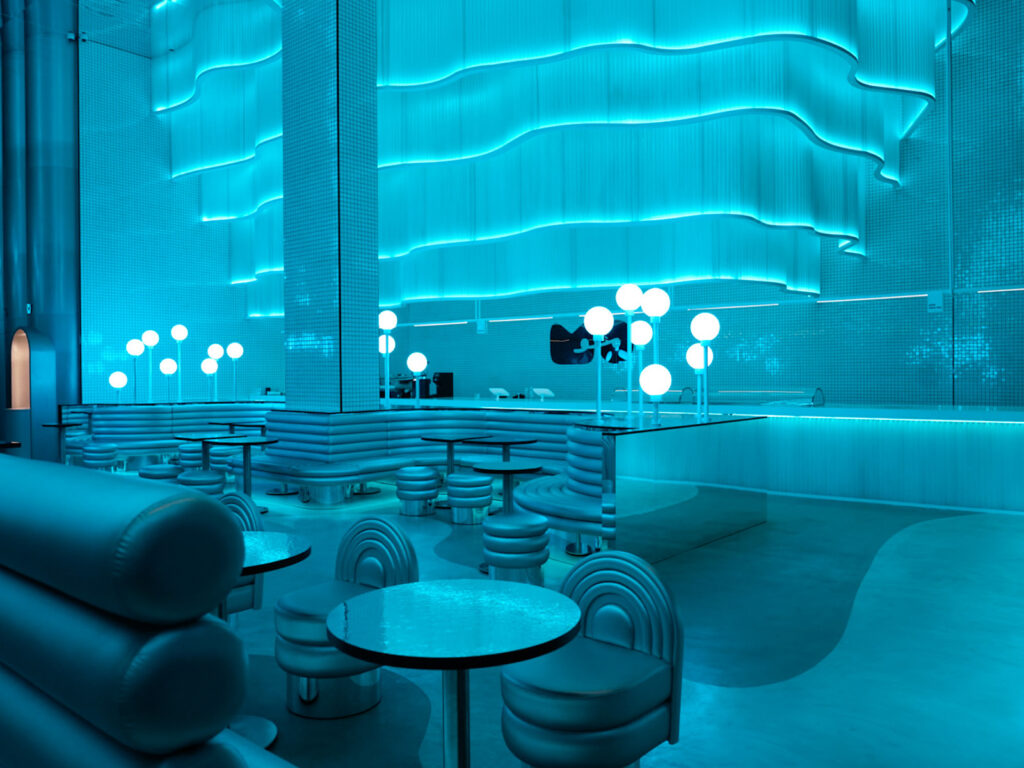 Transforming the silverscape into a dazzling electric blue spectacle, the interior is fitted with fully controllable RGB-lighting that creates another level of optical fusion. According to Asim Al Harthi, co-founder of the restaurant, "MO is a parallel universe. A space where all aspects have been touched by the unknown, the food, the drinks and the interior. It is a reflection of reality and a portal to surrealism." Though unquestionably unique in its visual language, MO's interior aligns with several of the trends that characterize modern hospitality design – rounded forms, the incorporation of pod-like seating options, and a seamless integration of technology put the restaurant at the forefront of what's current.