The Tree Villa, Where Nature Resides In Luxury by Architecture Brio
24

Oct

'18

9:30 am

by

Payal Mohta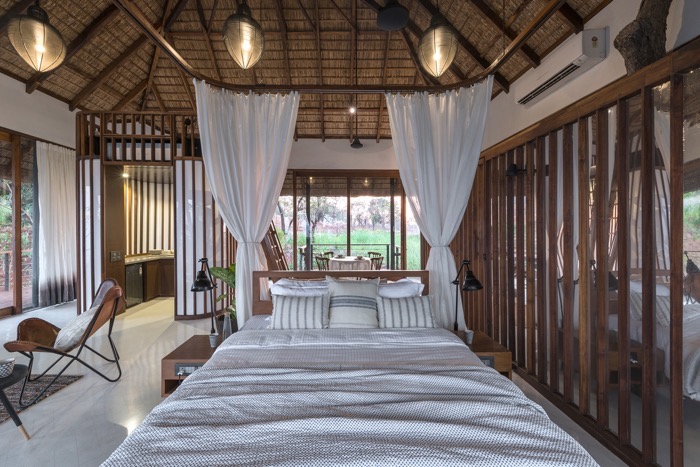 Can there be a space where childhood fantasies reside with adult aspirations? Where long forgotten innocence balms the fatigue of age? A place that belongs to the wilderness of youth and serenity of maturity?   
For those who seek this seemingly mythical haven, they find it perched on a cliff in Tala — a 'tree villa'  by Forest Hills on the West coast of India.
Conceived by Mumbai-based design studio Architecture BRIO, this enchanting tree house is surrounded by a meandering river landscape. Through a series of blurred transitional spaces with different levels of transparency and openness Architecture BRIO has created an enchanting and yet luxurious hideout in a forested tropical setting.
Perhaps the most striking feature of the villa is the way in which the architectural elements have been crafted to offer breathtaking views of nature throughout the space.   
Upon arrival, a timber bridge takes the visitor off the forest floor on to a large stilted deck that wraps around the house and culminates on a viewing platform. Moments for a reflective ambience formulate there, which is then mirrored throughout the house.
The horizontal openness and airiness of the large voluminous space below the villa's dominating thatched roof are emphasised by wrapping it with a layer of operable glass. The curved corners of this glazed wooden framework create a sensual kind of luxury while displaying a panoramic exhibit of nature.
For children, the treasure lies in their sleeping quarters, a loft bed that lies above the pantry unit which can be accessed through a wooden ladder. Looking down on the surrounding forest it is almost like a 'pirate's nest'. The ultimate cosy hideout for young kids.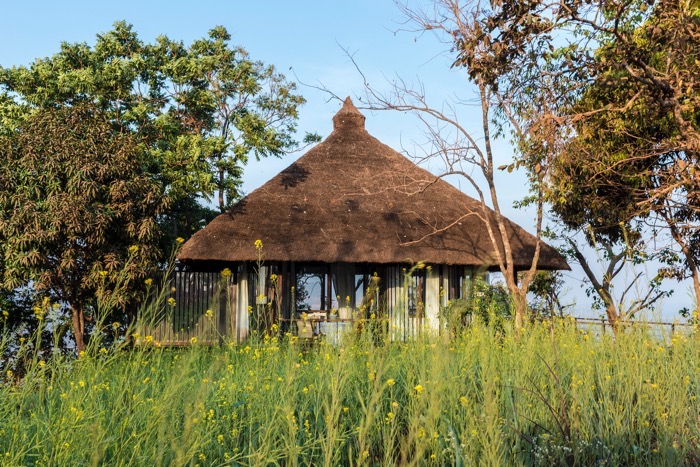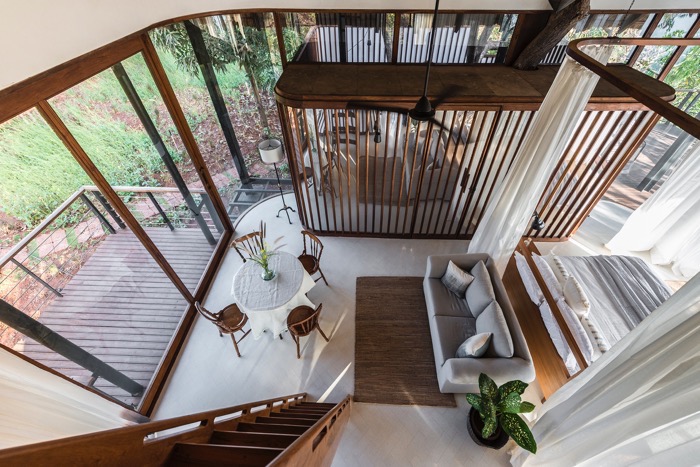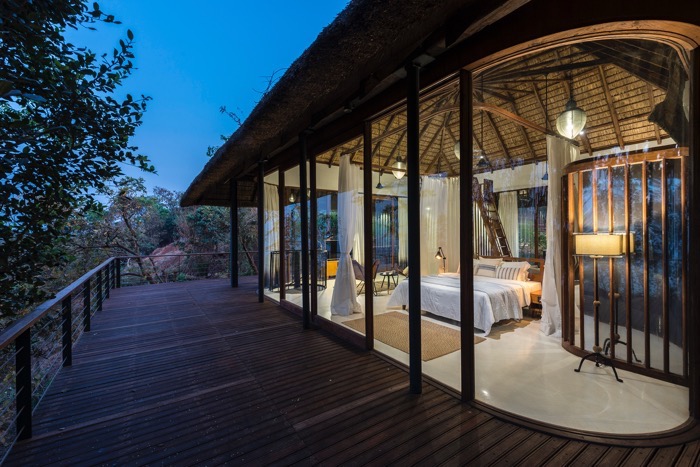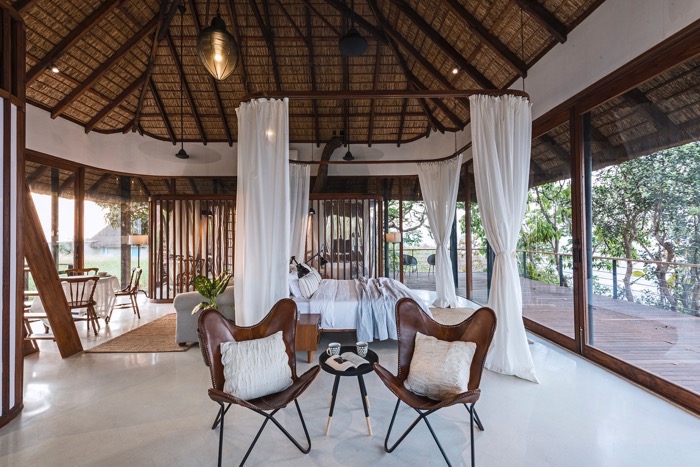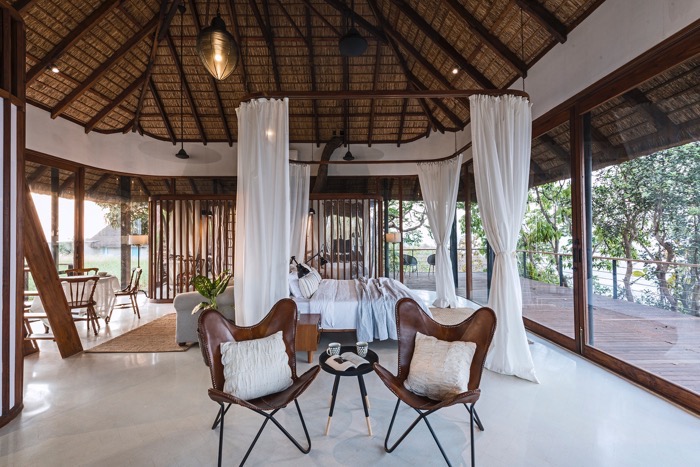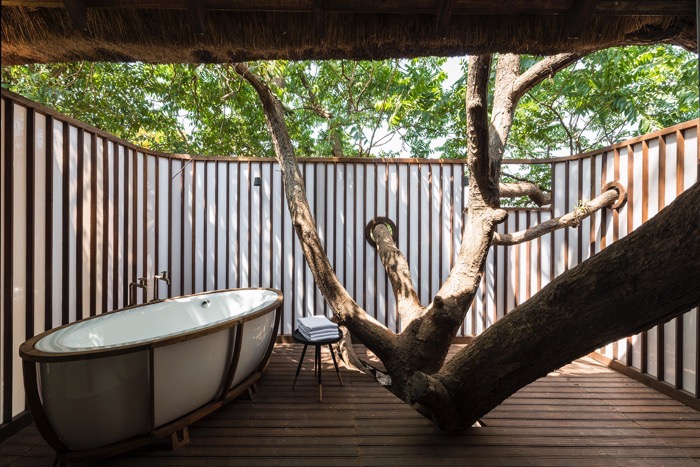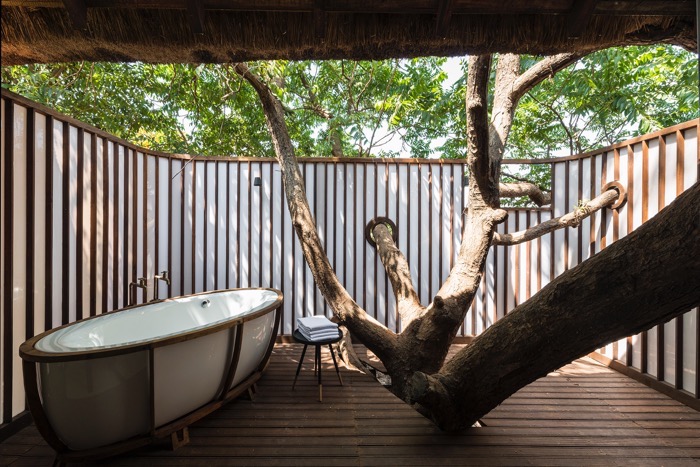 Though it is the bathroom that seeks the most intimate rendezvous with nature. It is here that an old Garuga fruit tree punctures the floor and one of its branches enters the room and exits again through the thatched roof. Other branches spread across the bathroom before exiting through multiple circular openings in the enclosure. "This indoor-outdoor feel gives nature opportunities to peek through within a constantly animated shadow play of hide and seek," explains Architecture BRIO.  
Another architectural element of the tree villa is that to ensure a visual connection to the forest in multiple directions from all rooms hence none of the spaces have been compartmentalised. Instead, the various rooms —the bedroom, the two bathrooms,  a lounge, a place for breakfast or playing board games with an outdoor deck and a large viewing deck have been broken into smaller enclosures that are positioned within one main space.
If you are still looking for more surprises, a spiral staircase connects to a secret lower level that is suspended below the tree villa. This guest suite is on one side backed by a rock outcrop and on the other side surrounded by a thick forest. You can take a shower here with merely a curved glazed sheet separating you and the forest life around you. A timber floored outdoor deck and attached staircase invite you to take a hike in the forest.
"These design choices question conventional definitions of exterior and interior and reinterpret notions of privacy and exposure within a hospitality environment," Architecture BRIO tells us. The monochrome colour scheme of wooden slatted framework filled with white plexiglass is a restraint colour palette that highlights the surrounding greenery. However, the eclectic mix of partly restored and partly custom designed furniture pieces lends a subtle bohemian vibe to the villa.
And so, Tala Tree Villa sits at the edge of possibilities, untempered through its surrounding wilderness, yet sensual and soft when embraced, a dwelling place for the wild ones.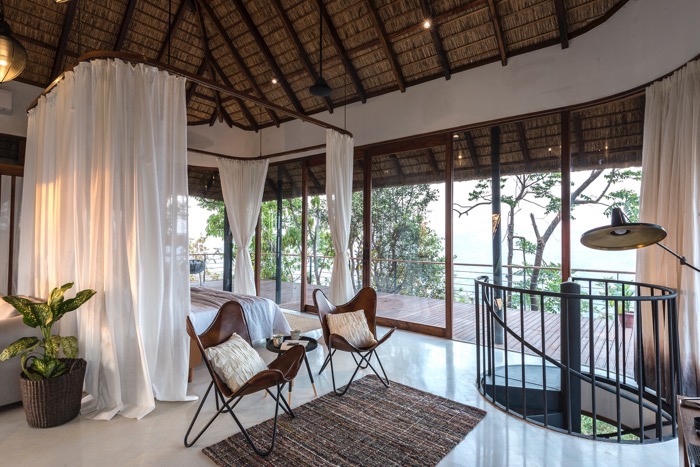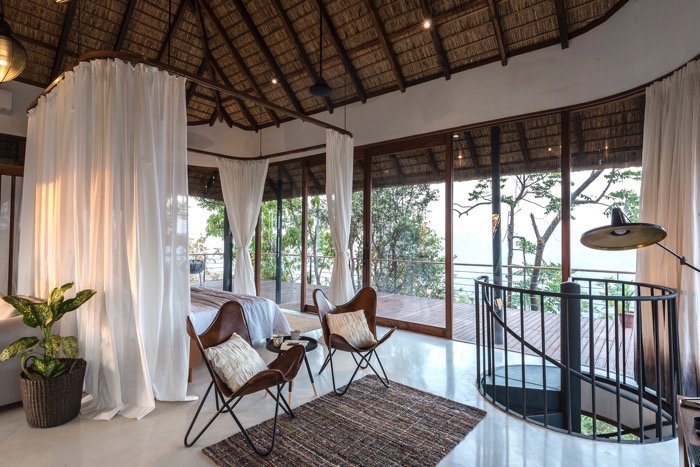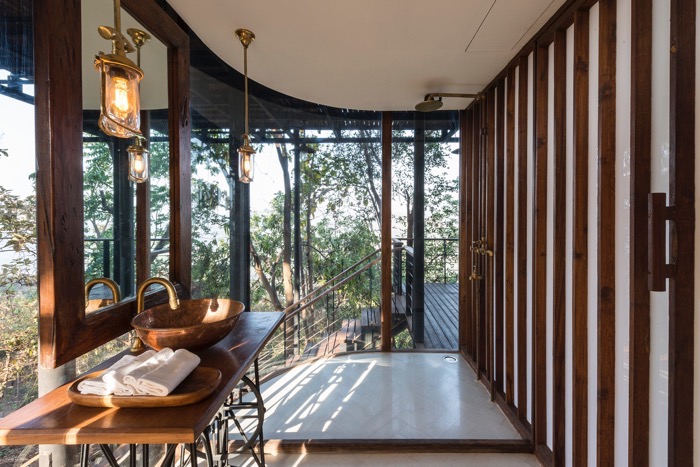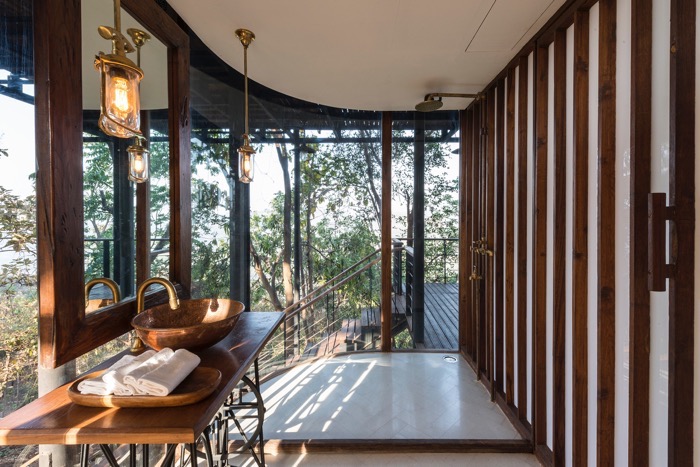 Design Credit: Robert Verrijt, Shefali Balwani, Khushboo Asrani
Photograph Credit: Sebastian and Ira via Photographix