3 Uber Luxe Cruises To Explore South Asia's Most Captivating Diving Spots
3

Jul

'23

6:05 pm

by

Satarupa Datta
Scenic beaches, lush native forests, and coral reefs alive with endemic marine life, speak of the stunning South Asian Islands. The tropical waters are home to coral gardens that harbour rich marine life. And among these picturesque water bodies are some of the best diving sites situated in the remotest atolls, which can be best explored via liveaboard cruises and yachts. These diving cruises take you to great diving sites that are otherwise off-limits to daytrippers from land.

Read on for a rundown of some of the luxury diving cruises in South Asia that offer bucket-list dives and other island adventures that let divers enjoy their time on the cruise in style.

1. Luxuriate In The Lap Of Underwater Utopia With Four Seasons Explorer
Guests are ferried in a speedboat to the Four Seasons Explorer as soon as they land at the Palau International Airport, transporting them into a parallel universe. Palau, revered as the seven wonders of the underwater world in the Micronesian archipelago is home to UNESCO World Heritage Islands and breathtaking lagoons, stingless jellyfish, elusive mandarin fish, and much more.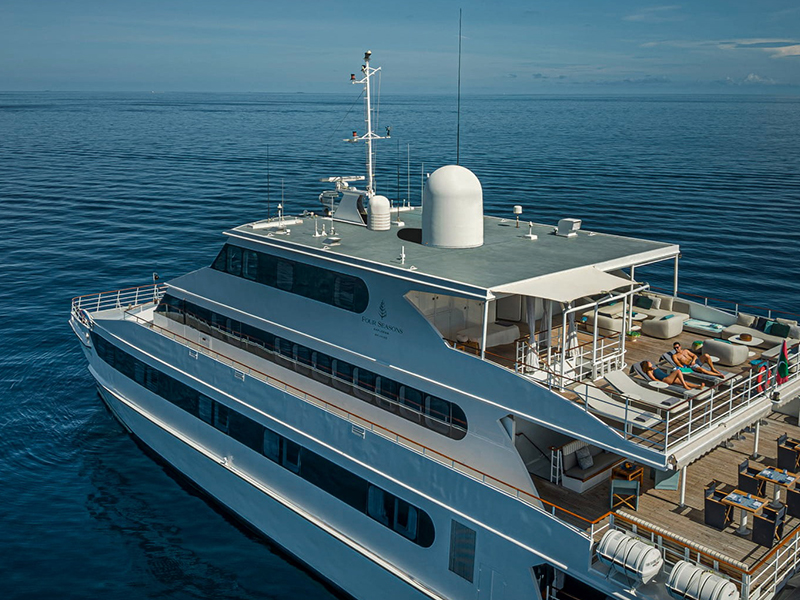 The feeling of wading into glass-like waters and finding oneself among grey reef sharks, pygmy killer whales, and rays doesn't end up on every traveler's wish list. As with the Four Seasons Explorer, a luxe three-deck catamaran, diving enthusiasts get a deep dive into the marine world with a marine biologist and an expert team of divers at hand. The other exclusive and immersive undertaking of living aboard rests in the 11 sunlit accommodations, which bear the hallmarks of unbridled comfort and wellness. The standout is the Explorer Suite, which reads like a luxurious attic complete with a private sun deck. The three outer decks feature indoor and outdoor dining, a lounge, two bars, and a library; two sundecks with a jetted tub; and the top deck, preserved for lounging, sunbathing, and wellness.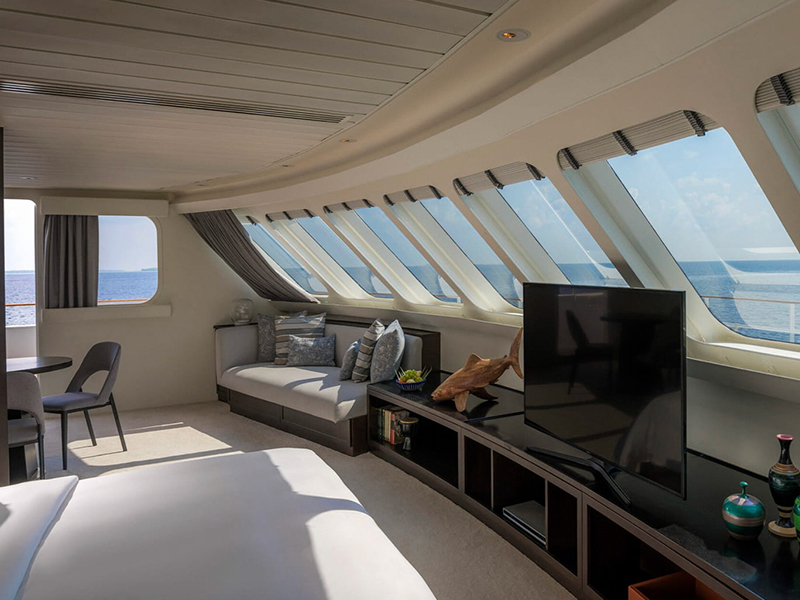 With Four Seasons Explorer, dive into an otherworldly underwater grotto and float among WWII wreck sites. That said, Four Seasons custom-designed dive boats have direct entry to even the most difficult-to-access dive sites. While you maze through the labyrinthine depths of the underwater world, the videographer follows you in action. If you have never dived before, the trip also offers a PADI-certified course on the go.For those who cherish cultural exploration and a laid-back lifestyle, take note that the guest experience team designs a custom itinerary for your entire stay.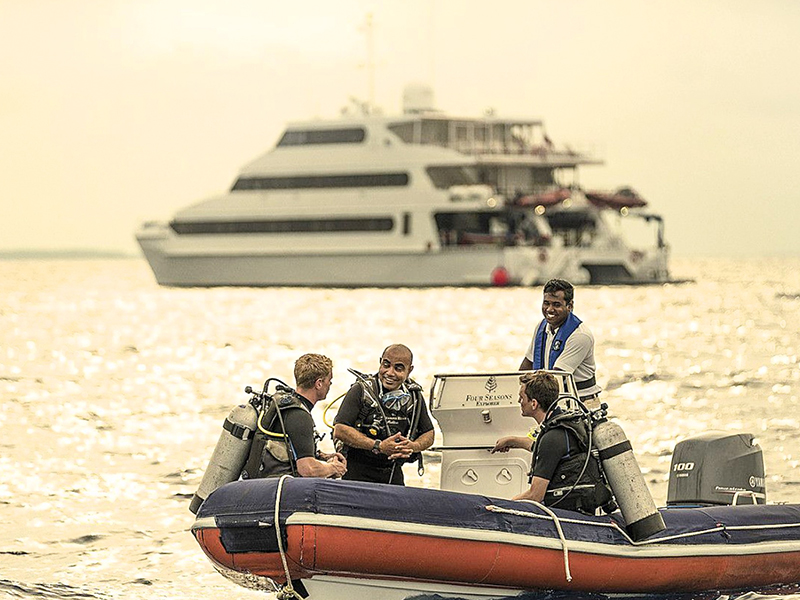 2. Swim With the Gorgeous Giants of the Sea With Aqua Blu Cruise, Indonesia
With its sublime scenery of jungle-clad islands, hidden lagoons, white sandy beaches, mushroom-shaped islets, and pellucid turquoise waters, Raja Ampat Islands in East Indonesia is rich in marine life and indigenous species. Without question, the world reveres its untainted waters as one of the best diving spots. Aqua Blu, a long-range explorer yacht, donning a grand legacy of the British Naval Explorer, is the first ocean-faring yacht cruise to set sail in the pristine waters of the East Indonesian Archipelago on an action-packed seven and 12-night itinerary.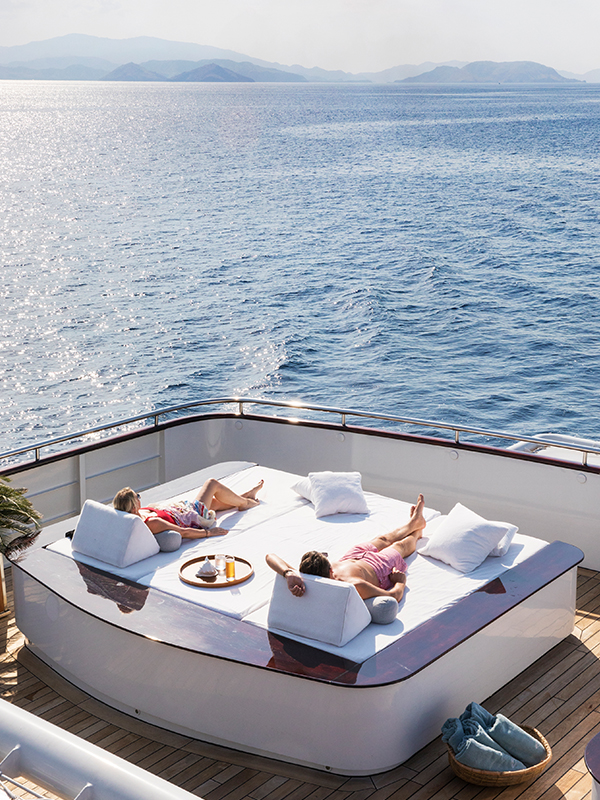 The Dutch yacht design maestro Cor D. Rover has expertly curated a modern expedition vessel with luxurious refinements that come together inside the five-deck, 15-suite Aqua Blu. The design suites featuring a series of portholes conjure images of a private sanctuary geared toward modern luxury. A barbecue, outdoor seating with umbrellas and a Jacuzzi, and lounge daybeds flank the decks. The spa and workout space, the sky lounge bar, and the indoor and alfresco dining are the perfect spaces to unwind after the day's excursions.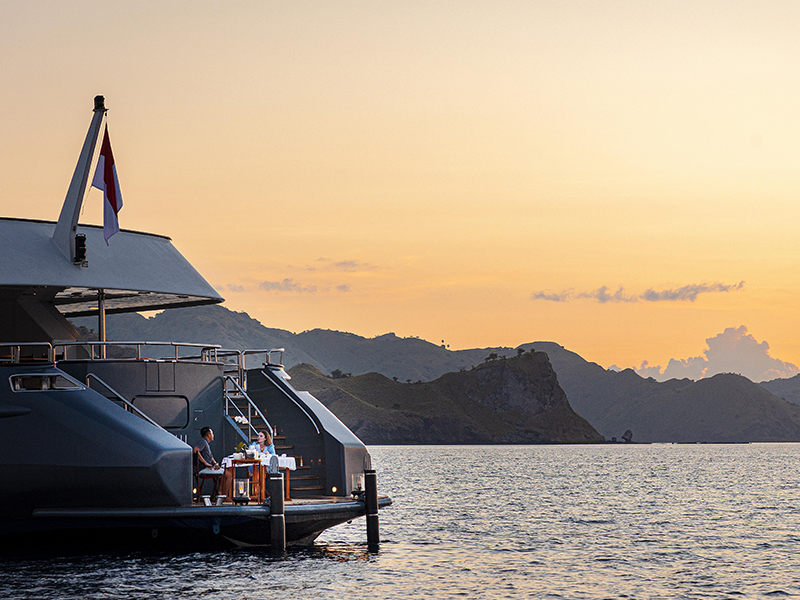 The highlight of the tour would be setting off in search of reef sharks, manta rays, over 40 different species of butterfly fish, and turtles. And with expert dive guides, one can also glide along with these gorgeous sea beauties. Designed for passionate divers and curious travelers, Aqua Blu's immersive tours on the sea open a new world of discovery.
3. Sail Through Indonesia's Komodo Islands On A Private Charter With Ayana Lako Di'a
Lako Di'a, a traditionally designed Phinisi yacht by the architecture firm Karang Mas Sejahtera, spread to an impressive length of 54 meters, seamlessly merges traditional design elements with innovative cruise ship technology. Its architecture uniquely combines traditional construction typically found in the Bugis-Makassar culture that blends with the contemporary design expression of Lako Di'a.
Run by the Ayana Komodo Resort in Labuan Bajo, the journey takes through the Komodo National Park which is split into several tiny islands. Each of the six luxury suites offers a blend of Flores's rustic allure and signature AYANA amenities.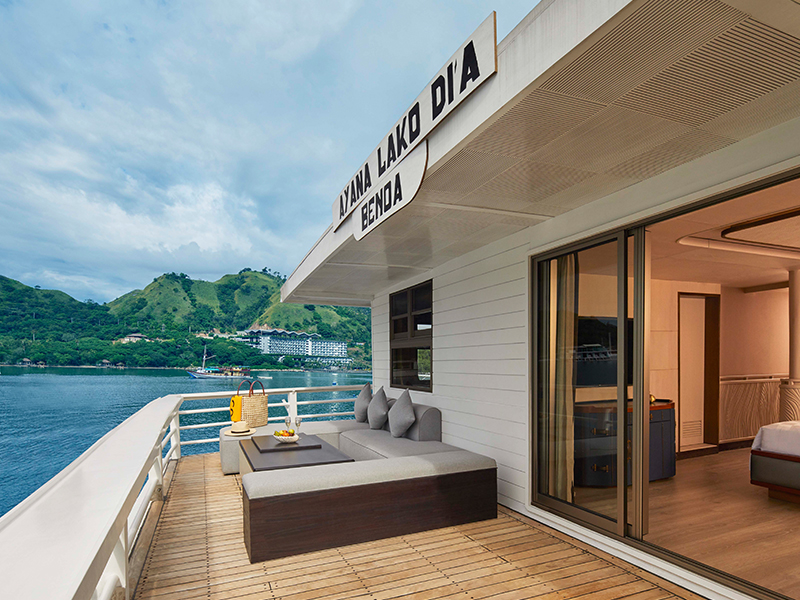 The master suite, thoughtfully designed in first-class luxury, comes with a sit-out balcony, an ocean-view bathtub, a modern walk-in wardrobe, and VIP access from the stylish upper deck. A restrained palette of warm whites and wood tones adds to the calming aesthetic and feeling of spaciousness. Every suite opens into a lovely light-filled space that includes pops of aquamarine colours. The outdoor front deck invites you to bask in endless ocean vistas and the majestic contours of the surrounding islands.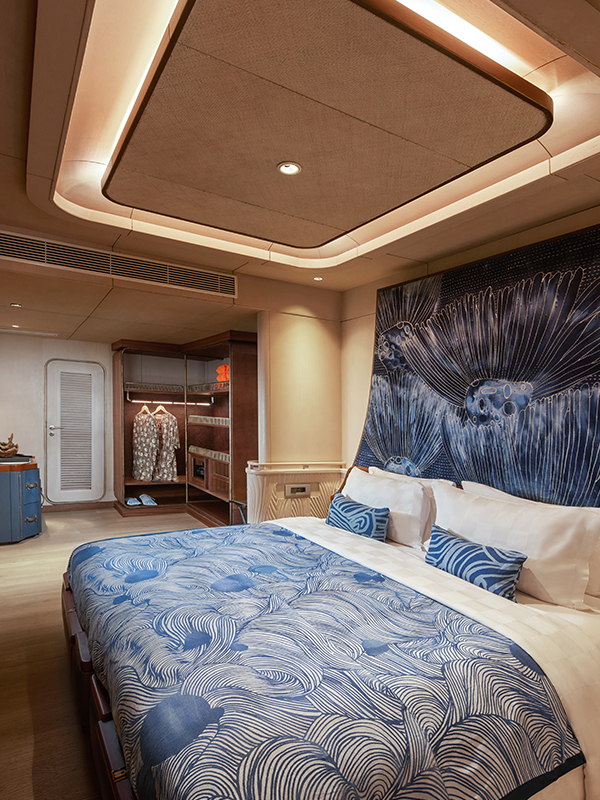 You can trek on the guided trails of the island of Rinca to spot one of the giant species living on earth, the Komodo Dragon. Snorkelers can skim across clear waters at Menjerite Island, watch out for manta rays at Manta Point, or hike to the summit of the Padar Islands to get a panoramic view of the breathtaking landscape.
AYANA Komodo Waecicu Beach's Marine Biologist, Lee Miles, sharing his view on diving in Komodo National Park, says, "The National Park is also home to around 1,000 reef manta rays. There are several locations where these gentle giants gracefully glide around cleaning stations, and many of these sites can also be enjoyed by snorkelers."
These adventure tours are well balanced with other experiential jaunts such as private dinners on a secluded island, stargazing on the top deck, and open-air movies. Komodo Island feels like Conan Doyle's Lost World, and sailing with Ayana Lako Di'a unveils the prehistoric beauty of the land and sea travelers aim to explore.

These immersive diving cruises are synonymous with classic expedition travel. Besides, the entourage of world-class naturalists, master divers, marine biologists, and photographers onboard ensures an in-depth perspective on the region's biodiversity and unlocks the secrets of lesser-known waters like no other.