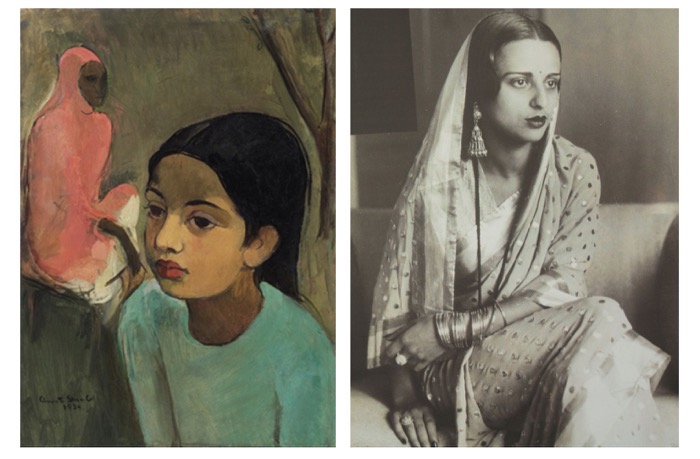 Unseen for 80 years, Amrita Sher-Gil's "The Little Girl in Blue" will be up for auction at Sotheby's Inaugural Mumbai sale for an estimated INR 10,00,00,000–15,00,00,000. Painted in India in December 1934, when the artist was just 21, The Little Girl in Blue is believed to depict Babit, the artist's second cousin and the granddaughter of the eminent politician Sunder Singh. This is only the third oil painting by Sher-Gil to come to auction in India, and the seventh offered anywhere in the world.
The painting was acquired by Charles Fabri, an eminent art critic and the artists' rumoured lover, at her first solo show in 1937 – a show that would fundamentally change the perception of Indian audiences towards contemporary art forever. Sher-Gil's work, which belonged to no particular school or style of painting, was informed by her experiences in Hungary, Paris and India. She created a body of work that was both aggressively modern and decidedly Indian. Sher-Gil's female subjects reflected a depth and resolve uncharacteristic of those of her contemporaries. Within a tragically short life, her avant-garde approach shaped the future art of in India perhaps more than any other artist of the time.
'…It was the central task of her artistic career to build a perfect bridge between the artistic vision of the West and that of India. Others before Amrita Sher-Gil had attempted to bring the East and the West together by means of painting; there was Bellini, there was Delacroix, and there was Gaugin that most successful bridge-builder of all, captivated irresistibly, by the fascination of "exotic" beauty in Tahiti. But these were all westerners, trying to interpret the colour and shape and feel of the East to their western compatriots. None of them could ever have been so close to the East as this young girl, half Indian, half European, able to paint like a European, and feel and see as an Indian.', said Charles Fabri, with respect to Sher-Gil's work.
Now, ahead of Sotheby's Boundless: India sale later this month, The Little Girl in Blue will be placed on public display for the first time since Sher-Gil selected the painting for her inaugural show.
Public Exhibition
Bikaner House, Pandara Road, New Delhi 110011
Saturday 17 November 2018, open until noon
The Taj Mahal Palace Hotel, Apollo Bandar, Colaba, Mumbai, Maharashtra 400001
Tuesday 27 November, 2018, 10am-5pm
Wednesday 28 November 2018, 10am-4pm
Auction
The Taj Mahal Palace Hotel, Apollo Bandar, Colaba, Mumbai, Maharashtra 400001
Thursday 29 November, 7 pm