Visual Amaze – The Discovery Center by Architecture Discipline
25

Sep

'15

9:00 am

by

Crew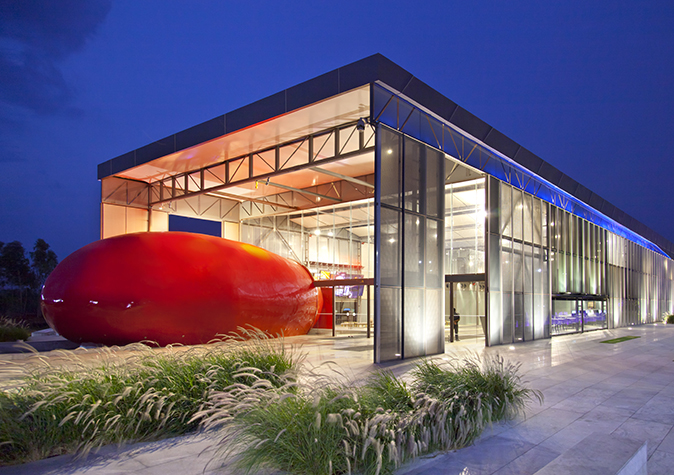 Delhi based Akshat Bhatt's firm, Architecture Discipline, has been exploring architecture through the scales of Urban Design, Architecture, Public Art, Installations, Furniture and Product Design. The Discovery Center helmed by the firm, is spread across 125 acres, the development is planned as a place-making exercise to craft an environment to attract people. A moving project, a town hall and sales office for real estate developer Bharatiya City, the building is only placed here for 6 years and post that, can be and will be reassembled at a new location.
Usually buildings for this purpose are placed at the edge of the site, but to engage the visitor in the space and to form a connect, it has been placed at the heart of the site. Being a Greenfield project in the outskirts of Bangalore, it had to have a very distinct identity to draw attention from the highway. Hence the big red egg shaped auditorium comes into play. Or as I see it, a drop of paint uncontainable in the space constricting it. Dressed in a color so popular it has everyone from Coco Chanel to Christian Louboutin obsessed with it. A quick fact, the color red has the longest wavelength making it the easiest to spot from anywhere! Made out of glass fibre and placed amidst a lotus pond, it becomes the focal point for visitors to come together. You see the color tying the structure together in elements like the single red flight of staircase, single chairs, prints on glass partitions.
Every other element such as the Golf carts, an ice-cream van, plasma screens are typological inserts which may change over time. Frit printed glass is used to not only dissipate heat, but also to play with patterns and enable changes in light transformation to make the building appear dynamic through the day. The night lighting is dramatically different from the visual experience during the day, transforming itself to come alive in the night.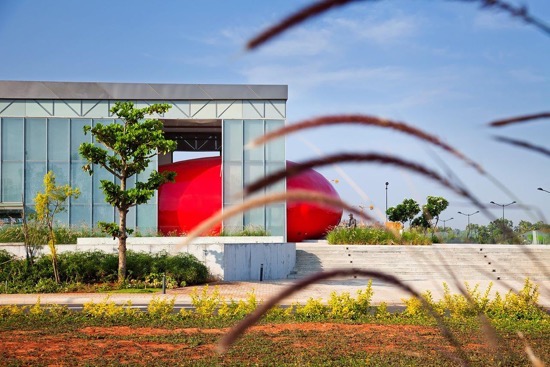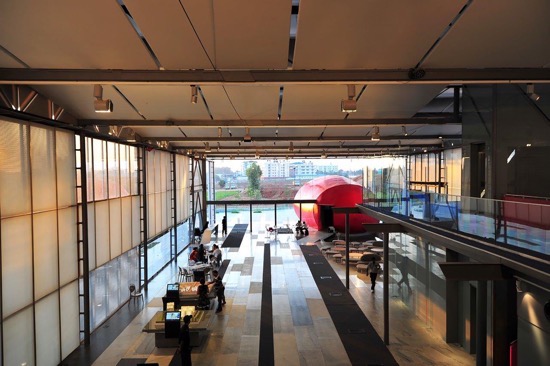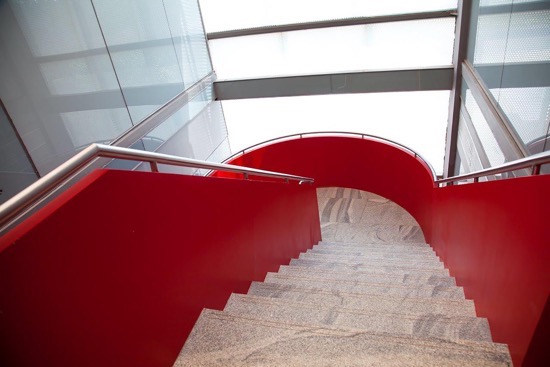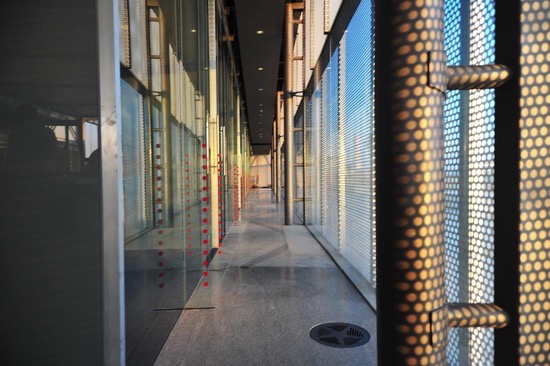 Photographs courtesy Architecture Discipline.
Photographs Jeetin Sharma