Wallpaper 101
14

May

'14

9:30 am

by

Crew
Wallpapers are lots of fun to play with! Especially when your looking at creating a particular style. A fun print or a shock of colour can really create the wow element your looking for. So having worked with wallpaper and fabrics for more than five years I decided to do a wallpaper 101 designed to help with an Indian environment. Terrible wall conditions in India definitely pose as a challenge when working with wallpaper. 
Here are tips on how to choose your wallpaper and check points to see if your walls are wallpaper ready. 
– Decide the Area
First decide which area the wallpaper needs to go on. Large spaces should use a combination of a print with a coordinating plain or texture. Areas that can be wallpapered are on all walls obviously but popular areas are behind the TV and bed, wardrobe shutters, ceilings, partitions or screens. Kids rooms are the most fun to experiment with.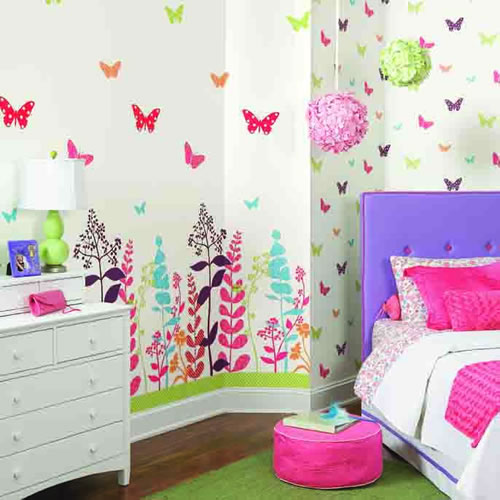 – Choosing your wallpaper
Broadly divided in Prints & Textures. You can find a large plethora of Prints like Motifs, Damasks, Floral, Graphic, Digital, Quirky. Textures like Metallic, Natural, Glass Beaded, Faux Leather, Suede, Embroidered, Silk are very popular. Prints are not overwhelming and can give a lot of character to a room. So don't be afraid to experiment. Ask the vendor regarding panel visibility depending on the pattern. Keep in mind Natural and Silk wallpapers the panels are usually visible. Low quality glass bead wallpaper have a tendency to shed.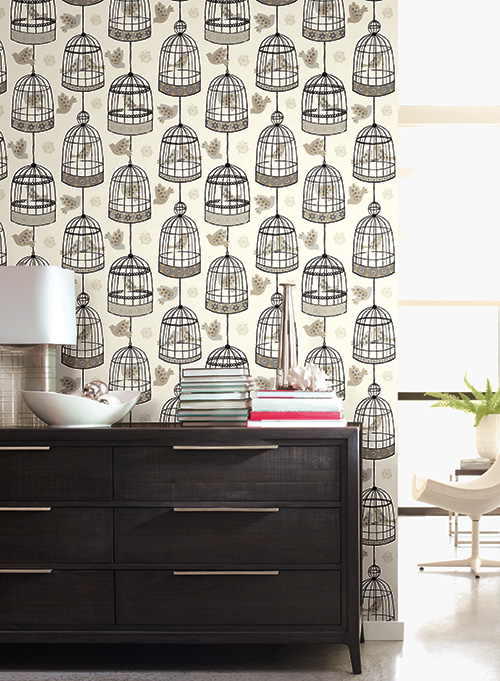 – How much do you need?
Wallpapers are generally available in rolls. In India some patterns are sold by the yard and meter. 
The Calculation-
1. Measure all walls and multiply the width by the height of each wall in feet. 
2. Add all measurements to yield the total square footage.
3. Deduct for windows, doors and other large openings. 
4. Check the roll label for how much square foot coverage the roll gives and ensure the roll coverage is more than the total wall square footage. 
5. The general rule of thumb is to order one roll extra than what you need. In the case of meters or yards 10 – 20% is what you should add on. It is best to get it at the same time as the original purchase to ensure the rolls are from the same product run so there is no variation in colour. A consumer can ensure this by looking at the batch number. If the batch numbers are the same, then there will be no variation in colour. The spare roll is to account for an offset match and mistakes. You can always return rolls if they go unused. 
– Pricing
Good quality wallpapers start at Rs 100 per sq ft and can go upto a Rs 1,000 sq ft. Chinese and Korean made wallpapers range between Rs 30 – 50 sq ft. Installation charges are usually additional. 
– Is it washable?!
The most baffling question we hear. Do you really wash your walls?! Clarifying the 'Indian Washable Wallpaper Myth'. Wallpapers are not meant to be washed. Though if you have stains or dirt most wallpapers can be cleaned with a mild detergent and water. 
– Wall Preparations
This is key to the wallpaper looking amazing. In Mumbai and like other sea facing cities the moisture content is very high, which leaves the walls damp. If you have a moisture problem, leakages or fungus issues I strongly recommend not using wallpaper. After spending so much on that beautiful wallpaper you do not want to see it fall off in a year. Or worse turn black due to moisture retention. Yes I have seen this happen.
The level of the wall should be even. A non painted surface which has been primed once makes for the perfect hold on the wallpaper. If it has been painted make sure to sandpaper it so thats it rough once again. 
– PATAKI DIY
Use the left over pieces to make cute frames. Use a solid color frame and put it up wherever you want! If you liked this then Ill also share another secret – Excess can be used on furniture as table tops. Make sure to place a glass over it for protection. Why waste when you can be crafty?!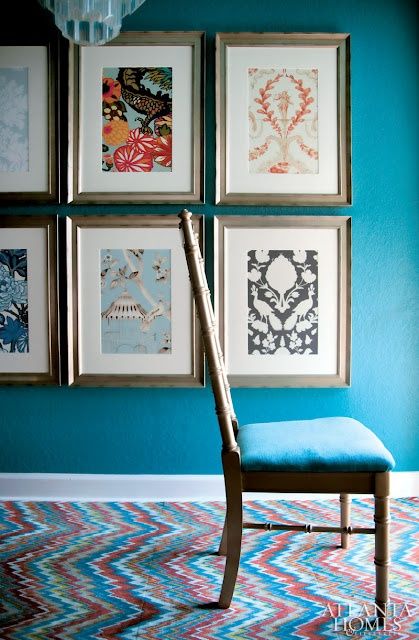 Incase you have anymore questions please let us know and we would be happy to help! 
Photographs via York Wallcoverings and Pinterest