WFH Fatigue? Check Out These New Coworking Spaces In Mumbai
27

Sep

'22

6:41 pm

by

Crew
Since 2020, the idea of the traditional workspace has been shaken up entirely. It now accounts for some much needed upgrades – flexibility, adaptability, and creativity. Hybrid work models are a part of the new norms at several establishments, and with these changes, comes the rise of co-working spaces. Perfect for the rising number of companies that don't subscribe to wholly conventional work structures, co-working spaces often bring human-centered design to the forefront in new and innovative ways. Here's our roundup of new spaces to work out of in the city –
Dextrus, Peninsula Corporate Park, Lower Parel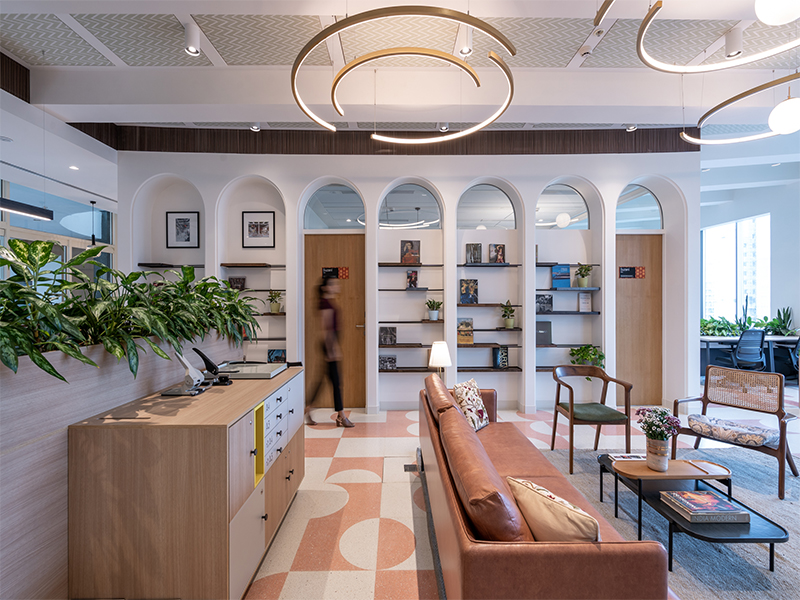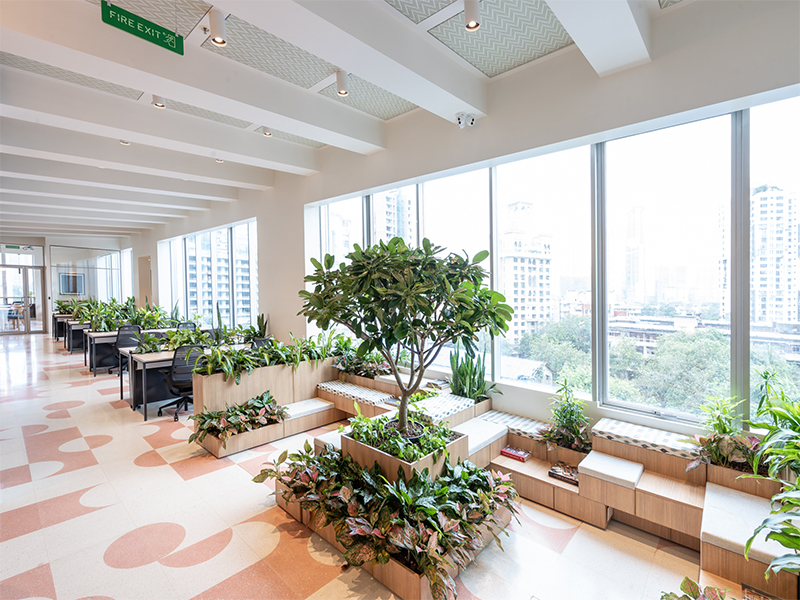 A sprawling, contemporary co-working space in the heart of the city's business district, Dextrus boasts a future-ready set-up that's infused with comfort – and plenty of natural light! The space is established and designed by Robin Chhabra – ex-senior architect at Serie Architects, along with Renu Gupta, who bring their architectural sensibilities to the overall design and conceptualization of Dextrus. Given the location, Dextrus' occupants range from large tech companies to hedge funds that have adopted co-working models.
With a strong focus on creating a flexible and conducive work environment through intelligent design, Chhabra has envisioned the space as fluid, adaptable, and expansive. Light walls, patterned tiles, and warm, textured woods lend to the space a comfortable, holistic narrative that eschews traditional corporate structures. Adding to this, the interior is filled with lush indoor greens that bring a strong biophilic sensibility to it. The sleek work areas are punctuated with well-defined spots to unwind in, creating an overall stimulating environment.
#DPLoves – The biophilic breakout zone by the window, created with uneven, step-like seating.
KMC*, Kitab Mahal, Fort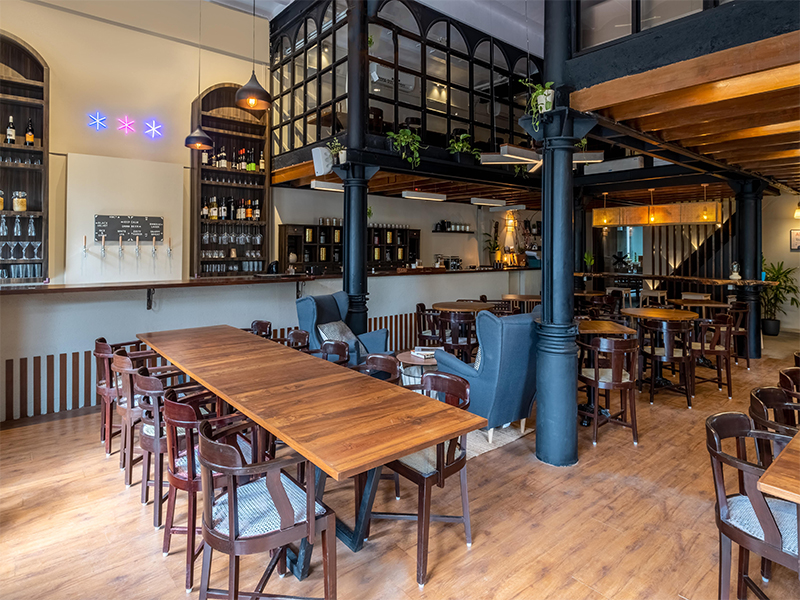 As far as co-working spaces go, KMC* is an unconventional addition to the city's landscape. Positioned as a progressive space for community and culture, KMC* is free of boundaries and is fluid in all its forms. The space is located in the heritage building of Kitab Mahal, established by Chef Niyati Rao, and Sagar Neve. A cafe, a co-working space, an adaptable area for events – KMC* is designed with versatility in mind. Warm wooden elements, vintage furniture, and classic arches characterize the interior of the space which nods to the architecture of the area it inhabits. From a typewriter at the entrance to pop-culture posters, the aesthetic narrative at KMC* promotes a sense of cultural curiosity. While KMC* doesn't subscribe to traditional models of co-working spaces, its adaptability lends itself to a productive solo workday, accompanied by a homely yet experimental menu.
#DPLoves – The seating nooks by the arched windows that overlook the bustling streets beyond.
WeWork, Express Towers, Nariman Point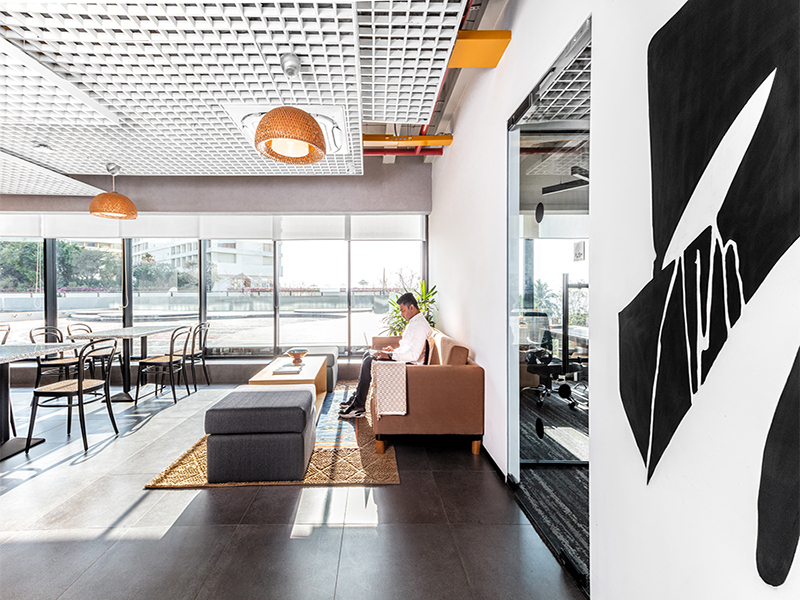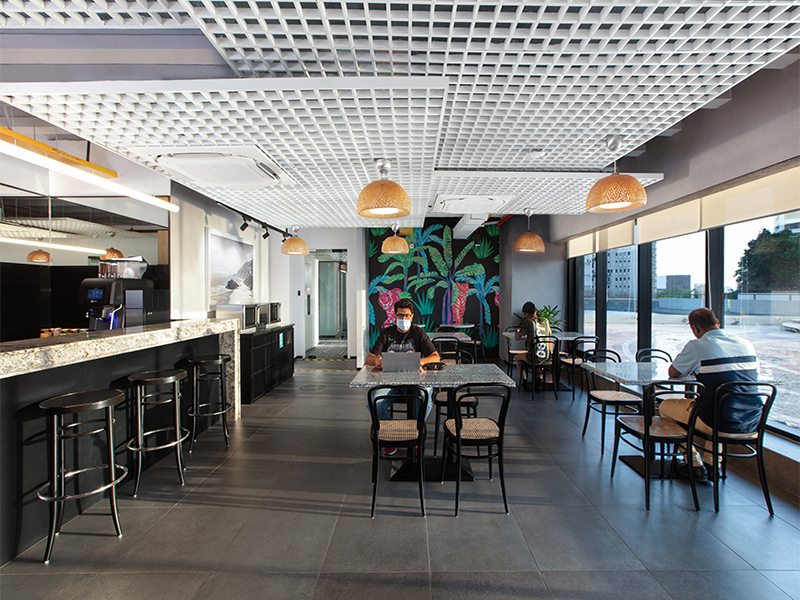 One of the largest co-working companies on an international scale, WeWork's Nariman Point outpost is spread over an area of 15,000 square feet. Celebrating the authenticity of the iconic Nariman Point landmark while respecting the rich essence of the existing space, the design is synonymous with WeWork's global aesthetic, catering to the millennial workforce. The space highlights a modern, metropolitan character, finished in warm and natural tones punctuated with pops of colour. Classic art pieces, black and white abstract and landscape arched murals, and light installations add depth and character to the interior.
WeWork Nariman Point is an adaptive reuse project, with minimal design changes to the existing space. The interdisciplinary team under the leadership of Arnav Singh Gusain (Head of RE, Product and Design, WeWork India) has preserved the building's old glory while utilizing local elements to blend authenticity with modernity – taking workspace design to a new level. From spacious conference rooms to built-in day beds, art-filled lounges to sleek private offices, this co-working space places human-centered design at the forefront.
#DPLoves – The thoughtfully-curated art that accentuates the entirety of the interior.
Also read : This Sustainable Workspace In Bangalore Has A Charming Tulum-esque Touch