With love from India! Sabyasachi For Pottery Barn
29

Oct

'16

1:16 pm

by

Tansha Vohra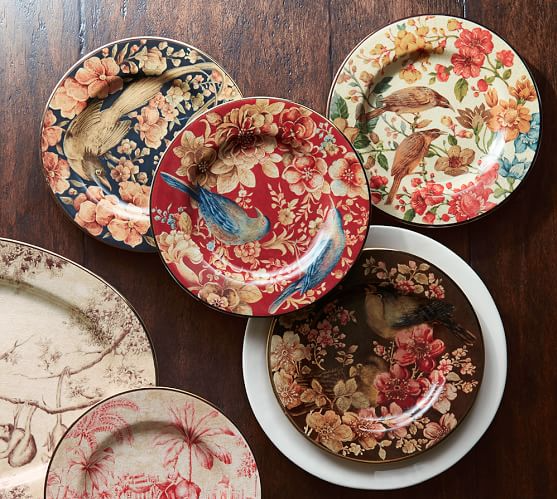 When one hears the name Sabyasachi, there is an involuntary reminiscence that overcomes you – imagery of a once upon a time Calcutta. Characterised by his bold colours, floral patterns, hand dying and classic textiles evolved for the modern silhouette, this Kolkata based designer is on another level altogether. Taking it a step further, most recently Sabyasachi has collaborated with lifestyle and decor giant Pottery Barn to launch a whole collection of home decor for the festive season. The designer has never done something like this before, and Pottery Barn is also new to this sort of global collaboration.
The collection, described by Pottery Barn as "global vintage-inspired decor" ranges from dinnerware to jewellery boxes, home linen, table tops and holiday ornaments. With this, Sabyasachi has carried his trademark aesthetic across borders once again. The dinnerware is resplendent with floral patterns and a sense of the forest – colourful birds, animals and flowers grace the salad plates making them almost impossible to eat out of.
The home linen collection consists of throw pillows, quilts, rugs can be found to have intricate brocade, vintage floral patterns and big, bold colours. The reversible clock print quilts can be paired with the Octavia accent table, giving the room instant warmth and flair with little effort. The jewellery boxes are perfect little keepsakes to perch on top of your dressing table. We see these making a headway in the trousseau collection for brides all over the country.
Needless to say, the designer cum global nomad has most definitely achieved his goal, which was to bring a sense of exotic whimsy into American homes. Of the 50 odd pieces in this festive collection, his personal favourites have been reported to be the Mila Chandelier, Maharani Print Bedding and Quilts, Jewellery Boxes and Animal Salad Plates. We don't know about you, but all eyes are turned this way, and we've scoured the length and breadth of the Pottery Barn website to order our select favourites of this most special home decor collection!