Your Definitive Guide To Shopping For Decor And Furniture In Goa
21

Oct

'21

11:38 am

by

Beverly Pereira
Goa is different things to different people. The coastal state's beaches are perfect for a sun-drenched city break, while its fantastic roster of restaurants and unmissable local bakeries continues to be a definitive draw. Those in the know steer clear of the crowds to indulge in a spot of bird watching too. While Goa has always been on the map for its indie fashion and concept stores, in recent years it has also become a mainstay for design-forward folk — whether it's the passing traveller or the multitudes who have set up home here and are on the hunt for rare pieces of décor, antique and modern furniture, and homeware. That most of these design stores are housed in beautifully restored Indo-Portuguese manors located along a single stretch in Sangolda makes shopping for the home an experience quite unlike any other.
Here, then, are stores we tend to gravitate to in North Goa when on the look-out for good design in the sunshine state.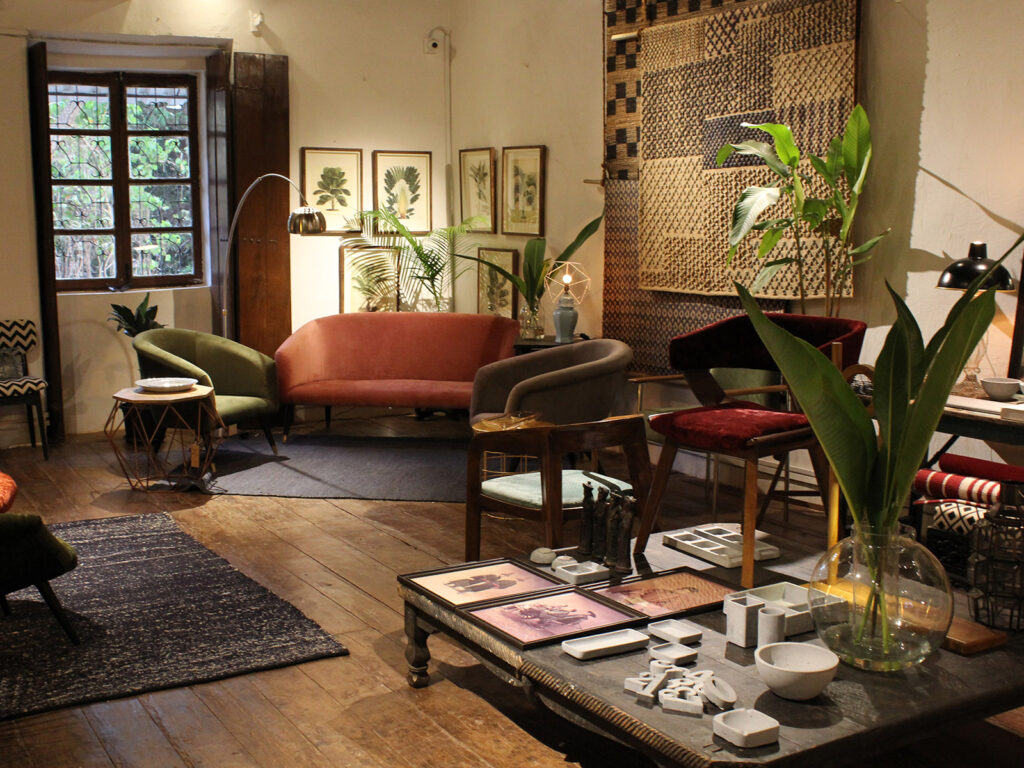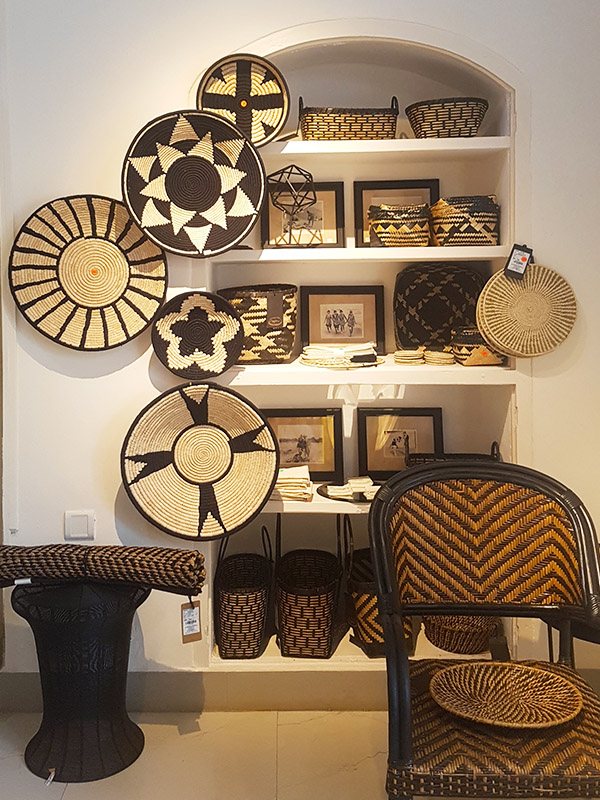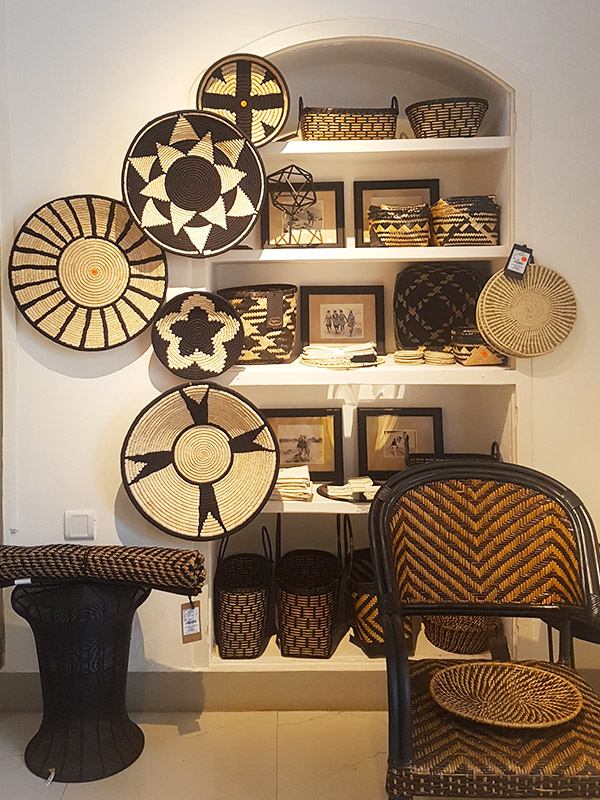 You can always expect to come away with a little bag of treasures at designer Martino Caramia and Jagvir Matharoo's concept store on the Candolim stretch. Exploring the many rooms in this stunning white Indo-Portuguese villa, you'll chance upon a few that display some of the choicest Indian clothing brands and Martino's fabulous clothing line — all arranged by colour. Go deeper, and you'll enter other rooms filled with home décor, bed linen, furniture, lighting and art. Both Caramia and Matharoo are avid travellers and collectors, and their collections over the past decade, like Absolute Monochrome and vivid African wild, reflect just this.
Bamboo and wicker baskets crafted by weavers in the northeast region and south India lead the way to the upper level; hemp and banana fibres are a recent introduction. While most of the lighting fixtures and home accessories are dreamed up by the inhouse design team, select products are curated from independent local designers. Still other rare finds include luxurious bed linen in muted colours, a new line of brass artifacts oxidised to achieve a bluish-green patina, and furniture pieces from across the globe restored to their former glory.
1255 Annavaddo, next to Lawande Supermarket, Candolim; 08669087239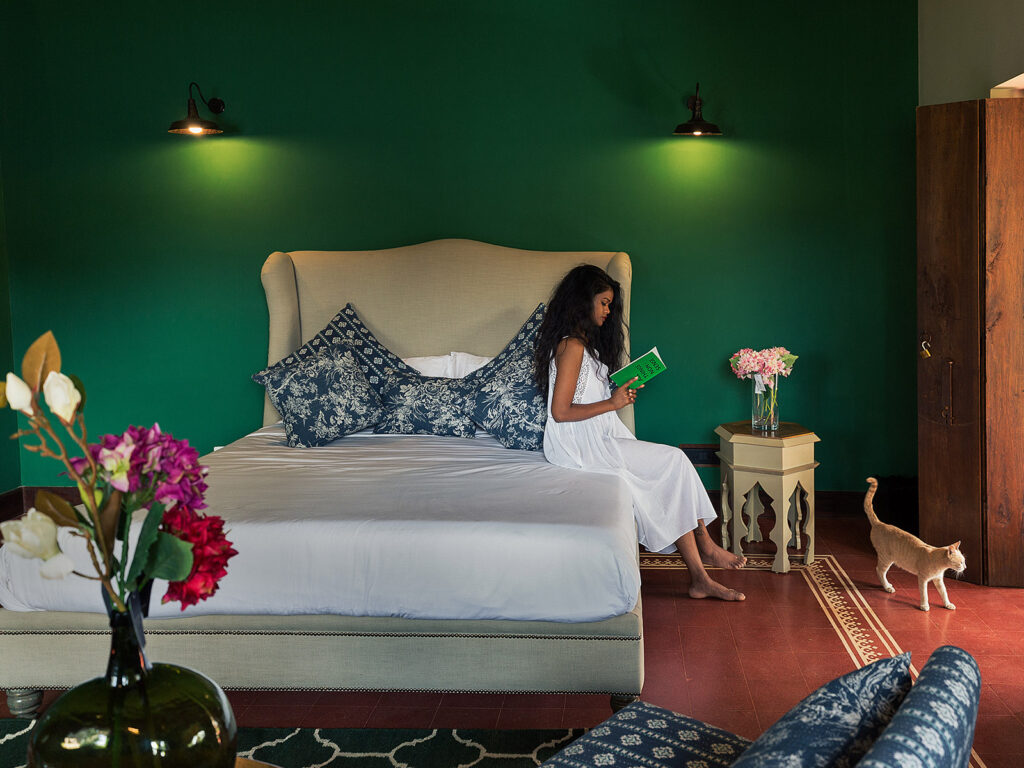 The Project Café
Over at the Project Café, everything you see — from art and furniture to dinner plates, napkins and upholstery — is for sale. At its heart, the restaurant, boutique hotel and event space all housed in a stunning 130-year-old Indo-Portuguese villa in Assagao is a collaborative multidisciplinary brand, a melting pot of ideas, if you will. This experiential space found a second home in Goa in 2017, three years after Drasty Shah brought her visual communications know-how to the table at the flagship in Ahmedabad.
The Project Café's in-house curation body works in tandem with some of the best modern Indian brands and designers not only to design homes and spaces; they also showcase products across the 13,000-sq-ft space in Goa. Past collaborations include those with Gulmohar Lane, This and That, Oorjaa, The Purple Turtles and Magari. The Project Café offers a unique experiential shopping experience, in that you can even place an order for anything and everything you fancy in any of the six rooms you've chosen to stay in. You'll also find more to browse through at the TPC concept store.
Amalia, Villa 198, Mazal Waddo, Assagao; 06359887607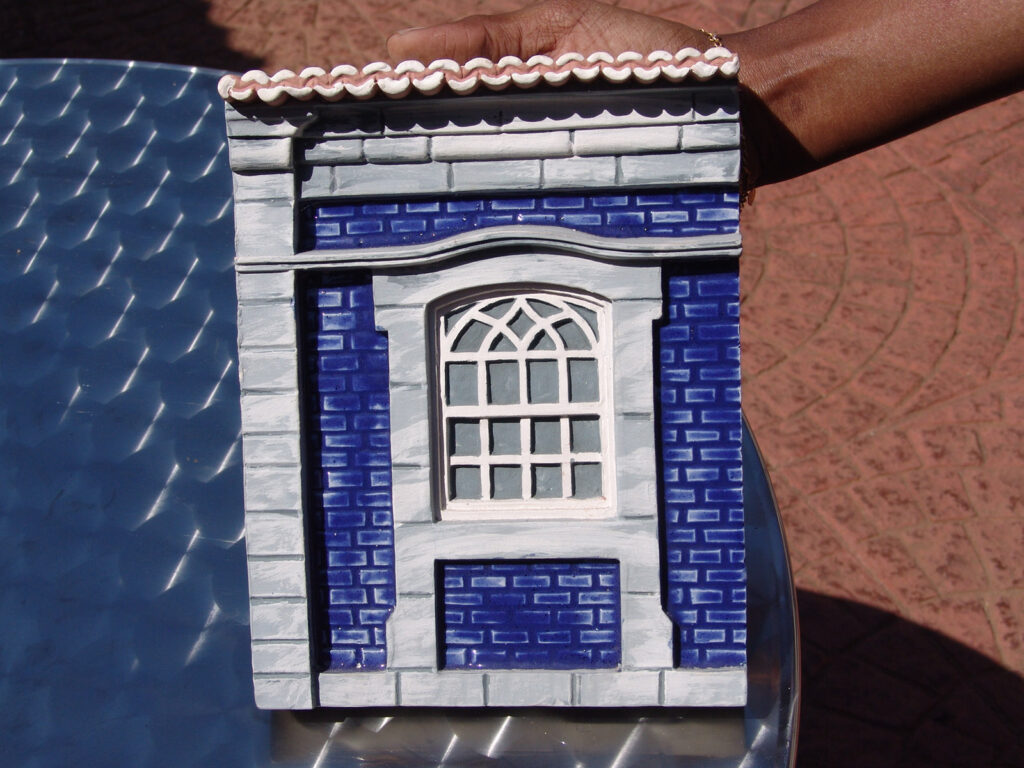 Velha Goa Galeria
Azulejos, those ubiquitous hand-painted blue and white tiled murals spotted across Goa, are a remnant of the Portuguese rule in Goa. The art lives on specifically at Velha Goa Galeria, where one can shop for ceramic jewellery boxes, platters, baroque tiles, bowls, planters, and customised door plaques crafted from glazed tiles. The ultimately cute miniature window replicas based on designs from Goa and Portugal make for a nice touch to the home, too. Tucked away in a little lane at Goa's historic Latin Quarters of Fontainhas, the store also has on display a range of imported wall décor and tableware from popular brands in Portugal like Olfaire, Nocal, Farval and Bordallo Pinheiro.
Launched in 1999, the story behind Velha Goa is fascinating. The company was founded by Ivo da Costa Azaredo, fondly known as Bebe, after his many trips to Portugal where he dug deep to learn about the history of azulejos which he had seen at railway stations, churches and on the exterior walls of local homes. After asking around and interacting with local artists, he met tile artist Eduardo Bobone who was keen to visit Goa. And so began the revival of the Portuguese art form in Goa. Today, the company is run by his daughter Ivina who works with a team of artists from Goa and Karnataka. Trained by visiting Portuguese artists, the team works out of the Aquem workshop where they craft everything from smaller customised ceramic pieces to larger-scale murals like a huge panel of 3173 hand-painted tiles for a chapel in Sri Lanka. Velha Goa Galeria welcomes all sorts of commissions, too. Evidently, it's hard to tear yourself away from this store without coming away with a literal piece of the 'real' Goa.
Rua de Ourém, Fontainhas (quarter), Altinho, Panjim; 09822159881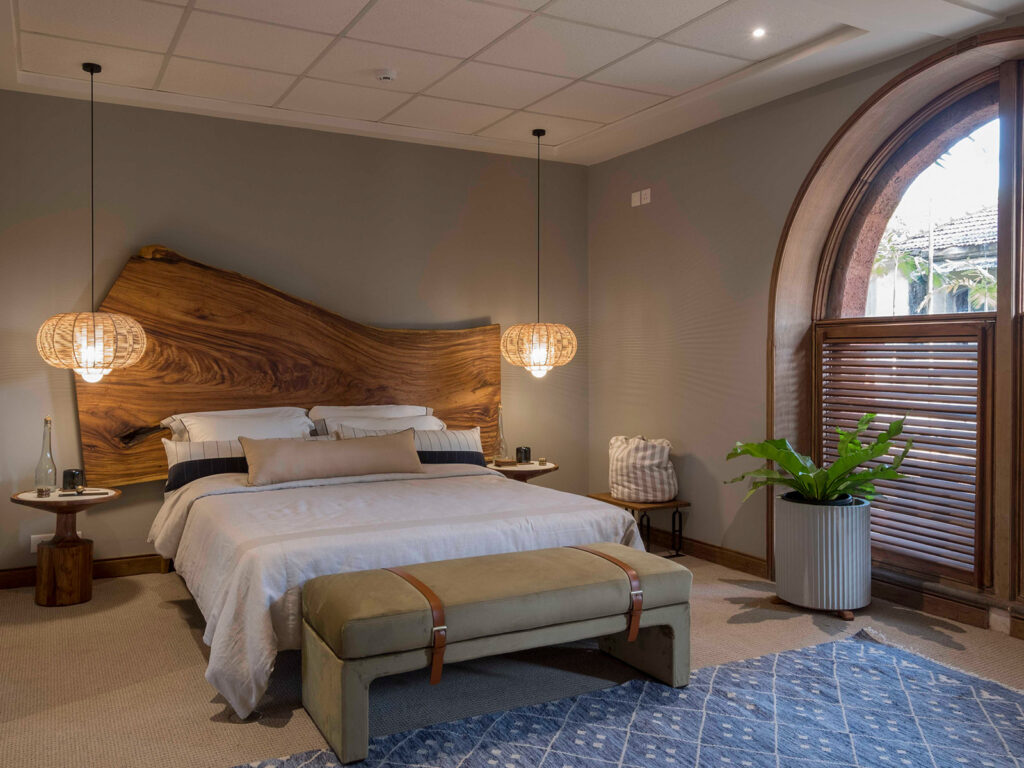 Josmo
When Josmo Studio opened the doors to its furniture retail space in Goa in 2018, pretty much everyone in the know knew just what to expect — artful yet highly functional pieces of furniture tinged with the modern and crafted by local hands. After all, Josmo Studio — led by designer Anjali Modi and her team of architects, designers, craftsmen and masters of material — was already well-established as the makers of both stunning spaces and bespoke furniture in Mumbai since 2010.
Just a walk through the many spaces across the 6000-sq-ft Porvorim store with a cool playlist as the soundtrack to your shopping spree will spell out Josmo's aesthetic and love for good design. A leafy haven dotted with at least 40 per cent of the Josmo catalogue, the sprawling store is where you'll find furniture that ranks high on form, functionality and material. From white Ash wood chairs with intricately woven cane backrests, and a cluster of little tables with wooden bases and brass table tops, right up to majestic poster beds, Josmo's artisanal pieces carry a keen focus on the use of sustainable materials. In the newly launched capsule collection, you'll find a wildly cool take on the Memphis movement presented as a gently curved upholstered sofa and a beautiful pair of coffee tables in a choice of colours like red, green or nude. Of course, if you have something specific in mind, you could also work closely with the team to give birth to your idea or have an entirely unique piece created just for your home. With a design studio and furniture foundry under the same roof, it's no wonder that Josmo Store is singularly known as the place where design dreams come to life.
FC Goa House H No.850 Off, NH 66, Porvorim; 07820890019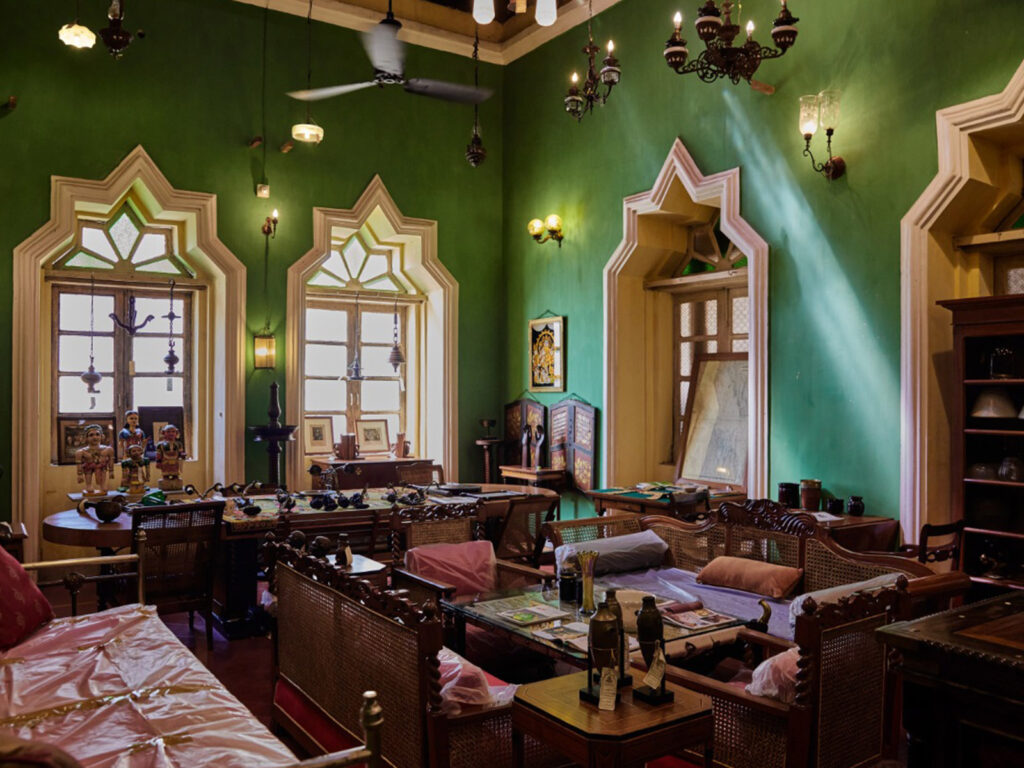 Saudades
Shopping for antique furniture is an investment that calls for a certain level of trust and knowledge. Moorthy and Jacinta of Saudades in Sangolda are synonymous with the restoration of colonial furniture from the British, Portuguese and Dutch eras in India, and the integrity and knowledge with which they conduct business is widely known and appreciated. The duo, who had launched the famed Moorthy's in Tardeo, Mumbai, much earlier, is well-acquainted with the art of restoration having been in this field for over four decades. Naturally, their Sangolda store which opened its doors back in 2001 continues to be a trusty place to source rare, functional and high-quality antique wooden furniture and Indian artifacts.
The shopping experience is far from tedious in the beautifully restored Indo-Portuguese mansion that holds two living rooms, five bedrooms, a study, an office, a balcao and a regal porch with a koi pond on the side. One of the most interesting pieces in store is a Dutch-influenced money lenders cabinet with secret compartments to keep prying eyes and quick fingers at bay. Crafted from rosewood, mahogany and ebony with incised inlay work, this charming piece comes lined with satin.
83, Chogm Rd, opposite Mãe de Deus Chapel, Sangolda; 08322409873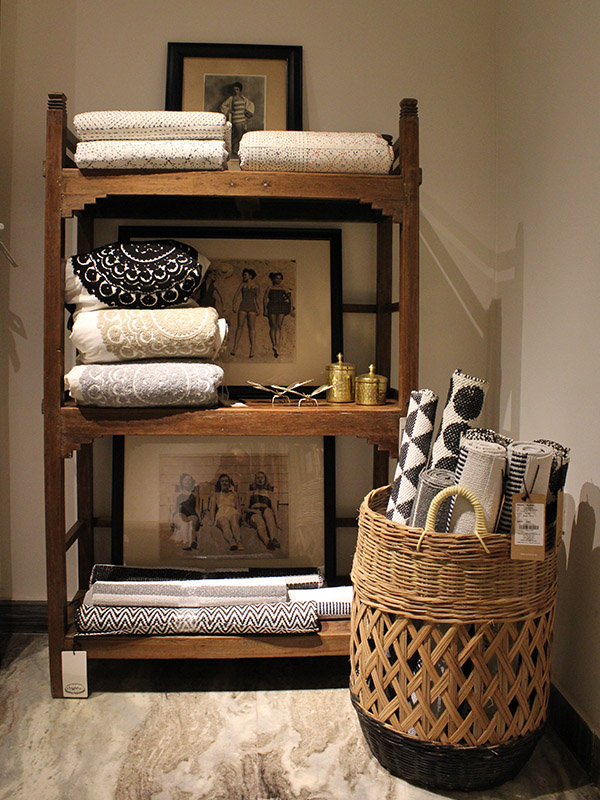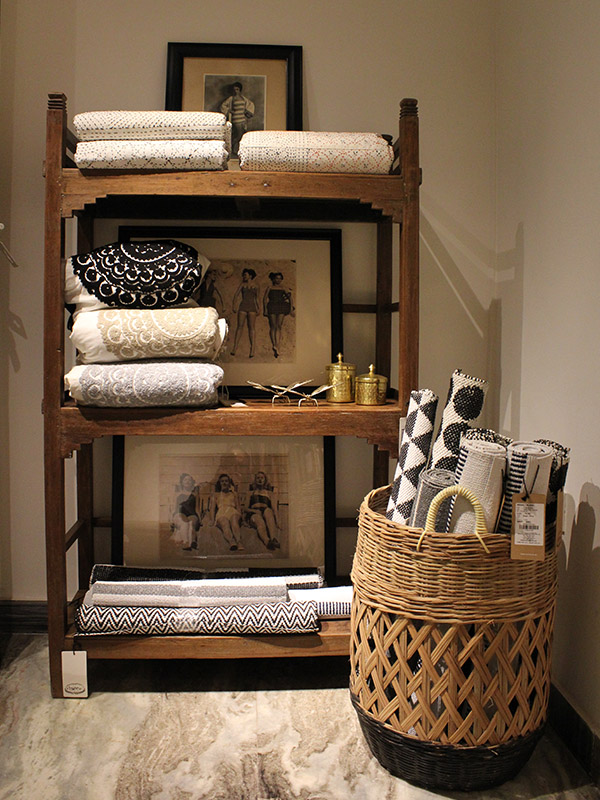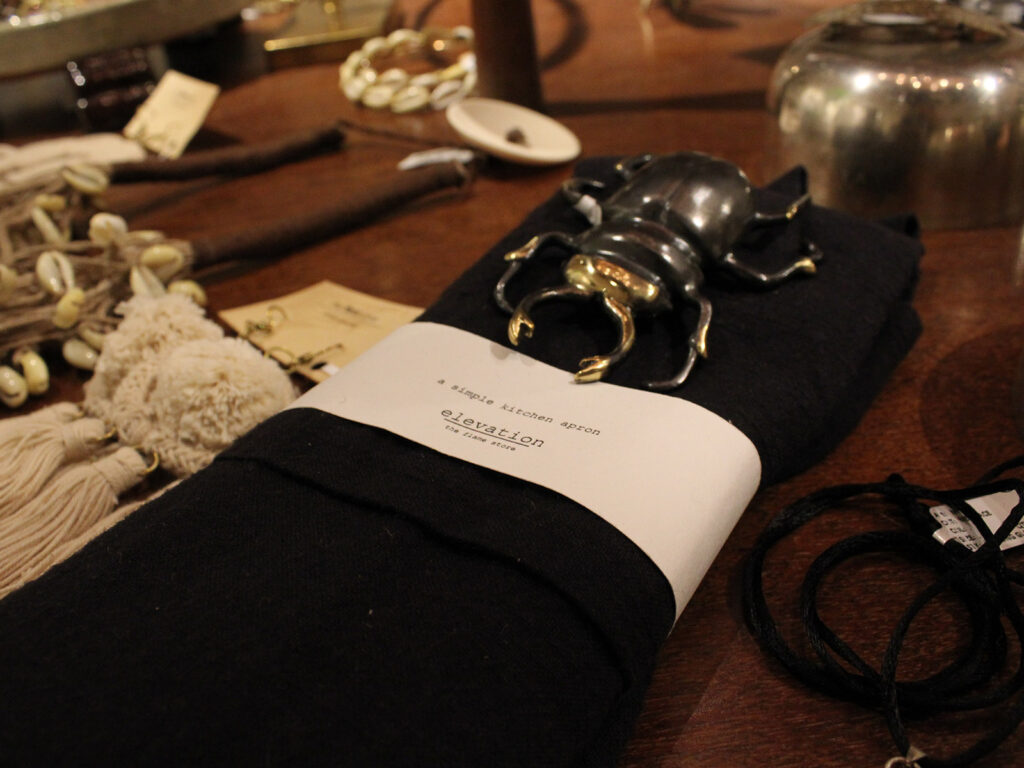 Elevation
If The Flame Store by Jagvir Matharoo and Martino Caramia at Candolim is bohemian and bright by design, their recently launched store Elevation carries a more understated, sophisticated design sensibility. A newer entrant on the Sangolda design store strip, Elevation was launched in December 2019 to showcase an entirely different product line from the Flame Store.
With a look and feel that is muted and organic, one notices the emphasis on natural textiles and an unquestionably minimal, chic aesthetic. Jute and hemp carpets are laid out against monochrome attire, and rattan and cane furniture sits comfortably amid metal accents and changing rooms with opulent Victorian curtains. Here, you'll also find a great selection of young, sustainable brands that craft everyday products like coir brushes and bamboo toothbrushes.
66, Chogm Rd, opp Freedom Tree, Sangolda; 8551800036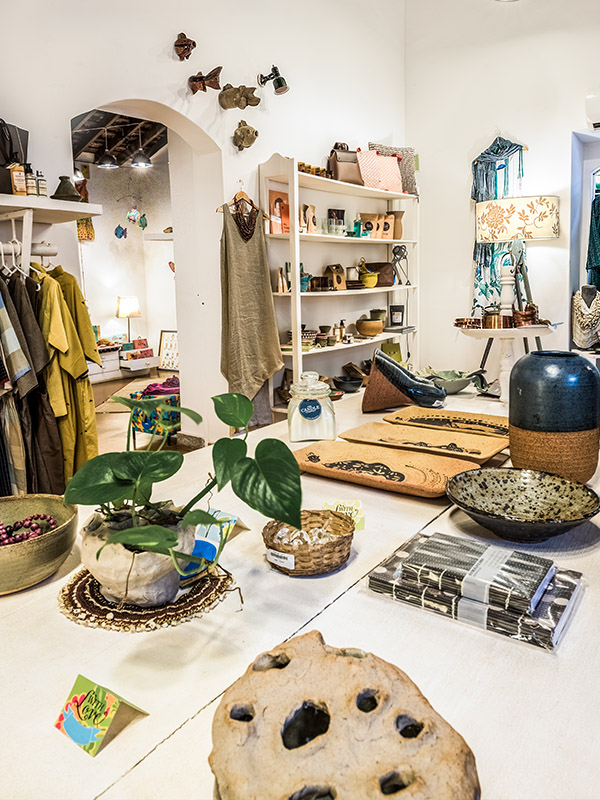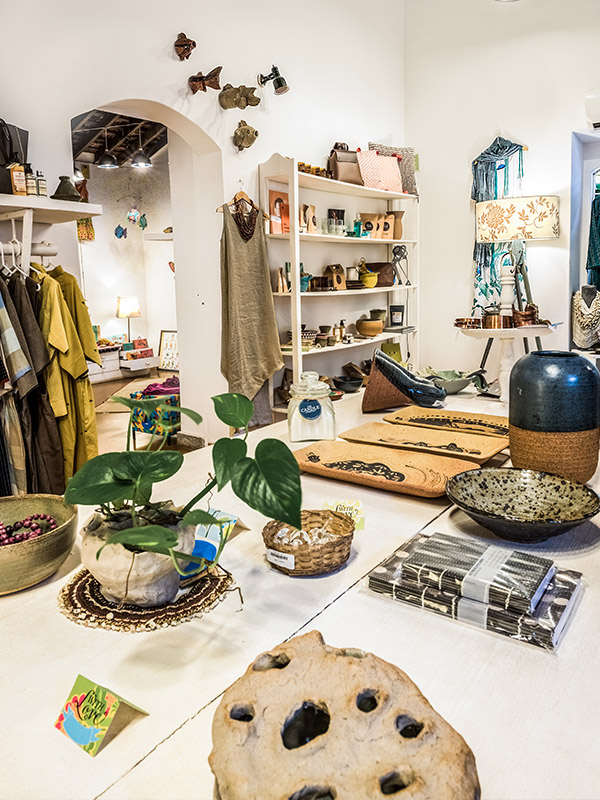 Paper Boat Collective
Yet another must-visit on the Sangolda stretch, Paper Boat Collective is a concept store that showcases the work of Indian designers. Here, products have a focus on sustainability and are handcrafted using slow, artisanal production techniques. Launched in 2013 under the keen curatorial eye of Bhagyashree Patwardhan, the store continues to highlight a contemporary Indian yet modern aesthetic.
Again, shopping at Paper Boat Collective is a literal breeze. Spread across several rooms of a villa, you can peacefully peruse the store's well-curated clothing, beauty and accessory lines, and the wide selection of home and lifestyle products. Everything, from the homeware and lighting right up to the cool home décor on display, is sourced from designers across the length and breadth of India including Meghalaya, Pondicherry and several villages nestled in the Himalayas.
H No. 248 Bella Vista, near Alua Resort, Sangolda; 07507470248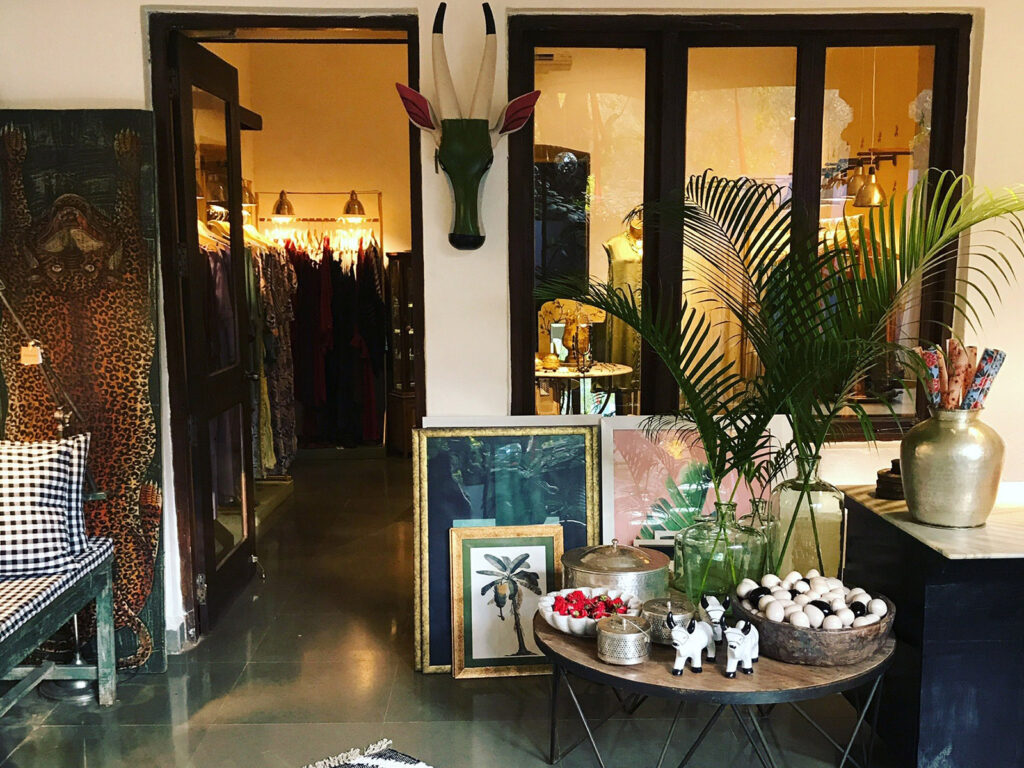 Rangeela
This concept store in the leafy village of Assagao found a home in a sprawling ancestral Goan home surrounded by a large courtyard way back in 1999. Renovated by the late designer Jivi Sethi, it is set in a tropical garden with koi ponds. Starting with the spacious balcao that displays all sorts of rare collectibles from across the globe, shopping at Rangeela is an effortlessly fun experience as you browse through attire, accessories, home décor and furniture.
Pick from a host of décor for the home, including table accessories made from paddy stubble preserved at the end of harvest as well as handmade cotton cushion covers that are perfect for an outdoor setting. Mortars and pestles, bowls inspired by a honeycomb, vases and bread boards all crafted from Sheesham wood can add a nice touch to the kitchen, while mats woven from Sabai grass by a tribal community in Orissa are perfect to bring a bit of the beach into your home.
#13, Anjuna Mapusa Rd, near Gunpowder Restaurant, Saunta Vaddo, Gumal Vaddo, Assagao; 08322268944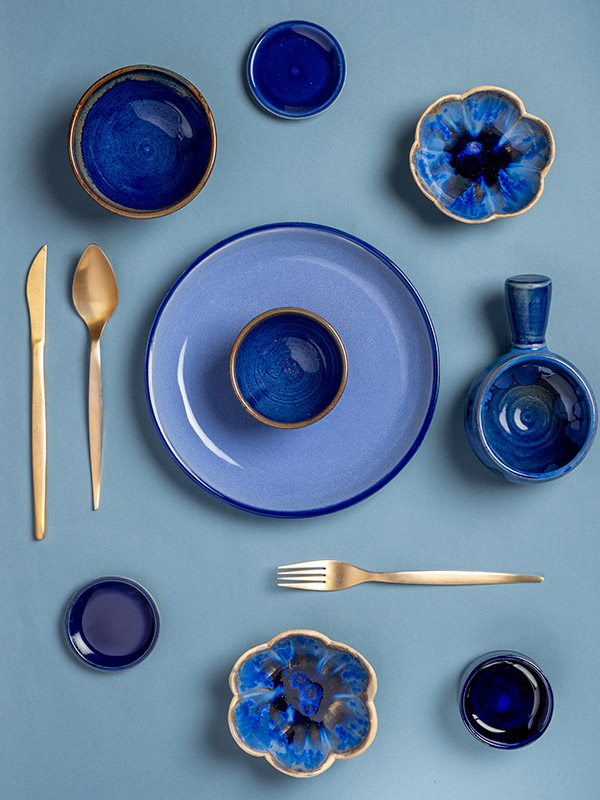 Terravida
Every inch of space at the Terravida store is packed with beautifully handcrafted ceramics for the home. Located in a by-lane of Fontainhas in Panjim, this gem of a store has been around since 2017 and is loved for its dinner plate sets, coffee mugs, tea sets, water jugs, platters and even oil dispensers. Its founder Aparna Khaunte and visual designer Karina Amonkar seem to have no shortage of inspiration ahead of designing collections. Drawing from Goa's heritage and a slew of elements that hark back to the rustic Goan village life, every piece has a story to tell.
The latest collection on display features an assortment of roosters that find form on dinner plates, quarter plates, bowls and magnets. A past collection featured hand-painted botanical illustrations that are truly evocative of the 'Endless Summer' it was named after. The festive edit is always a hit whether it's the brand's Christmas-themed or Indian motif-adorned serveware.
Casa Rocha, 31st January Road, Fontainhas, Panjim