4 Luxurious Bhutanese Mountain Retreats In The Lap Of Nature
11

Jul

'23

2:53 pm

by

Beverly Pereira
Those who have journeyed through Bhutan liken the land to paradise. It is remote, yet accessible—therein lies the beauty of this Himalayan Kingdom, where archery is an everyday means of recreation and dzongs and monasteries soar against the backdrop of the majestic Eastern Himalayas. Untouched by the pursuit of economic growth at the cost of the environment, the last great Himalayan Kingdom with its valleys and prayer flag-strung gorges holds sustainability at its core. The planet's first and only carbon-negative country nurtures over 70 percent of forested land, and even industrialisation efforts are linked to its natural and cultural resources in the most thoughtful and sustainable manner.
Journeying through the culturally and spiritually rich land of Bhutan is best described as travel that's high on value but low on impact. Nestled amid the Eastern Himalayas, this landlocked South Asian country is flanked by Tibet in the north and the Indian states of Sikkim, Assam, West Bengal and Arunachal Pradesh to its south. Indian passport holders do not require a visa but need an entry permit (online) and travel insurance.
If you've meditated long and hard on the decision to finally experience the Kingdom of Bhutan, we've put together four luxury stays that celebrate Bhutanese culture and heritage—all vetted, for their spectacular valley-views, exemplary service, and serenity-inducing surrounds.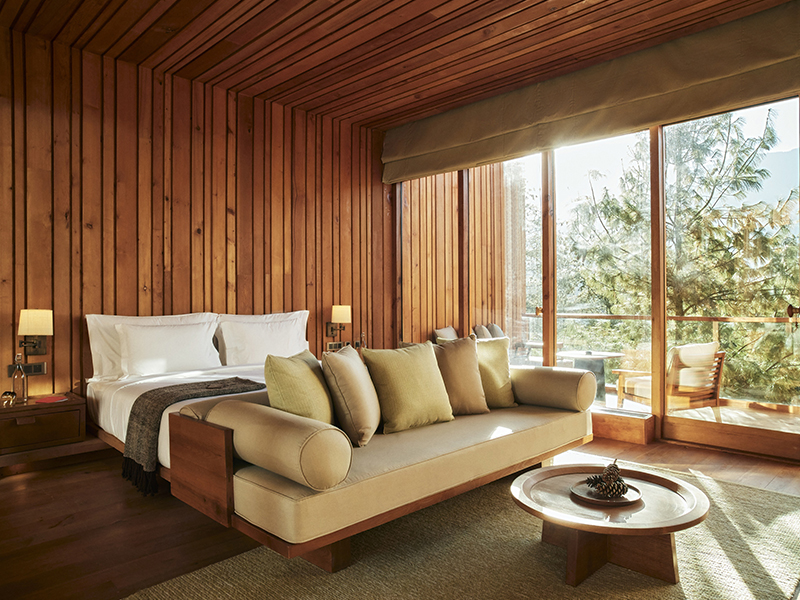 Six Senses Bhutan – Bumthang
Driving past terraced farmland, over the Yotong La Mountains in Eastern Bhutan and into the lush Chhume Valley, one arrives at Six Senses Bhutan in Bumthang, a tranquil retreat set in a pine forest on a hillside above a trout-filled stream. One among the five Six Senses Bhutan lodges, this luxury lodge comes with just eight well-appointed suites and a two-bedroom villa built around existing pine trees. Crafted from weathered timber with glass-to-ceiling windows all around, the suites are warm and cosy and bring in soothing views of the pine forest in the valley beyond. Habita Architects, an architectural firm proficient in infusing hospitality projects with regional and indigenous architectural character designed Six Senses Bumthang and the four other Six Senses lodges in Bhutan.
Also read: 2023's Most Hotly Anticipated Hotels Include A Luxury Lodge Within Reach Of Nepal's 'Forbidden Kingdom' And More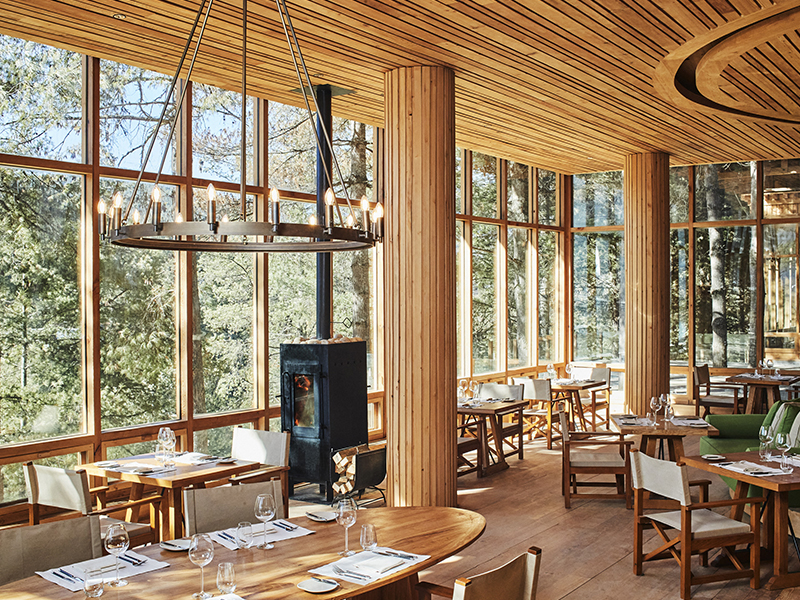 At the fireside Tongtshang restaurant, one can indulge in a wholesome farm-to-table Bhutanese meal. Dining at the al fresco area amid the pine forest with some trees even growing through the restaurant's stone flooring offers a truly immersive experience. Beyond the enchanting environs of this lodge, one can embark on a nature walk or full-fledged trek, go mushroom foraging, visit spiritual sites and a local wheat beer brewery, and engage with local communities to gain a deeper understanding of the Bhutanese way of life. Back in the forest, there are ample opportunities to unwind all over again including a Himalayan salt exfoliation treatment followed by a traditional Dotsho stone bath and massage, archery sessions, yoga, and meditation programmes.
#DPLoves
– The immersive 'Forest in a Forest' luxury lodge setting at Six Senses Bumthang
– The invigorating Hingsangsa Zoni Bathing Ritual and Cleanse at the Six Senses spa and hot stone bath facilities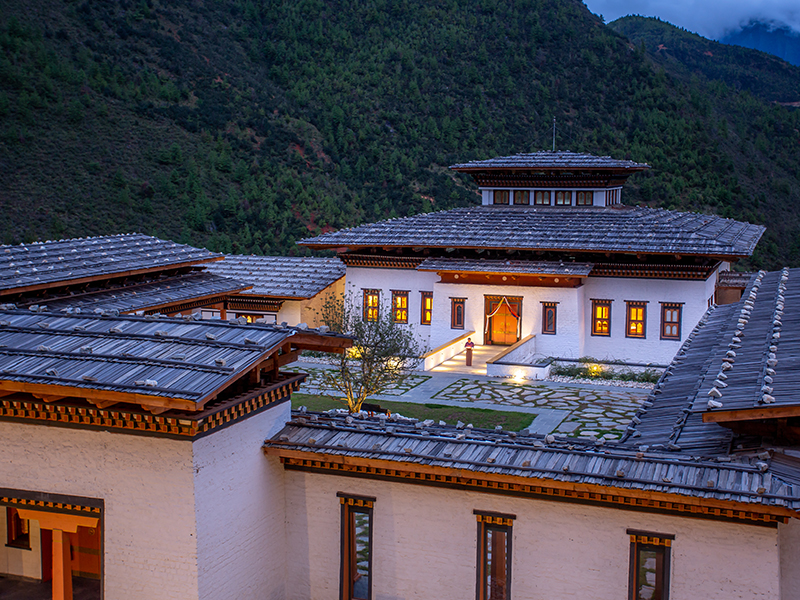 Bhutan Spirit Sanctuary
A short drive from Paro, Bhutan Spirit Sanctuary offers a harmonious blend of ancient wisdom and modern comforts. Inspired by the traditional Bhutanese dzong, or fortress, architecture, its façade features vibrant colour and intricate woodwork. Envisioned by Dutch hotelier Louk Lennaert and designed by Vietnam-based Pure Design Studio, the Sanctuary, as it is called in inner circles, is where those in the know come to rejuvenate and reconnect.
Also read: The Newly-Opened Westin Resort & Spa, Himalayas Champions Yogic Philosophies And Modern Luxury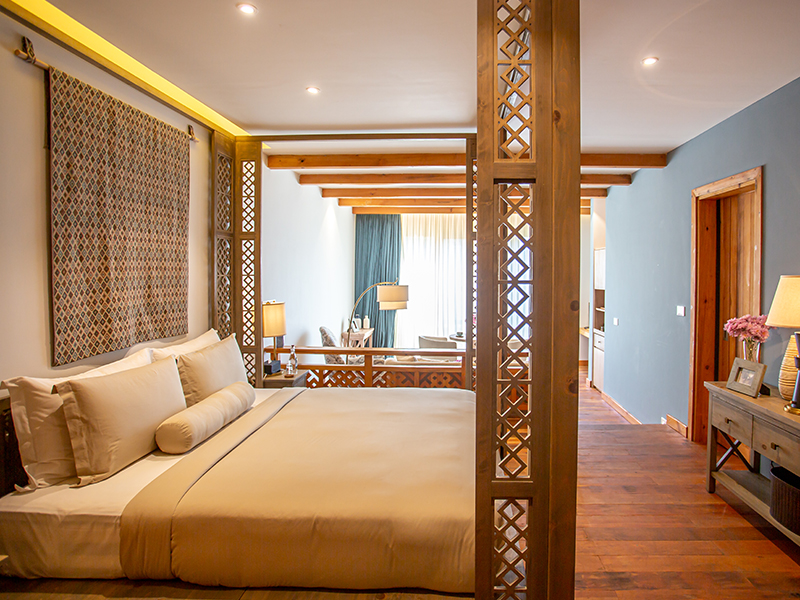 An all-inclusive stay includes luxurious rooms with scenic Neyphu Valley views, breakfast, four-course set lunches, six-course set dinners, and the free use of wellness services. The wellness centre is specialised in Traditional Bhutanese Medicine and any and every sign of tiredness fades away under the deft strokes of therapists.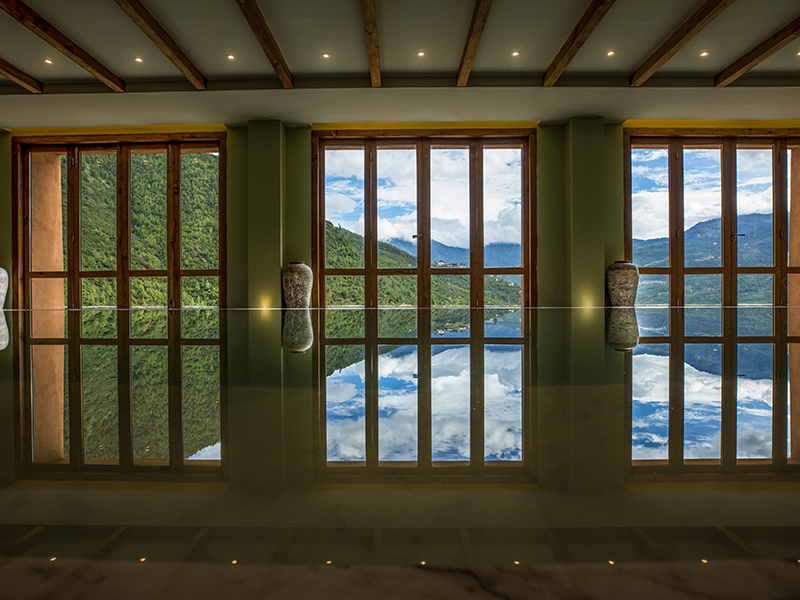 Guests can sign up for yoga, attend cooking classes and craft ceramics at the pottery studio besides exploring a varied collection of books at its elegant, sun-drenched library decorated with vintage tapestry wall coverings. The tea bar offers a menu replete with herbal infused teas, while the in-house restaurant uses local and seasonal products from its own greenhouse and vegetable-herb garden to present beautifully designed meals. Aside from easier valley treks, the hotel organises an intense trek to the famous Tiger's Nest Buddhist monastery. The first and possibly the only upscale property in Bhutan to offer an all-inclusive stay, Bhutan Spirit Sanctuary is one of those inconspicuous, rare finds.
#DPLoves
-The wellness-focussed approach including the array of signature therapies and the introduction to traditional Bhutanese herbs displayed in the lounge
-The "Social Table" at the restaurant where guests can interact with each other and the interesting lot of Bhutanese people invited for intimate dinners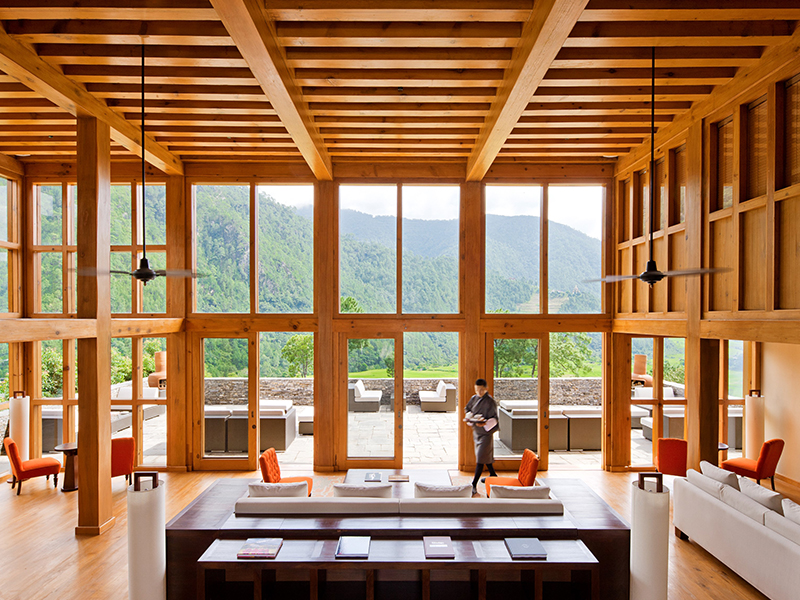 COMO Uma Punakha
A five-hour drive from Paro International Airport, COMO Uma Punakha rests upon a tree-covered hill that overlooks Punakha Valley. True to the COMO group's clean-lined aesthetic, this luxury property was designed by Cheong Yew Kwan, a Singapore-born, Bali-based architect who has also designed COMO Shambhala Estate and Uma by COMO in Bali.Here, ten villas and rooms merge traditional craftsmanship with modern design. What's more is that every villa comes with its own therapy suite for a totally secluded wellness experience. Striking views of the valley below, Mo Chhu river and hilly peaks looming in the distance are a major draw at this upscale mountain retreat. While remote it is, in fact, the ideal place to get under the skin of the picturesque Himalayan Kingdom of Bhutan.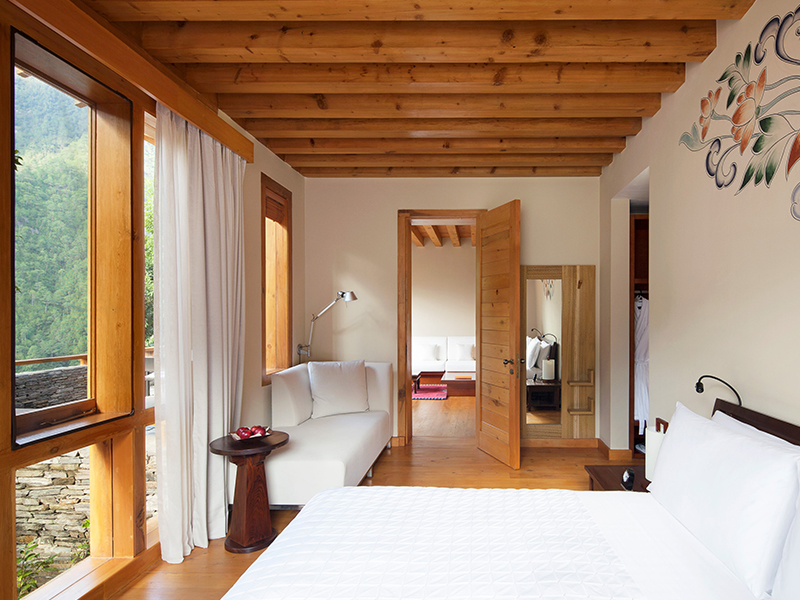 Exquisite culinary creations whipped up using seasonal, local produce by its signature restaurant Bukhari are yet another highlight of a stay at this property, while Uma Bar is the place to unwind after a day of discoveries. Aside from immersing oneself in the beauty of the landscape from the beautiful guest rooms, there's a lot to see and do in and around Paro. From visits to temples, Dzongs and the Paro Museum and easy half-day hikes, to mountain biking through villages, white water rafting, COMO Uma Punakha is where the nature loving, culture-curious traveller is most at home. Finally, there's the COMO Shambhala Retreat featuring hot-stone bathhouses, an indoor pool and a mountain-facing deck that work beautifully to up the tranquil experience.
#DPLoves
-The private dining experience arranged with care at villa terraces or an outdoor location
-The COMO Shambhala Retreat space nestled in a woodland glade with spectacular views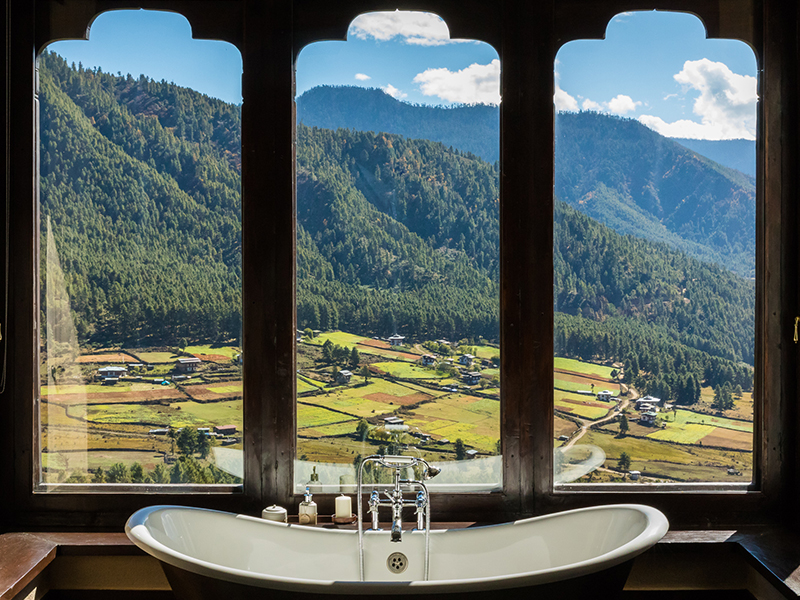 Gangtey Lodge
Set in the spectacular Bhutanese valley of Gangtey, this lodge embodies authentic luxury and is the perfect gateway to explore the untouched central and eastern part of Bhutan. Nestled above the imposing Gangtey Goenpa, its design is inspired by the spiritual site that dates back to the 17th century as well as traditional farmhouses of the land. A vision of husband-wife team Khin Omar Win and Brett Melzer of luxury adventure company Eastern Safaris and their Bhutanese partner Yeshey Norbu, Gangtey Lodge was brought to life by Australian architect Mary Lou Thompson. With windows that frame enchanting valley views and design details like temple-like columns, carved timber architraves and dry-stone walls, there's a surprise for the design-forward traveller at every turn, really. The overarching aesthetic is decidedly unimposing, starkly beautiful and an honest reflection of the beautiful Kingdom of Bhutan.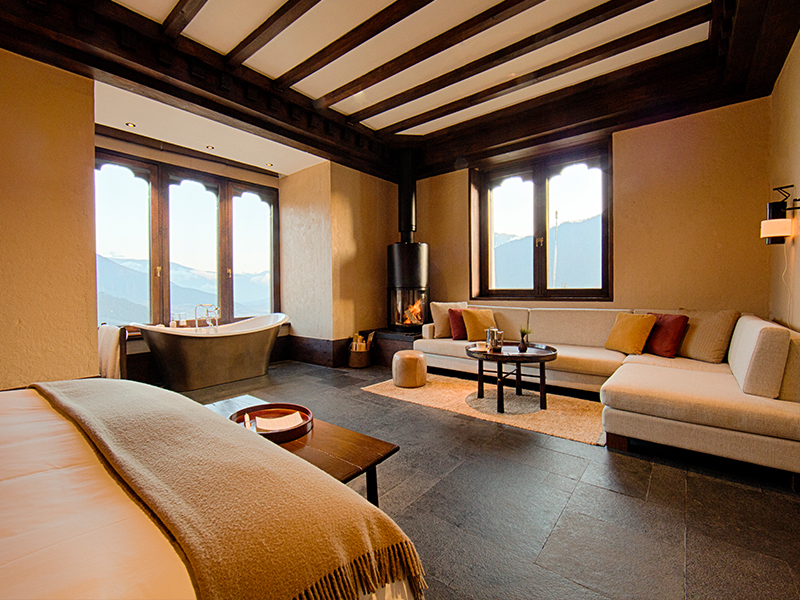 A dozen earth-toned guestrooms feature a Swiss fireplace, handcrafted freestanding bathtubs and sweeping valley views. The Gangtey Lodge dining experience is a delight, thanks to a menu bursting with Bhutanese specials and old favourites alike. The lodge offers an array of activities to immerse oneself in the rich culture of Bhutan. From cooking classes and breakfasts at the monastery to visits to venerable sites like the monastery and Shedra Buddhist College, Gangtey Lodge leaves no stone unturned when it comes to offering an authentic experience.
#DPLoves
– The cosy private dining experience set up in a traditional woodshed nestled a step below the lodge
– The traditional Bhutanese Hot Stone Bath to end the day on a soothing note