The Himalayan High Life – 5 Luxury Mountain Retreats To Visit In Summer 2023
10

May

'23

3:07 pm

by

Nuriyah Johar
As the summer of 2023 unfolds, discerning travelers are seeking out exclusive hilltop resorts that offer the perfect combination of luxury, seclusion, and immersion in nature. The popularity of mountain retreats has soared as travelers prioritize wellness, relaxation, and a desire to reconnect with the natural world. India's varied topography offers a plethora of options for those seeking a retreat, each unique in their luxury offerings and stunning vistas.
Our list curates five luxury mountain resorts in India that boast a flawless blend of traditional charm and modern elegance, creating an unforgettable experience amidst breathtaking natural beauty. Whether you're looking for a solo excursion or a family getaway, these resorts offer unparalleled relaxation and indulgence. Here are our top picks –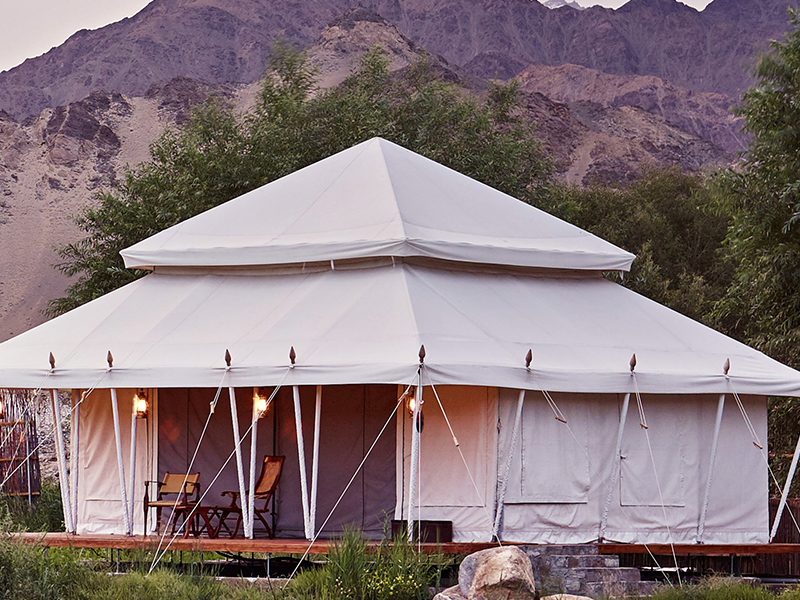 #1 Chamba Camp Thiksey, Leh
Fringed by the Stok and Ladakh mountain ranges and the famous Thiksey monastery towers, Chamba Camp Thiksey offers a luxurious retreat for those seeking both adventure and relaxation. The camp boasts 14 cream-coloured luxury tents, each with personalized butler service, a private deck, snack drawer, and bespoke Ayurvedic bath products. The dining tent is elegantly understated with a block-printed ceiling, pendant lamps, wooden seating and an alfresco dining terrace. In addition, the hotel's organic gardens provide more than 80% of the vegetables and herbs used in the restaurant.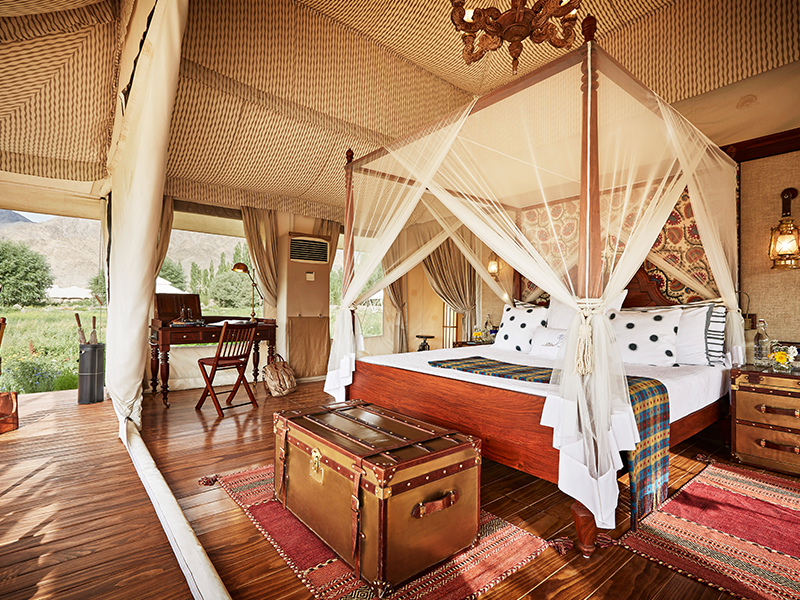 Activities abound at Chamba Camp Thiksey, including archery classes, nature walks, cookery classes, croquet, and demonstrations by local artists. Guided village and heritage walks, cultural tours, day hikes, mountain-biking excursions, picnics, and rafting are also available. Guests can also explore the magnificent monasteries of Thiksey, Stakna, Shey and Hemis, and the capital city of Leh.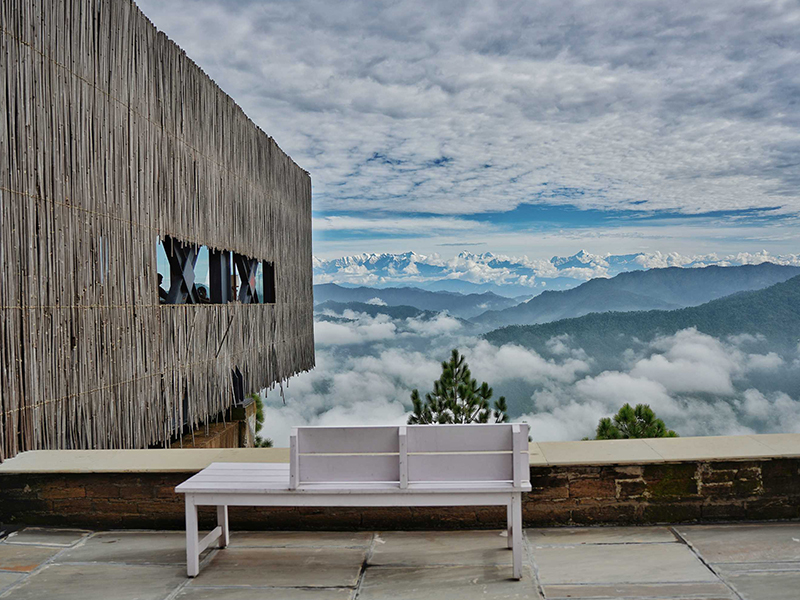 #2 The Kumaon, Almora
Nestled in the heart of the Himalayas, The Kumaon offers an unforgettable experience that allows guests to disconnect from the world and reconnect with their true selves. Perched on a ridge surrounded by the Nanda Devi Range, the hotel boasts a variety of experiences for visitors. Its topmost structure, built 1600 meters above sea level, cantilevers out to offer a panoramic view of the Himalayas, with a dining room walled in bamboo and rotating glass walls that maximize guests' views of the surrounding forests, terraces, and mountain peaks.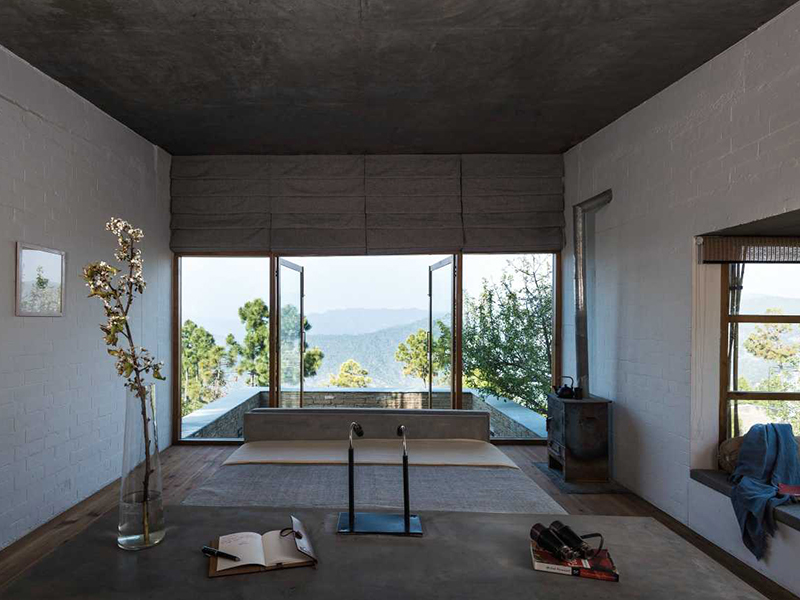 The property offers ten luxury chalets, each with a private balcony, making it an ideal destination for nature lovers, adventure seekers, culinary enthusiasts, and wellness enthusiasts alike. Additionally, the secluded and comfortable setting of The Kumaon creates a perfect ambiance for stargazing. The hotel offers a newly introduced two-hour star gazing session, which can be booked upon request with expert guidance.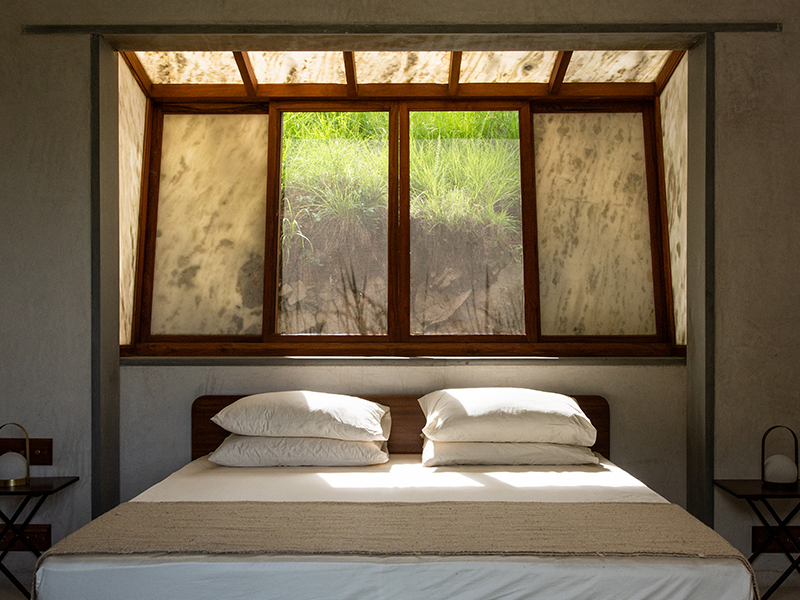 #3 Amaya, Kasauli
Perched atop a lofty hillside in Kasauli with remarkable views of the Himalayas lies Amaya – a private retreat designed by one of India's most celebrated architects, Bijoy Jain of Studio Mumbai. The ethos of simplicity is almost palpable here, woven into the larger the idea of conscious luxury travel. Amaya, with its minimal footprint and an undertaking to restore and preserve its 25 acre private forest is revolutionary for India, and the resort's minimalist elegance is at the heart of every thoughtfully designed structure.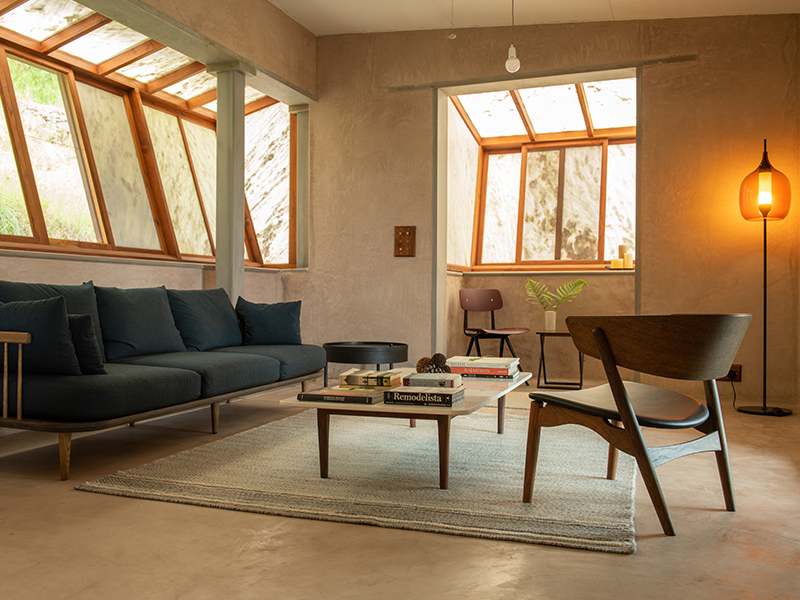 Amaya comprises a selection of chalets, suites, and villas. Each of the five villas comes with a study or an artist studio, along with dining and living spaces, a fully equipped kitchen, and three independent ensuite bedrooms with wrap-around porches that hug each structure and the angled terraces. In addition, the property has nine one-bedroom chalets and six suites comprising a bedroom and a study. In addition to the private spaces, at the top of the private ridge lie the restaurant, the Finnish saunas, the library and a stunning teardrop shaped heated swimming pool.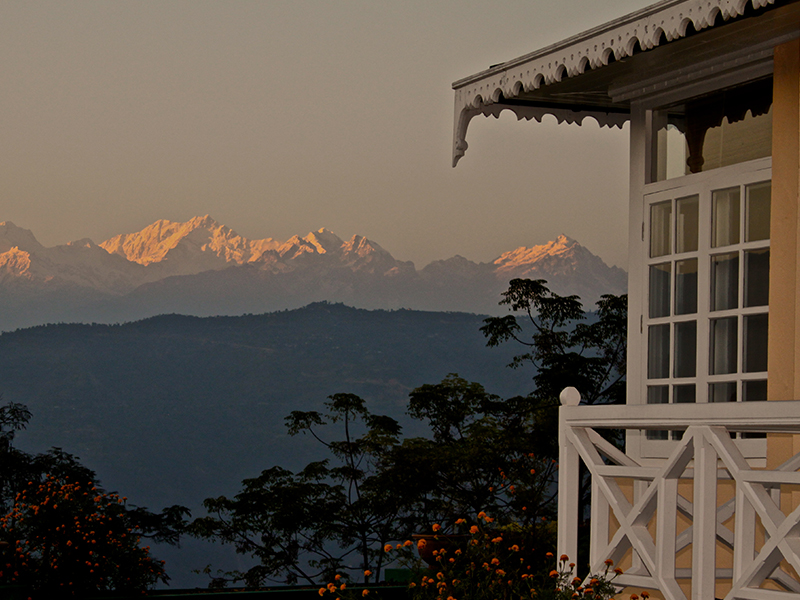 #4 Glenburn Tea Estate & Boutique Hotel, Darjeeling
Nestled in the foothills of the Eastern Himalayas, the Glenburn Tea Estate and Boutique Hotel in Darjeeling offers a luxurious escape for travellers seeking unique, immersive experiences. Spread across a sprawling 1600-acre private working tea estate, the property comprises 1000 acres of dense forests and 600 acres of tea fields. The estate is situated on a small hilltop overlooking Mount Kanchenjunga, and is bordered by the rivers Rangeet and Rung Dung.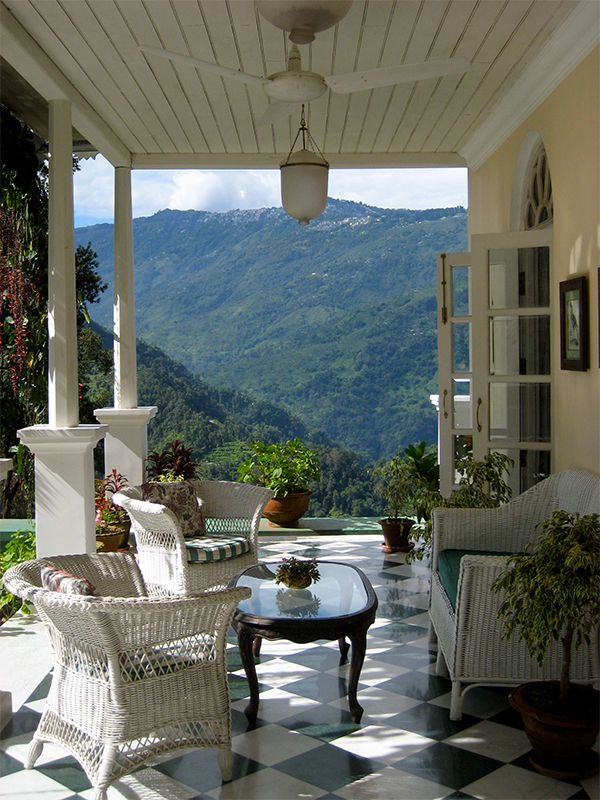 The 8-key boutique hotel consists of two beautifully restored bungalows, each furnished with antique furniture and decorated around unique themes inspired by local flora and fauna. For tea enthusiasts, Glenburn offers an array of tea-related experiences, from visiting the tea factory to tasting the estate's signature blends. And for those seeking adventure, the estate's private forests and rivers offer ample opportunities for hiking, fishing, and birdwatching.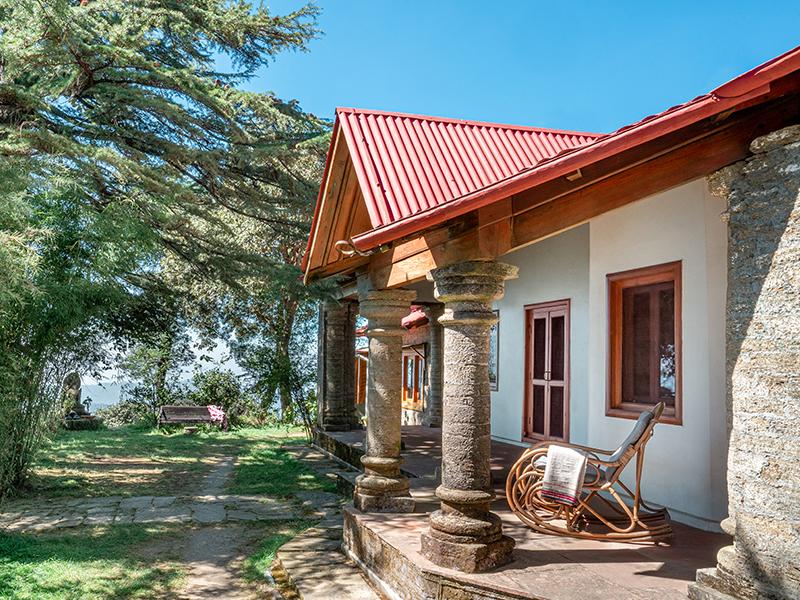 #5 Mary Budden Estate, Binsar
The ethos of endearing ecotourism comes alive at this luxurious hideaway in the Himalayas; nestled in the verdant forests of Uttarakhand, Mary Budden Estate is remote yet reachable. Named for its founder, this charming estate was established in the late 1800s as a private residence, and was then converted into a school for local orphans. Cut to a hundred years later, when acclaimed photographer and writer Serena Chopra bought the property and turned it into her home in the mountains. While Chopra continues to own it, the property is currently being managed by MRS Hotels and stands as an elegant getaway.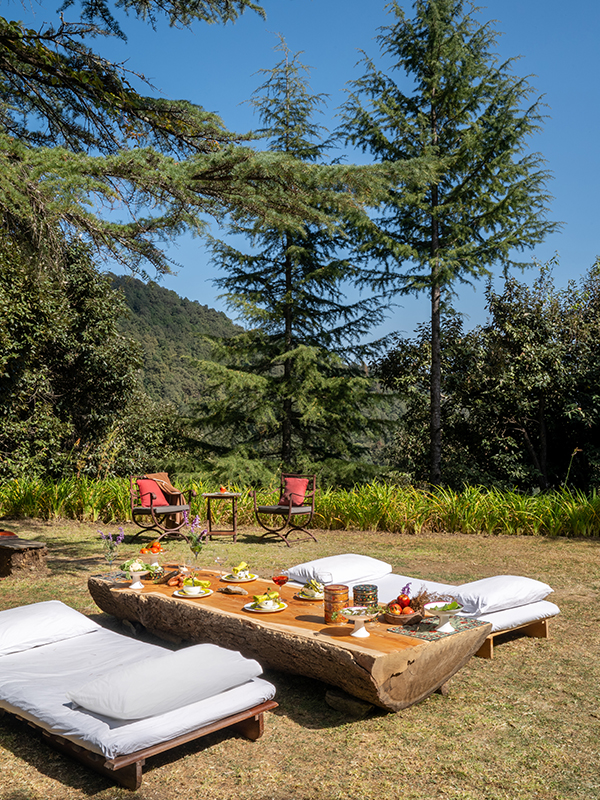 Mary Budden Estate is spread over 5 acres of land overlooking the primeval forests of Binsar. The property features a mix of rustic wooden cottages and four lodges, where time stands still. The true essence of the estate comes alive while walking down the stoned pathways set amidst pine trees, the endless forest trails, and postcard-worthy skies. One of Mary Budden's most unique experiences by night is The Milky Way Dinner wherein you are served quite exquisitely under the stars. Here, traditional mountain cuisine served in gilded dinnerware is accompanied by mystical candlelight and stories of the estate. Throughout Mary Budden, there lies a compelling dialogue between luxury indulgence and authentic mountain traditions.
Also Read : The Newly-Opened Westin Resort & Spa, Himalayas Champions Yogic Philosophies And Modern Luxury