7 Things To Do With Your Kids At Dubai Design Week 2022
8

Nov

'22

6:29 pm

by

Crew
The Middle East's foremost design festival is back for its eighth edition! From the 8th to the 13th of November, Dubai Design Week 2022 is set to showcase regional and local creative talent to a global audience through immersive installations, unique exhibitions, and thoughtful panel discussions. The annual event is one of the region's most significant cultural occasions with a line-up that demonstrates Dubai's commitment to design. In an endeavor to make the fair as accessible as possible to all ages, Dubai Design Week's programming includes a number of workshops for children, and installations that would no doubt stimulate their curious minds. Here's our list of all what you can do with your children at Dubai Design Week –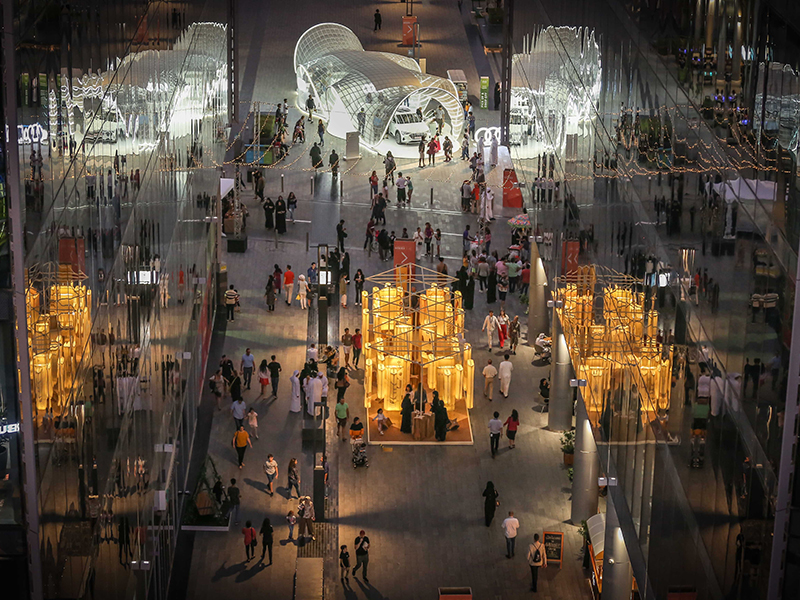 Bio Dyes (Workshop)
Studio B.O.R by Batool Al-Rushdan
A unique blend of handicraft and technology, this workshop by Studio B.O.R is set to examine alternate color sources and processing – a distinctive area of exploration, not often introduced to children.
At this one-of-a-kind workshop, participants will investigate the origins and preparation of several alternative colours, merging conventional handicraft methods with contemporary technological advances. Showcasing the merits of plant-based dyes, the workshop aims to inculcate a conscious and curious mindset amongst the young participants, while also instilling within them an appreciation for craftsmanship. The workshop is suited to children age 10 and up.
Dates – Wednesday, 09 November 2022, from 05:30 PM – 07:30 PM
Tree House (Installation)
Hiloni Sutaria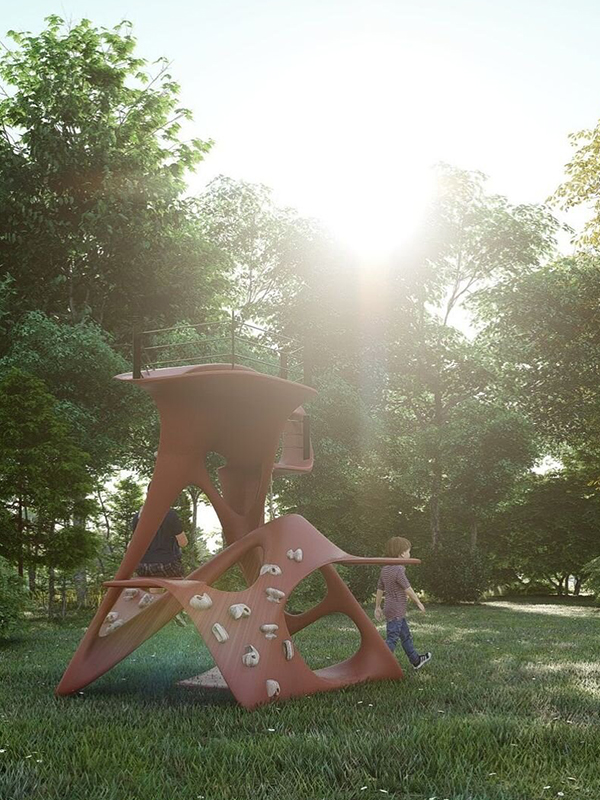 This modern interpretation of a Tree House by Hiloni Sutaria of HSC Designs brings contemporary design to the traditional kid's play area. Taking inspiration from the patterns and sub-patterns of a tree, this installation has branching platforms for children's play. The Tree House's varied platform sizes are meticulously designed in order to evoke feelings of surprise and encourage movement. The play area includes interactive elements, such as climbing hooks, ropes and slides. The installation can be grounded, or can perform the tree house's traditional function, mounted in a tree. Designed with a sustainability-first ethos, this piece of outdoor furniture is made from solely recycled materials, including scaffolding from site scrap and recycled concrete, polished with coconut oil.
The City of Paper – Madinat Al Waraq (Workshop)
Collective Paper Aesthetics by Noa Haim
Perfect for children age 7 and up, this interactive building game from Rotterdam-based studio Collective Paper Aesthetics features easy-to-assemble paper building blocks. The Embassy of the Kingdom of the Netherlands in Abu Dhabi and the Consulate-General in Dubai are inviting children to create beautiful structures and engage with their creative sensibilities. The activity will be supported by students from Architectural Engineering – (COE) department at United Arab Emirates University. An interesting point to note is that since its introduction at the London Architecture Festival 2008, the A4 Paper Toy model has been used by museum education departments all over the world.
Dates – Saturday, 12 November 2022, from 3:00 PM – 4:30 PM and Sunday, 13 November 2022, from 2:00 PM – 3:30 PM.
The Musical Ring (Installation)
Sharabassy Built Environment Studio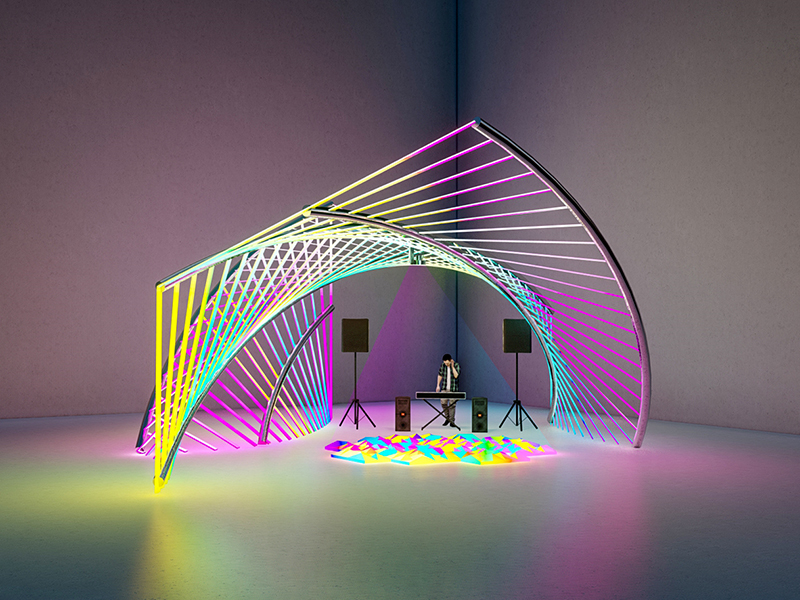 The Musical Ring is an architectural installation that juxtaposes light displays with music to create a striking audiovisual show. The structure reflects and refracts light in order to create illumination effects that are regularly synchronized with music. A ring of lasers, video projections, and three-dimensional imagery make it a compelling installation for children and adults alike.
Eco Printing (Workshop)
Loreta Bilinskaite – Monie
Further tying into Dubai Design Week 2022's focus on designing for a sustainable future is a workshop by artist Loreta Bilinskaite-Monie who invites you to learn eco-friendly, plant-pounding techniques through creating natural dyes and plant patterns on a cotton tote bag. You will create your own magical tale, invent characters, shapes and composition. Suitable for children age 10 and up, the workshop aims to help young minds flow with mindfulness in a magical world of plant dye.
Dates – Sunday, 13 November 2022, from 11:30 am – 1:30 pm
Also Read : Dubai's Proposed MOON Resort Promises A 'Lunar Experience' On Earth
It's up to You! (Workshop)
La Cabane du Design in collaboration with Atelier Regards
With plaster as a base material, this workshop encourages children aged 5 to 12 to create unique 3d compositions in a variety of shapes and forms. La Cabane du design in collaboration with the collective Atelier Regard encourage children to experiment with materials, molding and new forms with plaster. The motive is for the child to manipulate, make, build and assemble their made molded masterpieces; thus, allowing them to understand the principles of organization and composition.
Dates – Saturday, 12 November 2022 from 2:30 pm – 4:30 pm and 4:30 pm – 6:30 pm
Sunday, 13 November 2022 from 2:00 pm – 4:00 pm and 4:00 pm – 6:00 pm
RI-BBORN (Installation)
Ajman University: Nada Zuhair & Riham Ahmed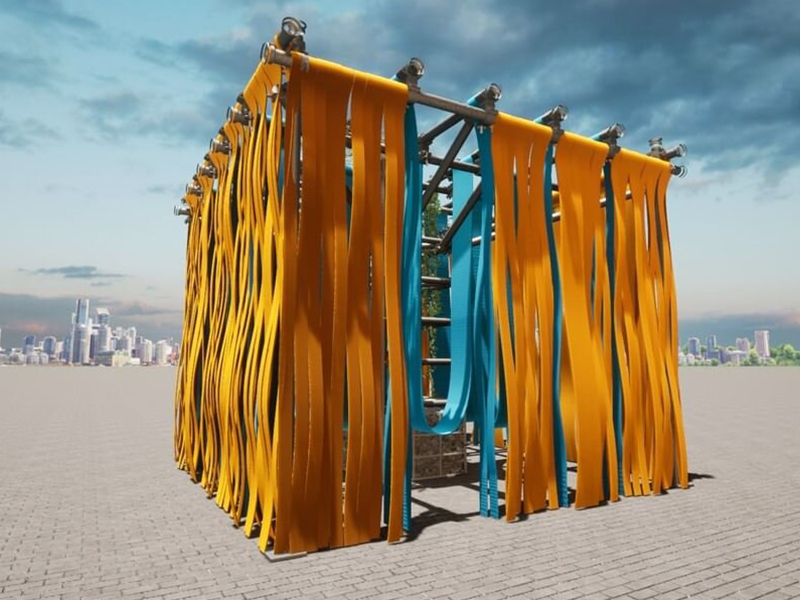 An artistic installation that upholds the importance of sustainability, RI-BBORN takes into account the 3 R's (reduce, reuse, recycle) that every child is introduced to. A theatrical opening starts with the unleashing of ribbons, taking you on a journey and broadening your perspective through its combinations of various salvaged materials. A vivid orange hue takes over the installation, symbolizing a powerful connection to multicultural communities. The addition of blue intends to evoke feelings of freedom, confidence, and stability associated with open space.