All Aboard This Railway-Themed Resort In Thailand – The InterContinental Khao Yai By Bill Bensley
29

Nov

'22

1:11 pm

by

Nuriyah Johar
When it comes to immersive hospitality, Bill Bensley never misses! Every project the trailblazing starchitect touches turns into gold and his newest endeavour, the InterContinental Khao Yai Resort in Thailand is no exception. Bensley's muse this time around was the golden age of train travel, and the resort's pièce de résistance is a set of 19 repurposed heritage railcar suites and villas that offer travellers an unforgettable experience. Nestled within the country's lush tropical landscape, the InterContinental Khao Yai Resort borders the Khao Yai National Park, a UNESCO World Heritage Site. The resort itself spans 100 acres and houses abundant trees and numerous lakes, presenting a range of enriching experiences where every touchpoint is carefully curated.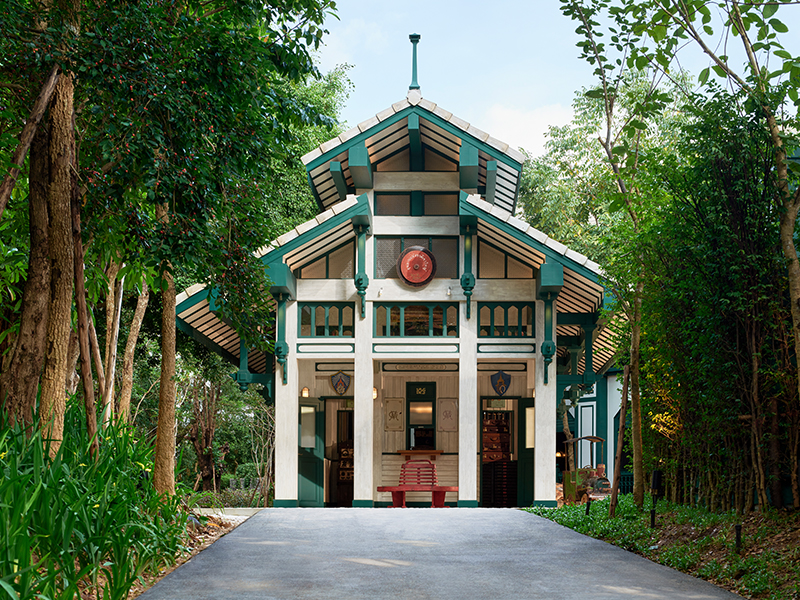 Getting There
The InterContinental Khao Yai Resort is a three-hour drive from Bangkok metropolitan. While the route is fairly straightforward, the resort offers a paid limousine service that one can avail, for travel between Bangkok, Khao Yai, or nearby destinations. Guests can also take a train to the Pak Chong Railway Station, which lies at a distance of 37 kilometers from the resort.
Also Read : The Newly Minted Kimpton Kitalay Samui Revels In Its Picturesque Oceanfront Setting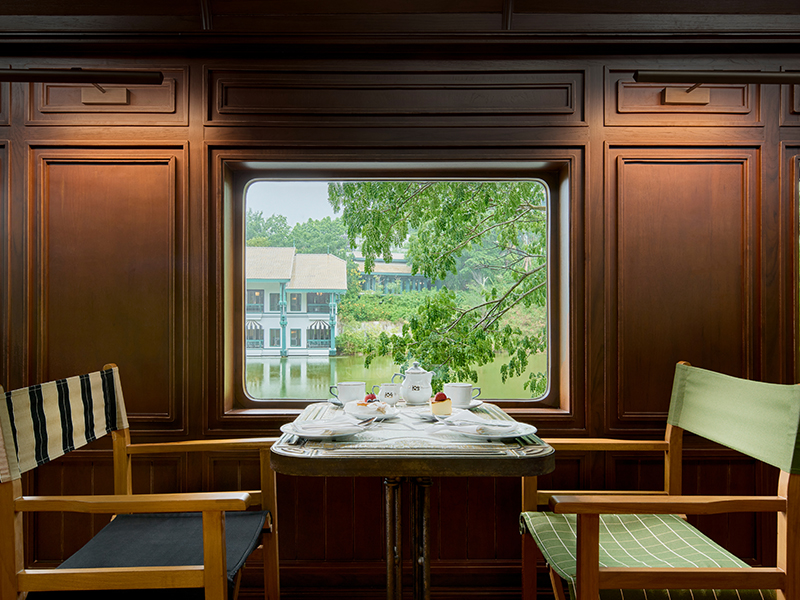 Design & Architecture
Bill Bensley's key inspiration for the InterContinental Khao Yai Resort was the undeniable romance of train travel, combined with the historical significance of the area which was a gateway for rail transportation to north-eastern Thailand during the reign of King Rama V. On arrival, travellers are taken to a check-in area envisioned as a ticket counter, where a conventional stationmaster bell rings to welcome them. Decorated with railway memorabilia like antique trunks, old tickets, and even vintage issues of Playboy, this area sets the stage for the rest of the resort.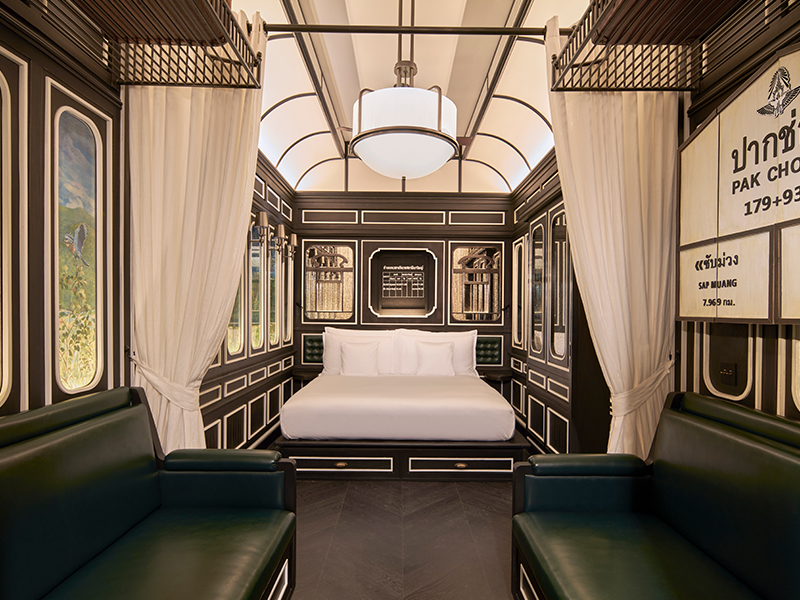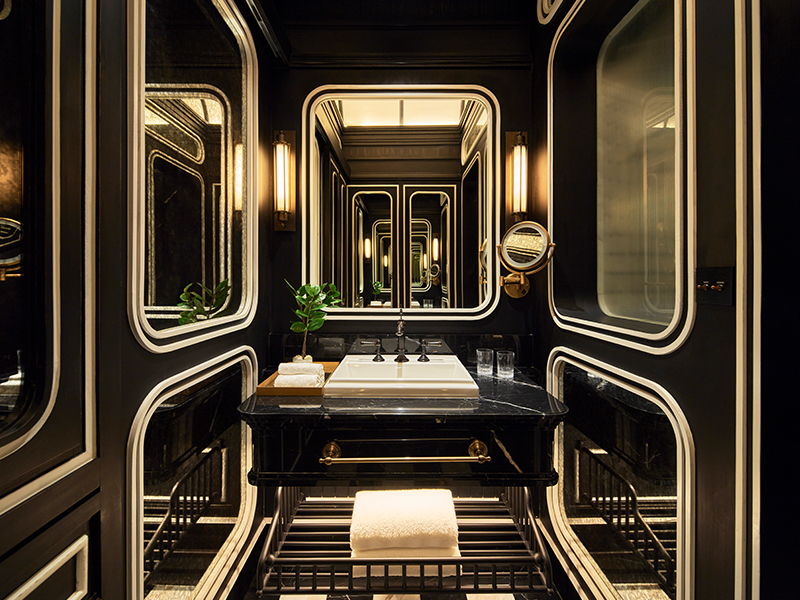 The resort features a total of 45 rooms and 19 repurposed heritage railcar suites and villas, all of which come with an outdoor balcony or expansive indoor and outdoor living spaces with remarkable views of Khao Yai.
"I have always been a fan of upcycling and recycling – so repurposing train carriages was a dream come true," says Bensley.
"We found them all over Thailand. A couple of them had been sitting in a field for perhaps 50 years and, like Angkor Wat, Ficus trees had taken root on the roof and almost completely enveloped the carriage. While we had to remove much of the trees to pry the trains out of the field, I am keeping some of the huge root systems as there is a certain beauty that comes with the idea of returning to Mother Earth."
Flamboyant and maximalist, the design of every area at the InterContinental Khao Yai Resort is wholly immersive. Every single room and upcycled train carriage has been named, designed, and accessorized to express a different train journey around the world, ensuring that even though the guests are all having the train experience, no two are alike. From Bensley's signature black-and-white sensibilities to Art Deco-inspired spaces, uniqueness is the only constant.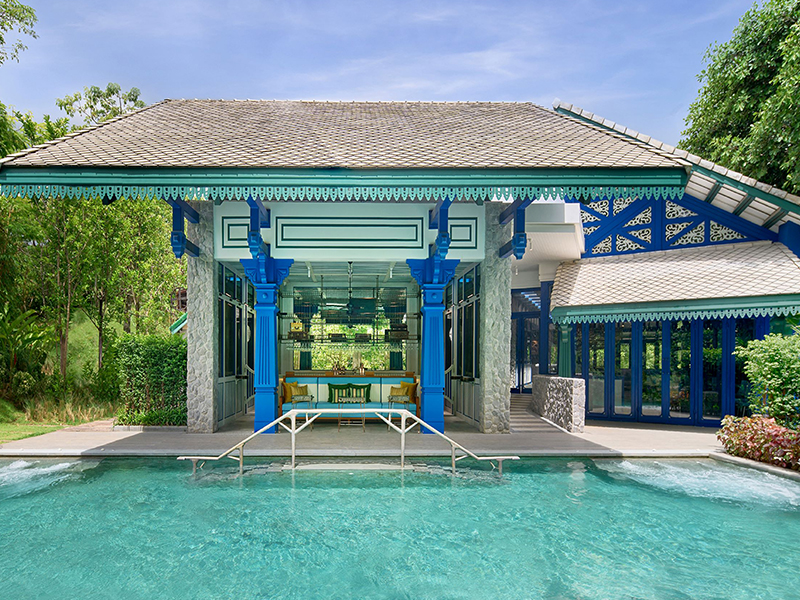 Dining
The InterContinental Khao Yai Resort offers a number of culinary experiences for guests characterized by innovative cuisine and impeccable service. Somying's Kitchen is an all-day dining restaurant that focuses on organic farm-to-table meals. Located adjacent to Somying's Kitchen, the contemporary Terminus Bar by the pool offers an extensive list of beverages and is accented in striking cobalt blue hues. The Tea Carriage is situated in an upcycled railcar perched on the edge of the resort's Swan Lake and exemplifies an old-world charm reminiscent of the early 1900s.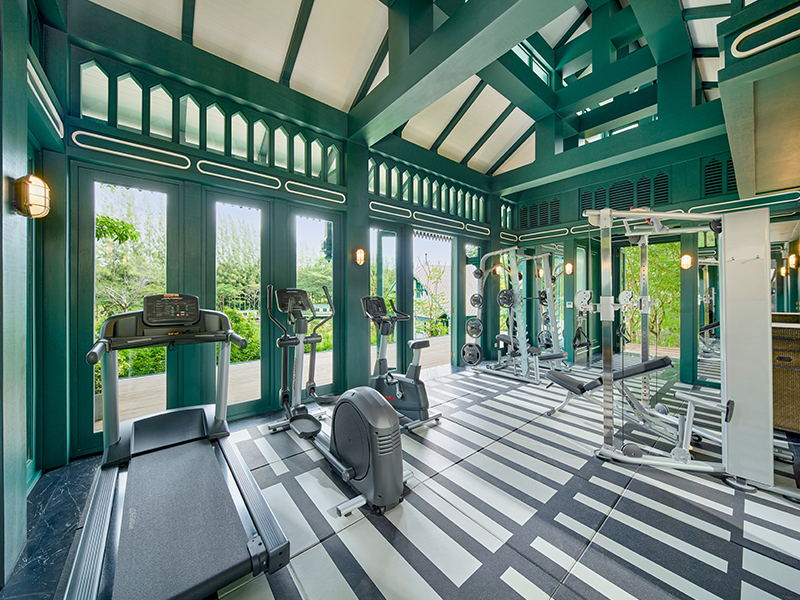 Things To Do
If there's one thing guests can be assured of, it's that there's no dearth of experiences at The InterContinental Khao Yai Resort. Designed to embrace the lush beauty of Khao Yai's environs, the Spa is set inside an upcycled heritage railcar, incorporating a mixture of luxurious and self-contained single-treatment suites. The resort's kid's club offers a wide range of unique, complimentary activities for children under 12 years including botanical treasure hunts, bike tours around the swan lake, and vegetable farming. Another notable feature, the resort's gym overlooks the swan lake, promising unforgettable fitness experiences, where a Resident Healer guides guests through their wellness journeys. Lastly, jogging trails and biking tracks with maps are offered to the more outdoorsy guests.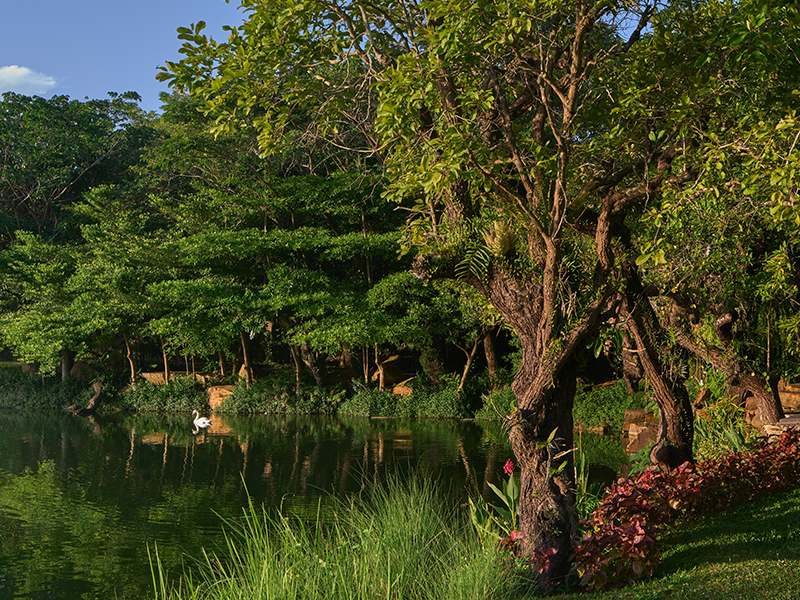 The resort also offers a series of tailored adventures across Khao Yai's famed mountains and landscapes. Highlights include Welcome to Khao Yai, which incorporates visits to Baan Sa Nam Sai, one of the oldest communities in the area, and Khao Yai Life & Legends, which offers visitors a chance to experience the enduring traditional lifeways of locals, the Tha Maprang community, including sampling seasonal fruits at a local farm, learning about legends at the community temple, and learning to make fragrant kaffir lime incense. Only 20 minutes away from the resort lies the Khao Yai National Park, a must-visit for guests at the property!
Also Read : 2023's Most Hotly Anticipated Hotels Include A Luxury Lodge Within Reach Of Nepal's 'Forbidden Kingdom' And More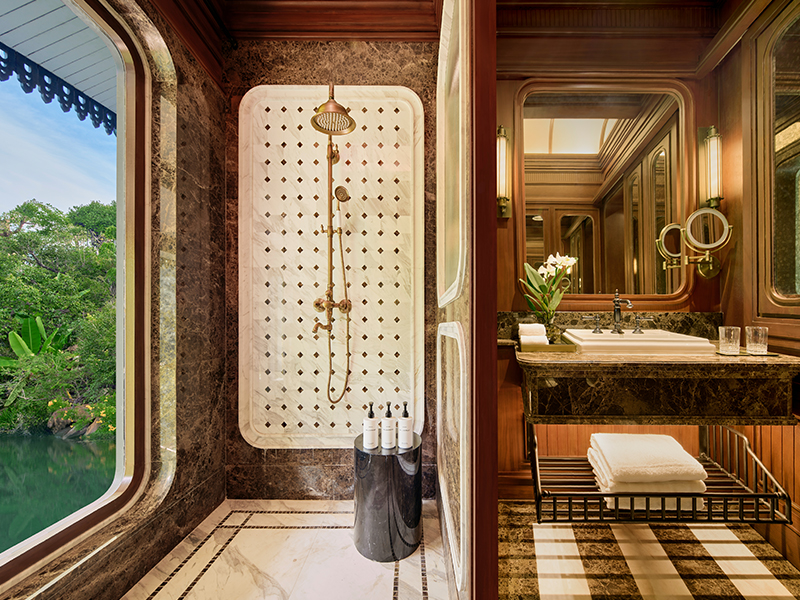 Conscious Hospitality
Sustainability lies at the very heart of Bensley's creative practice, informing every decision. "This is a unique destination as Khao Yai is just coming into itself and beginning to attract people from beyond our borders," he says. "As for sustainability and conservation, we built using the sustainable principles outlined in my white paper and also considered how best to build so that we wouldn't harm this natural, beautifully wooded site. We also brought in 100-year-old, colossal trees which were seeking homes and planted them here. They are gorgeous! Another aspect of sustainability is the train carriages themselves – the truest form of recycling and upcycling." He goes on to add, "this is the first time such a big hotel operator backs upcycling on such a big scale. I hope that more follow suit and follow the lesser tread path of major upcycling and recycling, as it brings huge appeal to any project and so much character."
In addition, the resort aligns with IHG's commitment to reducing plastic waste by removing bathroom miniatures and is one of the first resorts in Thailand to introduce the European luxury brand Byredo in a full-size format. Wooden keycards and biodegradable eco-friendly cleaning products are used across the property. Lastly, the culinary team works closely with farms in the region to source seasonal ingredients and minimize food waste.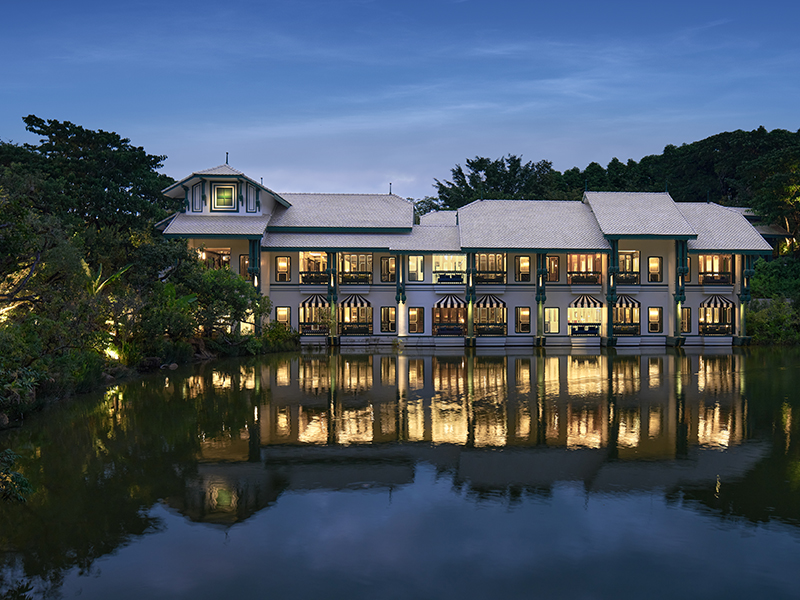 The Verdict
The InterContinental Khao Yai Resort promises a truly unforgettable experience. It successfully captures the nostalgic glamour of trains, the excitement of immersive experiences, and the comfort of luxury travel into one well-rounded property.
DP Loves
– The formal afternoon tea offered at The Tea Carriage, situated in an up-cycled railcar
– The biking trails by the gorgeous swan lake
– The heated swimming pool that overlooks the largest lake on the property
– Look out for the amphitheater spaces in a few of the suites
– The Khao Yai National Park experience