An Accent Worth Every Cent, Introducing Indian Accent At NMACC
22

Aug

'23

11:44 am

by

Sana Krishna
The concrete ever-awake jungle, the land of flavours and foods – Mumbai now boasts a culinary experience that'll sweep you into submission. Indian Accent surprises with innovation and perfection of taste – an amalgam every restaurateur dreams of crafting.
Fine-tune your archetypal ideas of fine dining and let go while you let it soak in. From the ambience to the food to the beverages – Chef Manish Mehrotra promises a satisfying culinary experience at the recently opened Indian Accent at Nita Mukesh Ambani Cultural Centre.
This jewel presents poetry on a plate, taking you on a magic-carpet journey of delectable Indian cuisine.
From New Delhi to New York, and now Mumbai, Indian Accent has lived up to its reputation of being at the core of Indian cuisine. Pleasing the taste buds as well as the soul, the restaurant is the brainchild of maestro Rohit Khattar and Chef Manish Mehrotra.
Also read: Everything You Need To Know About The Nita Mukesh Ambani Cultural Centre (NMACC) In Mumbai
Art-Deco Ambience
Marble has remained one of the mainstays of timeless beauty in architecture as well as art through the decades.
Tap-dance your way in by swinging to jazz instruments and vocals through glistening passages of marble. From geometric glassware and powdery-pastel armchairs to rust-coloured sofas and golden-globe light shining onto a regal bar, this space can host up to 75 people. Paying tribute to Mumbai's Art Deco movement, Indian Accent has seating that faces a grand dancing fountain, two Private Dining Rooms – one with a capacity of 18 and the other, 10 – and an interactive show kitchen. The walls are delicately peppered with UNESCO Indian heritage sites and curated art deco images by Cannes-winning photographer Rohit Chawla from Mumbai to lend romance and timelessness to the space. Streamlined and sleek forms along with geometric patterns of Art Deco and bold colours transform into a dramatic interior.
Restaurateur Rohit Khattar, said "For many years we have been offered locations in Mumbai for Indian Accent. Our search has ended at the spectacular Nita Mukesh Ambani Cultural Centre. Indian Accent has a loyal clientele of discerning guests from Mumbai. So we are particularly thrilled to be able to bring the Indian Accent experience to this vibrant city and look forward to it embracing us as warmly as New Delhi and New York have."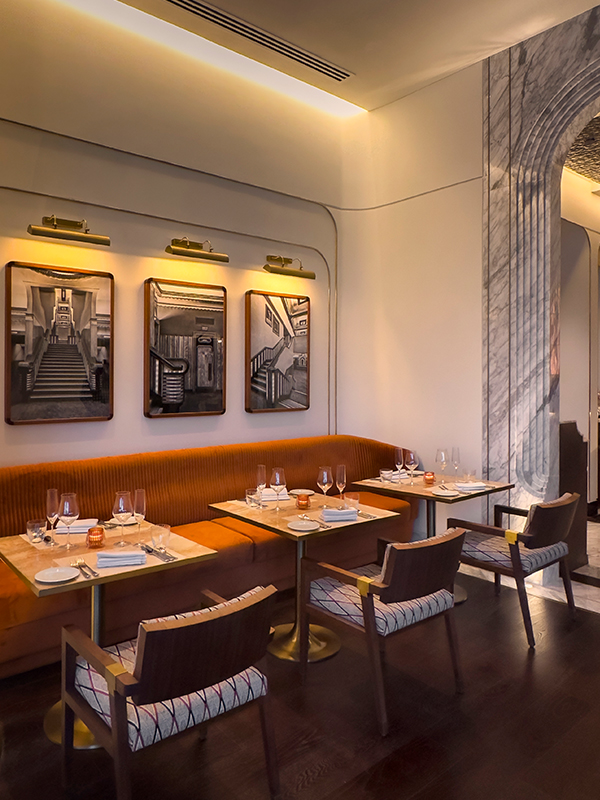 Carefully Crafted
Giving utmost attention to detail, Chef Rijul Gulati curates a menu that caters to a wide variety of taste buds and dietary restrictions. From seafood to vegetarian dishes, the menu is a culinary voyage through the diversity of India. Main courses feature delicate dumplings stuffed with aromatic fillings, slow-cooked curries and tandoori delicacies keeping alive the art of clay-oven cooking.
"In addition to Indian Accent's signature dishes, Chef Rijul and I have taken care to craft a menu that features more seafood and many more vegetarian options, recognising the dining habit sand seasonal produce of this great metropolis", says Chef Mehrotra. Guests would be able to enjoy favourites such as 'meetha aachar pork ribs, green apple', 'ghee roast soya boti, roomali roti pancake' and 'daulat ki chaat, rose petal chikki, roast almond' as well as some new dishes carefully created for the Mumbai menu such as 'gunpowder prawns, red rice, smoked chilli & raw mango curry', 'guchhi matar, asparagus, kashmiri morel pulao' and 'burrata chaat, lotus root papdi, mustard tomato jam'.
In addition to the vegetarian and non-vegetarian tasting menus, the restaurant would also offer vegan, gluten-free and Jain menus.
The gastronomic offerings are complemented by an exclusive bar menu boasting signature cocktails drawing forth the luxurious nostalgia of an antiquated era.
Coupled with this culinary escapade is a wide range of cocktails by Varun Sharma, master mixologist and a plethora of wine options by Head of Wines, Kevin Rodrigues.
Also read: The Princess Of Polka Dots, Yayoi Kusama's Artistic Debut In India